Happy Easter everyone!  The Tranquil Trekker survived another Lenten season!  Easter, which falls on Sunday, always perks me up as it marks the end of my annual, six-week-long, Lenten Fast.
How did my 2021 Lenten Fast go?
I felt like my Fast went pretty well this year.  One interesting note, usually I crave carbs when I give up sweet treats for Lent.  This year that wasn't really the case.  Instead, I craved salty things hard-core (probably because we've also been attempting to implement features of the low-salt, DASH diet that Mr. Trekker's doctor put him on a few months ago.)
I only ended up losing around five pounds total, though I was pretty happy with that (especially because, when I look in the mirror, I feel like I've lost more!  That still gets me to one of the lowest weights I've been at in many years and without too much hassle.  I think I've also found a few lifestyle techniques to implement going forward to help me maintain some of these healthier practices.  The goal is this will result in continued healthier food choices and lower weight for myself!
Elements from my Lenten Fast that I'll maintain going forward
I will enjoy breaking my lengthy fast Easter morning with some naughty and delicious donuts! 🤤  I'm also looking forward to MommaTrekker's pecan pie for dessert after Easter dinner!
Related Posts:  Low-carb Lent; Final Thoughts on Low-Carb Lent; A Sustainable Low-carb Lifestyle; My Lenten Fast
It'll be nice to be able to eat without restrictions again, though I am hoping to continue implementing some of my healthier eating habits.  This will mainly be in the form of:
A more mindful approach to drinking soda: 

I love soda, L-O-V-E LOVE it! (and I'm talking the full-sugar stuff here, that diet stuff tastes like crap, is AT LEAST as bad for you as the regular version–maybe worse?–and it triggers my IBS).  I want to be more mindful about how I drink it though.  Rather than chugging through a 20-ounce container of it with dinner, I want to focus more on drinking water, tea, etc. during dinner and enjoy the soda afterward.  That way I can solely focus on the flavor and "bubbles" that I enjoy.  I will view it more as a treat or almost a dessert, rather than simply a way to slake some thirst (it doesn't work well for that anyway).

We will continue to be sticking with the low-salt, DASH diet as much as is reasonable:

  This diet is kind of hard because nothing tastes right, it turns out salt plays a HUGE part in the way we think the foods we eat "should" taste.  But I am "slowly" learning how to add just enough salt to home-cooked meals so that they taste good, without using the MASSIVE amounts of the mineral that are in normal, processed food (this includes pizza crust, bread, salad dressings, tomato sauce, etc.  I have learned that basically anything that comes prepared that isn't made at home from scratch is LOADED with salt.)
To Conclude
So, Happy Easter everyone!  I'm off to go enjoy some chips and dip, soda, and a few jelly beans! 🤤 😁  Here's to another year of trying to implement more healthy eating practices!
Did you participate in a Lenten Fast?  How did it go?  Tell me about it in the comments!
Did you enjoy this post?  Pin it!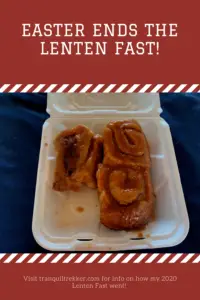 Like what you read here today?  Please feel free to leave a comment, like or share this post!  Add your email at the bottom of the page, or the sidebar to the right, to be notified when a new post is published.  By signing up for the email list, you will also receive a free copy of the Tranquil Trekker's Top 10 Tips of Trekking Do's and Don'ts!
You can also follow the blog on social media by clicking the links below!