Happy Easter everyone!  The Tranquil Trekker survived another Lenten season!  Easter, which falls on Sunday, always perks me up as it marks the end of my annual, six-week-long, Lenten Fast.
How did this year's Lenten Fast go?
I felt like my Fast went well this year. It wasn't nearly as difficult as it's been in the past (full disclosure, I allowed myself to "cheat" some on our 40th birthday, Spring Break trip (more on that in future posts!)  I lost around eight pounds this year, which is always a nice effect of the Lenten Fast.
I tried to implement the "drink-half-your-body-weight-in-ounces-of-water-each-day" into my fast, as well. That last for about 45 seconds! 😝  Do you have any idea how much water that is?!  I literally found it difficult to REMEMBER to drink that much!  I also find, when I drink a lot of water, I end up feeling "waterlogged".  It's this pseudo-nauseous, bloated tummy that swishes as you walk, weird feeling.  I don't like it.  Also, also…am I just going to set up shop in the bathroom?! 😝  
Elements from my Lenten Fast that I'll maintain going forward
As per usual, I think this year I've also figured out a technique or two to enjoy the junk food I crave, but within healthier limits.  The goal is maybe these few, simple changes will result in continued lower weight for myself!
I will enjoy breaking my lengthy fast on Easter morning with some naughty and delicious sweet treats! 🤤  I'm also looking forward to dessert after Easter dinner!
Related Posts:  Low-carb Lent; Final Thoughts on Low-Carb Lent; A Sustainable Low-carb Lifestyle; My Lenten Fast
It'll be nice to be able to eat without restrictions again, though I am hoping to continue implementing some of my healthier eating habits.  This will mainly be in the form of:
A more mindful approach to drinking soda: 

I've said it before and I'll say it again.  I love soda, L-O-V-E LOVE it! (and I'm talking the full-sugar stuff here, that diet stuff tastes like crap, is AT LEAST as bad for you as the regular version–maybe worse?–and it triggers my IBS).  I want to be more mindful about how I drink it though.  As an example, Mcdonald's Doctor Pepper (and Sweet Tea!) is the best out there–in my opinion–they just are.  So…don't bother with them anywhere else, just go with what you like (it also doesn't hurt that they are some of the cheapest sodas available! 😇)

Also, drinking LESS junk!  During the peak of summer, when it's all hot and nasty out, nothing tastes better than a cold, LARGE, drink…until 2 AM when I can't sleep because of the caffeine (that's a new, fun addition to hitting 40! 😝).  Plus, the MEDIUM drinks fit better in my insulated cup to stay cold so…I also know from past experience, that just making the switch from large to medium drinks helps me lose weight (or at least keep the weight off some.) 😁  

I want to be more intentional about eating junk food in general.  It's ok to eat it but only if it is something I am REALLY craving, not just something to fill my belly with.  There are also some things I know make me not feel well (like too many white carbs).  So, I will avoid these things in favor of healthier options (or at least junk that doesn't make me feel so bad.)
We will continue sticking with our lower-salt, DASH diet as much as is reasonable:  This diet is hard because nothing tastes right.  It turns out salt plays a HUGE part in the way we think the foods we eat "should" taste.  But I am "slowly" learning how to add just enough salt to home-cooked meals so that they taste good, without using the MASSIVE amounts of the mineral that are in normal, processed food (this includes pizza crust, bread, salad dressings, tomato sauce, etc.)
Eating more greens!  For the new year, I made the commitment to eat more salads, and surprisingly, I've actually stuck with it quite well!  I have to be careful with this, as my IBS doesn't tolerate too many greens.  But, my tummy seems to tolerate me eating salad a few days/week for lunch which is a HUGE healthy, and simple change I can make.
To Conclude
So, Happy Easter everyone!  I'm off to go enjoy some chips and dip, soda, and a few jelly beans! 🤤 😁  Here's to another year of trying to implement more healthy eating practices!
Did you participate in a Lenten Fast?  How did it go?  Tell me about it in the comments!
Did you enjoy this post?  Pin it!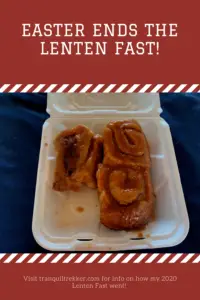 Like what you read here today?  Please feel free to leave a comment, like or share this post!  Add your email at the bottom of the page, or the sidebar to the right, to be notified when a new post is published.  By signing up for the email list, you will also receive a free copy of the Tranquil Trekker's Top 10 Tips of Trekking Do's and Don'ts!
You can also follow the blog on social media by clicking the links below!