Today is Ash Wednesday, the Easter Season is upon us again!  This is the time of year I embark on my annual, Lenten Fast.
Why fast for Lent?
During Lent, or the six weeks that fall before Easter, many Christians choose to "fast" from something (usually a favorite food such as chocolate, but it can be other things as well, such as tv or social media).  The Catholic faith outlines more of a regimented fast, whereas Christians of other denominations tend to just give up something they are sure to miss as a personal sacrifice. (I explain more about the season of Lent in another post.)
What I am giving up for Lent
A few years ago I outlined my long journey of trying out a low-carb lifestyle over Lent.  As we learned then, I am apparently the only person in all of humanity who doesn't benefit from this diet. 😝  It actually made me utterly MISERABLE, and literally left me depressed (and I do NOT use that term lightly).
This year I will be following a similar Fast as last year, where instead of going "low-carb" I am going more "slow-carb".  This basically means I will not be limiting my carb intake other than trying to focus mostly on whole-grain, healthier items.  In addition, I will be trying to stick with "cleaner" food overall.  What will that look like?  Well, for many years I gave up sweets for Lent (cookies, candy, etc.).  One year I also gave up soda.  With my "slow-carb" fast I give up all of that.  In addition, I also fast from junk food (such as fast food, chips, really greasy pizza, fried foods, etc.)
Mr. Trekker's doctor recently put him on a low-salt diet called the DASH diet (Dietary Approaches to Stop Hypertension).  I figure this change will be beneficial for us both, and since I'll be grocery shopping and cooking low-salt for him anyway, it just makes sense to do it for myself, as well. 😁  So, I will be implementing this as part of my dietary changes too.
Related posts:  Easter Ends the Lenten Fast!; Final Thoughts on Low-Carb Lent; Low-carb Lent
What I hope to get out of my Lenten Fast
As always, I am hoping to lose a little weight from the fast (that is always a welcome–if not somewhat selfish–side effect of Lent for me 😇).  I am also still trying to kick my soda addiction.  I LOVE soda, I could drink it all day, EVERY day (and we're talking the full-sugar stuff here.  I've never liked the taste of diet soda and my IBS doesn't tolerate it anyway).  I don't allow myself to drink a lot of it, but it's always been a guilty pleasure of mine (and yes, I know it isn't good for me, clearly that isn't enough motivation to get me to stop drinking it 😝).
A Lenten Fast should be an adventure!
I'm always excited about the challenge a Lenten Fast brings.  It is a struggle, as it is supposed to be.  They don't call it a "fast" for nothing! 😉  But it should also be an adventure, a time to try out something new during a time frame that isn't that long anyway. 😁
Do you participate in a Lenten Fast?  If so, tell me about it in the comments!
Did you enjoy this post?  Pin it!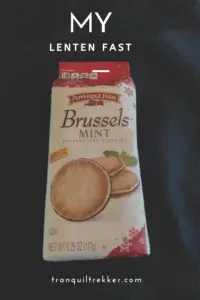 Like what you read here today?  Please feel free to leave a comment, like or share this post!  Add your email at the bottom of the page, or the sidebar to the right, to be notified when a new post is published.  By signing up for the email list, you will also receive a free copy of the Tranquil Trekker's Top 10 Tips of Trekking Do's and Don'ts!
You can also follow the blog on social media by clicking the links below!