I mentioned, in an earlier post, that the Trekker's are leaning low-carb for 2019.  I thought I'd give you an update on how that's currently been working out for us. We've been trying some new recipes, I'll detail our experiments below.
Yummy Low Carb Meals
Roasted Sweet Potatoes
This one we've REALLY enjoyed.  It's a bit of a unique twist on this typical dish, as you don't use any sweet spices.  Instead, I used garlic salt and pepper (the recipe calls for garlic, salt, and pepper). 😉  I wasn't sure how it would taste with the combination of the sweetness of the potato and the spice of the spices, but we REALLY liked it.  The mild, sugary flavor of the potato blends perfectly with the spicy and salty kick of the other seasonings (it reminds me of the combination of a salty pretzel dipped in sweet chocolate).  Baked this way, with the peel left on, the peel crisps up and adds a surprising, candied crunch.  This also adds a pleasing, sweet flavor to the dish.  Mr. Trekker wasn't too sure about this tuber, as he hasn't liked it in the past, but he stated he'd happily eat this dish again (I've already made it twice!)  Here's the recipe I used!
Roasted Brussel Sprouts:  For this dish, I used basically the same recipe as the one I used with the sweet potatoes.  Mr. Trekker really liked them, I thought they were ok.  I was pleasantly surprised by their mild smell and flavor (I'm not a huge cabbage fan).  They had a subtly-sweet aftertaste and the tender, crunchy texture was pleasing.  They were a bit "green-veggie"-tasting for me (my palate really struggles with green vegetables).  I enjoyed them better mixed with another flavor and texture, such as potatoes or gravy.  I will be willing to try them again though, especially with other seasonings. 
Zucchini spaghetti
YUCK!!!  It was mushy and tasted too "green" (although I've liked zucchini in the past, prepared on the grill).  I ended up eating Cheerios for dinner that night.  I'm not even going to show you a picture of this mushy nastiness, just yuck!
To be fair, I've heard, from friends, that the problem may be that I used frozen zucchini…well, I bought it at Walmart and that's how it came! 😝  Apparently, if you use it fresh it keeps it's texture better but, you still have to deal with all the residual, natural liquid from the vegetable.  I think I'm just gonna take their word on that one. 😝
As of today, I am down 2 – 3 pounds so…stay tuned next month for another update and some more recipe experiments…
Have you tried any of these recipes?  What did you think?  Tell me about it in the comments!
Did you enjoy this post?  Pin it!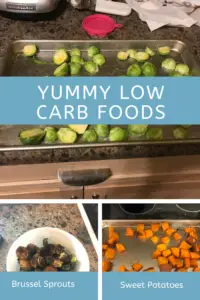 Like what you read here today?  Please feel free to leave a comment, like or share this post!  Add your email at the bottom of the page, or the sidebar to the right, to be notified when a new post is published.  By signing up for the email list, you will also receive a free copy of the Tranquil Trekker's Top 10 Tips of Trekking Do's and Don'ts!
You can also follow the blog on social media by clicking the links below!