The Trekkers' enjoyed another lovely, anniversary trip to Colorado!  This time we visited the Front Range, the one part of the state we haven't spent much time in.  We also knocked several long-held items off our bucket list:  the National Museum of World War II Aviation, Garden of the Gods, and Pikes Peak!
I find I have a love-hate relationship with Colorado.  I LOVE visiting there! If I had to pick one state in the entire nation to vacation the rest of my life it would be Colorado, hand's down. It's just SO beautiful and there are so many things to do!
That being said though, to actually live in Colorado, you have to either choose a crowded big city or live isolated, in the middle of nowhere, with weather that can be incredibly harsh for much of the year. *sigh*
We've spent extensive time in the northern, western, southwestern, and southeastern portions of this awesome state.  The only place we hadn't really visited was the Front Range.  So, as Mr. Trekker had a work meeting there on our anniversary weekend we thought we'd make use of the opportunity! (I'm very blessed that, as long as I have internet access, my flexible job allows me to work from hotel rooms in random states. 😉)
On the drive down to Colorado Springs we opted for the "Nebraska Route" from the Black Hills.  This is a great drive to avoid traffic but it includes a unique trip through the nuclear missile fields of far southwest Nebraska and far northeast Colorado.  The dichotomy between these weapons of death and destruction that sit just off the road and the relatively benign, green energy, wind turbines that watch over them from the nearby hills is enough to leave a chill down your spine. 😮  
The Colorado Front Range
For those who don't know, the Front Range is essentially a conglomeration of cities and towns that run for almost 200 miles, north-to-south, along I-25 and the "front range"–hence the name–or eastern border, of the Colorado Rockies.  This region basically runs from Fort Collins to Pueblo and includes the other highly populated areas of Boulder, Colorado Springs, and, of course, Denver.
I get why people like to live on the Front Range. It's got many cultural opportunities, easy access to shopping (basically anything you could want), and easy access to incredible sites and all the outdoor activities you can think of at any time of the year.
Now for the bad news…THERE ARE SO MANY DAMN PEOPLE!!! 😝  This region is one of the fastest-growing areas of the country (not to mention one of the most expensive places to live) and it keeps expanding!  This equates to it being incredibly busy and hectic. 🤯  Sorry kids, there is nothing tranquil about the Front Range. 😂  The Trekkers have spent too much time living in small-town America to handle all that craziness.  Plus, you're talking to the girl who grew up in rural Indiana and liked it!  FAR too many curses emit from my lips when trying to navigate Front Range traffic! 😂  
So, Colorado, while I love you and will forever enjoy vacationing there, I don't EVER see myself living there! 😇
Pikes Peak
The summit of Pikes Peak sits at over 14,000 feet of elevation. This is VERY high!  The air is much thinner up here and the oxygen level is much lower. Do not be surprised if you feel short of breath, dizzy, and lightheaded with even the most minimal exertion. Also, if it is summertime know that you can get sunburned FAST at this altitude. 
Altitude sickness can occur at this height (though it is rare if you are only visiting for a short time and is a larger concern if you are heavily exerting yourself.)  Symptoms to watch for include nausea, dizziness, and shortness of breath.  In most cases, these will subside once you return to a lower elevation. 
How do I visit Pikes Peak?
There are multiple ways to visit Pikes Peak!  You can drive your car, ride a shuttle bus, hike up or take a train!   Details on each option are below:
Drive the Pikes Peak Toll Road
You will find the entrance to the Pikes Peak Toll Road off of US 24, about 10 miles west of Colorado Springs.  There is a fee to reach Pikes Peak using this route.  Please note:  this mountain is VERY popular.  So much so that during the summer season (Memorial Day through the end of September) you must have a reservation to drive all the way to the summit. (You can purchase tickets online here.)   There are also guided tours during the summer months that allow you to let someone else drive.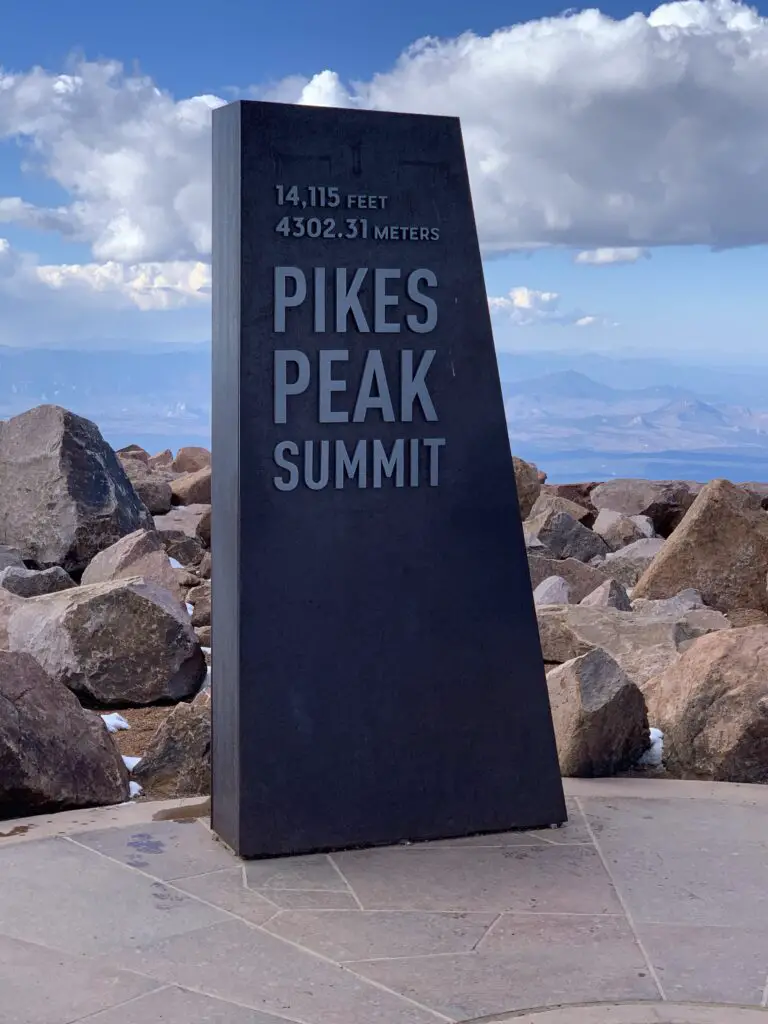 Click

here

for a video of our drive UP Pikes Peak and here for a video of our drive down the mountain (complete with police escort! 😮
Ride Bikes up Pikes Peak Highway
You can also ride a bike to the top of the mountain via the Pikes Peak Highway.  Fees and reservations still apply.
This wouldn't be my preferred method as you're sharing this winding, narrow road with about a million of your closest friends (mostly tourists who are trying to navigate large machines that could easily kill you while they're looking around at the amazing views)…but you do you. 😉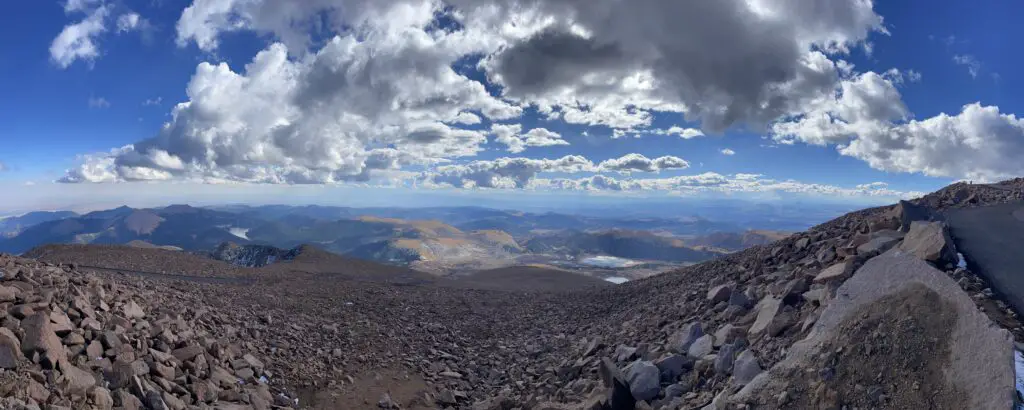 Hike Pikes Peak
If you're the ambitious type, you can hike the Barr Trail up Pikes Peak.  This would be an incredibly scenic way to see the mountain although I've heard the hike is not for the faint of heart.  We didn't do it but I know some people who have, successfully. For a first-hand account of the hike up Pikes Peak please see the blog of a friend of mine!
This hike is no joke!  The trail is 13.5 miles long (one-way) and gains more than 7000 feet in elevation!  It also reaches heights of over 14,000 feet and much of it is incredibly exposed both to sun and thunderstorms that can easily pop up. 
Many people like to hike up the mountain and then take the Pikes Peak Cog Railway on the return trip (see below)!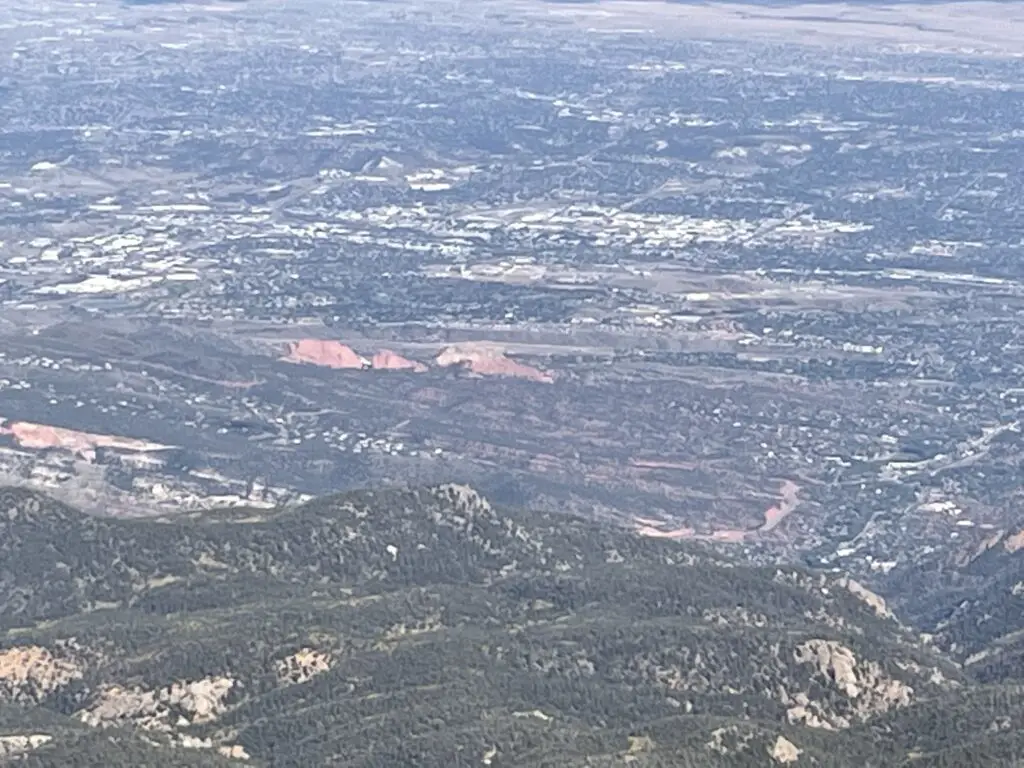 Pikes Peak Cog Railway
One of the more popular ways to reach the summit is via the cog railway. This way someone else gets to "drive" (while you enjoy the views!) and you don't have to deal with the crowded roadway on the way up!  Click here for information on getting tickets for the cog railway!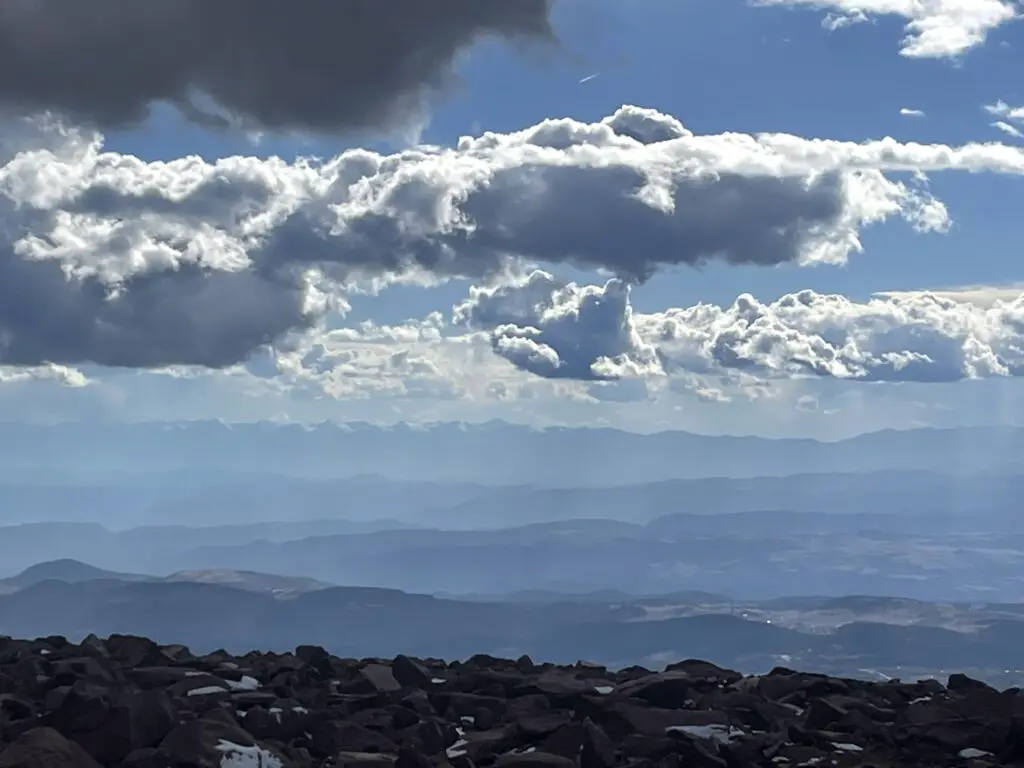 Police escort off Pikes Peak (not a joke!)
We had quite the adventure as we left the summit of Pikes Peak.  The story starts when we initially arrived at the gated entrance to the attraction around 2 in the afternoon. (That gave us a good four hours to enjoy the views and get down before dark.)  When we paid our entrance fee the "gatekeeper" told us THE MOST IMPORTANT THING to know is to keep the vehicle in low gear on the return trip to save the car's breaks.  Note: he stressed the importance of this tip and this is the ONLY THING he told us.
We reached the summit and went to check out the summit building when I realized this was the place that had the awesome donuts I had heard so much about! (They ran out WHILE we were standing in line! 😝)  We also saw some signs that said the summit building closes at 4:00 pm.
That's fine, we're used to buildings in our local national parks closing around that time, it just means you need to find an outhouse if you need a bathroom after that time…or so we thought.  Note again, this is the ONLY thing the signs or the brochure said–stay with me, this is important for later in the story…
A short while after leaving the summit we stopped at a pull-off where a number of people had stopped and were hiking around.  We wandered down the trail and around the corner of some rocks for about 20 minutes.  We were upwards of 14,000 feet in altitude so we weren't moving very fast 😇 but it was a nice day and we were enjoying our walk.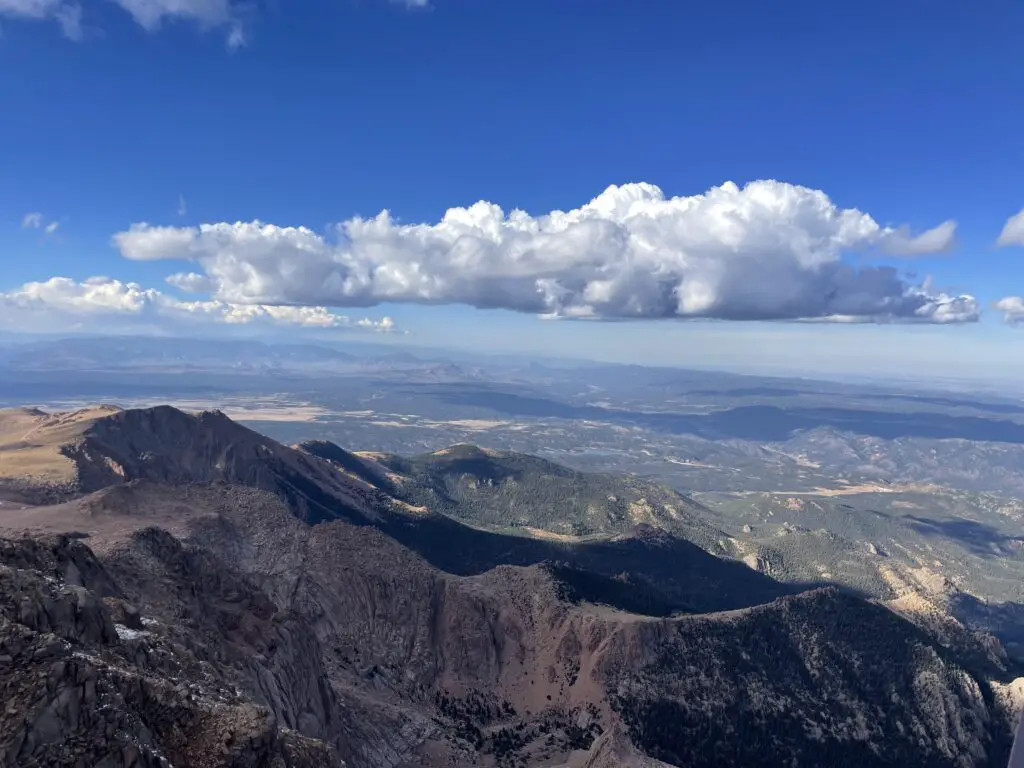 As we were returning to the car we noted the pull-off was now completely devoid of other vehicles save the ranger truck with flashing lights sitting next to our car (and another police truck sitting on the road just before the pull-off.)  We talked to a VERY friendly, older-gentlemen ranger who said they close the summit at 4 in hopes everyone will be off the mountain by 5-ish–ok, we were heading down anyway.  Note: Again, this is ALL he said…
So we left the pull-off and got back onto the road with a friendly wave to the police truck who then…basically escorted us, with flashing lights, off the mountain.  We thought, "wow, they aren't kidding about closing the summit!" (That's way more intense than we're used to but whatever, we were on our way down anyway.)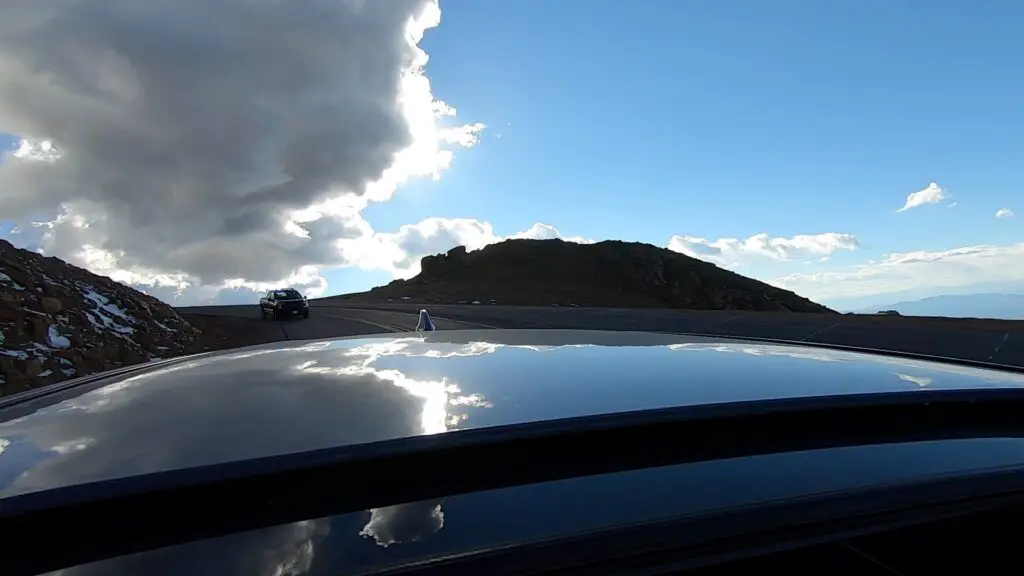 About halfway down the mountain, we came to another pull-off where several vehicles and people were still milling about.  As we slowed down for the curve we were finally able to make out the muffled noise coming from the police truck behind us…"I told you all once before, if you're not off the mountain by 5 pm it's a $1000 fine!" (For the record, he was talking to the people still parked, not us.)
I should also note, it was currently about 4:55 and there was NO WAY we were going to make it off the mountain in the next five minutes!  Fortunately, he was busy with those people and ignored us and we merrily continued our way down the mountain with no further problems.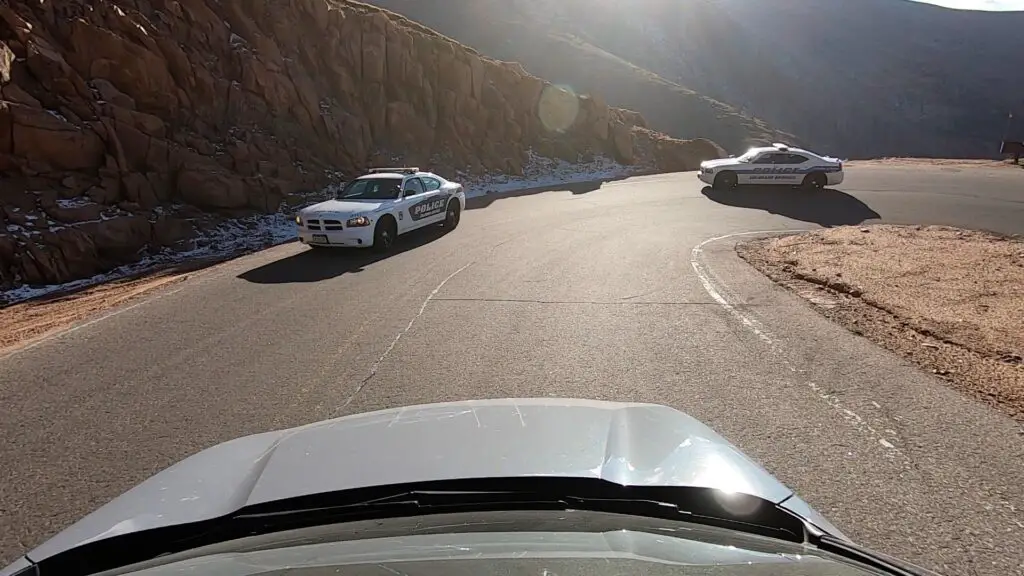 With the rise in van life and "stealth camping," not to mention the winding road, steep dropoffs, and large wildlife (and close proximity to a large, metro area) I can understand their desire to keep people off the mountain in the dark.  However a few suggestions come to mind…
–Maybe…when a park gate employee tells you "THE MOST IMPORTANT THING TO REMEMBER…" three hours from park closing time, he should actually mention that there is a closing time? (Especially if there is a monetary fine involved?…)
–Maybe…on the brochures for the park (not to mention the signs on actual park buildings) they note this closing time as well?…
…these are just suggestions, of course. 😝
***I should also note we visited the park in mid-October, during the summer I believe it closes at 8…JUST MAKE SURE YOU'RE OFF THE ROAD BY THEN! 😝***
Garden of the Gods
Garden of the Gods has to be one of the more famous "city parks" in the country!  The main entrance is off 30th street on the west side of Colorado Springs (though there is another entrance on the south side from US 24.)  Also of note, this park is open till around 9 each night, and there were signs ALL OVER clearly stating this…*ahem* 😝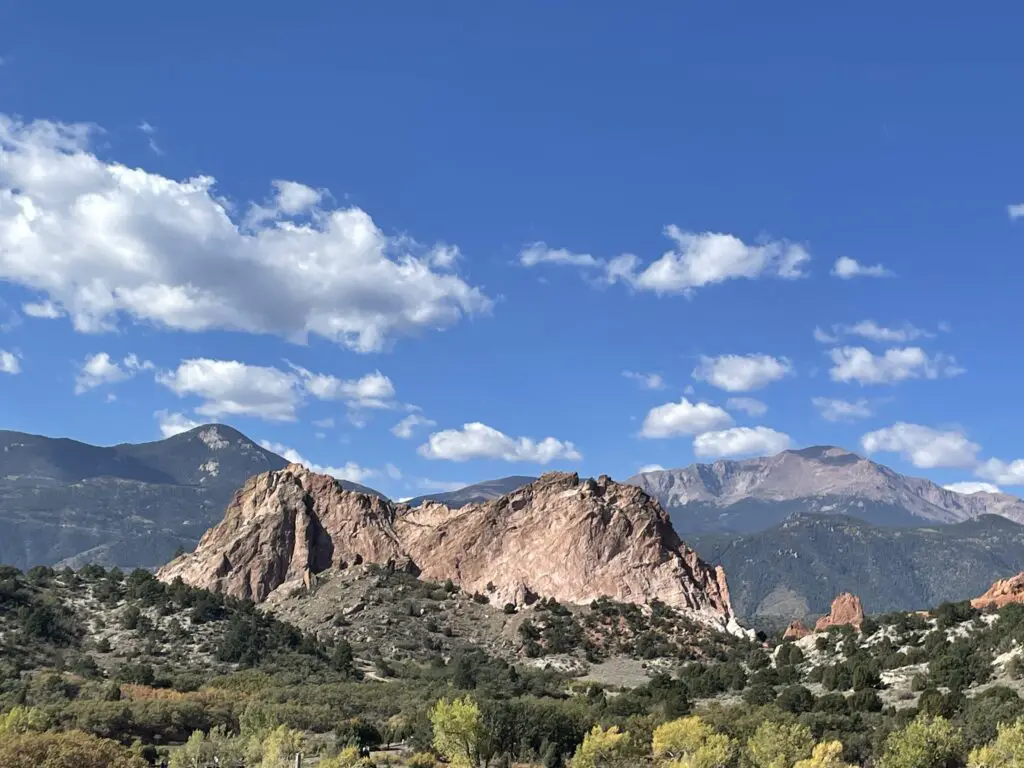 This is a great attraction! It's found right in town so it's easy to access for Out-of-Towners or Locals wanting a nice place to exercise or walk the dog.  Rock climbing is also available at certain places within the park.  Another cool thing about Garden of the Gods…admission is completely FREE!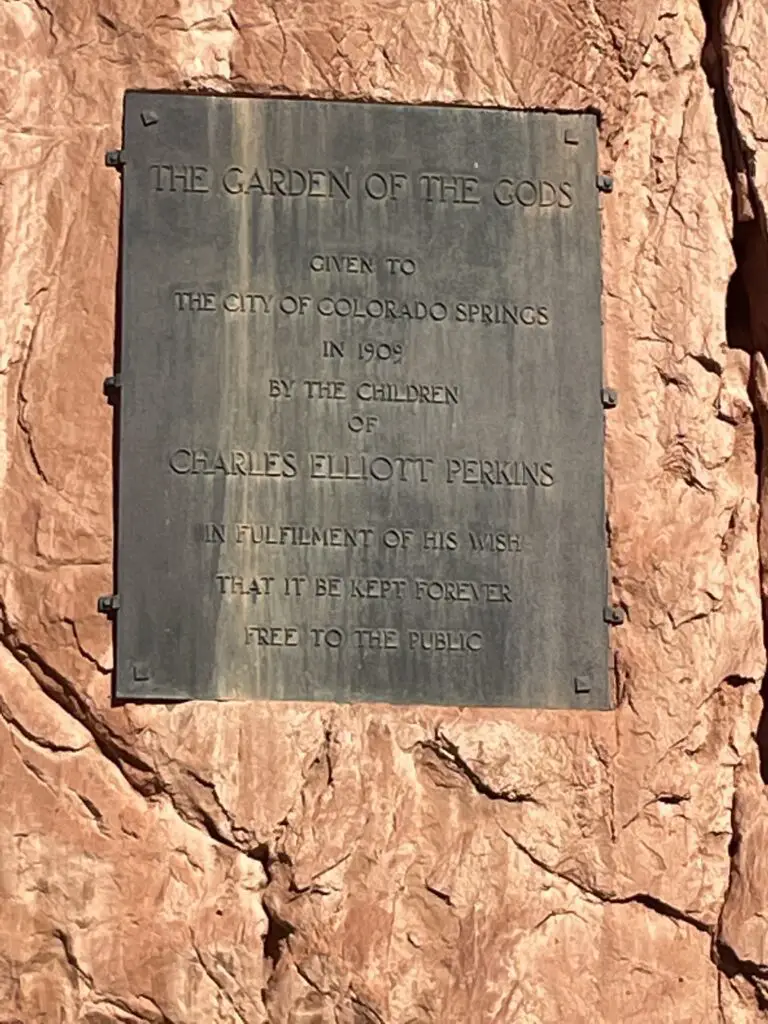 This locale is characterized by a number of red rock formations rising from the dry, green scrubland that is common in this part of Colorado.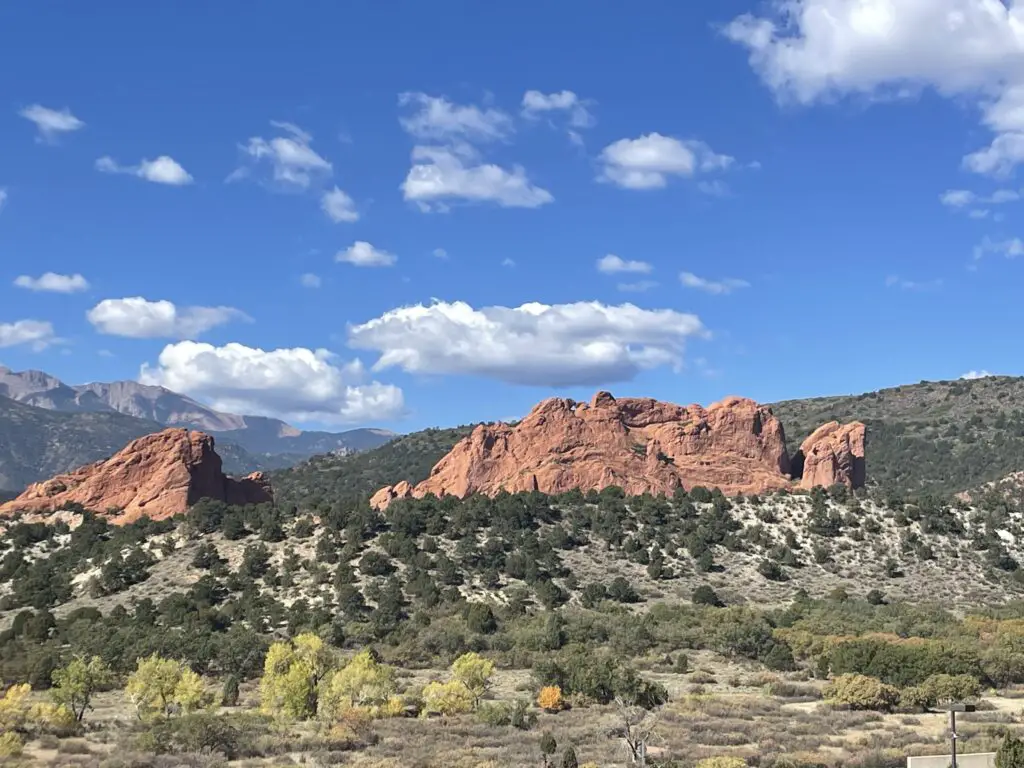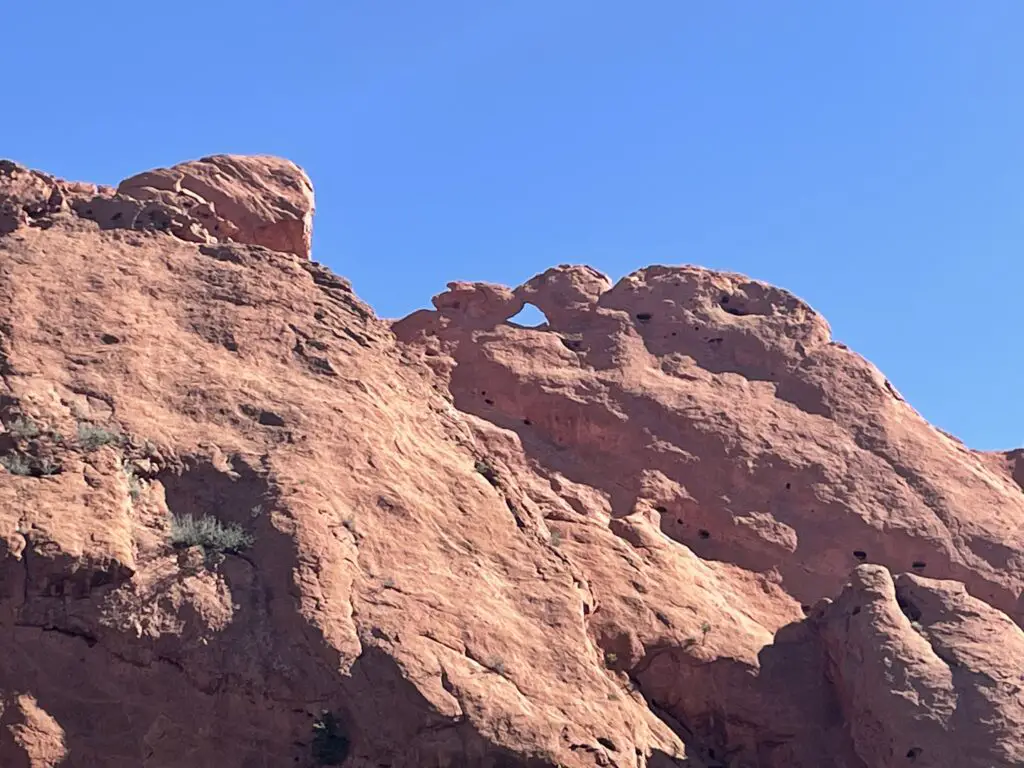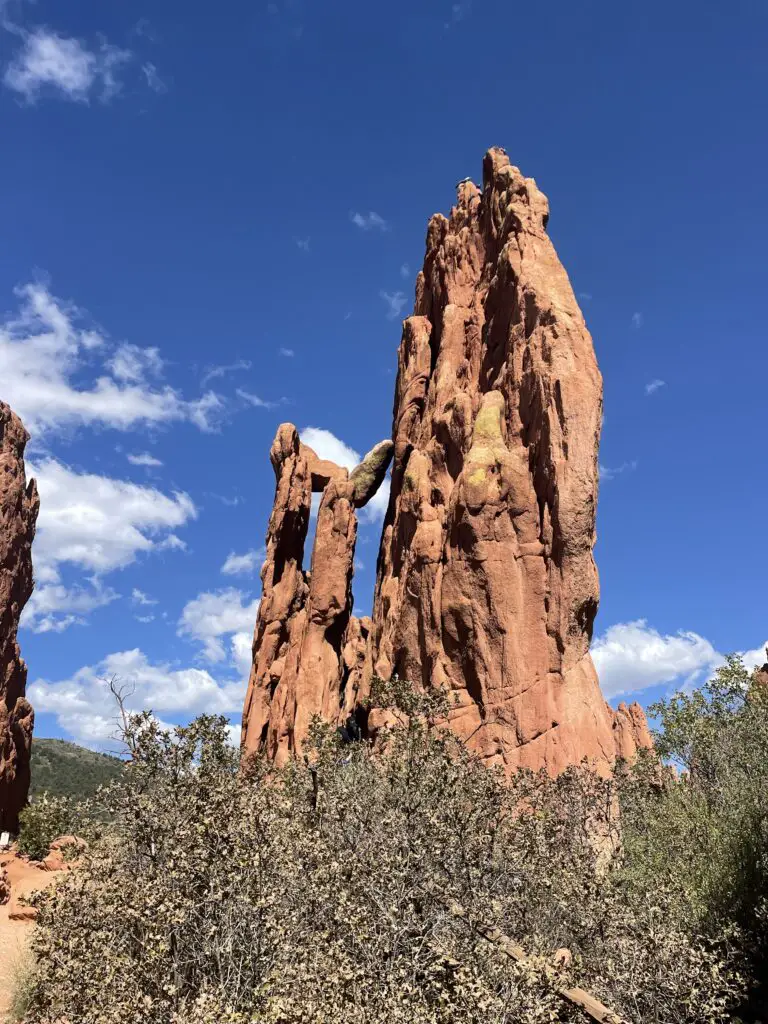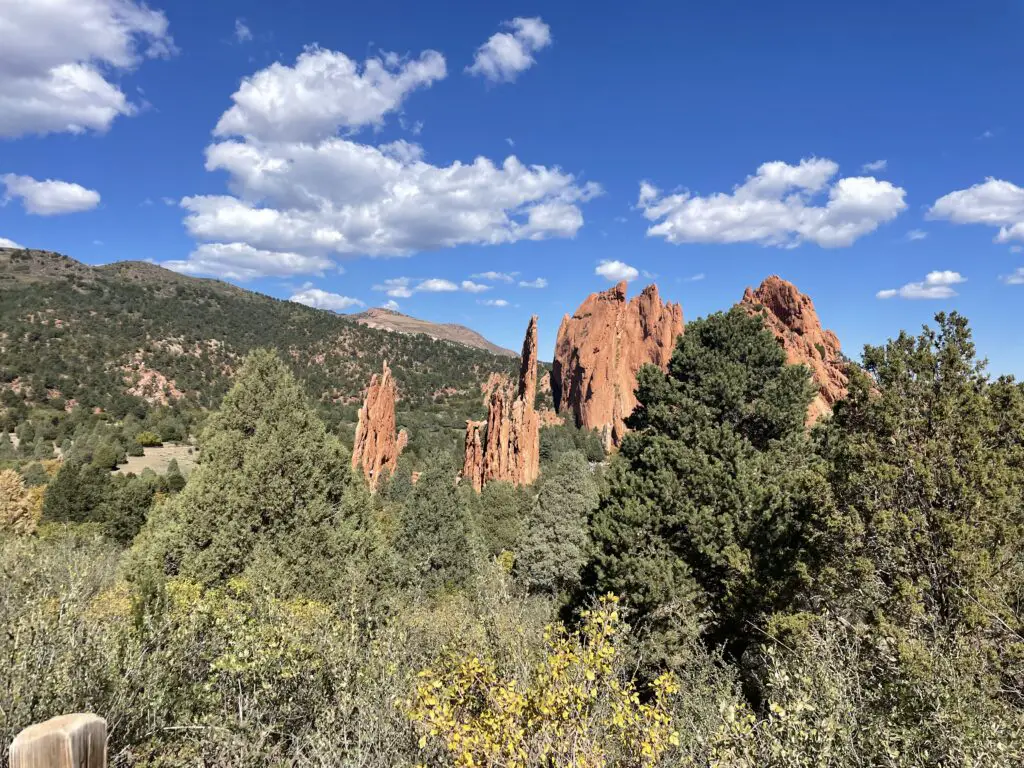 The Twins!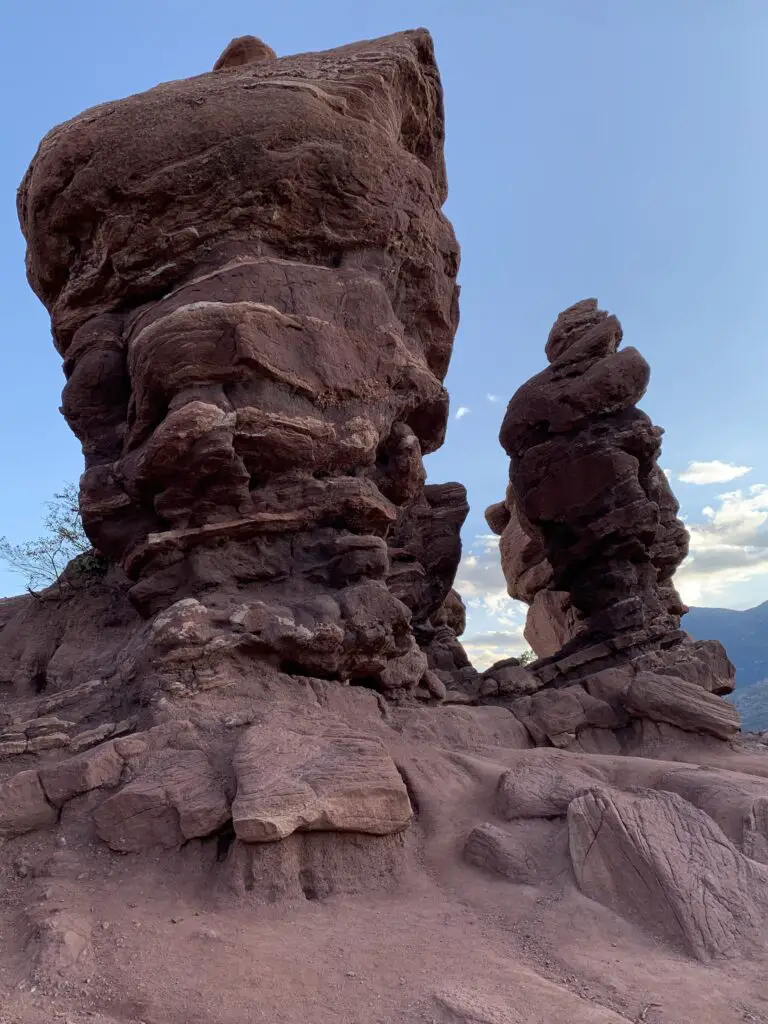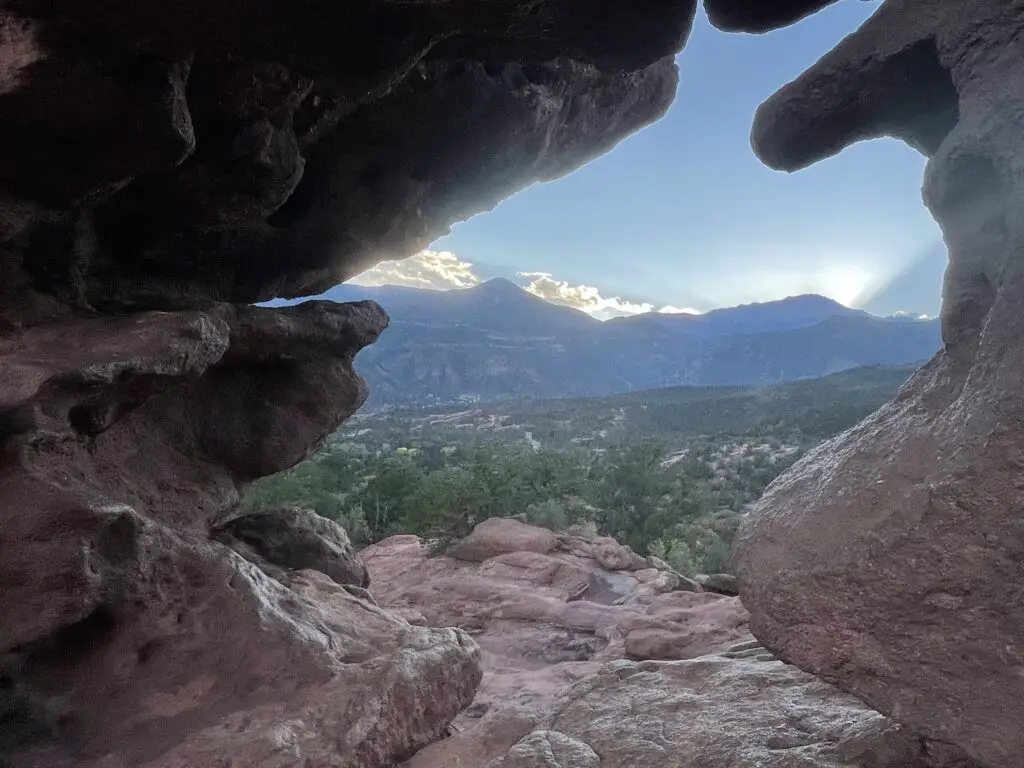 National Museum of World War II Aviation
While in Colorado Springs we also checked out the National Museum of World War II Aviation which is located just north of the Colorado Springs Airport, just off Aviation Way (which you can reach from US 24).  This was a nice museum!  As Mr. Trekker is a history nerd with a special fondness for WWII airplanes, he especially enjoyed it. 😉  We had enjoyed the Pikes Peak Regional Air Show earlier that fall and many of the warbirds from the museum were featured there.
Places to Eat near Colorado Springs
As usual, we found MANY good places to eat on our trip:
Paninos Restaurant–this is a cute, casual, family-owned, Italian restaurant.  We enjoyed a lovely anniversary dinner there!
Louies Pizza –a tasty, casual place for pizza  in a convenient, downtown location
Sandy's restaurant –Sandy's has one of the best breakfasts in Colorado Springs!  This place has HUGE portions! (I'm not kidding. However much you think you should order…halve that!)  You usually need reservations on weekends but the hostess liked us when she found out we were from South Dakota (a certain blogger may have noticed her Mt. Rushmore shirt and casually mentioned we live near there. 😇)  She convinced some friendly locals to let us sit with them at their long table.
This is one thing I LOVE about traveling, road trips, and taking the scenic route.  It often means you get the privilege of visiting local places.  You never know when an opportunity will arise to get to know a complete stranger in a comfortable environment.  I LOVE interacting with Locals like this!  You never know what you'll learn from their experiences! 
Josh & Johns –this was a yummy  place for a sweet, ice cream treat
Uncle Sam's Pancake House, Manitou Springs —nothing fancy here but the staff were friendly and attentive and the breakfast was DELICIOUS!
Hoosier Pass, Colorado
After our weekend in Colorado Springs, we needed to get to Boulder as Mr. Trekker had some work meetings there.  Normal people would have driven straight up I-25 from "the Springs" to Boulder…but who wants to be normal?!
Instead, the Trekkers opted for the VERY scenic route!  We took US 24 west to Hartsel, then took Route 9 across one of our favorite parts of Colorado, South Park (click here for a video of another drive through South Park!)  We even got to check out the ghost town of Alma and the skiing area of Breckenridge on this jaunt!
Leave it to the Trekkers to willfully and eagerly turn what could have been a simple, 90-minute drive into an incredibly beautiful, 8-HOUR tour of central Colorado on a GORGEOUS fall day…ALWAYS take the scenic route!
As part of our scenic drive, we randomly stumbled upon a place I've had on my list to visit…that's right, the Hoosier finally found Hoosier Pass! 😁 😁 😁 (Not sure why the two signs differ by three feet in their claim of how high it is? 😮)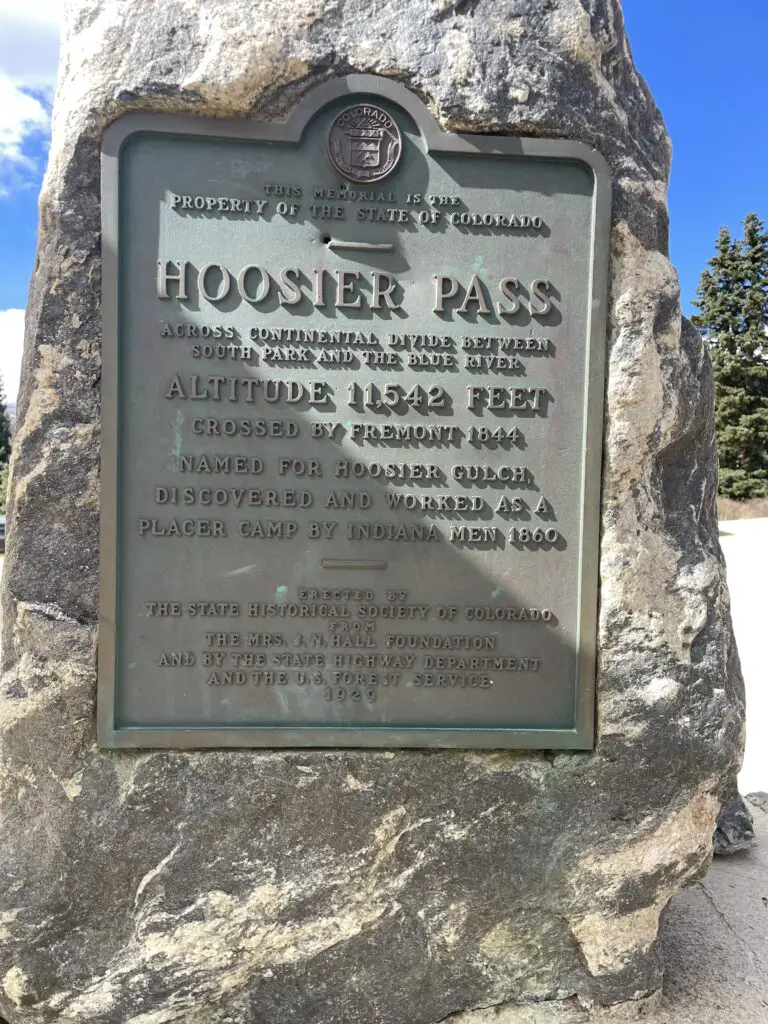 Golden Gate Canyon State Park
As part of our scenic drive, we also stumbled upon Golden Gate Canyon State Park, before ending our day in Boulder.
This is a great little park situated in north-central Colorado, around 15 miles west of Golden and about 17 miles north of I-70.  It's got a number of trailheads that can be accessed from various areas, but the main entrance/ Visitor Center can be found on Route 46 about five miles east of the t-intersection with Route 119.
Golden Gate Canyon State Park offers around 35 miles of trails in addition to other activities (like camping) and it's dog friendly!  If you want to know how the park gets its name, visit in late September/early October, it was beautiful!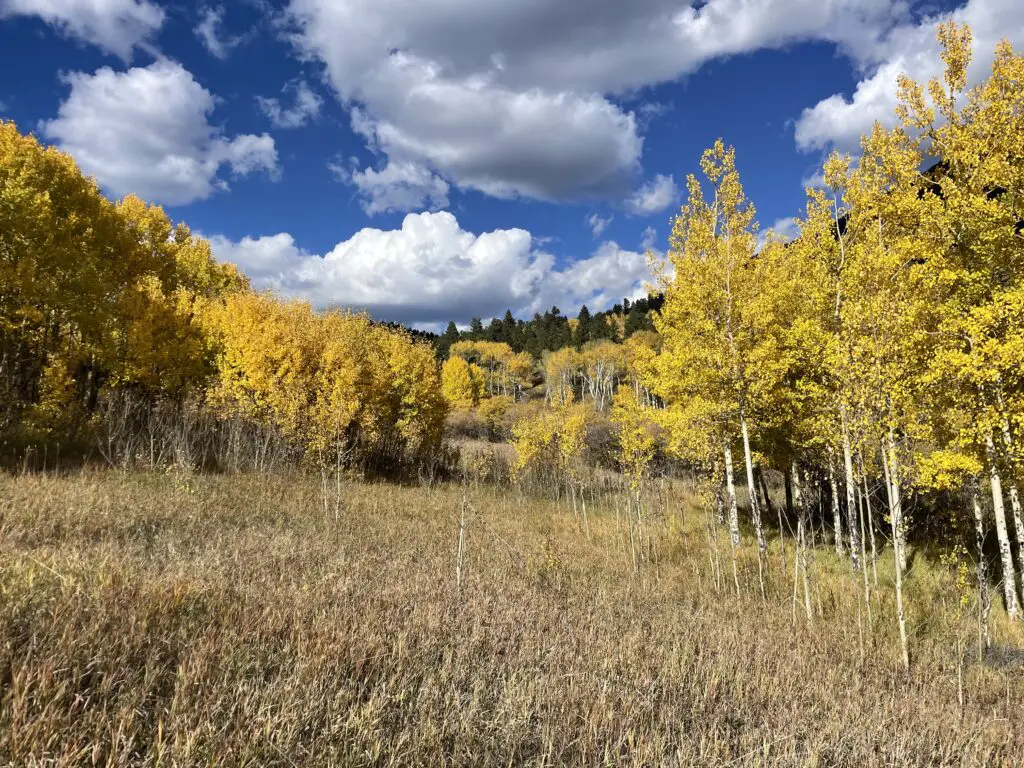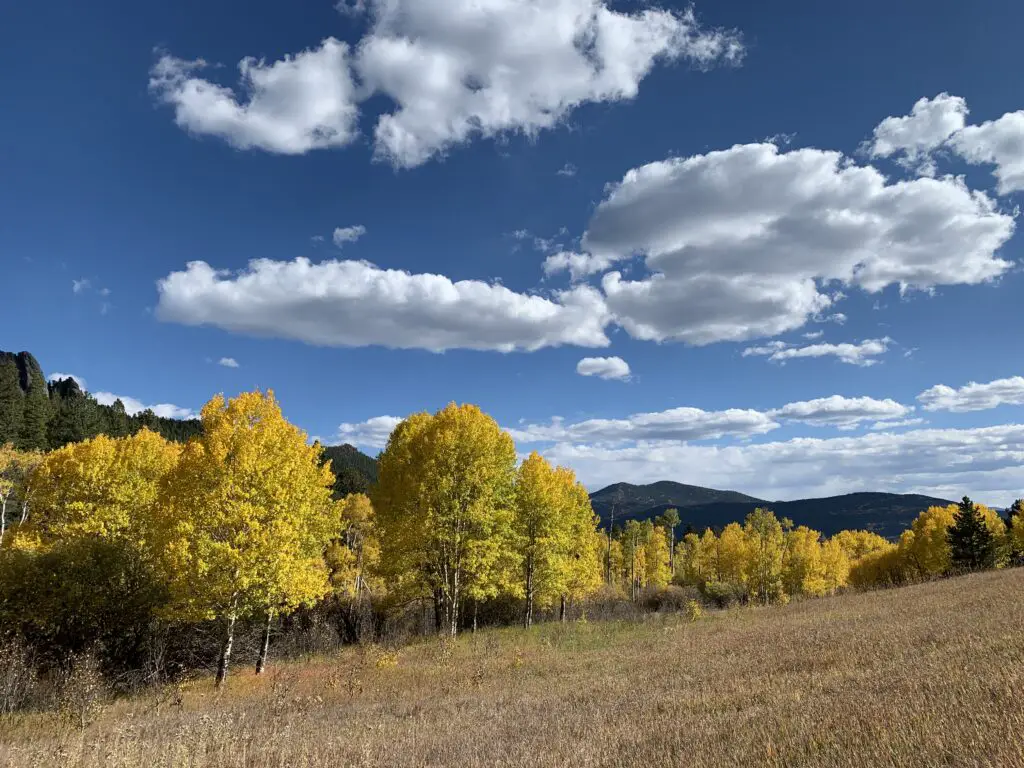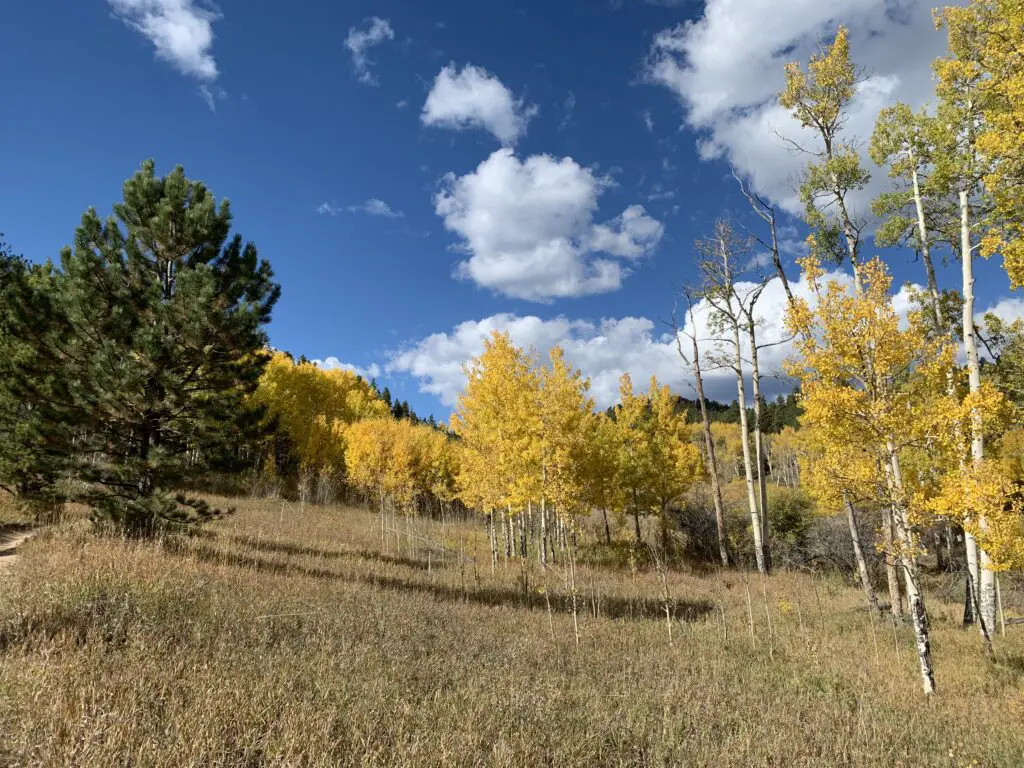 There are places in the park that also offer incredible views of the surrounding Rockies, including some of Rocky Mountain National Park's most notable peaks (the national park sits only about 60 miles to the north).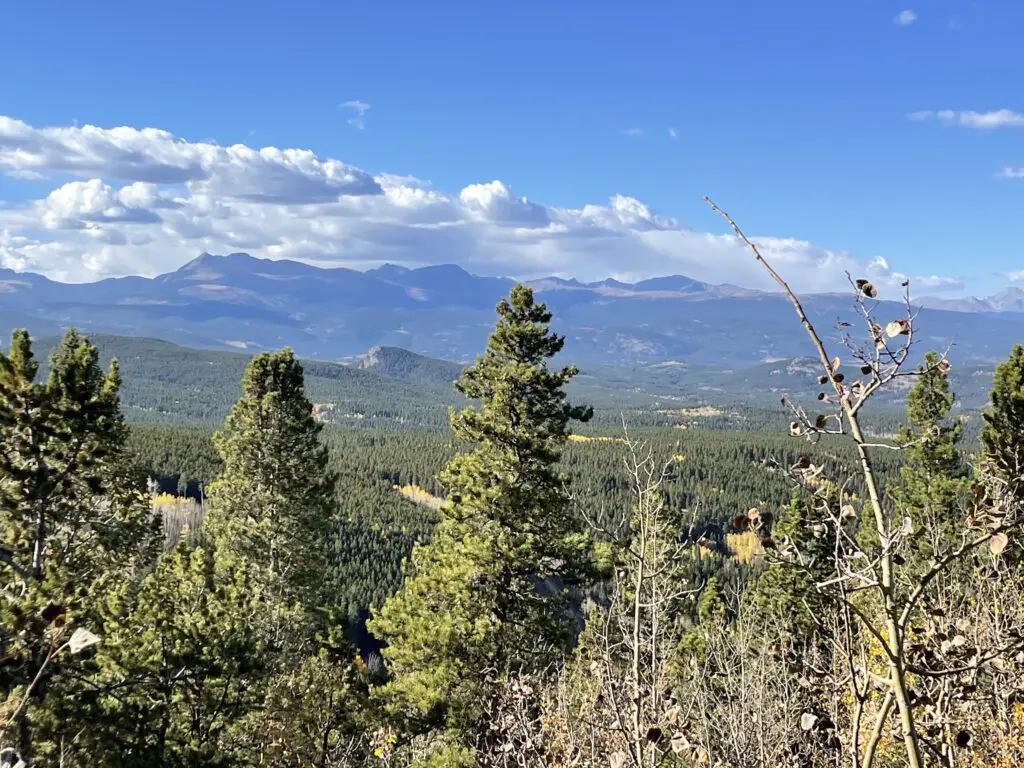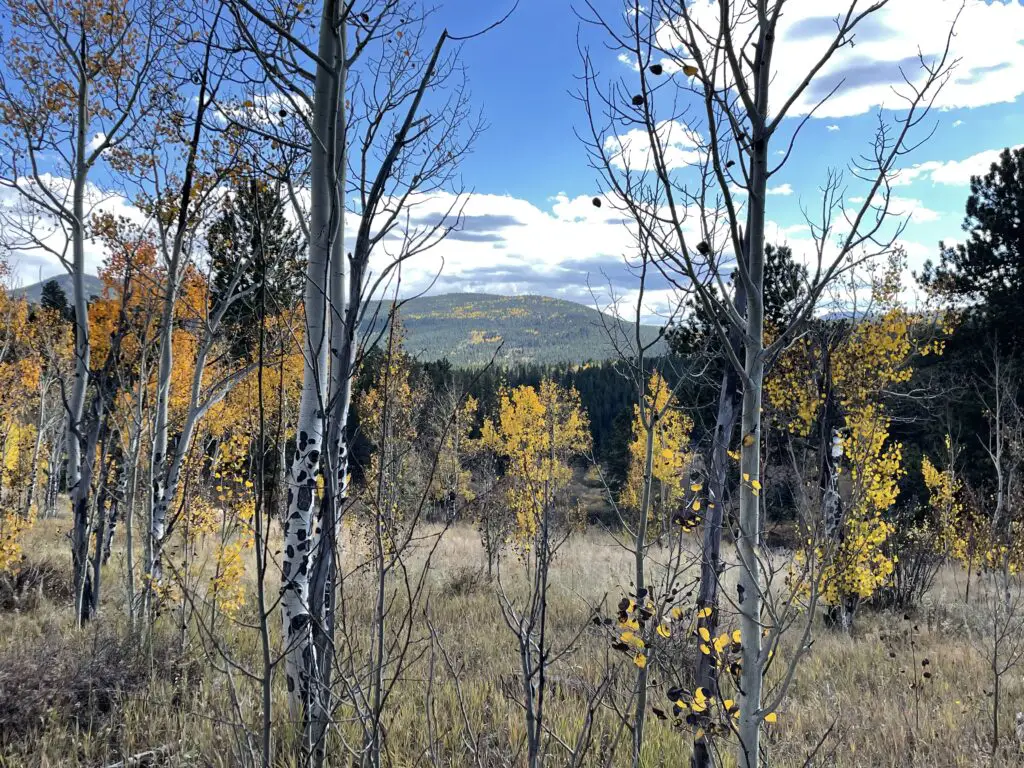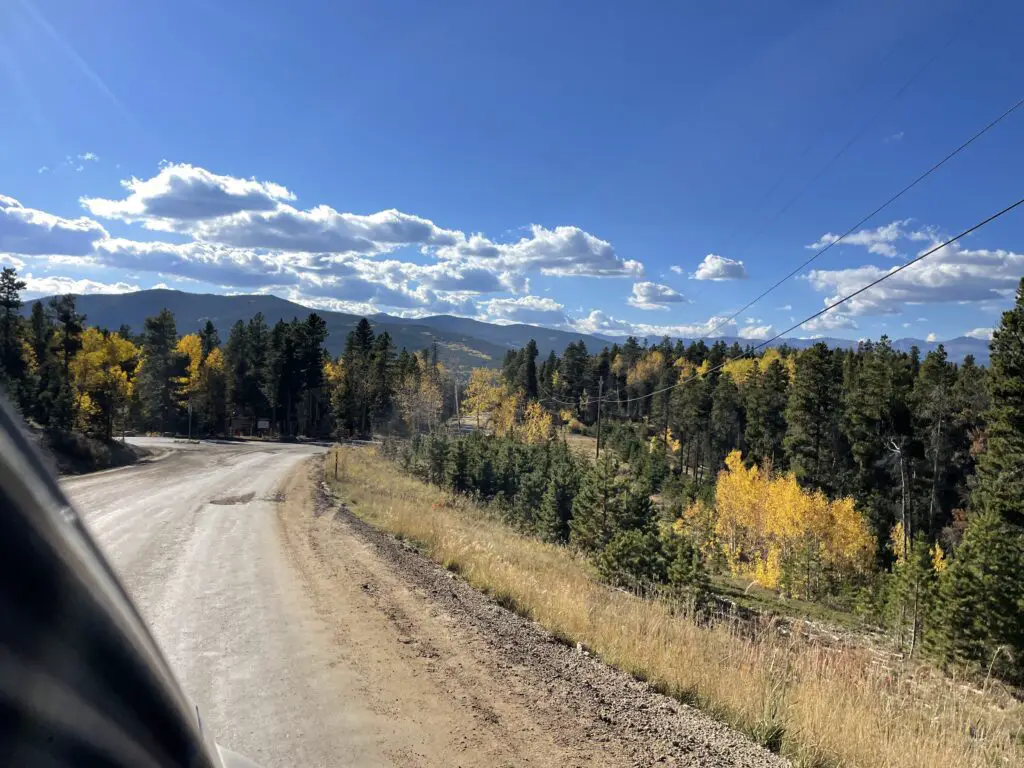 Places to Eat in Boulder
We were only in Boulder a few days but we enjoyed a few yummy places to eat there, as well!
Sweet Cow –another yummy place for a sweet, ice cream treat!
Chez Thuy–this is a great, Vietnamese restaurant. I highly recommend their Pad Thai!
So if you're visiting the Colorado Front Range, be sure to check out Garden of the Gods, Pikes Peak, Golden Gate Canyon State Park, and the National Museum for World War II Aviation!  You'll be glad you did!
Have you visited any of these locales?  What did you enjoy most?  Tell me about it in the comments. 
Did you enjoy this post? Pin it!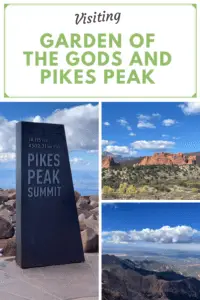 Like what you read here today?  Please feel free to leave a comment, like or share this post!  You can also follow the blog on social media by clicking the links below!