If you're in south-central Pennsylvania and you enjoy military museums, check out the US Army Museum (also called the Army Heritage and Education Center) in Carlisle!
To be honest, this type of attraction is much more up Mr. Trekker's alley than mine.  I'm not really into war/military stuff all that much.  However, he enjoys learning about history and going to these types of museums so as the sweet, dutiful wife, I happily tag along. 😉  I will say, I was pleasantly surprised and impressed with how much I enjoyed this locale. 
Where is the

US Army Heritage and Education Center?
This US Army Museum is located at 950 Soldiers Dr., in Carlisle, Pennsylvania.  I will warn you, it isn't super easy to find.  The museum sits right along I-81 but there isn't a good exit for it off that highway so, don't rely on that landmark to find the attraction. 😝  There are a number of signs around town pointing to the Carlisle Army Barracks…but these are on an active Army base and aren't where you want to go.
You can reach the museum off of Army Heritage Drive which is located off of East North Street/Claremont Road in town (which you can reach from Route 11).  My advice would be to ignore the blue signs around town (until you are almost to Army Heritage Road) or else they will just confuse you.
The good news is if you take a wrong turn and end up on base–which is surprisingly easy to do–the soldiers at the guard house are very friendly and willing to direct you where you need to go (I can speak from experience 😇).  You get the impression they've done this before. 😝 
Note to the US Army: maybe make your awesome museum less confusing to find?
Signed: a US taxpayer 😝
Outdoor Exhibits at the US Army Museum in Carlisle, PA
The outdoor exhibits at the museum are pretty cool! We didn't have time for the "Global War on Terror" portion before the rain arrived, but the rest of the outdoor displays were great!  They include a walking path for the family to enjoy and you can even bring your furry friend along for this section of the museum.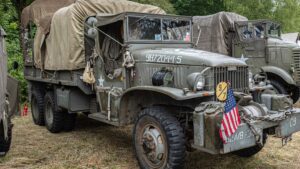 Two of the exhibits allow you to walk through both an American and German version of trenches from World War I.
I found myself feeling claustrophobic and panicky in these close quarters and we only had to worry about noise from I-81 nearby. I can't imagine what it was like with bombs exploding around you while standing knee-deep in unnamable slop with death all around. 😮
We also got to see a Vietnam-era "hooch" and climb a tower camouflaged in the jungle foliage, then we were off to explore some Civil War and World War II-era cabins.
The outdoor portion of the museum is great, our only criticism of it was the order of exhibits was a little convoluted.  They start with the modern-day War on Terror, then jump to World War I trenches, then to Vietnam, then to the French and Indian War, then to the American Revolution, then to the Civil War, and then finally end with World War II. 😝 
Indoor Exhibits at the US Army Heritage and Education Center
I was also impressed with the museum's indoor exhibits.  This included a picture gallery of Army history from the early 1900s to the Present.
Many of the exhibits were hands-on and quite fun!  In one you get to experience a nighttime parachute jump into an enemy jungle. In another you're sitting in a Korean War-era "hooch" at night, hearing bullets whiz by outside.  There is another where you get to experience riding in a "Huey" helicopter.
There is also an exhibit where you are given dog tags for people who were actually in various wars (World War II, the Vietnam War, the Gulf War, etc.)  You then "follow" them through the course of the exhibit.  This reminded us of the experience at the Holocaust Museum in Washington, D.C., where you "follow" a person throughout the whole experience.
These are just some of the hands-on exhibits available at the museum.  I thought they all offered something interesting that even kids can enjoy!
Want more information on the US Army Museum in Carlisle, PA?
See below for more info on the US Army Heritage and Education Center:
You can check out the main website for the museum here.
This website gives information on the Army Heritage Trail –this is all the outdoor exhibits at the US Army Museum.
This is the website for the Soldier Experience Gallery  –this is all the indoor exhibits at the museum.
If you're in south-central Pennsylvania and you're looking for a fun activity the whole family can enjoy, check out the US Army Heritage and Education Center!
Have you ever been to this museum? If so, what did you think? Let me know in the comments!
Did you enjoy this post?  Pin it!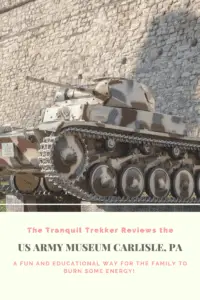 Like what you read here today?  Please feel free to leave a comment, like or share this post!  Add your email at the bottom of the page, or the sidebar to the right, to be notified when a new post is published.  By signing up for the email list, you will also receive a free copy of the Tranquil Trekker's Top 10 Tips of Trekking Do's and Don'ts!
You can also follow the blog on social media by clicking the links below!