The Barnes Canyon Trail is a relatively new hiking option located within Custer State Park.  It is a great path as it is broad and easy to follow (being that it used to be a road). 😉  Because it is so wide and well-graded it is appropriate for almost everyone in your party.
Where in Custer State Park is the Barnes Canyon Trail?
The trailhead is located on the eastern edge of the park, near Custer State Park Airport.  It also connects through to the Badger Clark Memorial Trail which is located off of Route 16A, found farther west, and deeper within the park. (I discuss this portion of the trail in another post.)
How long is the hike?
The hike is around 10 miles in total length (4.7 miles in each direction).  You only have to traverse as much of it as you want, of course.  The road is out-and-back and was once used for forest and logging access. (It has now been closed to motorized vehicles.)
Many old maps show that the trail makes a loop. We didn't see any obvious evidence of this on our hike.  We found on several websites that the loop can be difficult to follow as one of the sections is heavily overgrown, not well-maintained, and not well marked. If you want to try the whole loop be my guest, but be sure you have good maps and a compass with you as it may require some bushwhacking of your own trail.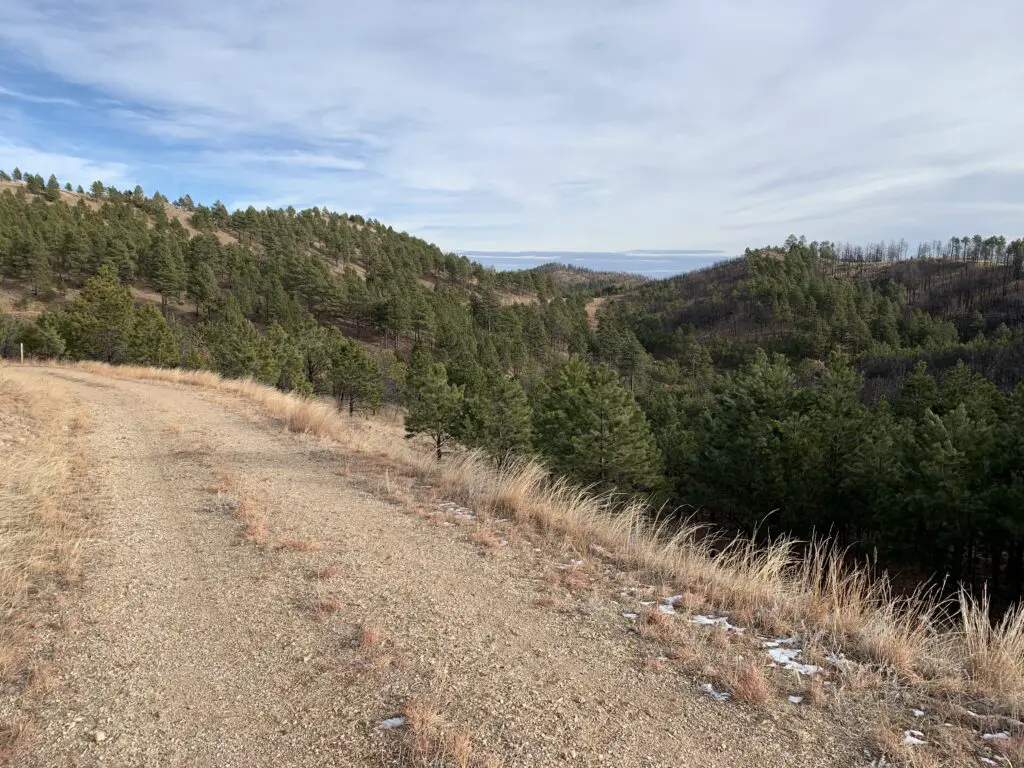 What will you see on the Barnes Canyon Trail?
The route includes hills and dips, but traveling east to west it generally traverses uphill. It isn't a very steep or difficult trek, however, so it should be appropriate for almost anyone.  In several places, it offers nice views of the surrounding prairies and wooded hillsides.  While the majority of the trail mostly runs through forestland, you do cross a few meadowy areas, as well.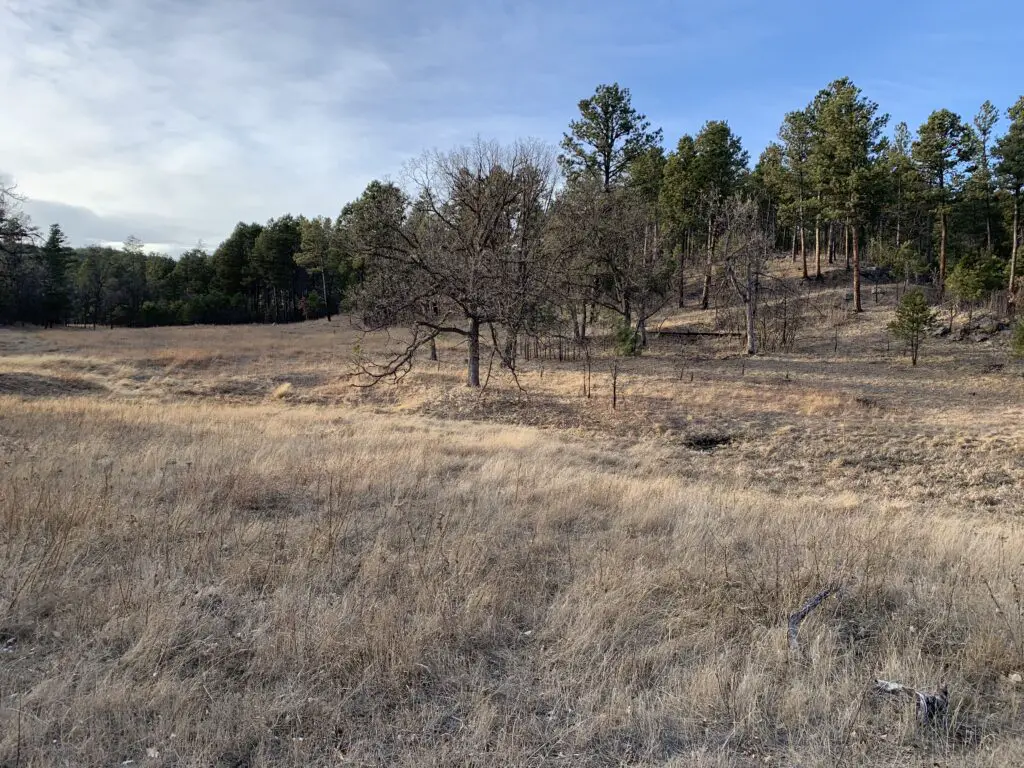 One nice thing about this trail is that it allows you to get out into the middle of Custer State Park.  Here it is quiet and far from the many tourists that are frequently in the area.  You may spot many different wildlife on your trek including deer, buffalo, elk, and bighorn sheep, not to mention a wide variety of birds and other forest critters.  This is also a very quiet hike as the trail does not run near any major roads.  Use your time here to soak up the tranquility, peace, and natural sounds of the forest.
When is the best time of the year to hike this trail?
This trail is appropriate to use at any time of the year, though it could be difficult to reach in deep snow or very muddy conditions.  Also, if you attempt this hike during the colder months, you may want to bring traction devices, such as Yaktrax, to help you manage any icy sections that may form in shaded areas, especially on hills.
If you're looking for a great trail that isn't difficult but offers some beautiful views of the flora and fauna that make up the amazing scenery of the Black Hills, check out the Barnes Canyon Trail in Custer State Park!
Did you enjoy reading this post?  Pin it!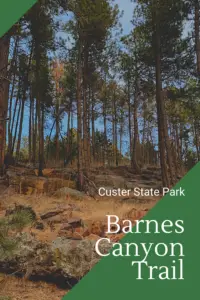 Like what you read here today?  Please feel free to leave a comment, like or share this post!  Add your email at the bottom of the page, or the sidebar to the right, to be notified when a new post is published.  By signing up for the email list, you will also receive a free copy of the Tranquil Trekker's Top 10 Tips of Trekking Do's and Don'ts!
You can also follow the blog on social media by clicking the links below!