I'm going to take a diversion from my typical "out West" posts to write about a park we always make a point of stopping at when visiting Mr. Trekker's family in New England.  Gay City State Park is located in Hebron, Connecticut.  It's easily accessible from, I-384, Route 6 or Route 2 off of Route 85, just follow the signs.
Gay City Ghost Town in Connecticut
The park actually encompasses an old ghost town, though few remnants remain other than the foundation from the old mill.  The town was originally known as Factory Hollow, though with many of its inhabitants sharing the last name of Gay it was renamed to Gay City upon its sale to the state.  There's also an aged cemetery on-site, where you can still read the inscriptions on some of the gravestones.  Please be respectful of this historic location and the final resting place for these individuals.
What you will see at Gay City State Park
The park offers miles of hiking trails (which are easily convertible to cross-country ski and snowshoe trails in the winter months); a small, scenic, lake; a beach, campground, picnic areas, and opportunities for a host of other activities.  The trails also connect to others outside the park boundaries that venture into other local, recreation areas.  For further info, you can visit the website.
The park is fairly ordinary compared to those we've visited in the Western US, but it's a place we always enjoy and try to visit whenever we're in the area.  The trails are easy in difficulty, wide and fairly free of roots and rocks.  None are much longer than five miles-though you can combine various trails for longer treks-so they're ideal for families.  You stroll through an old forest comprised of mostly deciduous trees dressed in the leafy clothes pertaining to the current season.  Only the sound of the babbling brook that parallels much of the trail,  the wind in the trees, and the call of the birds flying overhead accompany you.   The area is highlighted by the fieldstone walls that are iconic to the New England countryside.  It's an opportune place to enjoy the lovely fall colors this region is famous for.  We usually visit in early winter, enveloped in the tranquil "swish, swish, CRUNCH" of fallen leaves underfoot, from which a nutty smell wafts with each step.
The most recent day we were there was lovely!  It was cold (around 18 degrees), but it was sunny, with little wind.  As it was the first day in about five that we had seen the sun, we had just recently driven 1800 miles across the country and we had countless, delicious holiday meals weighing us down, it was nice to be able to get out and stretch our legs a bit.  There was just enough snow to make the scenery beautiful, but, as it was powdery, nothing more than hiking boots was needed to trudge through.  I was impressed by how many hearty souls we saw out with us, including cross-country skiers and fellow hikers.
Below are a few pics from our trek.  Thanks, as usual, to Mr. Trekker for a few of these!
If you're looking for a fun, outdoor activity in central Connecticut, check out Gay City State Park! 
Have you visited Gay City?  Tell me about it in the comments!
Did you enjoy reading this post?  Pin it!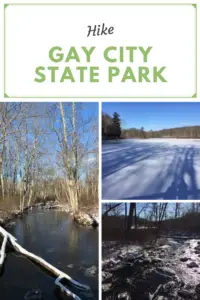 Like what you read here today?  Please feel free to leave a comment, like or share this post!  Add your email at the bottom of the page, or the sidebar to the right, to be notified when a new post is published.  By signing up for the email list, you will also receive a free copy of the Tranquil Trekker's Top 10 Tips of Trekking Do's and Don'ts!
You can also follow the blog on social media by clicking the links below!