It only took two tries, but we were finally able to locate Poet's Table!  (As it turned out, we almost reached it the first time, and probably would have, had it not been for the mist blanketing everything and the fog hiding the site from view).  If you're looking for specific instructions on finding this awesome spot…keep looking.  I won't give any details that can't already be found on Google.  Part of the fun is in the search! (I will say this much if you think you're close…make sure you look up!)
Where is Poet's Table
Our first attempt was in early June on a particularly misty, foggy day–which can be a really cool time to hike in this area.  Our second was a few years later, also in June, and we were actually able to help some visitors from Illinois locate the spot.  They were grateful for our assistance as they were eager to ferret out this iconic, Black Hills location.
The only major clue I'll give you is that this "secret" spot is within Custer State Park.  There are no signs or trail markers so you're going to have to put your sleuthing hat on to find Poet's Table.  The trail is unmarked and is located about a half-mile from the Little Devil's Tower trailhead which is about half a mile from Sylvan Lake on Route 87.  It is also not far from the scenic Cathedral Spires Trail.  
After about a 1/2 mile hike down the trail and crossing a footbridge, you will see a fallen log on your right.  On your left is a rather large, well-trodden path going off to your left, heading uphill, traversing a bit of a canyon.  Take this path.  As you trek the unmarked trail, within a few minutes you'll see another, smaller, also well-trodden trail heading off to the left, toward more towering granite summits.  Take this left…this is where my directions end, the rest is up to you!
Poet's Table Can be Hard to Find
Don't get discouraged if you don't find the site on your first attempt (or even your 3rd!)  Just enjoy the hike, the views and the beautiful nature that surrounds you.  We found some pretty nifty spots in the area even when we failed to find the actual Poet's Table.  Good luck, have fun and happy hunting!
Note:  There are several other unmarked trails traversing gulleys and canyons in this area.  They don't "go anywhere" per se, but I encourage you to investigate them.  This is a pretty amazing area that you'll have largely to yourself most any time of year (though summer is the busiest time).  There are lovely canyons, picturesque granite outcroppings and the occasional small waterfall to hunt if you're there during a wetter period of the year.  Trails in this area aren't overly long but they can get rather steep so watch your footing, especially in wet, muddy, or snowy and icy conditions.  Being in the Harney Range, this is also one of the higher elevations in the Black Hills (over 6000 ft), so flat-landers should take heed. 😉  Another nice thing about the trails being relatively short, most are half-day hikes or less (though you can, obviously, spend as much time in this area as your heart desires.)  You won't get bored!
Thanks, as usual, to Mr. Trekker for this great shot of Poet's Table!
A few months after our trip, this iconic landmark was vandalized. Fortunately, it has been reset. You can read my feelings about that event here.
Did you enjoy this post?  Pin it!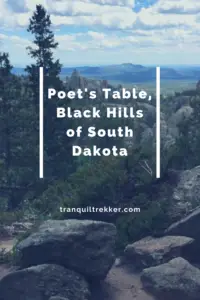 Like what you read here today?  Please feel free to leave a comment, like or share this post!  Add your email at the bottom of the page, or the sidebar to the right, to be notified when a new post is published.  By signing up for the email list, you will also receive a free copy of the Tranquil Trekker's Top 10 Tips of Trekking Do's and Don'ts!
You can also follow the blog on social media by clicking the links below!