The Guide to Colorado Backroads and 4-Wheel-Drive Trails may have a long name, but these are some of the best guidebooks I've used, in general. (To be fair, I don't have much experience with books that, specifically, discuss 4WD trails).  In this post, I mentioned that we used these books quite a bit during our Colorado road trip this summer. 
What makes the books so great?
The book series is composed of two volumes that encompass the central and southern regions, and the northern region of the state and divide the roads and trails into classifications of "easy", "moderate" and "difficult".  They give incredibly detailed descriptions of the routes (down to the tenth of a mile), and also discuss rules regarding permits needed, unlicensed off-road vehicles, etc.  
It should be noted that the books make the assumption that a 4WD vehicle will be used when attempting these roads/trails,  So, classifications of "easy" should be understood within that context.  We found some (though not all) of the "easy" roads should be approached with care in a passenger vehicle (even higher-clearance vehicles such as my Subaru Outback).  It should also be noted that even the easiest trail can quickly become difficult if weather conditions deteriorate.   
The books tell you what you will encounter on the route
The books' excerpts describe the types of vehicles that each route can accommodate–a full-sized truck or jeep versus an ATV with a shorter wheelbase, whether or not modifications (such as skid plates, rock sliders, winches, etc.) are advisable.  These excerpts also do a good job of differentiating between paved and gravel roads (information we found to be lacking in the Gazetteer), the usual condition of the routes, as well as how surface conditions can vary based on changing weather conditions. 
The books give directions on how to reach a route, bug-out options if needed (and if they're available at all), hazards to watch out for, the best time of the year to experience the trail (as well as when they may be closed, entirely, due to weather conditions), and contact numbers to verify the most updated road conditions.  The route's length, the highest altitude it reaches, activities available on or near the trail (availability of camping, hiking, rock crawling, ghost towns to explore, etc.) are also discussed.  Color-coded maps are provided in spiral-bound, durable pages that make for easy use in a vehicle (I can vouch for this as the navigator).  😉  
Related Posts:  7 "Must-See" Colorado Ghost Towns, The Best Hidden Gems of Northern Colorado, The Backroads of Colorado, The Drive to Crystal Mill in Colorado
According to Amazon, similar books by the same authors are available for other locales as well, including, Moab, Utah, and portions of Arizona and California.  I can't speak for the quality of these volumes, though, if they're anything like the ones described above (and I have no reason to believe they aren't), they would be beneficial additions to any gear list if you're visiting these areas.  
So, if you're itching to get away from the crowds and explore some Colorado backroads, consider these books for your adventure!
Have you ever used either of these books?  What did you think of them?  Tell me about your experience in the comments! 
†As an Amazon Associate I earn from qualifying purchases
Did you enjoy this post?  Pin it!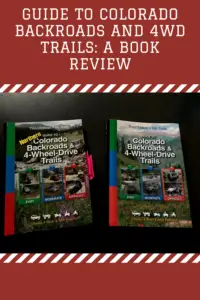 Like what you read here today?  Please feel free to leave a comment, like or share this post!  Add your email at the bottom of the page, or the sidebar to the right, to be notified when a new post is published.  By signing up for the email list, you will also receive a free copy of the Tranquil Trekker's Top 10 Tips of Trekking Do's and Don'ts!
You can also follow the blog on social media by clicking the links below!