The Trekkers LOVE visiting ghost towns! We try to include them whenever possible on our trips.  During our 2018 road trip, we got to check out several awesome ghost towns in Colorado.  
Ghost towns give you a true, visual understanding of how people lived "back in the day".  I'm a very visual person so this helps me fully appreciate what the lives of the inhabitants of these towns must have been like.  I prefer the towns that are restored, with at least several buildings remaining that you can view.  Sometimes, however, the places that are comprised mostly of ruins allow you to use your own imagination of how they must have appeared in their heyday.
Click here for a list of ALL the ghost towns the Trekker's have visited around the country!
Below is a list of seven ghost towns we visited in central and western Colorado…
Teller City Ghost Town: 
This was the first ghost town we visited and the one that required the most effort to access.  The townsite is near State Forest State Park, in far northern Colorado, around nine miles south of Gould, on Route 740 (Baker Pass Road).  You reach it by driving on a, somewhat rough, 4WD shelf road. (The Guide to Colorado Backroads† book that I mentioned in a previous post, rates this road as "easy".  I would rate it as "moderate".  A high clearance, 4WD vehicle should be all you'd need to access this site in good conditions).  
We didn't actually complete the 4×4 road all the way to Baker Pass, though we spoke with a local who said it was worth the drive.  Alas, daylight was waning (and the mosquitoes were starting to bite!) 😝
 The way was fairly well-marked and obvious, but be watchful.  The road branched off several times and the correct route was only marked with orange, snowmobile trail markers (this is a snowmachine trail in the winter months).  
One plus with this site is that there's a designated parking area and then you hike a Nature Trail loop to view the remains of the town.  Not much is left, but you could almost hear the voices of the patrons visiting the busy shops, and smell the dust kicked up by the wagons as they rolled along–what used to be–a bustling Main Street.  
At various places along the trail, markers describe the history of that home or business.  At one of the stops, the words of a young girl who came into town one winter night, via the pass, were noted.  Her description of the twinkling town lights flickering through the evening shadows was incredible.  
Below are a few more pics of the ruins at Teller City (as usual, thanks to Mr. Trekker for several of these):
Coalmont, Colorado: 
After leaving State Forest State Park, we visited Coalmont on our way to the Flattop Wilderness area.  Only the schoolhouse remains of this dusty hamlet, but from what we could see through the grime-spattered window, it appears to have been restored inside.  It would have been neat to be able to view it in more detail! 
The townsite is located off of Route 14, southwest of Walden, Colorado and can be reached via either Route 24 or Route 26 (they form a half-moon-shaped loop here).  The site is directly off of Route 26.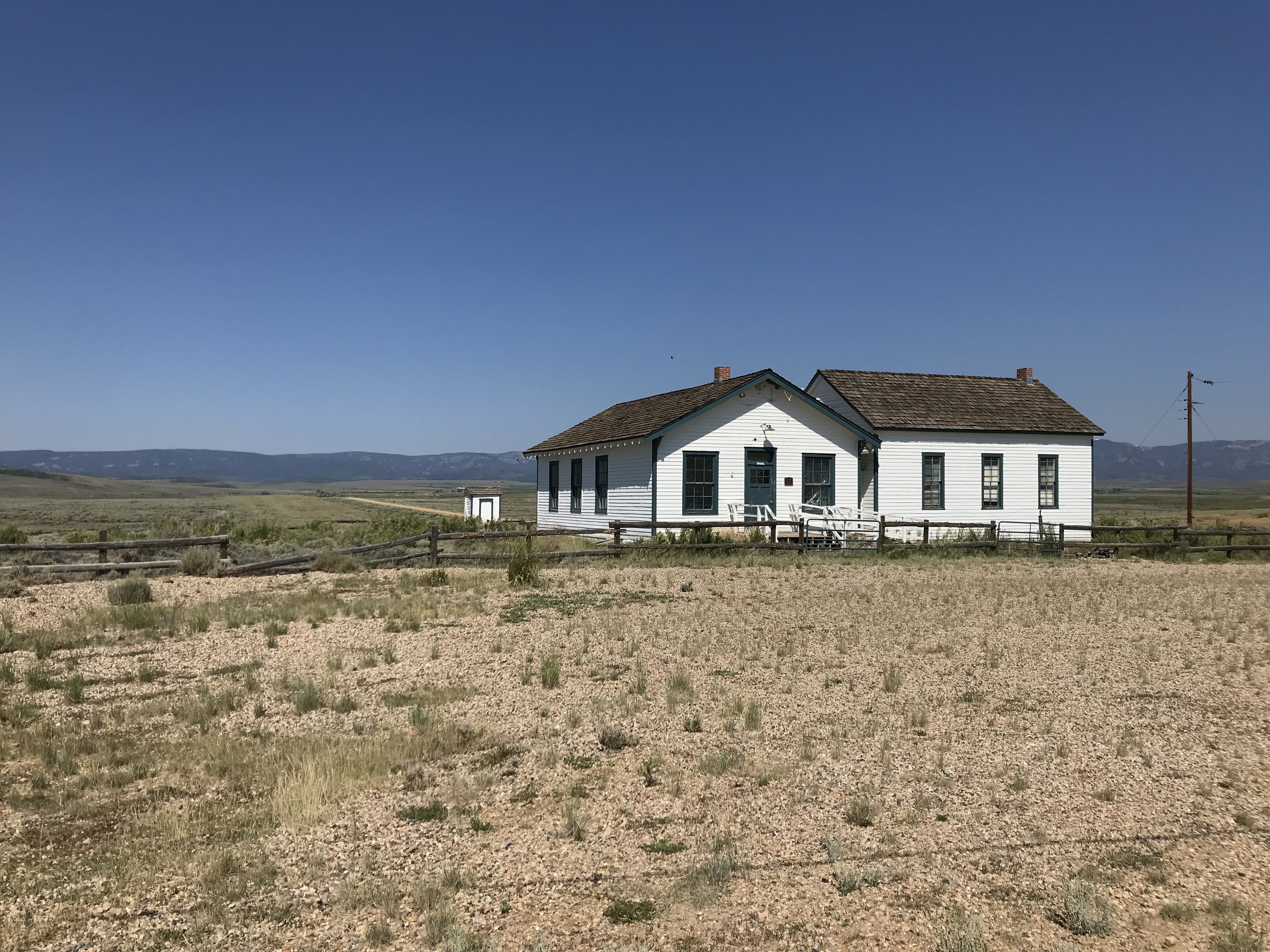 Remains of an old ranch at Grand Mesa National Forest:
This site is located on top of the mesa, off the Land's End Road.  It is the remains of a ranch that operated in this area long ago. Several cabins, one of which you can walk inside, and an old livestock corral, have been restored.  They can be viewed on a Nature Trail loop (it is part of a cross-country ski trail in the snowy months).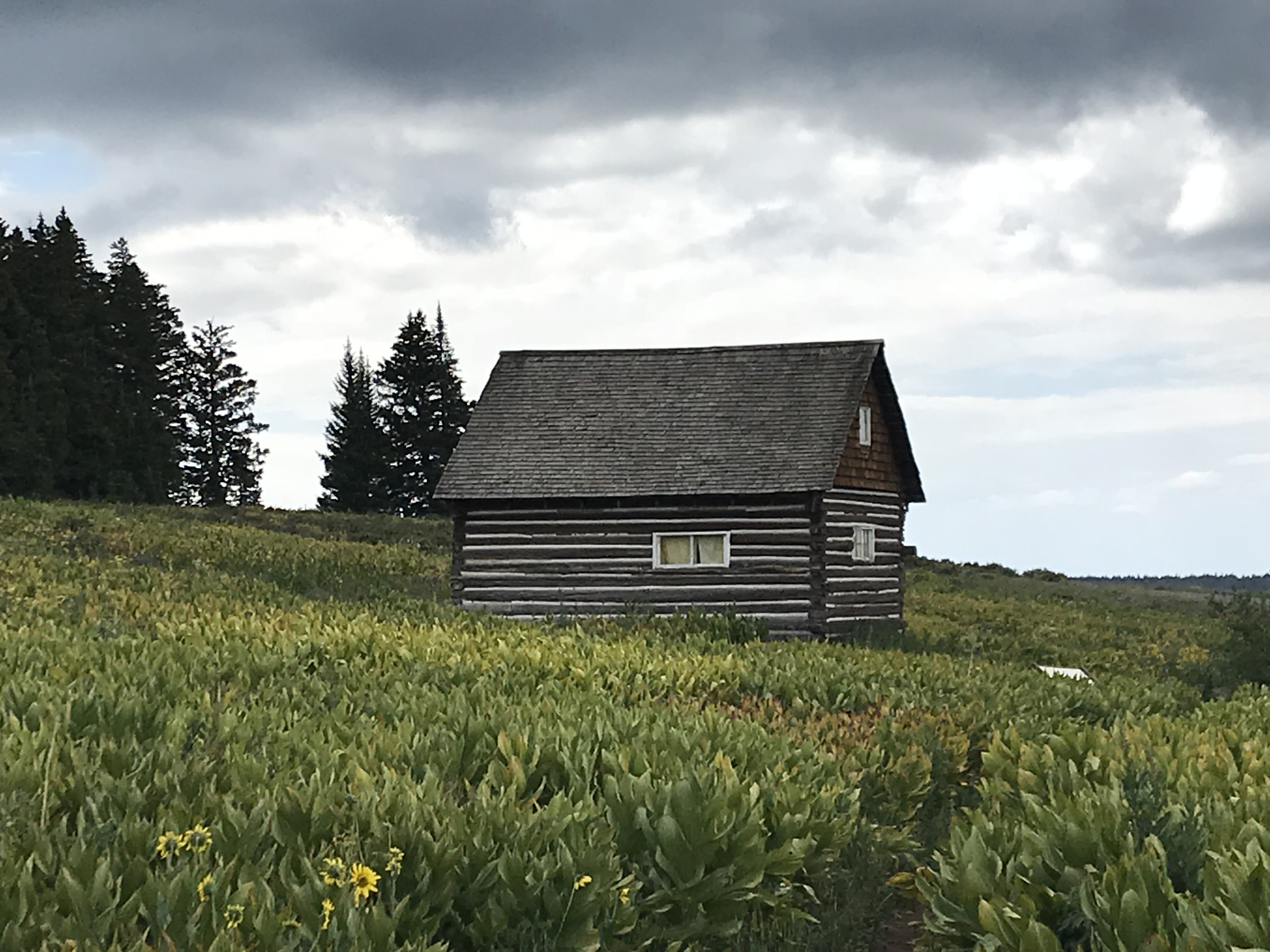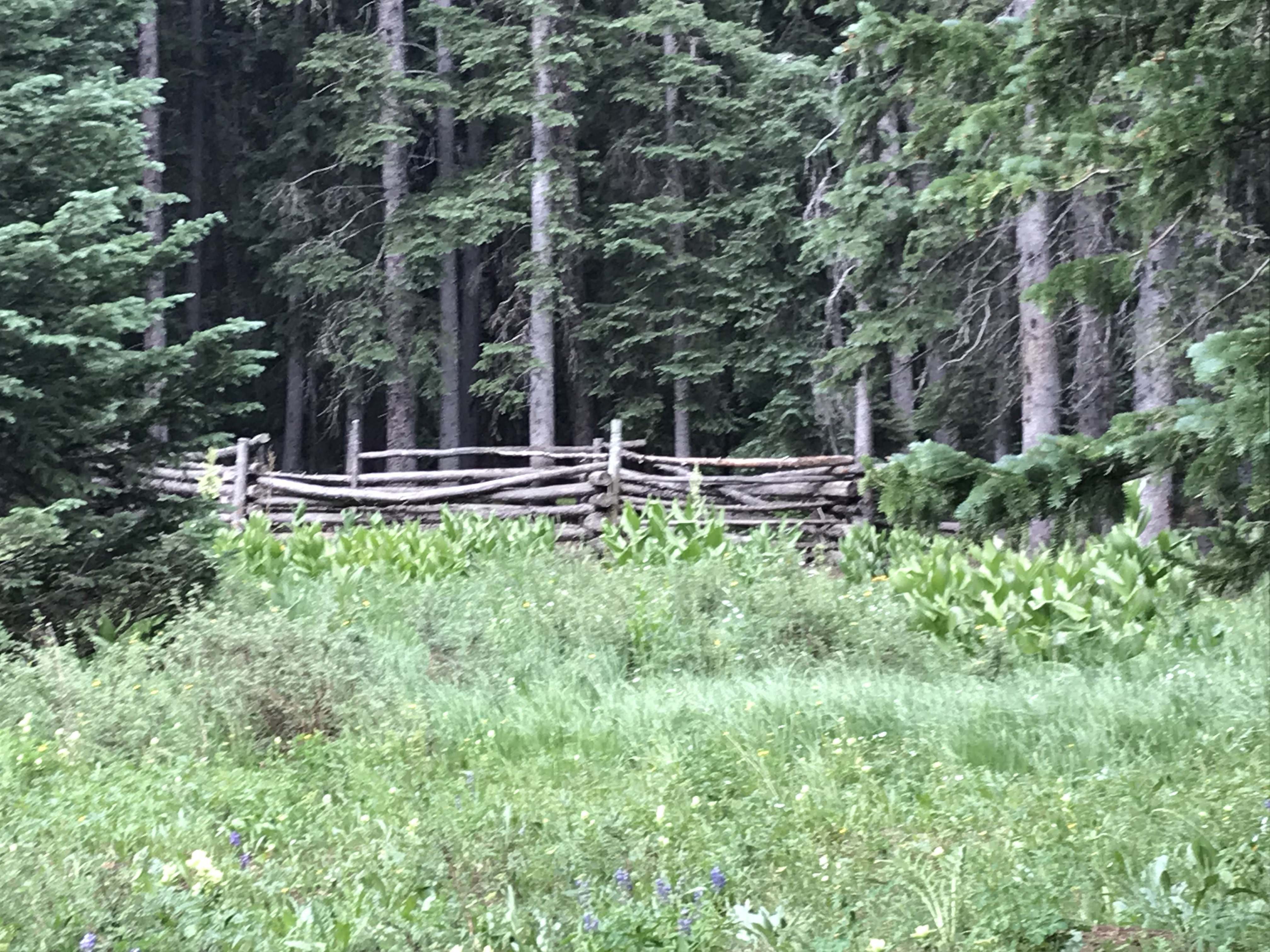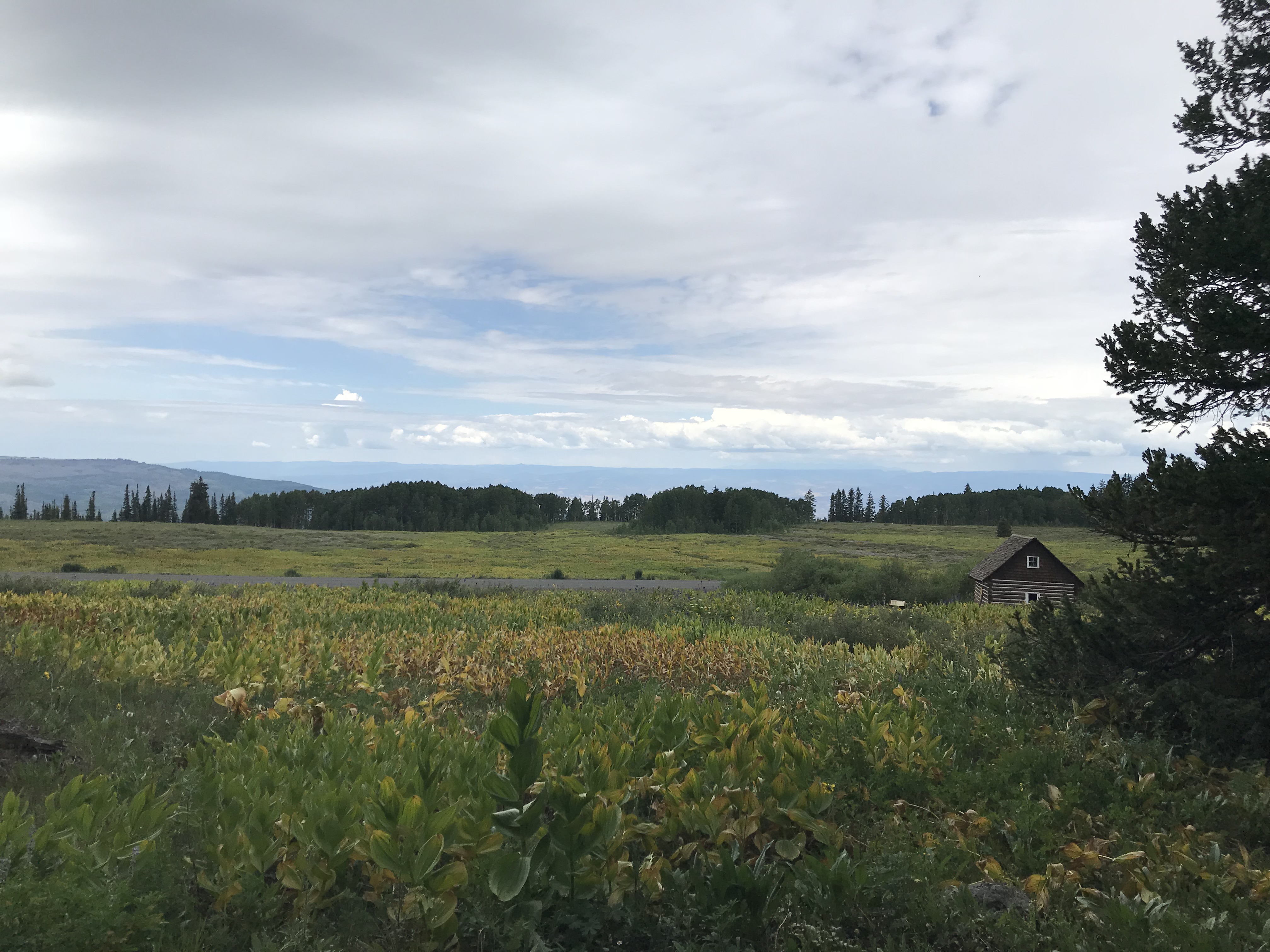 Pitkin Ghost Town: 
This "living" ghost town is located about 27 miles east of Gunnison Colorado.  Take US 50, east, from Gunnison, then turn left onto Route 76 in Parlin.  
As an aside, we enjoyed several good meals in Gunnison.  We had a wonderful breakfast at the W. Café, and, I can attest that the High Alpine Brewing Company makes great pizza!
At about the halfway point on Route 76, you will pass the "living" ghost town of Ohio City. (I call them "living" because some hearty souls are still living in both of these locations!) 
The rain was falling fairly heavily as we passed through Ohio City, so we chose not to stop, but Pitkin should definitely be on your list of places to visit!  It was one of the more "real-feel" ghost towns we toured as it wasn't crowded with visitors, and enough of the old buildings have been restored that you felt as though you were actually walking down the town's Main Street.  
The Silver Plume General Store, located on the east side of town at the corner of 9th and State Streets, is a great place to stop for lunch.  We certainly enjoyed our burgers from the outdoor grille! Note: Pitkin is the last chance at civilization if you're venturing onward to Tincup, Cottonwood Pass, the Alpine Tunnel, or St. Elmo ghost town via Tincup Pass.
We didn't make it to Tincup on this trip, being that Cottonwood Pass was closed for paving.  We are hoping to, one day, try the Tincup Pass between Tincup and St. Elmo and hike to the Alpine Tunnel.  Another journey for another time, I don't worry that we'll be back in Colorado soon!  😁
Below is a short video I took of the hummingbirds near the Pitkin Hotel.  I've always liked hummingbirds, but I've never heard them make this noise outside of Colorado…
St. Elmo Ghost Town: 
Everyone we talked to (and all the guide books we read) told us we HAD to visit St. Elmo, and it was, definitely, worth the visit!
The only disappointment I had with this site is that vehicles are allowed to park in the town itself.  Its spirit seems to be somewhat ruined when there's a modern Audi parked in front of Town Hall. 😝  Also, they were restoring several buildings while we were there—which I'm sure is necessary and will be wonderful when it's completed—but it meant that construction equipment was parked along Main Street.  *sigh*  Guess we'll have to visit another time! 😉 
As I mentioned previously, if you're daring, you can reach St. Elmo via Tincup Pass.  If you're looking for a tamer route, you can do what we did and take the long way.  For this trek take Route 50 east of Gunnison through Monarch Pass (another great view) and turn north onto US 285 at Poncha Springs.  Then take Route 162 west–an out-and-back road (for the less daring among us)–toward the Mt. Princeton Hot Springs resort and on to St. Elmo.  
Near this area, there's also a turnoff for Hagerman Pass Road to the site of another ghost town, Hancock.  From there, you can hike to the Alpine Tunnel from the east, though it sounded as though the hike is longer and the view isn't quite as good as hiking from the west side–we chose not to complete the hike at this time due to time constraints and the monsoon-fueled thunderheads that were threatening.  
As I stated previously, since we missed a few ghostly spots this time around, we'll be putting this area on our "must-visit" list for the future.  It's always a shame when you visit a location and find out you HAVE to come back to explore further (that happens to us regularly on trips, especially in Colorado…have I mentioned that I enjoy vacationing in this state? 😉)


Much to the Tranquil Trekker's dismay (we DON'T feed wildlife) one unique feature of St. Elmo is that visitors are encouraged to feed the WAY-overly-friendly and almost-aggressive local chipmunks. You can buy food for them at the General Store. 😝
The Cascades Waterfall near Buena Vista, Colorado:
After leaving Saint Elmo, on our way east, back to US 285, we stopped at The Cascades.  This is a lovely waterfall that's just off the side of the road.  It's a beautiful, peaceful location where you can walk right up to the base of the river that creates a picturesque waterfall in this area as it cascades across boulders–hence the name. 😉  
Gothic Ghost Town, Crested Butte, Colorado: 
I was a bit disappointed by this town.  The Rocky Mountain Biological Laboratory bought the town and did an exceptional job of restoring many of the old buildings which the lab uses for its work.  This we knew going in… what I hadn't realized is that the lab has taken over almost the entirety of the townsite.  As it's now, mostly, all private property, it's almost impossible to tour around and browse the various buildings. 😒
I'm glad the town is being used for something, and I'm thankful to the lab for helping to save its structures, I just wish the historical features were easier to access.  And a note to the general store in town:  you close by four? In the middle of summer?? On a Saturday???  REALLY?!  Afternoons are a good time for people to eat ice cream you know!  😝😳😉
You can reach Gothic by taking Gothic Road, Route 317, north of Crested Butte and the ski village.  You can't miss it, this is, literally, the only main road going north of town! 😉  This will also lead you to Schofield Pass that I discussed in this post.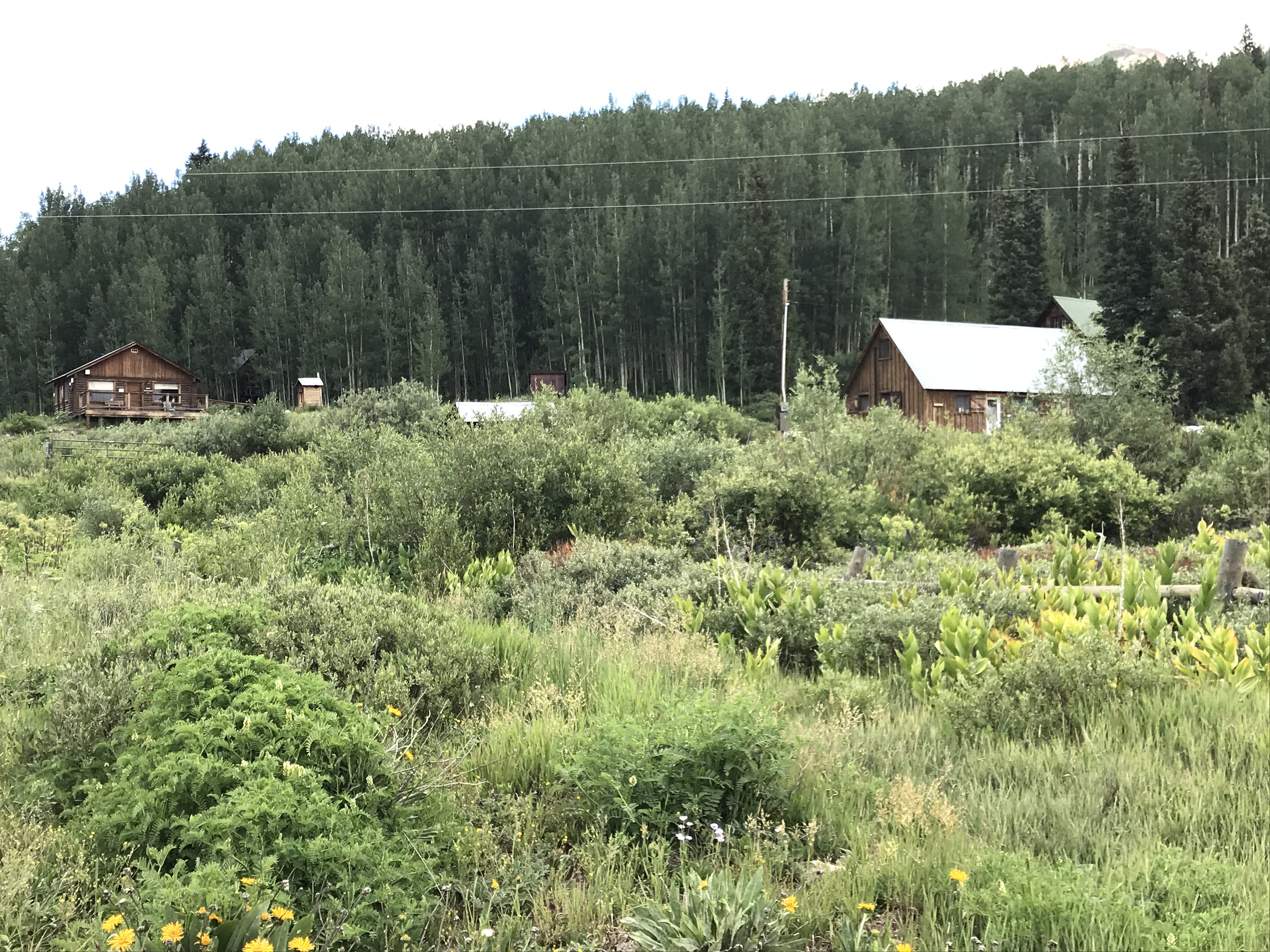 Independence Ghost Town and Independence Pass:
Independence ghost town is located on Independence Pass (Route 82), around 16 miles east of Aspen, and around 21 miles west of Twin Lakes.  
It's just east of the peak of the Pass itself, and is, actually, easy to miss.  It's below the grade of the road and the two parking pullouts are small and not well-marked.  There are, blue, "Places of Interest" signs, but you have to be watching for them.  We actually saw the ruins of the mill, on the other side of the road, first.  
The townsite is located in a valley, along the Roaring Fork River, framed by the towering Sawatch Range on both sides.  
Independence Ghost Town:
This was my favorite ghost town of the entire trip!  It's easy to access as the site is located directly on Independence Pass.  You actually park at a pullout on the Pass road and then hike out to the site, so no vehicles marred the view. 
The walk into the town site is about one-mile in each direction, on an old, two-track, dirt road. (The hike is pretty easy as there is almost no elevation gain.  Beware though, the town site still sits at about 10,000 feet in elevation.)  You can see the town from quite a ways off, which helps you to imagine what it must have felt like riding a horse or wagon along that route during the height of the town's life.
This would have been an incredibly beautiful place to live! (Had it not been so isolated and suffered such extreme weather.)
Related Posts:  Guide to Colorado Backroads and 4-Wheel-Drive Trails: Book Review, The Best Hidden Gems of Northern Colorado, The Backroads of Colorado, The Drive to Crystal Mill in Colorado
Independence Pass:
Independence Pass was incredibly beautiful, as well.  This one has been on my Colorado Bucket List for some time and it did not disappoint! (It was also the highest altitude we reached on this trip, maxing out at, just over, 12,000 feet!)  The scenic overlook and hiking area at the top of the Pass offer, almost, 360-degree views of the Continental Divide, which the Pass spans.
You may have noticed I've been enjoying using a Sun Company altimeter† in many of these posts.  It responds to changes in barometric pressure caused by weather as well as air pressure at-elevation, so you may have to recalibrate it a little each day to maintain the most accurate readings.  But, for amateur interest, it's a fun, portable, way to keep track of changes in altitude–it connects to the vehicle using velcro so it can be easily removed and taken on a hike if you're so inclined. 
I made another video of our drive up Independence Pass.  I think my videographer skills got a "little" better with this one! 🤔
If you're looking for something fun to do this summer, definitely check out the ghost towns of the Colorado High Country! 
Have you visited any of these amazing places?  Tell me about it in the comments!
Did you enjoy this post?  Pin it!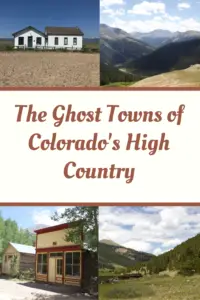 †As an Amazon Associate I earn from qualifying purchases
Like what you read here today? Please feel free to leave a comment, like or share this post! Add your email at the bottom of the page, or the sidebar to the right, to be notified when a new post is published. By signing up for the email list, you will also receive a free copy of the Tranquil Trekker's Top 10 Tips of Trekking Do's and Don'ts!
You can also follow the blog on social media by clicking the links below!