The car altimeter and sun shower are two items the Trekkers use fairly regularly when car camping/traveling.  Neither are must-have's, per se, but they make the trip more comfortable and more fun!
What is a Sun Shower?
A sun shower is simply a reusable, robust, vinyl bag and tube, with a spout and black backing, that you fill with water and leave out in the sun–it looks like a giant water bladder.  When you return to camp after a day on the trail, you have warm water and a spigot you can wash with.  The device is gravity-powered, so you'll need to keep this in mind when you're picking a spot to hang it.  
There are various brands and versions of this apparatus, this specific one holds four gallons of water.  We've found this system works well even to just rinse off, or to have hanging around camp to use to help keeps hands and feet clean. (We have found this setup also works well to make sure your fire is out at the end of the evening as you can direct the water more easily than using a bucket).
What is a car altimeter?
The car altimeter indicates the elevation you're currently residing at.  This may not be a necessary piece of gear for the average hiker, but it's fun on a road trip to see just how high (or low) of an altitude you've achieved.  It's also one of my favorite gear items, even though it isn't, usually, essential to regular hikers (those venturing to the truly high altitudes–10,000+ feet–may find it more useful.)
The device responds to changes in barometric pressure caused by weather, as well, so you may have to recalibrate it a little, each day, to maintain the most accurate readings.  
Other versions of this instrument are digital, but I like the classic feel of the dial.  For amateur interest, this is a fun, portable, way to keep track of changes in elevation.  It also mounts to the vehicle using velcro, so it can be easily removed and taken on a hike if you're so inclined. 
Below is a close-up picture of the altimeter:
So, if you're wanting to maintain a higher level of hygiene on your next camping trip, or you want to know exactly why you're breathing a little harder on the mountain top you're currently standing on 😳, check into these devices!
Have you used either of these products?  What were your experiences?  Tell me about them in the comments!
Did you enjoy reading this post?  Pin it!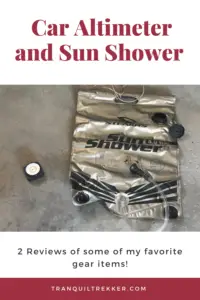 Like what you read here today?  Please feel free to leave a comment, like or share this post!  Add your email at the bottom of the page, or the sidebar to the right, to be notified when a new post is published.  By signing up for the email list, you will also receive a free copy of the Tranquil Trekker's Top 10 Tips of Trekking Do's and Don'ts!
You can also follow the blog on social media by clicking the links below!
†As an Amazon Associate I earn from qualifying purchases