The Trekkers have a tradition of camping in the Bighorns each Labor Day Weekend!  Puppers has been a trooper on our camping trips.  She enjoys riding in the truck (she doesn't even mind the BUMPY, jarring journeys we've taken her down a few 4×4 roads…too much! 😉)  She can keep up with us on the hiking trails and she even handles the tents like a champ (though she needs a little assistance getting in and out of the rooftop tent).
You do have to wonder about people who drive 3+ hours to the wilderness, where they proceed to pee in a bucket and not shower for three days…and call that fun! 🤔😉😎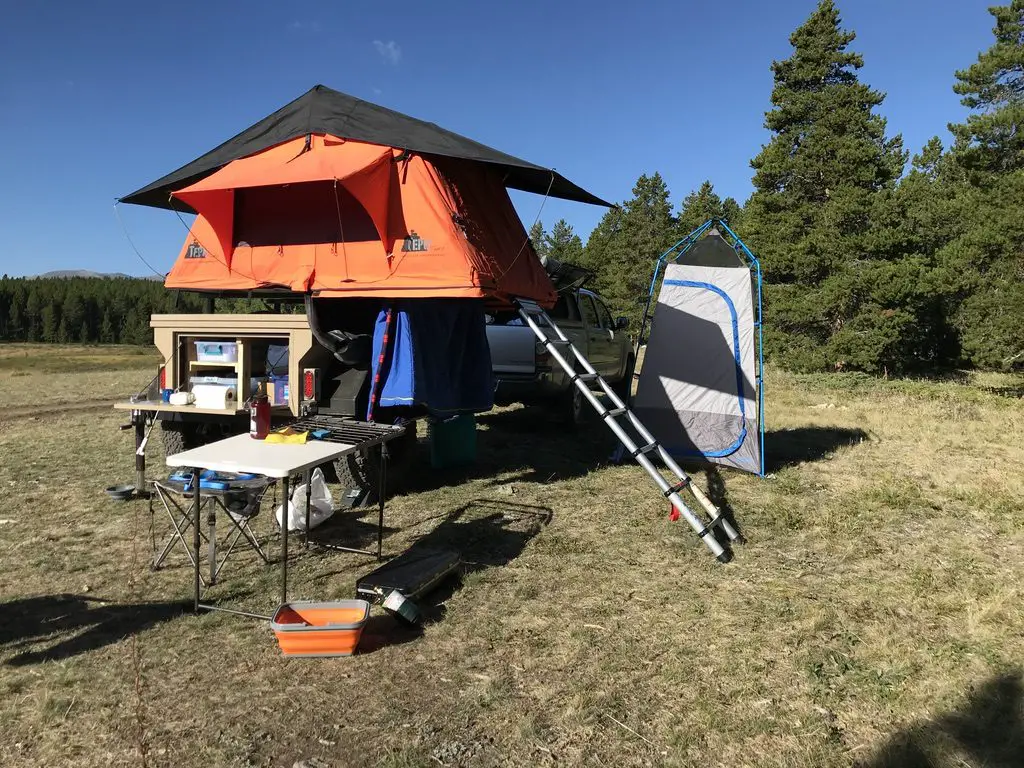 We finally caved and bought a privacy shelter for this trip, and we were SO glad we did.  It made life SO MUCH easier.  In the past we've used the vestibule that came with the rooftop tent, this worked ok, but even I couldn't stand up straight in it (not to mention Mr. Trekker's 6'4 frame).  This could be because we have the tent on the trailer rather than on top of the truck, the vestibule likely works better in that situation.  But the shelter worked great for changing, for a bathroom along with our Luggable Loo†, and for a shower using the solar shower.  It was so cool to look up at night and see the Milky Way shining over you while you were changing or "taking care of business". 😇
The Bighorn Mountains
I know I've said this before, and I hate to sound like a broken record, 😇 but I LOVE the Bighorns.  I always forget we aren't in the depths of the Colorado High Country when we visit there.  I love their stony summits, some still sporting spots of white leftovers from last winter's snowpack, just above the treeline far below.
I always think of them as their own tiny island of mountains that rises out of the high prairie of northeastern Wyoming, but according to Wikipedia, they're actually a spur of the Rockies separated from the main mountain chain by the Bighorn Basin.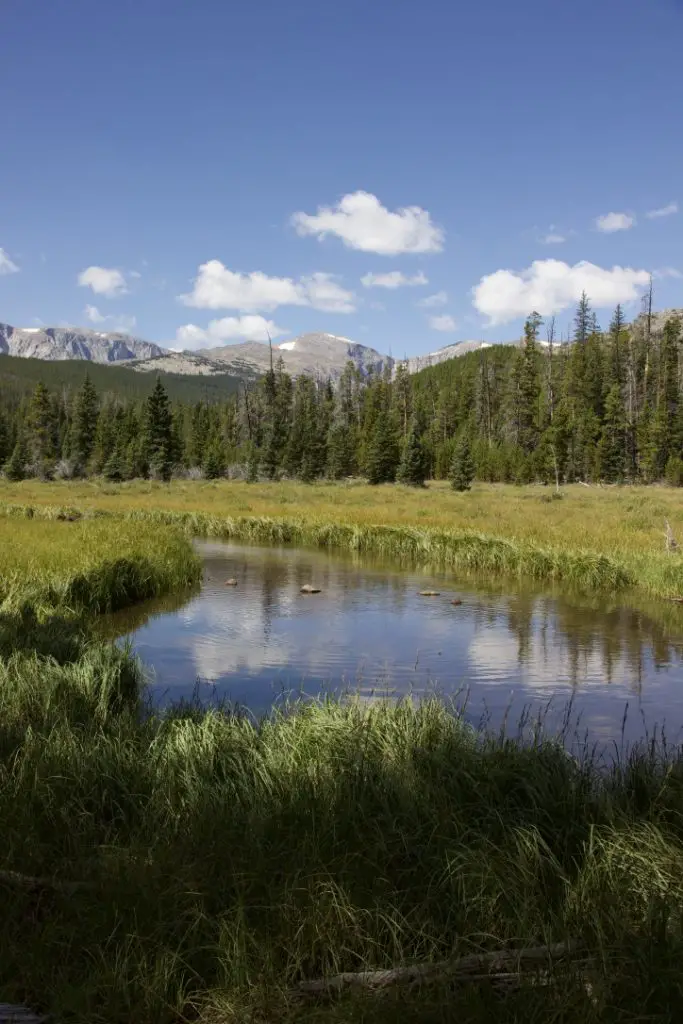 Though this area is just as beautiful as the Rockies, it is FAR less crowded, which makes it so much more pleasant to visit. 😋  There are no lines of people hiking in the Bighorns like we've experienced in various places around Colorado.  Also, oftentimes, the lower-elevation plains may be baking in 90-degree weather, while it's in the 60s-70s, and breezy, in the mountains!
It doesn't hurt that, depending on which area you are heading to, the Bighorns are a shorter, 3 – 4-hour drive from the Black Hills, rather than the 6 – 8+ hours required to reach the mountains in Colorado ( and that's just the Front Range, in the east-central portion of the state).  You will still have to drive through rural Wyoming whether you're going to Colorado or the Bighorns.  However, to reach the mountains in Wyoming, you drive on I-90 the whole way.  It's a little easier if weather is bad, and you don't have as much trouble with the Wyoming drivers who like to pass on two-lane roads leaving little room for oncoming cars…(ahem!🤬🤯) ( Of course, all that being said, no one should visit here, ever, it's just a terrible place to be. 😮😇🙃)
The Bighorns aren't to be trifled with though.  These mountains are rugged, with little accommodations by way of gas, food, and supplies.  Small towns, such as Buffalo, Ten Sleep, Greybull, and Sheridan dot the area.  But these are few and far between (not to mention pretty tiny, by the standards of "normal" people who aren't used to the small settlements that are common in the West). 😉  This is a national forest area, not a national park, so even camping accommodations are rustic, rarely offering more than potable water and a pit toilet (and those are the fancy ones)! 😮  So, if you're looking to visit this area, be prepared to be self-sufficient.  The views will make it worth the trial, though!
The night sky in the Bighorns
There isn't a lot of light pollution in the Bighorns, so on clear nights, you are treated to an INCREDIBLE light show!  Once the sun sets, the stars and planets come out in abundance.  My whole life, I've never seen a night sky that is comparable to what you find in the crisp coolness of the high mountains.  The sky actually looks like it has the measles, as there is almost a rash of stars that covers it.  The cloudy ribbon of the Milky Way is often clearly visible as it stretches across the expanse of darkness.  You can almost sense it glowing from within.  It is truly an incredible sight.
Silent Night in the high mountains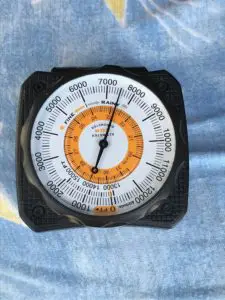 Our campsite was at about 7500 feet on this visit (oftentimes we stay much higher, closer to 9000-10,000 feet).  We've noticed something odd at these high altitudes that we have also experienced in Colorado's High Country.  There is a distinct lack of "night sounds".  You don't hear the chirping of crickets or croaking of frogs in that thinner air, even on warmer nights, and I don't know why.  Nights tend to be pretty cool in those places, so it may be due to this, or just that there is a very short season where the night air would even be warm enough for the creatures to survive.  But whatever the reason, when we're up so high I do miss the "chirping" sounds of a summer night.
Dispersed camping in the Bighorn National Forest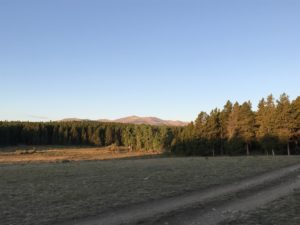 Sometimes when we head out we Disperse Camp.  This is also known as "dry camping", where you just set up your camp somewhere in the national forest, outside of an established campground.  We tried this for the first time in Colorado, at both State Forest State Park and near Crested Butte.  On both occasions, we did stay at an actual, numbered campsite, it was just away from any campground and we weren't able to see our neighbors.
On this trip, there were no numbered sites, but they did request that you stay at an already established campsite (designated by fire rings).  I have never experienced such a busy weekend in the Bighorns!  We stayed near Circle Park (there are a lot of "parks" in this region, they are basically just large, meadowy areas amongst the forests).  It was a lovely site with views of the surrounding mountains, but we could see three other campsites from ours (one had a large group in it).  We could hear even more campers, just on the other side of the copse of trees we were camped near.  Next time, we'll have to try going even farther out if we hope to have more privacy! 😉
Moose in the Bighorns!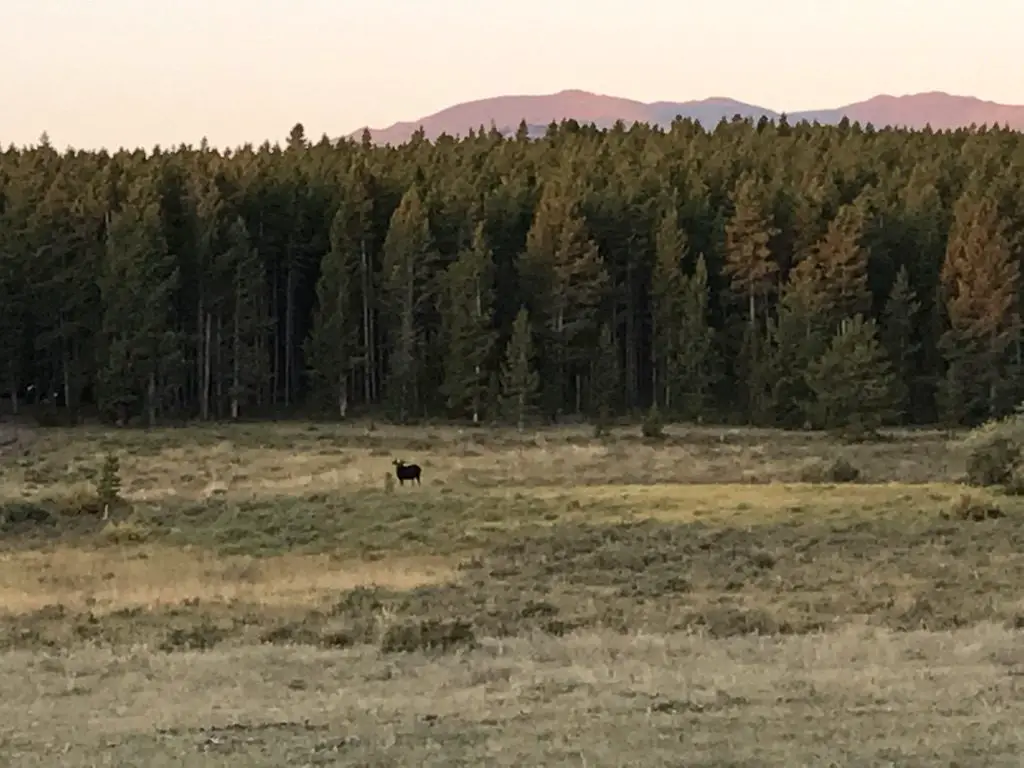 I wasn't sure if we'd see any moose on this trip since we were sticking mainly to the southern portion of the Bighorns and I wasn't aware of any waterways running near our campsite (which moose favor).  We lucked out though.  It only happened one time, but at about 6:30 one morning, as the Pup and I were enjoying her "morning constitutional", I spotted Martin the Bull Moose sauntering through the "park", down the hill from our campsite!  SUCCESS!!!  Puppers wasn't sure what to make of that LARGE, funny-looking thing!
Hiking Trails
Circle Park Trail: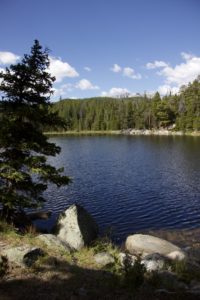 We did this same trail on our first trip to the Bighorns, several years ago, in October.  It's a nice hike, fairly wide and graded, and not terribly steep (though it is quite rocky in several places).  We walked to Sherd Lake, which is absolutely GORGEOUS!  There are views of several nearby mountains, such as Bighorn and Darton Peaks, from here.  This trail is around four miles total, so it's perfect for a day hike (especially with a not-quite-full-stamina, juvenile, canine friend). 🐶
The trail continues on to several other lakes from there.  It also connects with an 8-mile loop that snakes around the nearby mountain peaks, if you're looking for a lengthy hike (or a good backpacking trip). 
Maybelle Lake Trail (off Forest Road 430):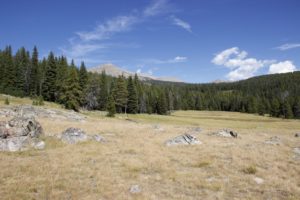 This hike was deceptively tough.  It's only about three miles in total length, but it's overgrown in many spots, very rocky and there are lots of downed trees.  We actually lost the trail several times and had to root around to locate it again.  Other parts of it are PERFECT though.  They feature a flat, graded path through a moist, pine forest, that is surrounded on both sides by a green carpet of ferns, moss, and soft undergrowth.  It almost felt like hiking in the cool rainforests of the Pacific Northwest.  It was such an idyllic sight!
The other difficulty is in reaching this trail.  You have to drive about 45 minutes (one way) on a rugged, 4×4 road to get to the trailhead.  We had done this route several years ago, so we knew what to expect, but this would NOT be appropriate for a normal car, or even just a high clearance vehicle.  If you don't have a 4×4, with gear intended for off-road purposes, you should NOT attempt this road. (As an example, after trying this route a few years ago, we decided skid plates would be an important addition to the truck.)  After completing the road on this adventure, there is some paint hanging from the skid plates in a few spots (we sure were glad they were there!) 😋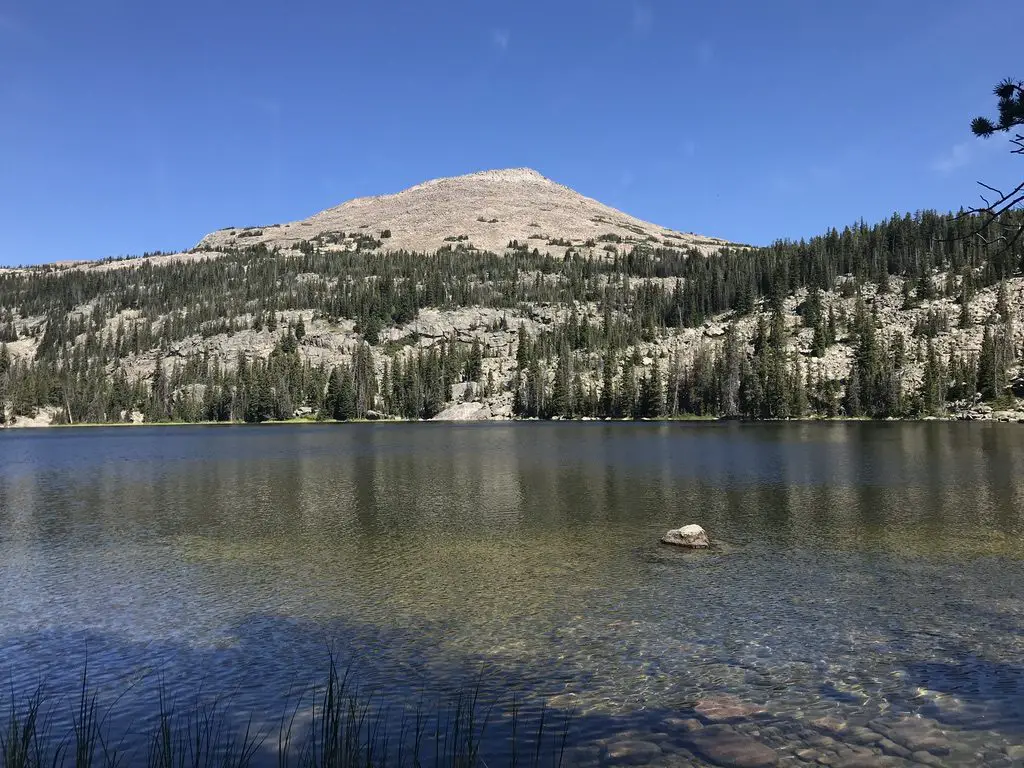 Tensleep Canyon
I've mentioned this canyon before, but this is one of the most beautiful places in the Bighorns.  If you are anywhere near this national forest and you have the chance to drive the canyon, you absolutely MUST put it on your list.  It is NOT to be missed.  This is one of our favorite areas in this national forest, and we try to enjoy it whenever we're nearby.
The canyon is surrounded by arid, rocky cliffs on both sides, and is located on the southwest side of the Bighorn mountains.  One great thing about it is that EVERYONE can experience it.  US 16 is the main road that runs through the middle of the canyon.  It's an easy-to-drive, paved byway.
For the best views, I would travel down the canyon, from east to west, on Route 435.  This is actually a dirt road that runs parallel to US 16 on the canyon's southern side.  It's a very well-graded route though, so as long as you don't mind your car getting a little dusty, any 2WD vehicle can handle it in good weather (beware, the road may be impassable during snowy or muddy conditions. The road is also closed to vehicles November – June).
It's a two-way road, but it's fairly narrow, so take your time and be cautious.  There is room to pass a vehicle coming the other way but both drivers need to be aware as the lane gets tight.
Related posts:  Lake Helen, Bighorn Mountains, Wyoming; 4 Don't Miss Sites in the Bighorn Mountains of Wyoming; West Tensleep Trail, Bighorn Mountains, Wyoming;  Bighorn Medicine Wheel in Wyoming
This route provides better views down the length of the canyon into the dry expanse of Bighorn Basin, that opens up between the western slopes of the Bighorns and the eastern slopes of the Absarokas (near Yellowstone National Park).  While the Bighorns provide cooler conditions, even on the hottest days of the summer, the Basin sits on a high prairie that lies in the rain shadow of the larger mountains, to the west, and bakes under the heat waves of the summer sun.
On your return trip up the canyon, take the paved, US 16 for incredible views of the dun-colored rock and sparse, short, green trees and bushes that comprise the canyon walls.  They stand out in contrast to the deep blue of the sky above.  These views are SO beautiful!
You aren't very likely to see moose in this area, it's too dry and hot for the vittles they enjoy dining on.  The northern side of the Bighorns, near routes like US 14 and 14A, are prime spots for spotting these ungulates.
For the best light, it's best to drive up the canyon, west to east, in the afternoon when the sun is at your back!  Here is a link to a video I made of our drive up the canyon.
We were glad to enjoy another successful, Labor Day, camping trip to the Bighorns.  We really enjoy returning to this area year after year.  There are so many things to see here, it can't all be done in one weekend!
Have you hiked to Sherd or Maybelle Lakes?  What did you think of the trails?  Tell me about your experiences in the comments!
Did you enjoy reading this post?  Pin it!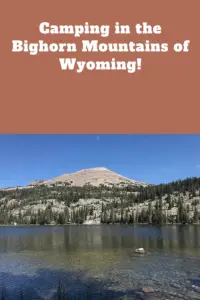 Like what you read here today?  Please feel free to leave a comment, like or share this post!  Add your email at the bottom of the page, or the sidebar to the right, to be notified when a new post is published.  By signing up for the email list, you will also receive a free copy of the Tranquil Trekker's Top 10 Tips of Trekking Do's and Don'ts!
You can also follow the blog on social media by clicking the links below!
†As an Amazon Associate I earn from qualifying purchases