The Cement Ridge Lookout Tower is located in extreme eastern Wyoming, almost on the border with neighboring South Dakota.  It is a National Forest Service fire lookout that is still in active use today.  This is a prime place for 360-degree views of the surrounding countryside and is especially picturesque during the fall.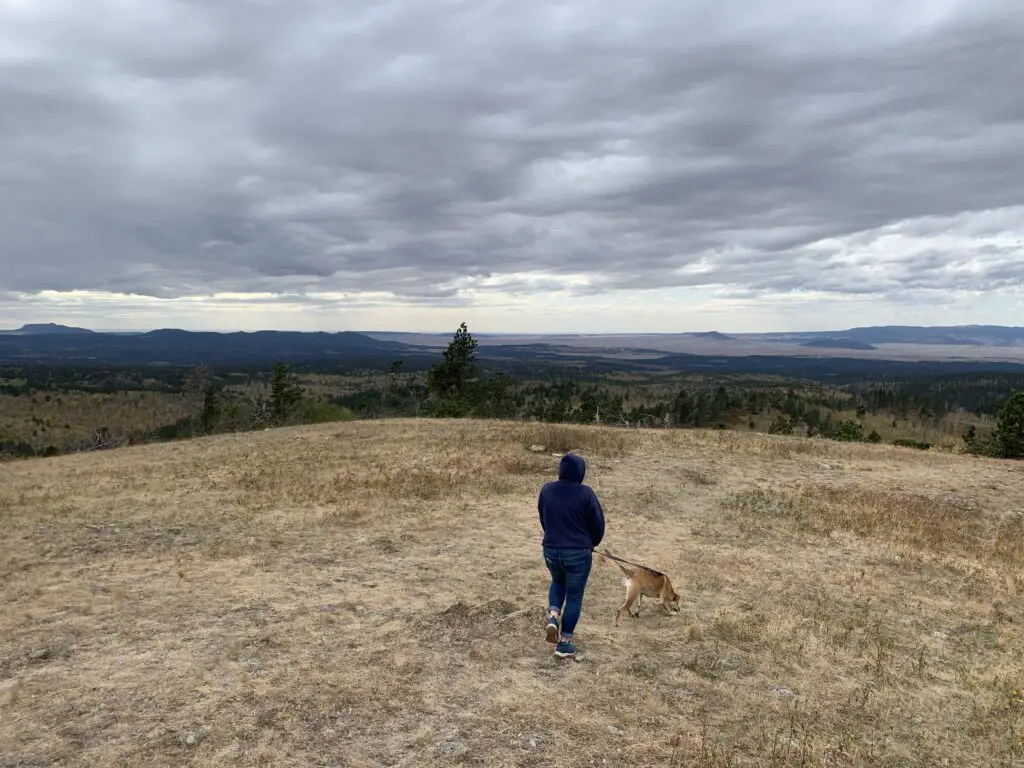 From the lookout point, you can see portions of four states, South Dakota, Wyoming, North Dakota, and Montana.  Expect the weather to be different here than in much of the rest of the Black Hills as this is one of the higher elevations you will find in the Hills.  It is frequently windy here and is usually cooler than the surrounding areas due to its altitude.  It can also be cloudy/foggy, even when the surrounding areas are not.
Mr. Trekler and I once attempted to take Momma and Poppa Trekker here to view leaf colors.  It was a lovely day and we were raving about the view the entire way.  When we reached the tower, however, it was sacked in with fog. 😕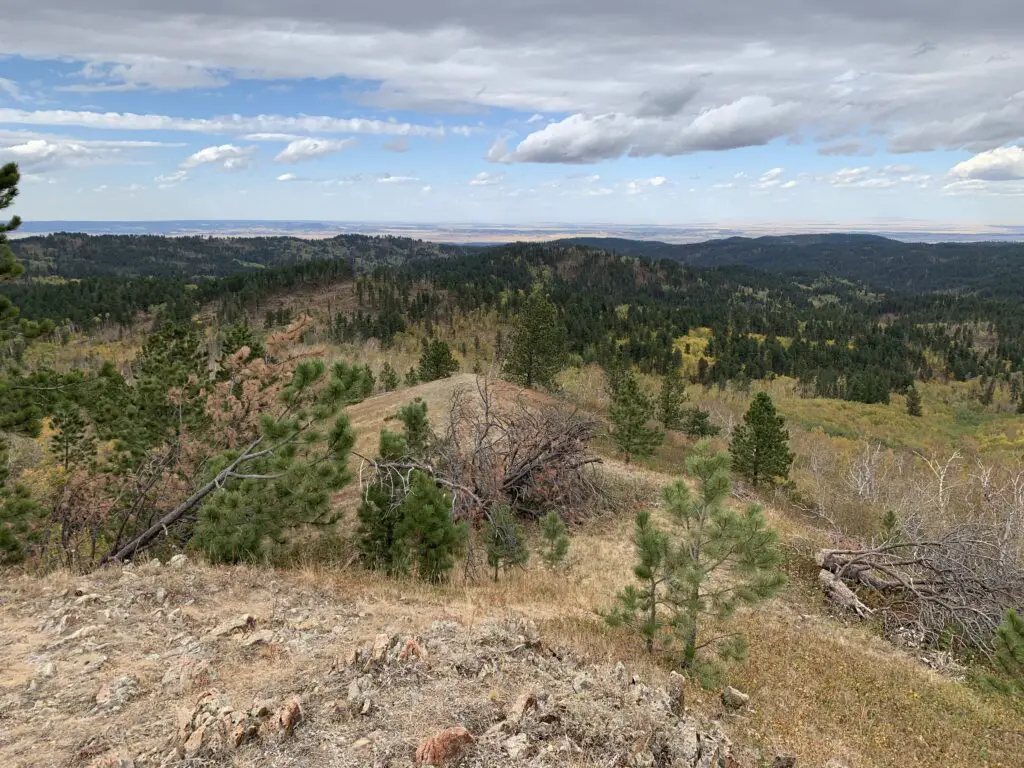 How do you get to the Cement Ridge Lookout Tower?
There are a number of different routes you can take to the lookout tower.  Some of them require driving on high-clearance, 4WD roads so I won't be discussing those here.  The easiest way to reach the tower is via Forest Route 222 (also called Roughlock Falls Road) that traverses Little Spearfish Canyon.  This will take you to Tinton Road and eventually Cement Ridge Road.  In recent years the Forest Service has actually put up signs directing you to the lookout, so it is much easier to locate than it used to be.
You will take Roughlock Falls Road west, towards Wyoming, past the turnoff for Roughlock Falls.  Continue until this road meets a T-intersection with Tinton Road.  You will then take a right onto Tinton Road and a short time later make a left onto Schoolhouse Gulch Road. Follow that to the intersection with Cement Ridge Road and follow the signs.
Drivers should be aware that ALL of these roads are dirt.  They are graded, however, and are in quite good condition.  As long as you don't mind your car getting dirty, any sedan should be able to handle them in good weather.
It should also be noted that in the winter, most of these dirt roads become impassible to all vehicles other than snowmobiles as they are usually not maintained.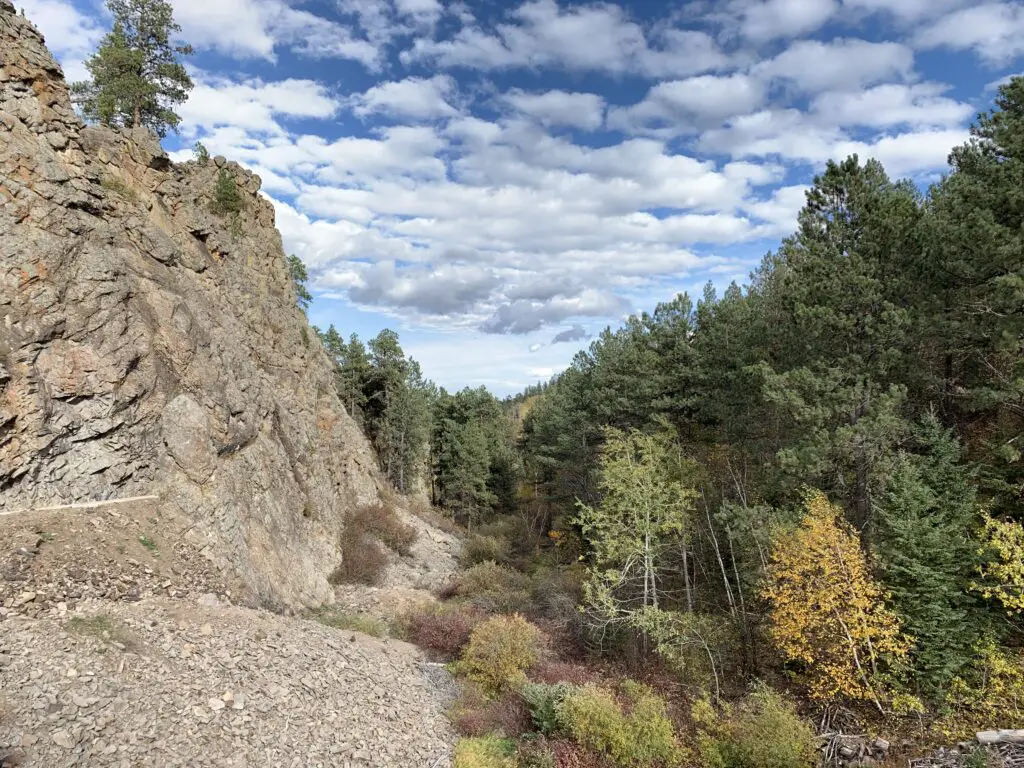 If you'd like to skip the business of Spearfish Canyon, you can access Tinton road from the north from Spearfish (take I-90 to Exit 8 for Mcguigan Road.  Then take that road to the south until you reach the T-intersection with Tinton Road.)  You can also access it from the south.  Take US 85 west out of Lead (towards Wyoming) for about 18 miles.  Tinton Road will be on your right.
This is a fun place to visit almost any time of the year, which also offers amazing views.  Why not check it out?
Have you been to the Cement Ridge Lookout Tower?  What did you think?  Tell me about it in the comments!
Did you enjoy reading this post?  Pin it!
Like what you read here today?  Please feel free to leave a comment, like or share this post!  Add your email at the bottom of the page, or the sidebar to the right, to be notified when a new post is published.  By signing up for the email list, you will also receive a free copy of the Tranquil Trekker's Top 10 Tips of Trekking Do's and Don'ts!
You can also follow the blog on social media by clicking the links below!