Usually, the Trekkers go camping in the Bighorn Mountains, in northeastern Wyoming, over Labor Day weekend.  However this year, thanks to Coronavirus, Mr. Trekker's school schedule has been altered and that wasn't an option, so we picked a random couple of days in July instead! 😎
We started our trip with two nights in the Porcupine Campground, which is located off of Route 14A, in the northern portion of the national forest.  It is not far from the ancient Medicine Wheel that we visited several years ago.  We drove in from the east, from the Sheridan and Ranchester area.
This is a MUCH easier drive than coming in from the west, near Lovell.  That way is far steeper with much sharper turns.  When we drove the road from that direction several years ago we both agreed we wouldn't want to have to do it pulling a 5th wheel.  We talked to someone in the campground who had accomplished this feat, and he confirmed it was quite difficult. 
Climbing the mountains from the west you do get some nice views of the Bighorn Basin, but it was a lovely drive through a canyon coming in from the east, as well.
Porcupine Campground, Bighorn Mountains
Porcupine Campground is very nice as far as those in the national forest are concerned.  The sites were large and flat, and also well-spaced apart, some even appeared to be wheelchair-accessible. They also gave you lantern hooks! (I'm easily impressed, what can I say? 😉)  This was nicer than the national forest campground we visited in South Dakota recently.  There was a goodly amount of shade and some of the sites offered fantastic views from the hillside.  The mosquitoes weren't quite as bad as what we experienced in the Black Hills earlier in the summer either, though they still gave us a few good bites.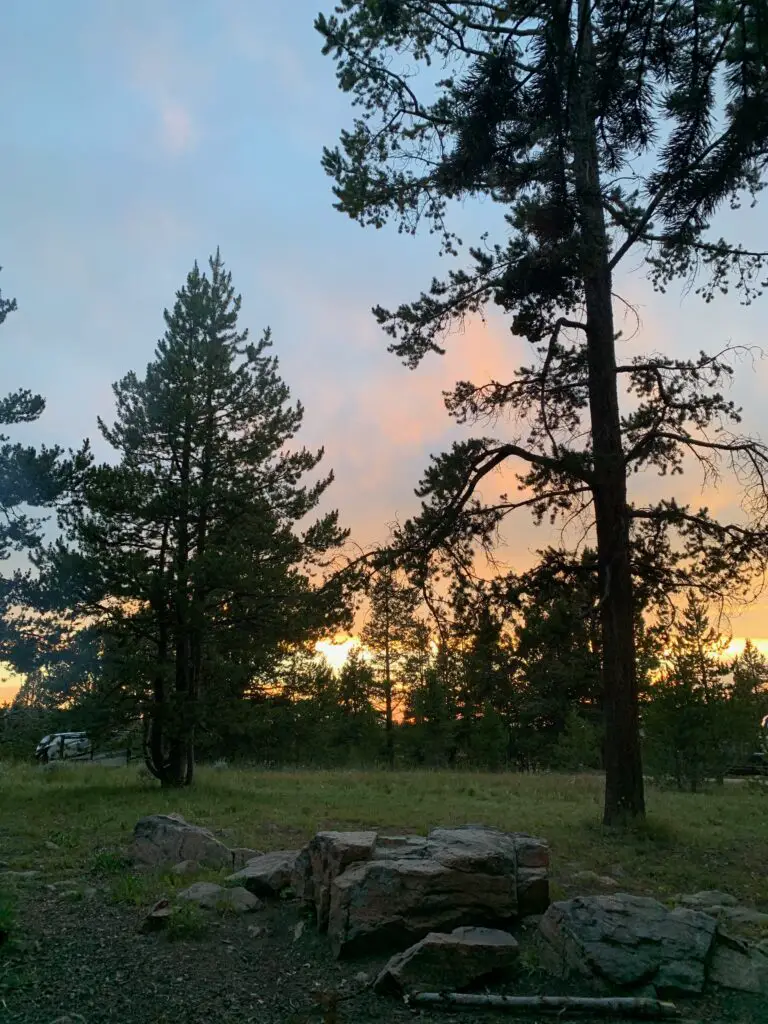 Waterfalls in the Bighorns!
Porcupine Falls
For our first hike, we visited Porcupine Falls.  It isn't on all of the maps but it is easy to find.  It's located off of Route 14, the same road as Bucking Mule Falls (which IS on most maps) and there is a sign at the turnoff.  The road to the trailhead is short but it does get rather rough.  We saw people in RVs and regular sedans who made it through though.  In good conditions, most vehicles shouldn't have too much trouble as long as you are watchful and take it slow.
The trail is short, less than a mile each direction, but it is STEEP!  We were prepared for this but I strongly recommend GOOD walking shoes with strong tread if you're attempting this hike.  In dry conditions, it was a little slippy heading down.  If it was muddy or snowy/icy this trail could be downright treacherous!  It's a downhill hike the whole way to the falls, so you know what that means for your return trip! 😮  Another thing that makes the trek back so difficult is the altitude, you'll find yourself above 5000 feet in elevation when attempting this hike.
It becomes extra fun when you meet an unleashed, less-than-friendly dog along the trail with no owner in sight, who insists on getting in your pup's face and growling.  PUBLIC SERVICE ANNOUNCEMENT:  Please be responsible for your pets and respectful of everyone else on the trail.  No one else knows your dog, or if the growls he emits are casual, or a prelude to something more aggressive–this is especially concerning when you have a pup who thinks EVERYBODY just wants to play with her! 🙄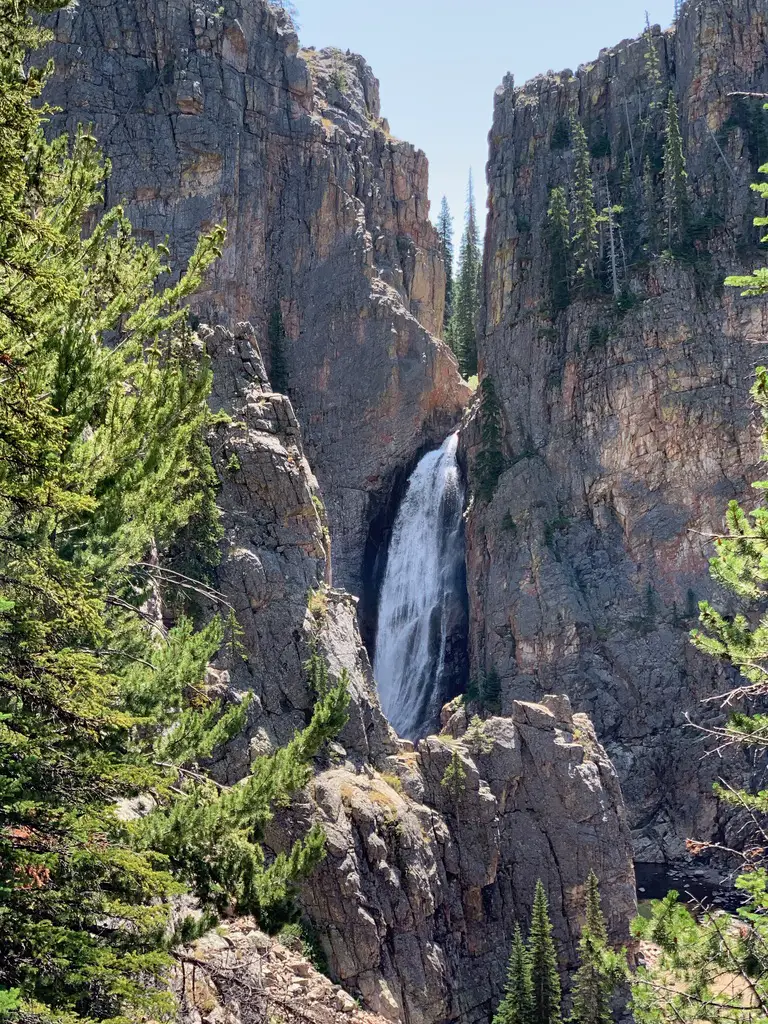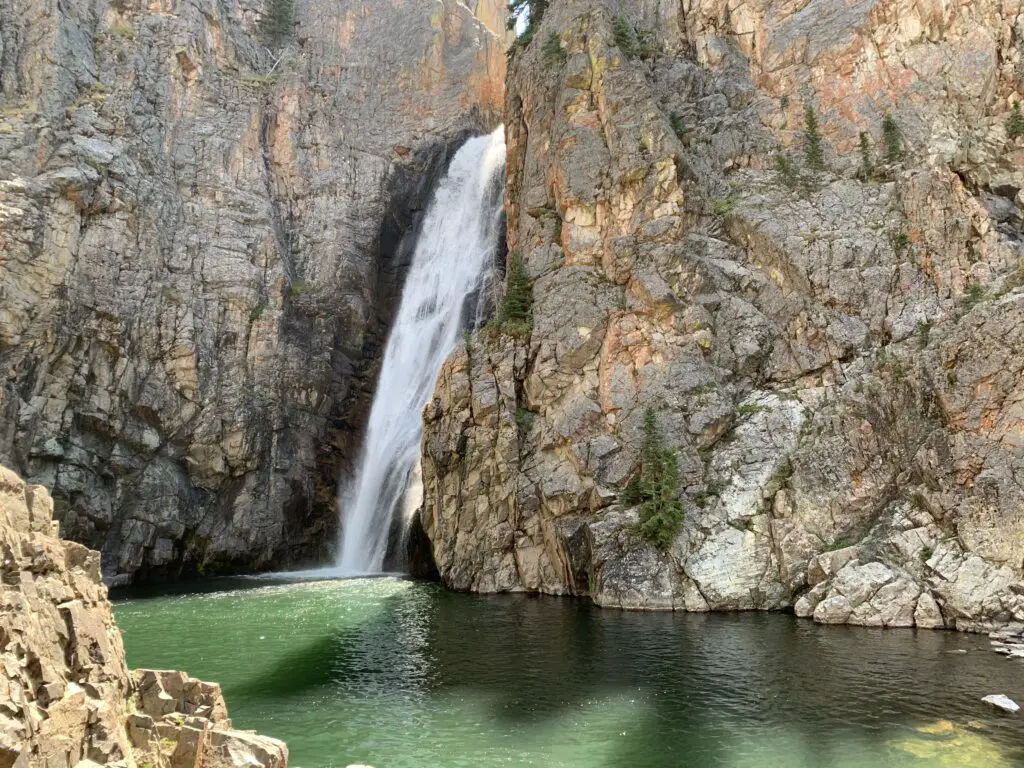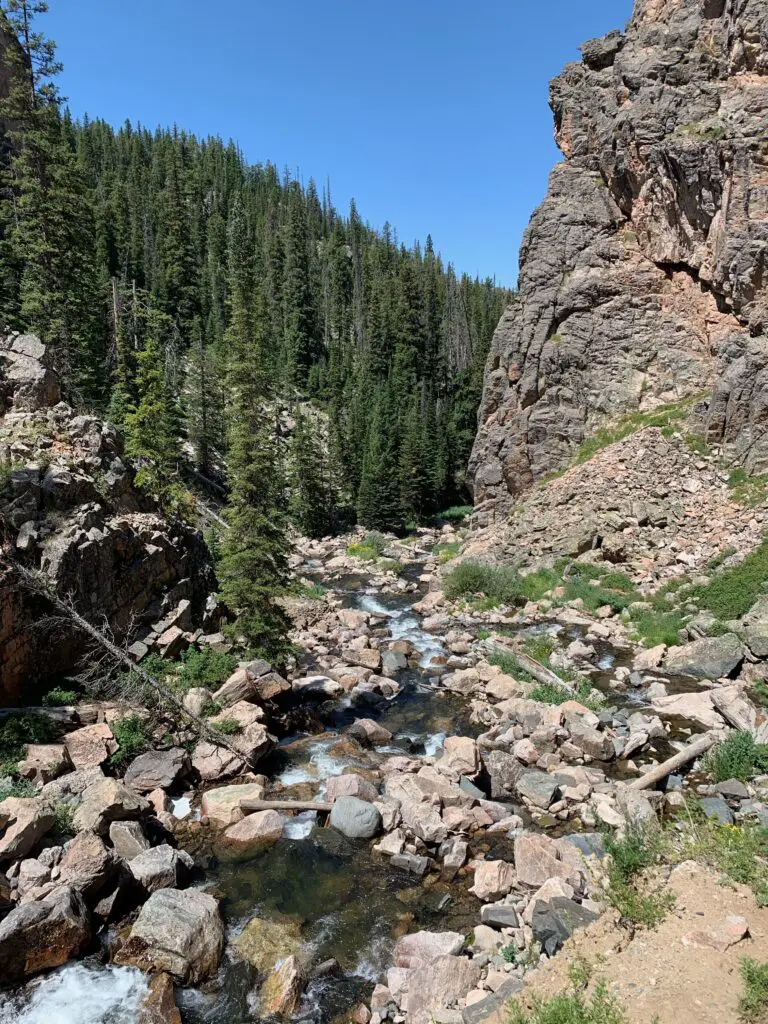 The view is definitely worth the challenge of getting to the site.  The roaring cascade plummets into a pool at your feet from over 200 feet above you. On hot days, this makes for a perfect place to take a cool dip, but be warned, the water is COLD!
Bucking Mule Falls
After that adventure, we continued down the road to Bucking Mule Falls.  There were numerous horses and campers at this location and before you ask, yes, there was also a mule!  Poor Puppers didn't know what to make of the ungodly noise that emanated from him in response to some nickers from other horses. 😂
You get extra points if you know what a mule actually is (hint, it's a hybrid).  You get EXTRA, extra points if you know a unique characteristic that this hybridization causes…🤔 **(answers at the end)
I was in absolute heaven, I LOVE the smell of horse (yes, really 😝).  I blame my childhood, growing up on a hobby farm, with horses, in Indiana.  But seriously, there is something cool about those animals.  They're REALLY intelligent, for one thing, and their smell is divine!  It isn't anything like other barnyard animals, it's sweeter. (The only time I've ever known a horse to stink is when they're super sweaty after a hard ride.)  Even their manure smells better than other animals.  That's right, you heard me!  I like the smell of horse poop! 🤣
Related posts:  West Tensleep Trail, Bighorn Mountains, Wyoming; Bighorn Medicine Wheel in Wyoming; Camping in the Bighorns
This was a great trail!  It was about four miles round-trip, but there wasn't a large amount of elevation gain.  The route mostly rolled over the lower-lying hills in the local area.  It traversed a beautiful, wooded forest with the pine needles cushioning your footfalls, as well as some more craggy outcrops.  The trek was fairly well shaded, on a graded path, without a lot of roots or boulders to trip you up.
At the end, you come to a lookout point over Devil Canyon, where you look DOWN on the falls from high above (it emerges from the opposite canyon wall).  It was really cool!  The canyon was HUGE and beautiful, not what I was expecting at all.  It reminded me of the canyon that Green River formed at Dinosaur National Monument, in Colorado, that we visited last fall.  It leads to the west and opens onto the expansive, hazy plains of Bighorn Basin.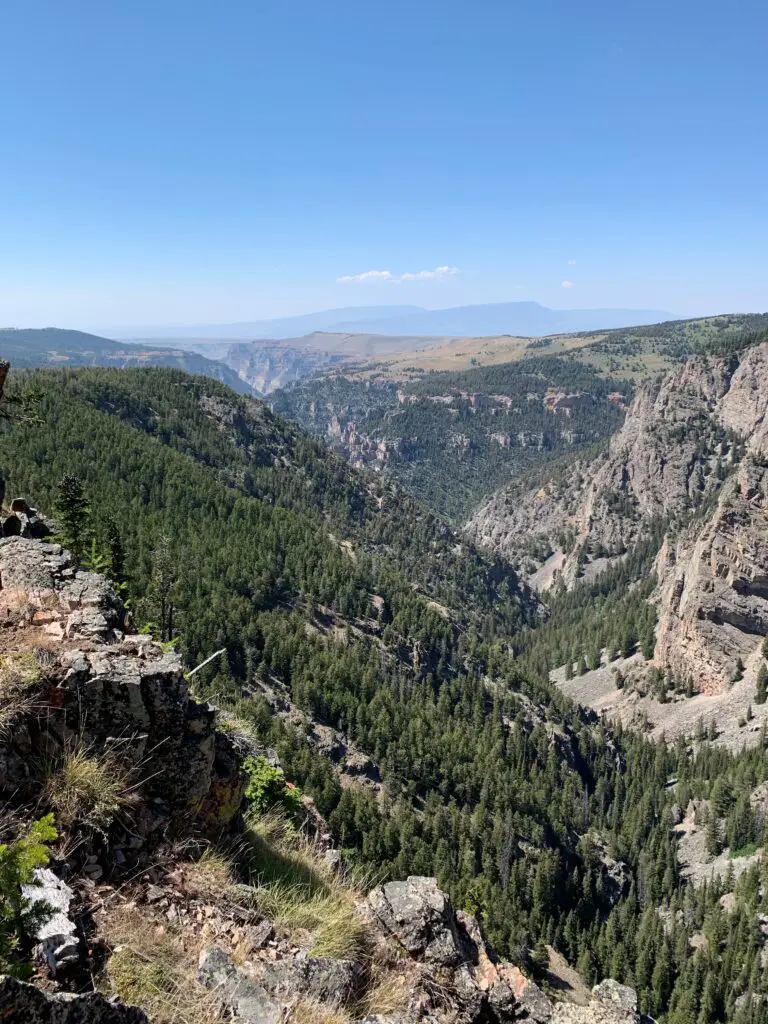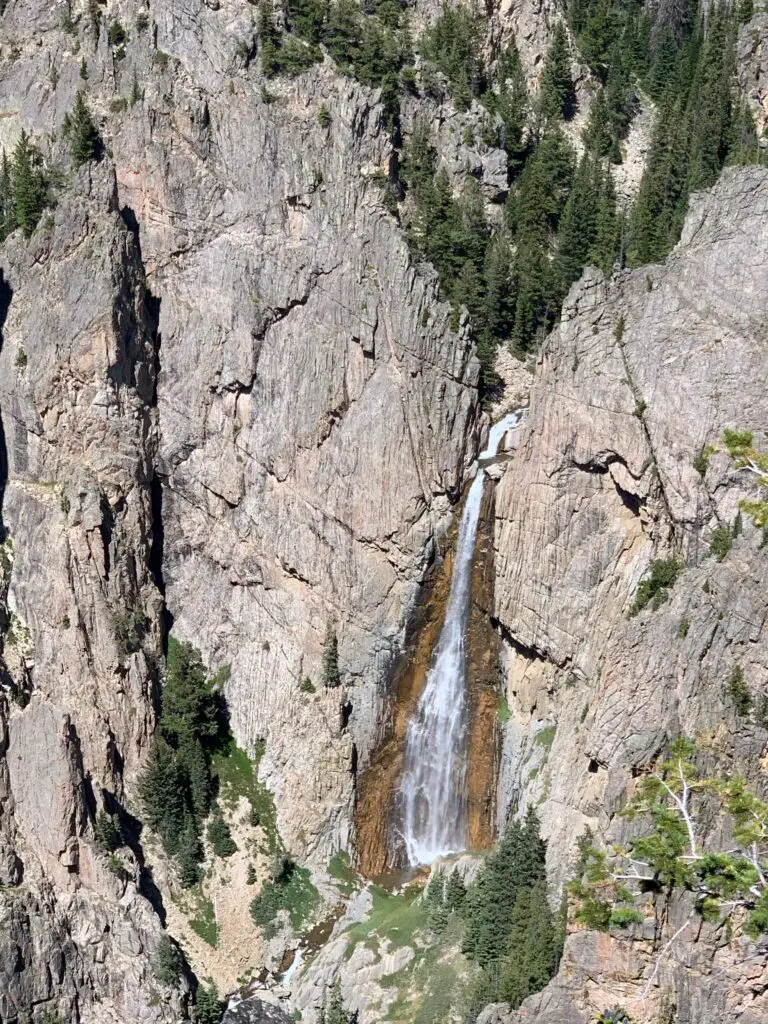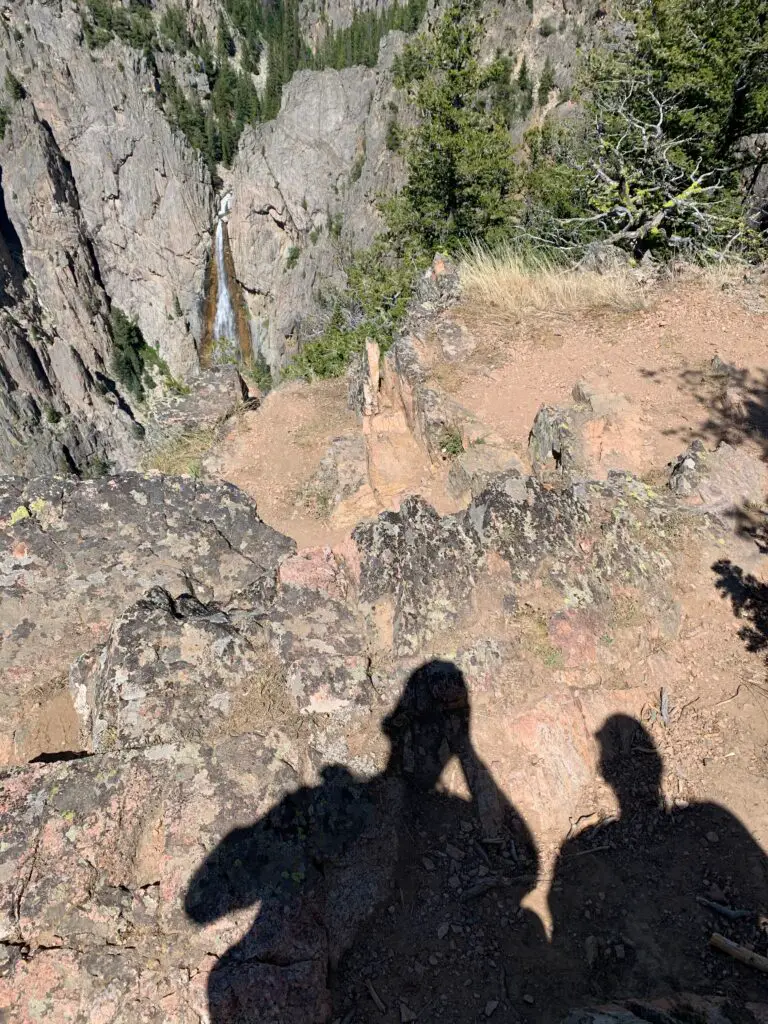 There is also a Paradise Falls in this area.  I didn't see it on the map and we didn't know it existed until someone told us about it.  Apparently it's a bit of a secret. 🤫  It does show up on Google Maps though and looks rather easy to reach if you want to research this location on your own… 
Later, we drove a loop from 14A to Route 15, to Burgess Overlook.  Then we returned back to our campsite via 14A. This allowed us to FINALLY see a moose (she ended up being the only one we saw the entire trip! 😕)
It's highly unusual that we see so few moose in the Bighorns.  Usually, we are there in early September so I'm not sure if this is a result of the hotter weather keeping them at higher elevations or the crowds encouraging them to stay more isolated.  The babies would still be smaller and younger at this time of year which may explain why the mommas may want to keep them further from people. 
Dinosaur Tracksite
On the third day of the trip, we took Shell Canyon to the west on Route 14.  We've traveled this road before but never in this direction, so we got a different perspective on it.  Later we got to view the rain shafts hammering the canyon as we looked up at it from the west.  It was a very cool sight!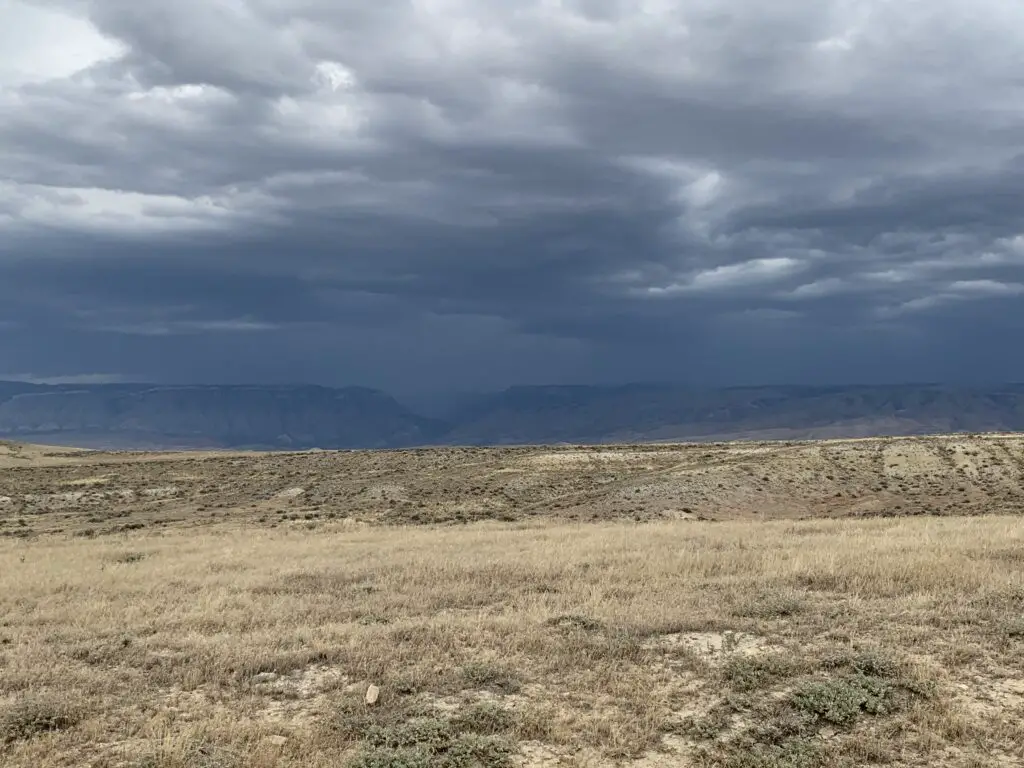 Then we took Red Gulch Road to the Dinosaur Tracksite.  This was very cool and something I had just happened to stumble upon on the map.  They think this location was a beach on the edge of an inland sea during dinosaur times.  The "terrible lizards" would walk in the mud next to the water and leave tracks.  These eventually hardened and were fossilized!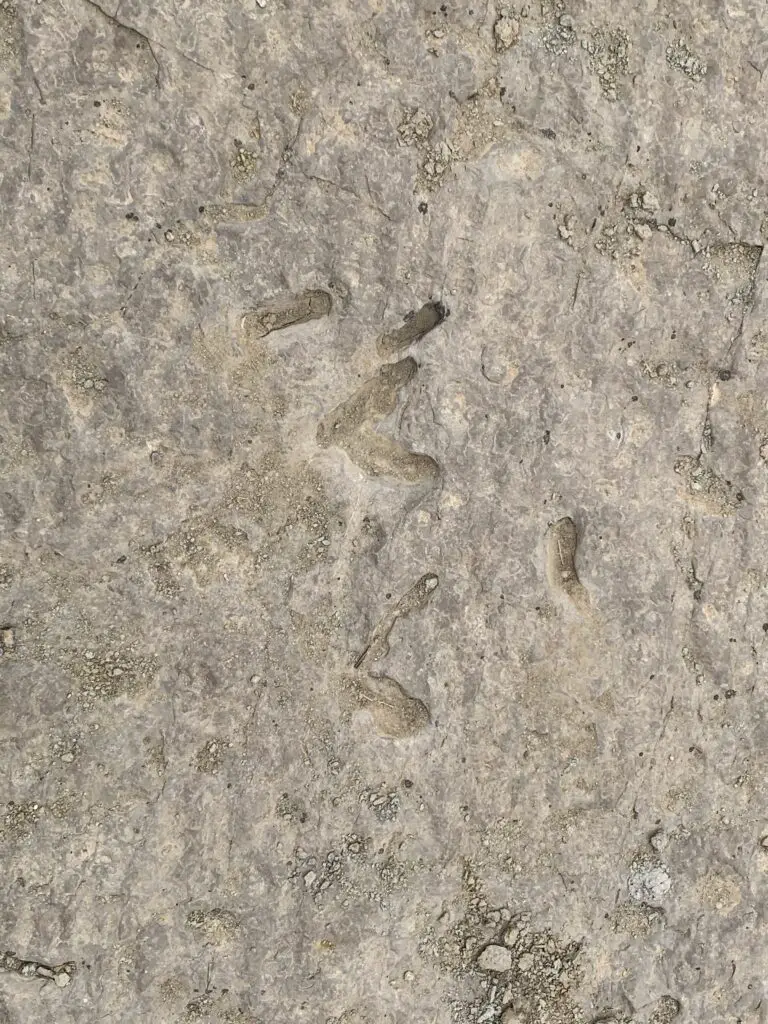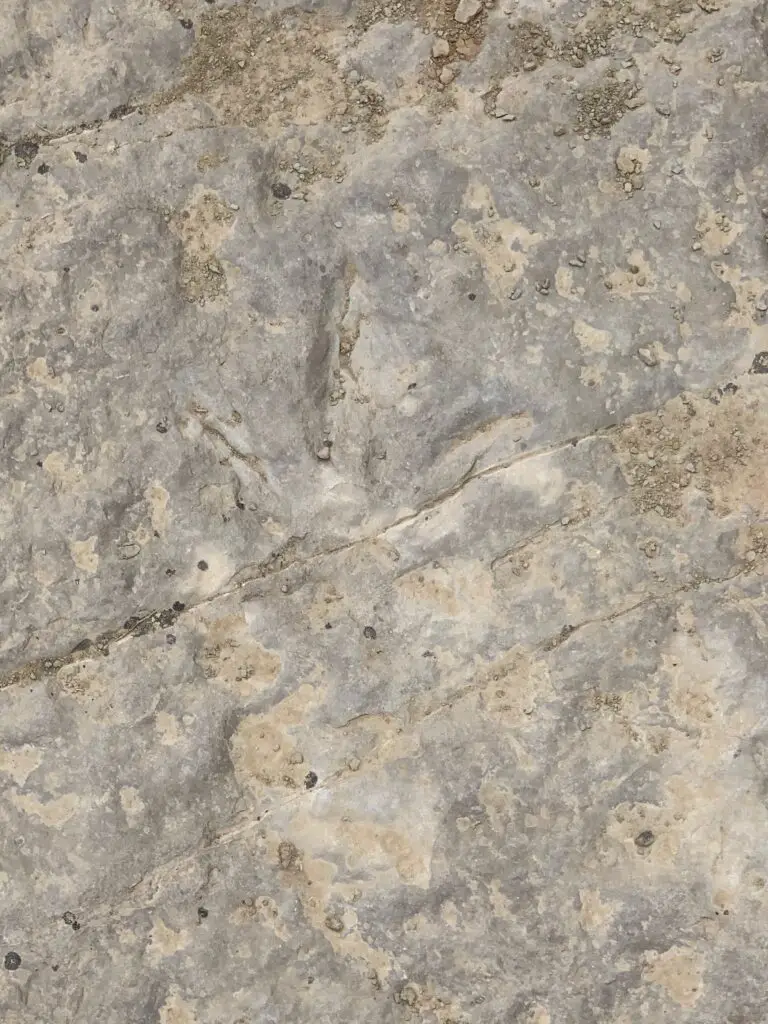 This attraction is small and free, it's a nice place to visit for lunch and to let the pup run a bit.  I can imagine it being quite hot on a warmer, sunnier day.  They had nice picnic facilities, though.
We then finished this backcountry byway that we had completed the other leg of on another trip.  Ya'll know how I LOVE finishing things that I start! 😁  This portion of the road was quite rutted and rough too, so it's not really fit for a typical sedan (though a higher clearance SUV could handle it in dry conditions–we saw some CRV's do it!)
If you're looking for some great day hikes in the northern Bighorn mountains, check out some of these cool options! 
Have you visited any of these sites?  Tell me about your experiences in the comments!
**Mules are a hybrid of a male donkey and a female horse.  You can usually spot them because they're the size of a horse, but with GIGANTIC ears.  And the other characteristic that makes them unique?  Because they are a hybrid, rarely can they reproduce…The More You Know 🌈 😉 !
Did you enjoy reading this post?  Pin it!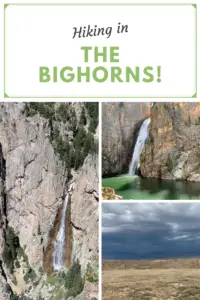 Like what you read here today?  Please feel free to leave a comment, like or share this post!  Add your email at the bottom of the page, or the sidebar to the right, to be notified when a new post is published.  By signing up for the email list, you will also receive a free copy of the Tranquil Trekker's Top 10 Tips of Trekking Do's and Don'ts!
You can also follow the blog on social media by clicking the links below!