Are you looking for a moderate hiking trail that really lets you enjoy the wilderness of the Bighorn Mountains in Wyoming? Check out the Misty Moon trail from West Ten Sleep Lake to Lake Helen in the Cloud Peak Wilderness!
Where is the Misty Moon trail?
Trail #63, the Misty Moon trail, is one of the most accessible, main trails to access Cloud Peak and Bomber Mountain.  It starts at the trailhead behind West Ten Sleep Lake (this is also where the trail for Mirror Lake/Lost Twin Lakes begins.
To reach the trailhead take Forest Route 27 to where it terminates.  FR 27 is located off of US 16 in the southern Bighorn mountains.  You will turn at the sign for (and location of) the Deerhaven Lodge.  Boulder Campground, Island Park Campground, and West Ten Sleep Campground are also all located off of this road.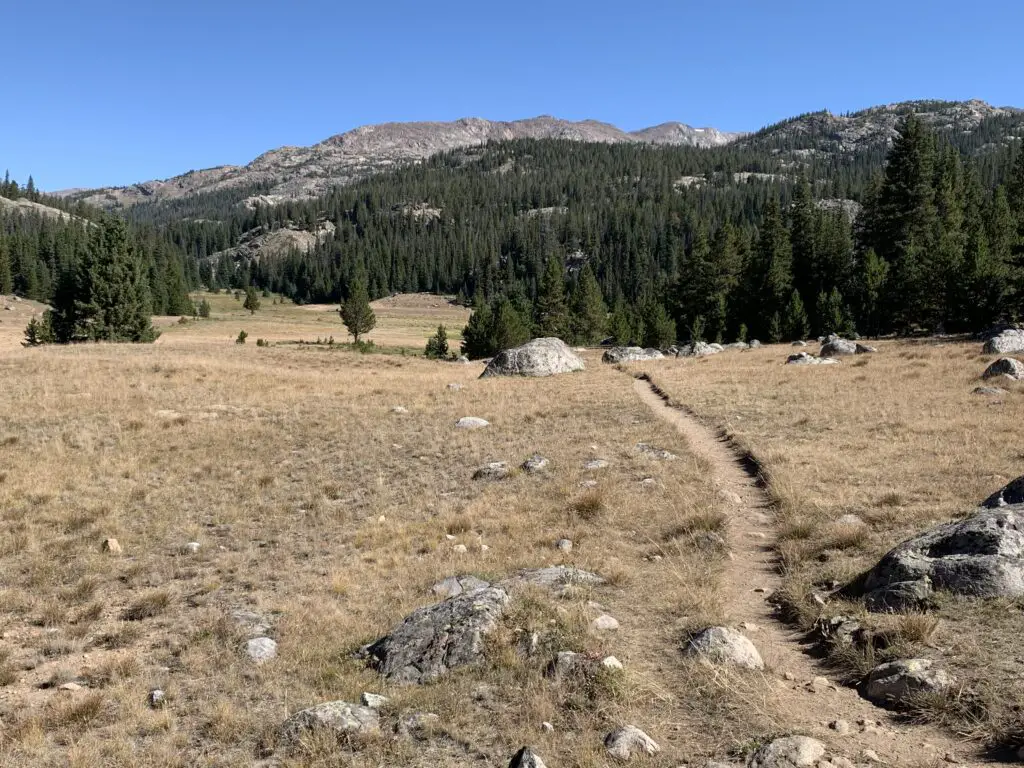 What is the trail to Lake Helen like?
The first few miles of the trail are LOVELY. You start by meandering on a flat trail through the woods around West Ten Sleep Lake.
We saw a momma moose and baby bedded down in the tall grass near the lake!  Be sure to give these animals PLENTY of space, especially with dogs. Most momma animals can be INCREDIBLY aggressive when they're protecting babies, and moose have been known to kill dogs–we kept Puppers on a leash and she was too distracted by smells to be aware of our new friends.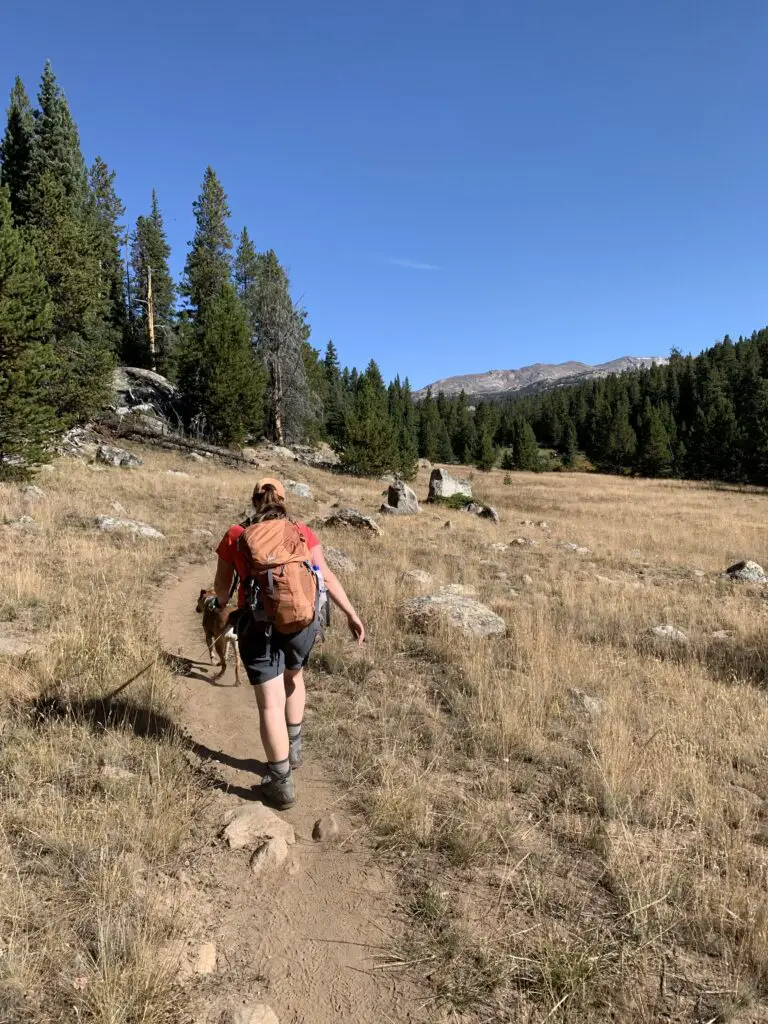 Once past the lake, you start a gradual climb through several grassy meadows and forested areas, with great views of the mountains beckoning you along the way.
The trail undulates the whole way so while there are a few short, steep spots, there are no lengthy, spirit-crushing climbs–I think this contributed to the trail feeling easier than it actually was.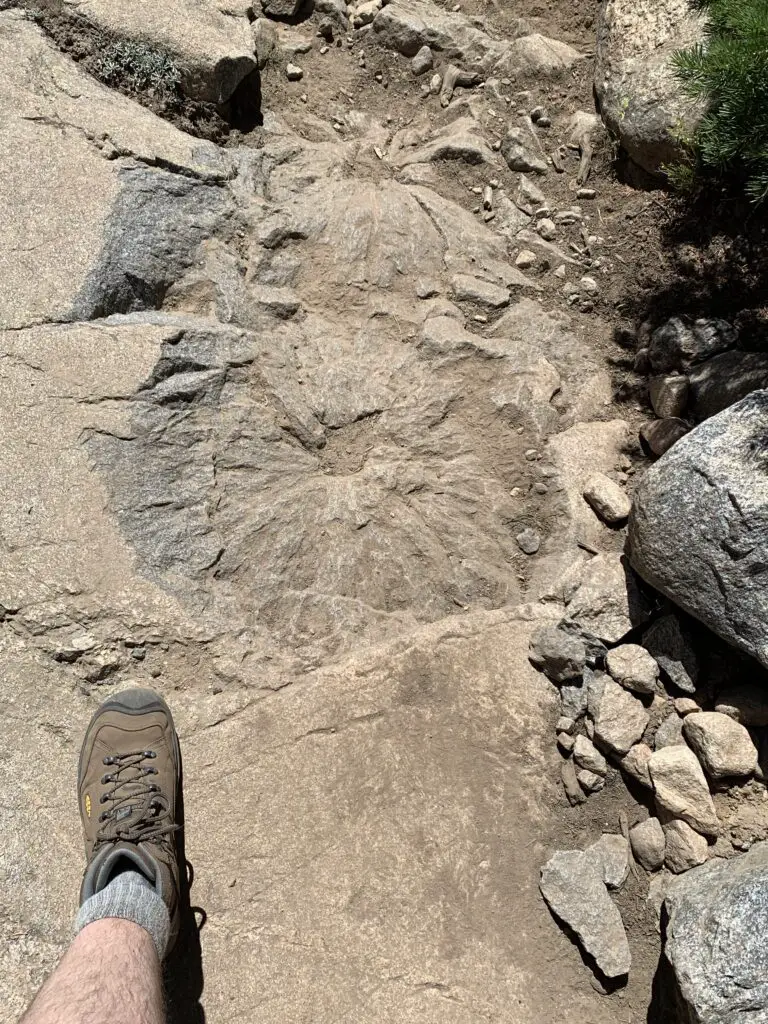 About halfway to Lake Helen, the trail becomes steeper.  This is where you hit the rocky sections.  There are no large boulder fields to cross and no scree slopes to navigate (on this portion of the trail) but the rocks are big enough that they cause a lot of uneven terrain that you'll need to manage.  Hiking boots are definitely recommended for this trek!
I think older kids could do this trail. It's a longer one and they may need some help in the rocky areas, but overall I would say it is moderately difficult.
The hike didn't actually seem that bad while we were doing it. Both Mr. Trekker and I were pleased at how good we felt throughout.  Especially considering we carried heavier packs than usual (we brought A LOT of water) and we hadn't hiked much this summer as it's been so warm.  Also, the trail STARTS at around 9000 feet (you gain around 1000 feet in elevation over its five-mile length.  Lake Helen sits at almost exactly 10,000 feet.)
Mr. Trekker and I were both pleased that we didn't feel the altitude too much (it probably helped that we camped at 9000 feet the night before).  If you aren't used to these altitudes though, you'll definitely want to take it easy.
The Trekkers seem to be doing better with altitude in recent years. It used to be that just driving to Estes Park in Colorado (which sits at around 8000 feet) was enough to make me feel funny.  Now we've camped and hiked higher than that on multiple excursions in Colorado, Wyoming, and Montana and done quite well.  They claim your body "learns" how to adjust to the altitude better the more you experience it and I think that may be true. (Living at 3000+ feet for the last decade probably hasn't hurt either. 😉)
Related posts:  A drive through Ten Sleep Canyon!; Bighorn Medicine Wheel in Wyoming; 4 Don't Miss Sites in the Bighorn Mountains of Wyoming; Camping in the Bighorns
We considered going all the way to Misty Moon Lake but that would have added several miles to our already 10-mile hike.  All three of us were feeling good when we arrived at Lake Helen so we figured we'd just spend a relaxing lunch at the lake and head back.
As it turned out it was good we did decide to turn back.  Even though she was raring to keep going when we reached the lake, by the time we got back to camp Puppers was hurting.  This was the first time she's ever really had issues on the trail.  This is one of the longer trails we've ever done with her (though she's done 10 miles with us before).  This trail is REALLY rocky, in parts, which means it's probably also one of the toughest trails we've ever done with her.  We did LOTS of rock hopping on the way down and she was obviously aching by the time we got back.  She seemed to make a full recovery within a few days though! (In her defense, my hips were sore for several days afterward, as well.)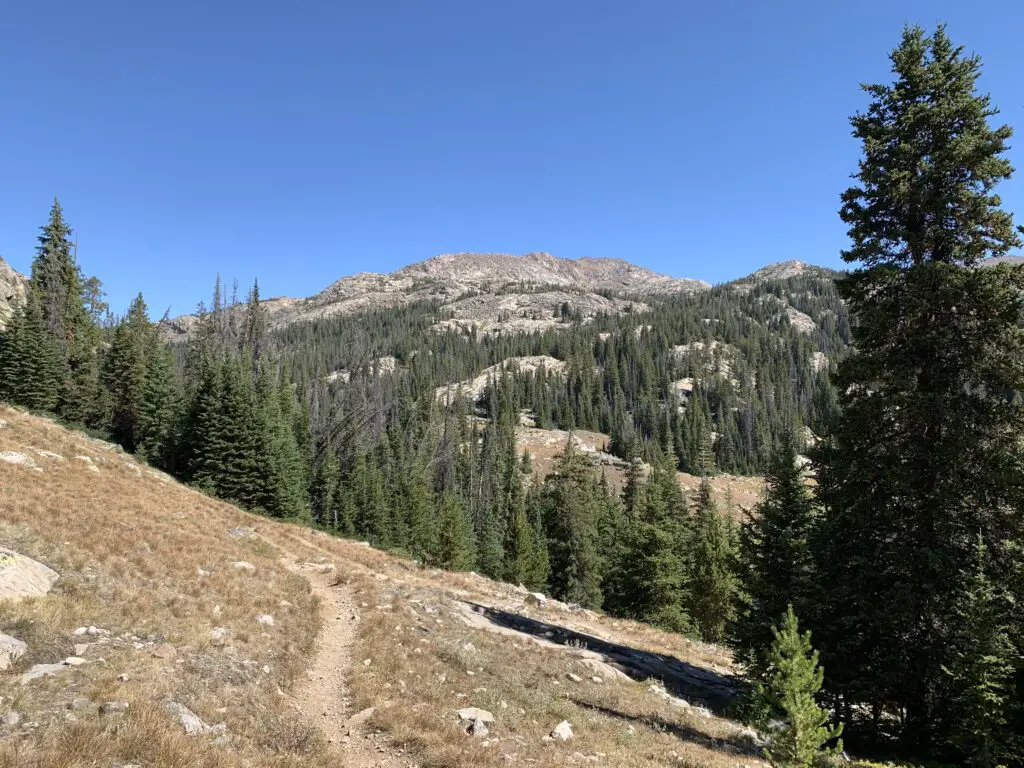 Obviously, I can't speak to the trail past Lake Helen (since we didn't do it. 😉 I do know that Misty Moon Lake is only about 300 feet higher than Lake Helen but it takes two more miles of hiking (each way) to get there.
Also, my understanding is once you get past Misty Moon Lake the trail gets much tougher.  There are some scree slopes and boulder fields (namely on the way to the wreckage site at Bomber Mountain and to reach the actual Cloud Peak).  Also, once you get past Lake Helen you are basically above treeline the entire way.  This means there is NO SHADE at all so make sure you bring sun hats, LOTS of water, and sunscreen if you're planning to go this route.  There is also NO PROTECTION if you're caught out in a storm.
I cannot stress this enough:  if storms appear imminent PLEASE get below treeline as safely and quickly as possible.  It is INCREDIBLY dangerous to be above treeline during a lightning storm.  Safety should ALWAYS be your first priority!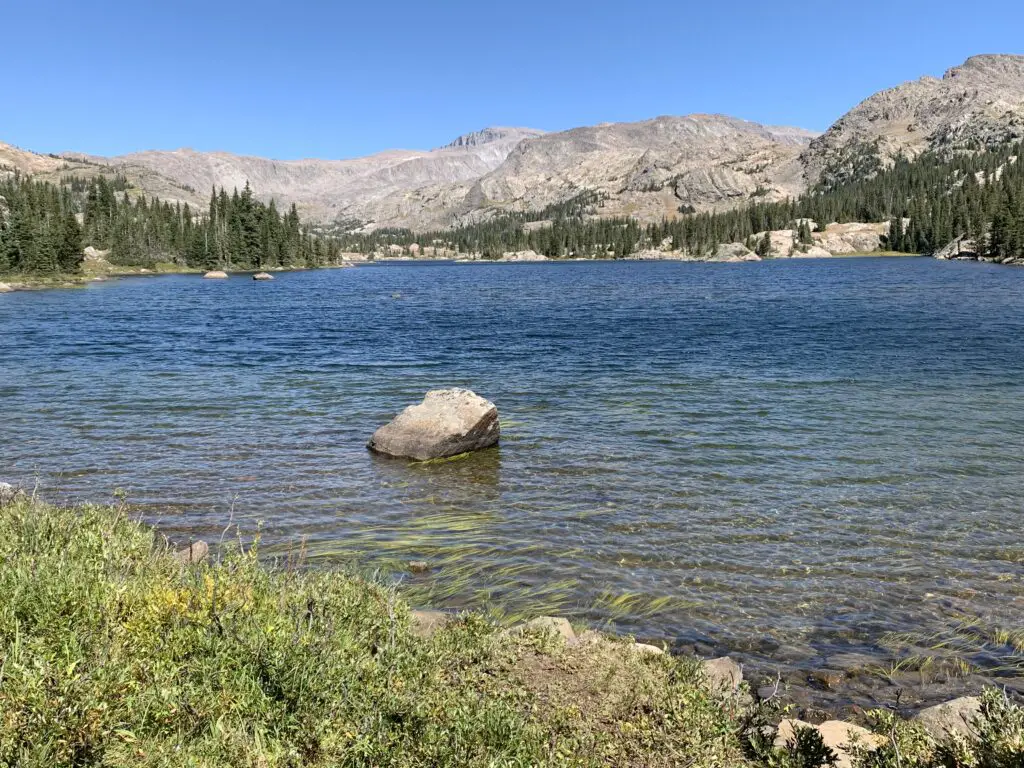 From Lake Helen you can see Bomber Mountain and the high-altitude, Florence Pass to the right.  What you cannot see is Cloud Peak (as often as we have visited the Bighorns we have yet to see that site. It's VERY isolated. 😝)  From what I have heard from other hikers though, you CAN get views of Cloud Peak from Misty Moon Lake.
Let's talk about Bomber Mountain and Cloud Peak
Cloud Peak and Bomber Mountain reach altitudes higher than 12,000 feet so altitude sickness starts to be a concern when you spend lengthy amounts of time at these altitudes.  Potential hikers should also be aware the snow can be quite deep on these trails through July!  Also, mosquitoes are said to be HORRIBLE in the summer (we had no problems at all on Labor Day weekend and we didn't use any bug spray. 😁)
Bomber Mountain:  This used to be an unnamed mountain in the Bighorns.  That is until a World War II-era bomber crashed here while on a training mission in the early 1940s.  If you know where to look you can still view the wreckage. (Don't ask me how to get there, I don't know. 😉. For more info on this hike you can click here)
You can check with local forest offices for information on how to get to the site.  From what I've heard there are also rock cairns that help direct the way but you need an idea of where to look. 
Please be respectful if you visit this site as several soldiers did lose their lives in the crash.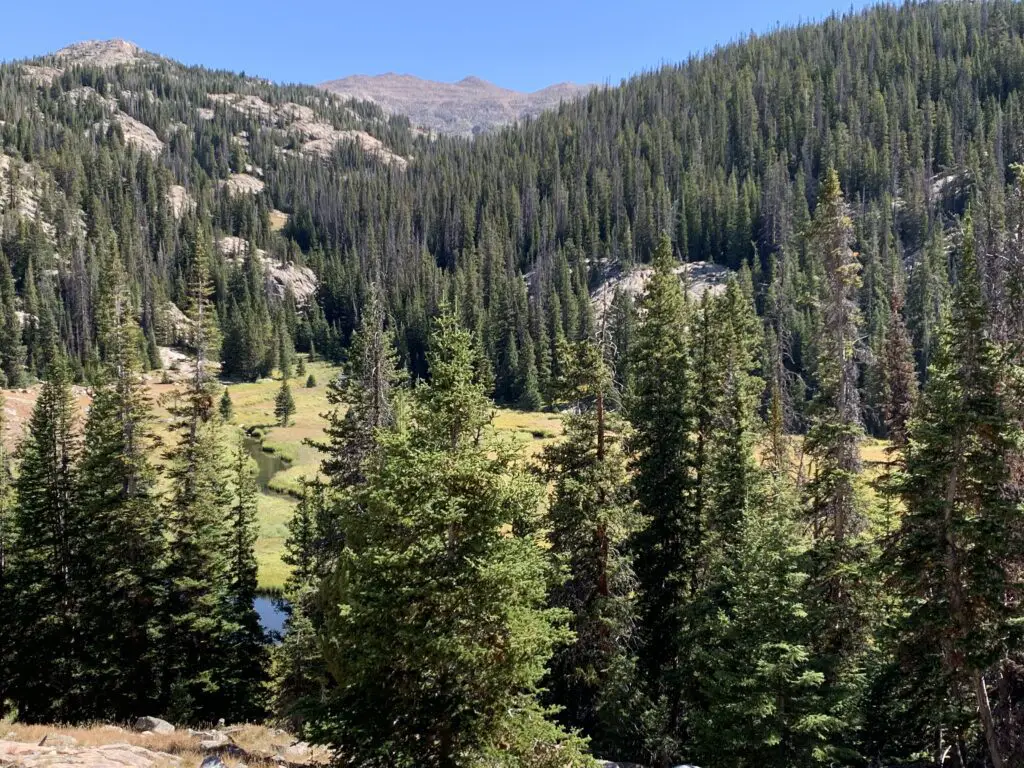 There are no actual trails that go to Bomber Mountain or Cloud Peak. (This seems a little odd to me as Cloud Peak is the highest point in the Bighorns and is what the wilderness area is named for, but I digress. 😝)  There are some rock cairns to guide your way to Cloud Peak.  My understanding is for Bomber Mountain, you pretty much just have to know where you are going.
This being said, PLEASE be sure you have a good, topographical map and a compass with you if you are attempting these hikes.  Also, be aware there will likely be some bushwacking involved and you could easily become lost. These routes should only be attempted by EXPERIENCED, backcountry hikers! (Cell phone service is spotty at best in this area. DO NOT rely on it!)
Cloud Peak: "can" be done in one day but it would be a VERY long and VERY hard day (it's around 24 miles total).  People have done it but most suggest doing a 2 – 3 day backpacking trip. (Lake Helen and Misty Moon Lake are popular places to camp for these.)  The last three miles to the summit are said to be a boulder field with "house-sized" boulders (per the reviews).  The "trail" isn't super clear either.  Some people suggested this is actually a more difficult hike than the notorious Longs Peak in Rocky Mountain National Park 😮 so PLEASE think hard and use incredible caution if you're considering this trek.
West Ten Sleep Lake Campground
On other trips, we've stayed at the Island Park campground but since we were leaving from the trailhead at the lake we stayed at the West Ten Sleep campground on this trip.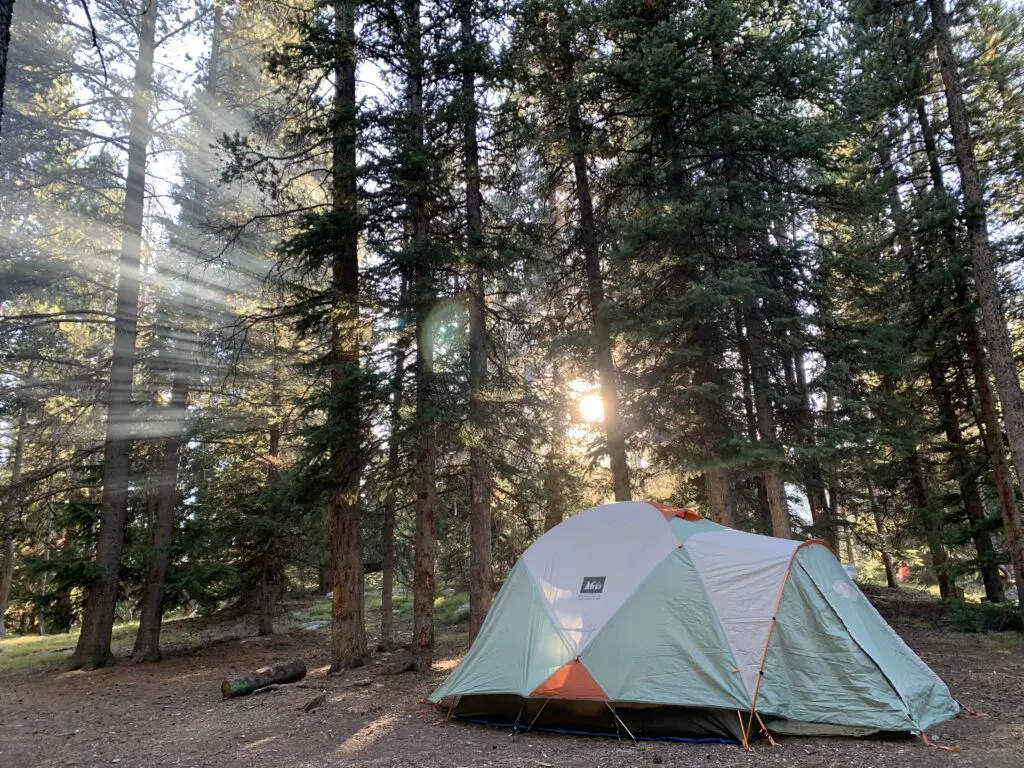 It was LOVELY! Some sites had views of the lake, ours had forest views. But the sites were nicely shaded with lots of soft, pine fluff.  The campground was also relatively quiet and quite pretty.  It was also only a couple of hundred yards to the beauty of West Ten Sleep Lake!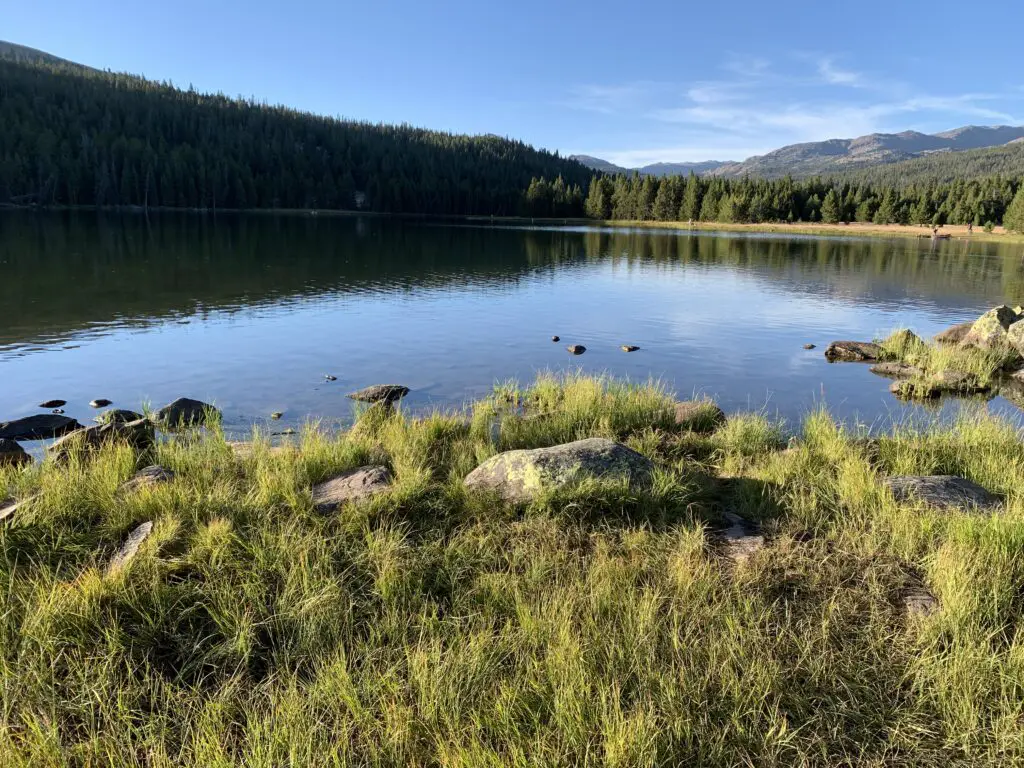 James T. Saban Fire Lookout
The Trekkers have passed this lookout on every trip we've made to the Bighorns and we always say, "we should check that out!"…so, we did!
The trailhead for the James T. Saban Fire lookout is found off Route 16 in the Bighorn Mountains, around five miles east of Meadowlark Lake.  The turnoff is on the south side of the road.  I can't remember if there are signs telling you to turn but you can see the lookout at the top of the hill from the road.  This is also the turnoff for the St. Christopher's Chapel and there are signs for that site.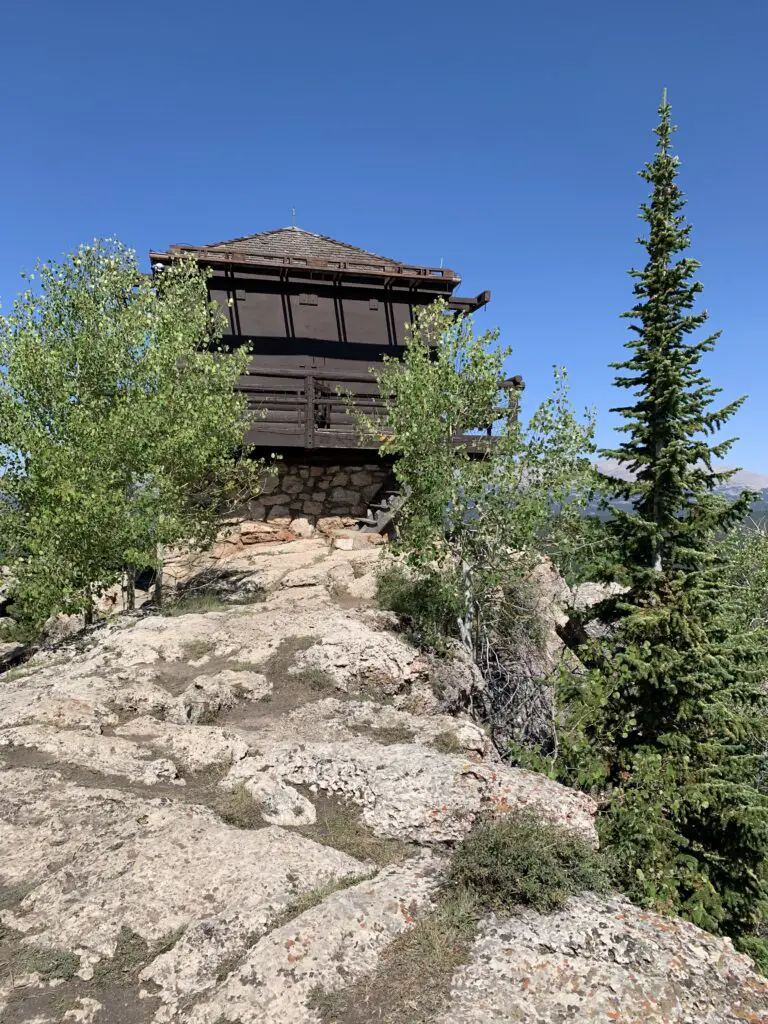 This fire lookout is easy to reach and offers some amazing views of the surrounding area.  It requires a short drive on a narrow, dirt road to reach the trailhead.  You'll want to take it slow and watch where you are driving. In good conditions, I would be comfortable taking almost any higher clearance car, SUV, or truck there.  In poor conditions (mud or snow) the road may be impassable.
Once you reach the trailhead, it is about a 15-minute walk (in each direction) to the tower at the top of the hill.  It isn't a bad hike. It gets a little steep in spots but the trek is short enough almost anyone in good health should be able to handle it. (Note: you are at an altitude of around 8000 – 9000 feet in this area so take your time as you may feel short of breath.)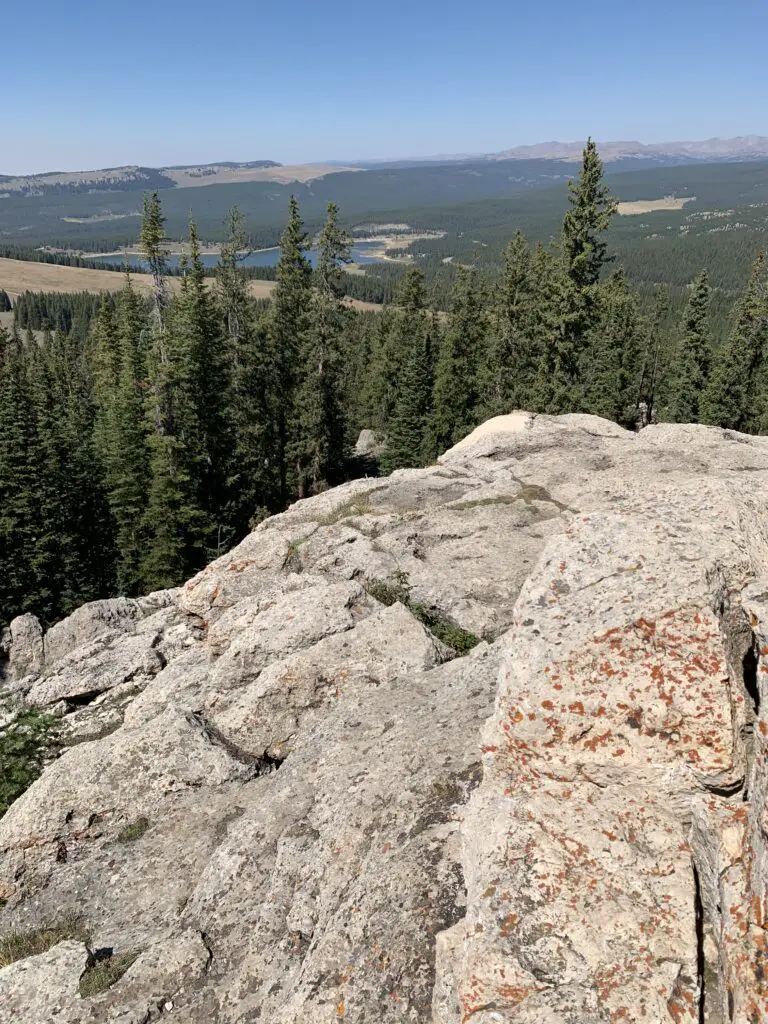 Though it is a bit long and strenuous, the Misty Moon Trail to Lake Helen is a great hike if you want to really get a taste of the Cloud Peak Wilderness area in the Bighorn Mountains!
Have you hiked to Lake Helen, Bomber Mountain, Cloud Peak, the James T. Saban Lookout Tower, or Misty Moon Lake? If so, tell me about your adventures in the comments!
Did you enjoy this post? Pin it!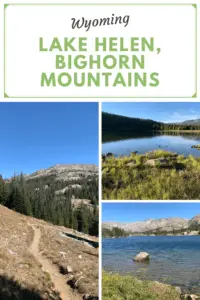 Like what you read here today?  Please feel free to leave a comment, like or share this post!  You can also follow the blog on social media by clicking the links below!