Glacier National Park is one of the most beautiful places I have ever visited. The views there are comparable to the ones I saw in the Andes Mountains of Peru when I visited there in 2001.  The Trekkers had an incredible time visiting Glacier (and hope to return someday).  Most people are aware of the park's acclaimed, Going to the Sun Road, but there are other fun things to do, as well!  In this post, I have outlined 5 not-to-miss sights to see on your trip to the park.
Not-to-Miss Things to See at Glacier National Park
Polebridge, Montana
This tiny town sits about 25 miles north of the park, and only around 15 miles south of the Canadian border.  It is located on North Fork Road.  When I say "tiny", that is not an exaggeration!   Its main draw is the Mercantile (a historic, general store that is known for its DELICIOUS homemade pastries, the Trekkers especially recommend the huckleberry bear claws!).  The tiny community also consists of a saloon where we had lunch (I highly recommend the homemade potato wedges and ranch dressing) and a few cabins available for rent…and that's it! 😮  This little village is the starting point for several hiking trails in the area and there are numerous lakes nearby.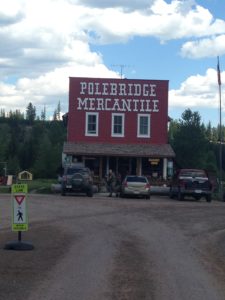 Bowman Lake
We visited Bowman Lake and hiked a portion of the Bowman Lake Trail there.  The trail was a simple walk through the woods, on a smooth trail, with little to no elevation gain.  It wasn't crowded, though we did see several other hikers.  Be watchful for bear in this area–as well as throughout the entire park.  We did not see any but did see evidence that they had been nearby in the past.  The trail could be made into a full-day excursion to the end of the lake and back (the lake is six miles long) or enjoyed as a multi-day backpacking trip if one wished to take advantage of all the trails that connect to it.  With the gorgeous views afforded here of the mountains and their reflections on the aquamarine water, this is one of the most picturesque places I have ever seen.
The Canadian Border
Being that we were so close to the Canadian border we decided we HAD to drive up and say "hello" to our friendly neighbors to the north.  We knew there used to be a border crossing in this area but that it had been closed several years ago.  We were expecting some sort of obvious signage indicating the divide between the two countries, a fence preventing entry, something…we were in for a bit of a surprise…
You reach the border by traveling north from Polebridge on a narrow dirt road.  Drive carefully and be watchful as there are sharp turns.  Wildlife–and the few human inhabitants of that desolate region–may be seen on the road, as well.  We encountered a very friendly couple biking with their three dogs.  They encouraged us to check out the border though we thought they were "pulling the tourists' leg" when they described what we'd find…they weren't. 
You will know you've reached the border when…the road ends…at a gate that looks like something that will close a city park for the winter.  There is also a SMALL sign that reads "no admittance to Canada" and a trench about two feet wide and a foot deep–that you can walk across–that spans the border as far as the eye can see in both directions.  You see a clear line cut through the forest that stretches for miles and continues up the mountains to the east and to the west.  There is also an obelisk that marks both countries and commemorates one of the longest international borders that has been held peacefully, for one of the longest time spans in history.  There is no fence (don't tell Trump! 😮), though there are security cameras.  We also saw border agents patrolling the area, so I would strongly encourage you to be respectful of the laws of both countries.  Pictures are allowed, but even if you have a passport, this is not an open border crossing.
*I had a bit of a philosophical epiphany while observing the border.  Humans are not allowed to cross freely, but as there is no fence, the animals cross back and forth completely unhindered.  The same forests and mountains reside on both sides of the border and were it not artificially maintained by human hands, one would not know when it had been crossed.  It gives you pause regarding man's futile attempts to divide humanity based on imaginary lines.  If the animals don't care which side of a line drawn on a map that they (and their fellow forest inhabitants) reside…should we?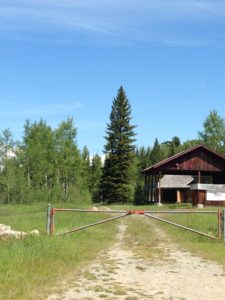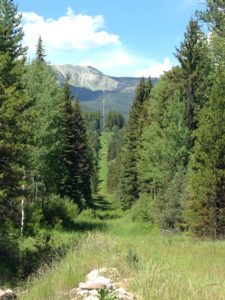 The pillar shown below marked both countries: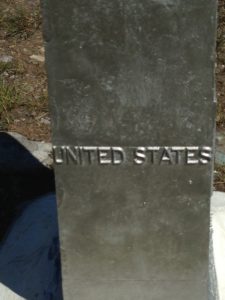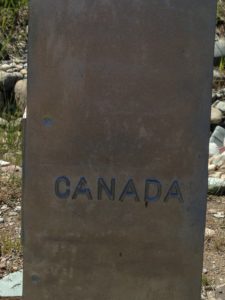 Goat Lick Overlook
This is a very neat area located directly off of US 2, on the southern edge of the park, about halfway between West Glacier and East Glacier (this is one of those areas of lousy signage I mentioned in a previous post).  There is a large sign announcing the overlook from the west, and nothing from the east, so be watchful if coming from that direction. 
The Overlook is exactly as the name suggests–it is a canyon where the wild, mountain goats come to lick minerals that seep from the rocks.  We saw a herd of close to 20 goats, complete with adults and babies, scampering with carefree vigor–you could hear them calling to each other from quite a distance. 
Most of the goats stayed on the other side of the canyon, but one mother and baby were camped out very near our location.  These animals are usually fairly harmless, but please, always remember they are wild.  They should be treated with respect and given space.  If they act in any way uncomfortable by your presence, you are too close!  MOVE BACK!  It should always be assumed that any animal (especially a parent protecting a baby) may attack with force, at any time, if they feel threatened.
Related posts:  Going to the Sun Road at Glacier National Park;  Swiftcurrent Trail at Glacier National Park and 5 Other "Don't Miss" Sites!; Gunsight Pass Trail, Glacier National Park; Glacier National Park: Hiking the Apgar Lookout Trail
Sunset on Lake McDonald
Our hotel was only a five-minute drive outside the border of the park and only about 10 minutes from the largest lake at Glacier National Park, Lake McDonald.  Every night we enjoyed the sunset on the shores of the lake, in the tiny community of Apgar.  The view faces northeast so you won't see the actual sun drop below the western mountains.  However, you will see the play of shadows and alpenglow on the mountains to the east and can see their reflection in the lake water (if it's calm.)  One night we were lucky enough to be able to watch lightning from far-off storms, in the clouds towering over the mountains, in addition to the beautiful sunset.  In addition to the picturesque sunsets, I highly recommend stopping for ice cream at one of Apgar's several shops before heading to the lake!
Another important note, none of the lodges or motels inside the park or near its entrances have TV's.  This is done intentionally to help preserve the surroundings in a rustic manner.  It was a bit like taking a step back in time and we found it incredibly enjoyable.  People left their rooms at night and gathered in parks and along the lakeside; eating ice cream, skipping rocks and conversing with each other.  There isn't much cell service in this area either, so you're forced to disconnect a bit and commune with nature (or *gasp!*, actually talk to the person next to you! 😮😉)  It catered to a relaxed, communal atmosphere.
Every night a family of ducks would swim by.  They were unique in that they would dive under the water, and remain submerged for tens of seconds, before popping back to the surface quite a distance from where they went under.  The ducklings were especially entertaining to watch.  They would build up speed by quickly skimming the water with their wings–almost to the point of taking flight–before diving below the surface.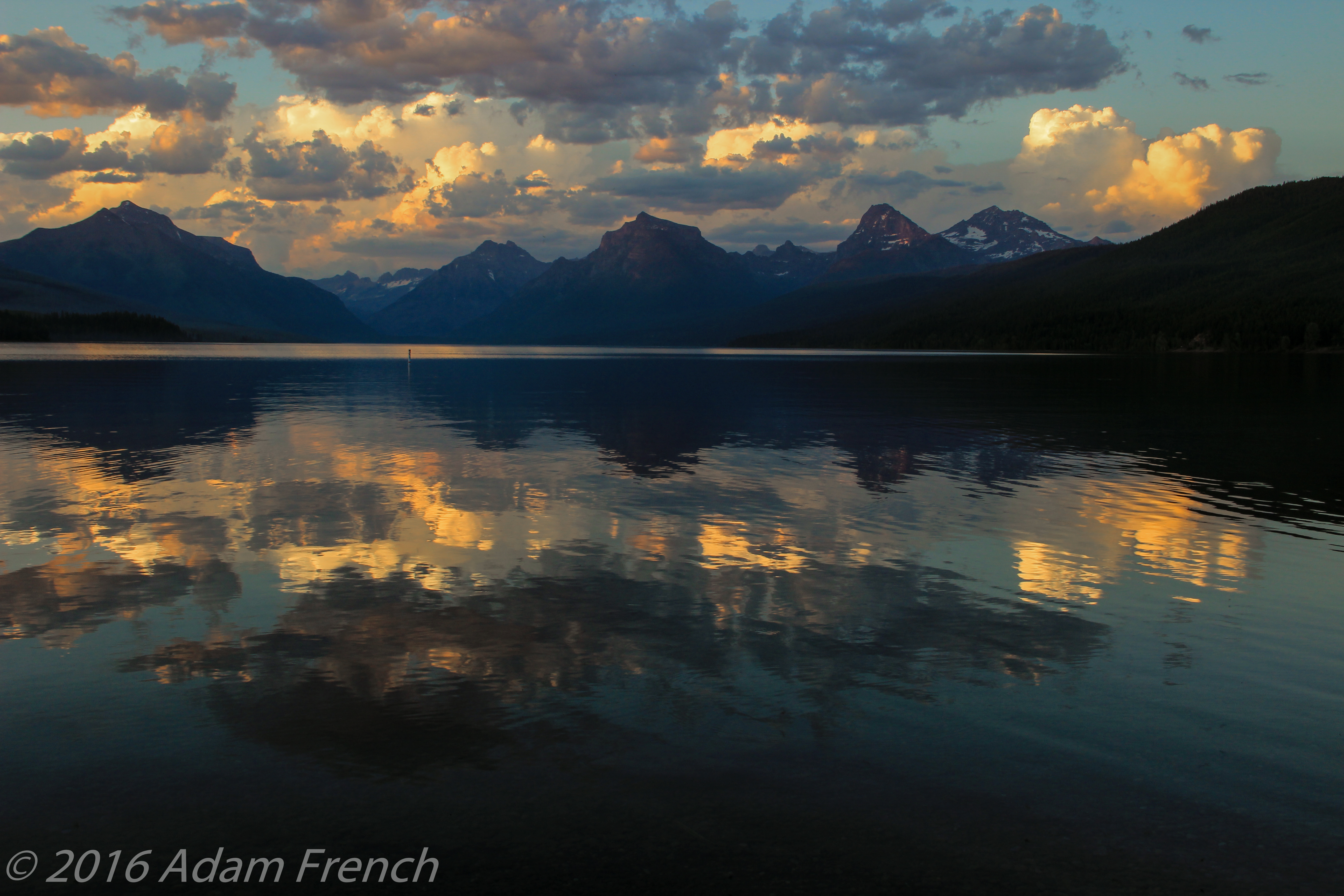 Aqua-colored Water
The waters in the park (the rivers and lakes) are crystal clear (and COLD!) and tinged with an aqua hue.  This comes from the glaciers that feed them.  I've seen pictures of this phenomenon before but had never seen it in person.  It's one of the most beautiful, difficult-to-describe colors I have ever seen!  One wonders if the glaciers melt, how it will affect this unique quality of the park?

Save
Save
Glacier National Park truly offers some of the most incredible scenery I have ever seen.  I strongly encourage you to put it on your bucket list.  If you have been to Glacier, what were your favorite parts?  Let me know in the comments!
Did you enjoy this post?  Pin it!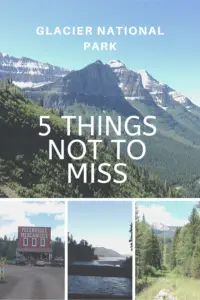 Like what you read here today?  Please feel free to leave a comment, like or share this post!  Add your email at the bottom of the page, or the sidebar to the right, to be notified when a new post is published.  By signing up for the email list, you will also receive a free copy of the Tranquil Trekker's Top 10 Tips of Trekking Do's and Don'ts!
You can also follow the blog on social media by clicking the links below!