Our trip to Glacier National Park was an incredible experience and we barely scratched the surface of the adventures available.  We're already making a list of the new things we want to try on our next visit (that's the problem when we go on vacation, we don't cross places off our list, we just find more stuff we want to do!)  I'd encourage everyone to make it a priority to visit the park if you've never been there.  Its beauty is awe-inspiring, and no one knows how greatly it may be changed in the next few decades.
The last few days of our trip we hiked the early portion of the Swiftcurrent Trail (before the Pass) and then headed home via the Beartooth and Chief Joseph Highways.  It's always fun to include a little adventure on your way home.  It helps to make the return trip something to look forward to, as well!
Swiftcurrent Trail at Glacier National Park
The Swiftcurrent Trailhead is found off the parking lot for the Swiftcurrent Lodge near Many Glacier, on the east side of the park, north of St. Mary's.  It's an interesting trail and it varies in difficulty depending on how you choose to navigate it.  It traverses as far as the Granite Park Chalet, which is a seven-mile hike to the top of Swiftcurrent Pass.  There it meets up with the Highline Trail coming from Logan Pass to the south, and The Loop trail coming from Going to the Sun Road to the east.  
Related posts:  Going to the Sun Road at Glacier National Park; 5 Things you Don't Want to Miss at Glacier National Park; Gunsight Pass Trail, Glacier National Park; Glacier National Park: Hiking the Apgar Lookout Trail
This is a beautiful trail that starts as a relatively flat, easy path. It then progresses into a strenuous hike on a narrow trail with sweeping dropoffs, if you choose to go that far.  I wasn't feeling well that day so we chose not to attempt the entire route this time, choosing only to go as far as Red Rock Falls.  The section of the trail we hiked was well-maintained, smooth and not too overgrown; it's also shaded in many parts, depending on the time of day.  This was actually my favorite trail of all the ones we did throughout the week, even though it was the least challenging. 
Similar to other trails at this park, always be watchful for bear (can you guess if we saw any?)  We did have a close encounter with a bull moose!  They are frequent visitors to this area as there are several lakes and numerous streams and they like the willows growing nearby.  We were made aware of the moose further up the trail by other hikers so we had fair warning–a fellow hiker almost had a head-on collision with the ungulate though as neither he nor the moose was paying close attention!  As we came over a rise we saw a small cluster of people and then spotted the full-grown bull moose just a few steps off the trail.  He appeared completely oblivious to the commotion he was causing as he calmly munched on nearby scrub.  When he grew tired of the attention he sauntered down the trail and off into the woods.  Fortunately, he was mild-mannered as several hikers inadvertently had closer encounters than would be recommended.   Moose are not predators but they are very large and can be very dangerous if they feel threatened (especially during the fall rut or if they're protecting young).  As with any wild animals always admire them from afar and remember the general rule of thumb, if the animal is reacting to you, you're too close.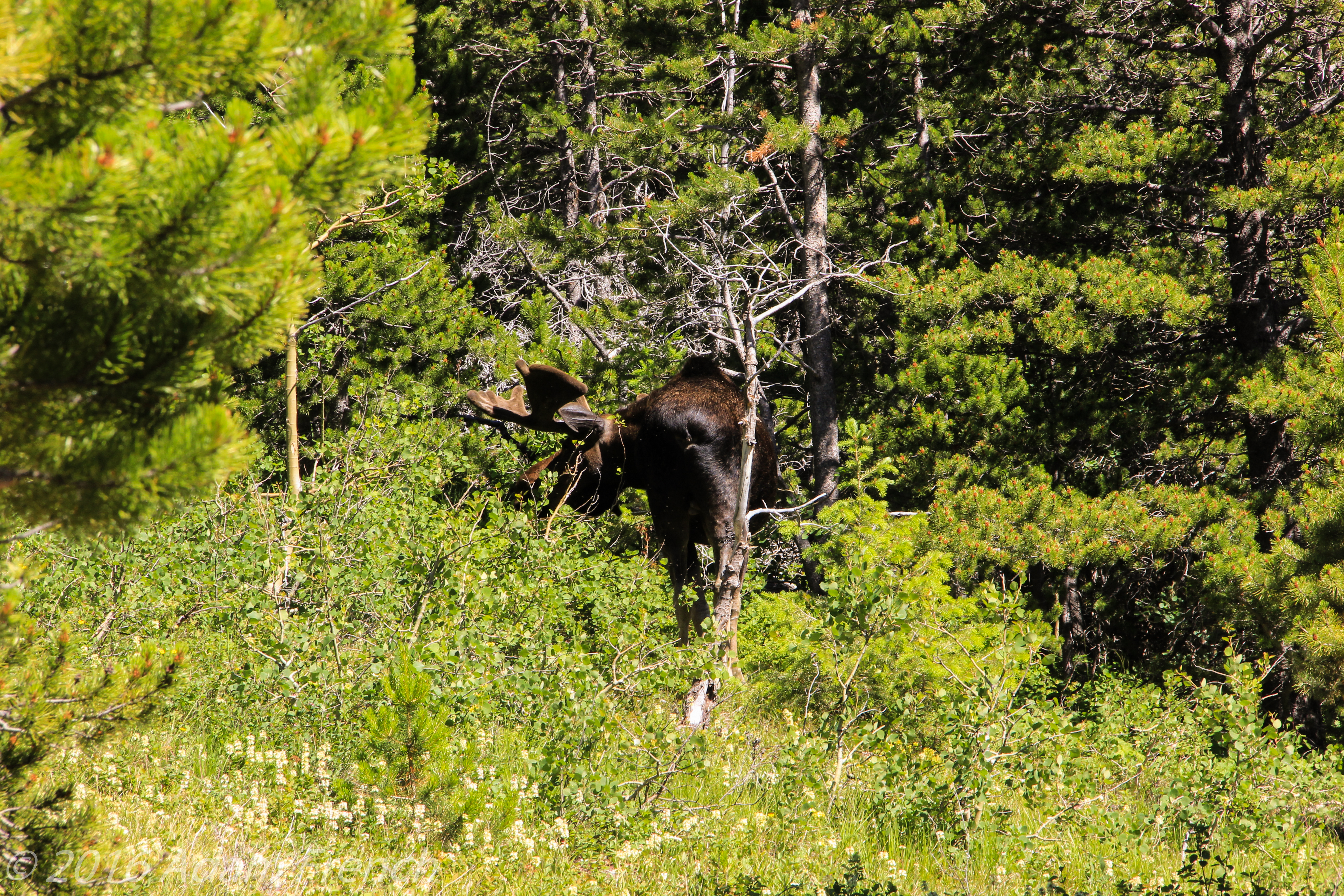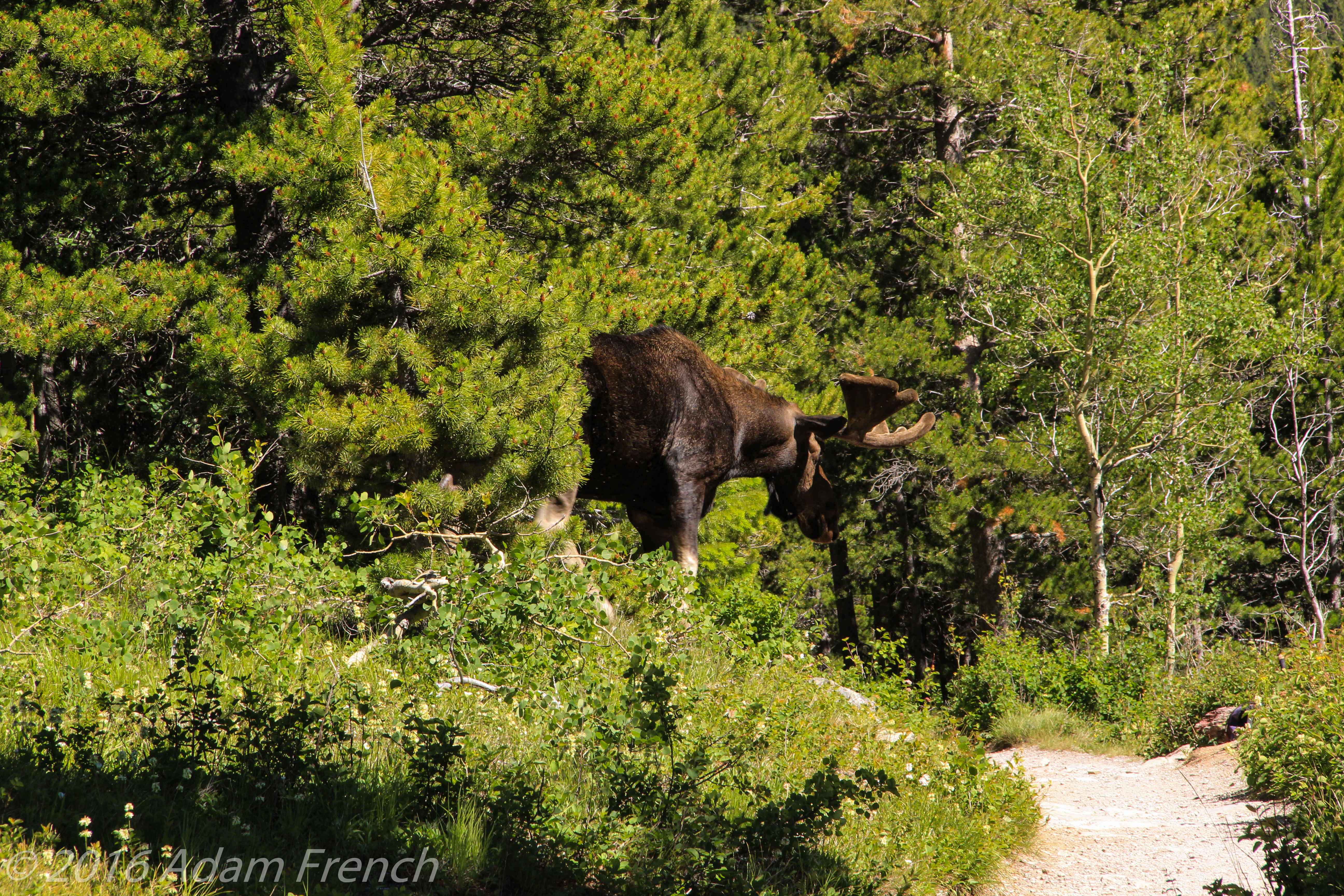 Don't Miss Red Rock Lake and Red Rock Falls!
Both Red Rock Lake and Red Rock Falls are stunning.  After about 1 1/2 miles down the trail you reach your first view of the lake.  It expands outward toward the west with Mt. Grinnell and its surrounding range as a backdrop.  Then you skirt the lake for about another half a mile and will reach an unmarked side trail breaking off to the left towards the lake/waterfall.  You can't really see the waterfall at this point but you will hear it.  Follow the unmarked trail a short distance and you'll arrive at the base of the falls!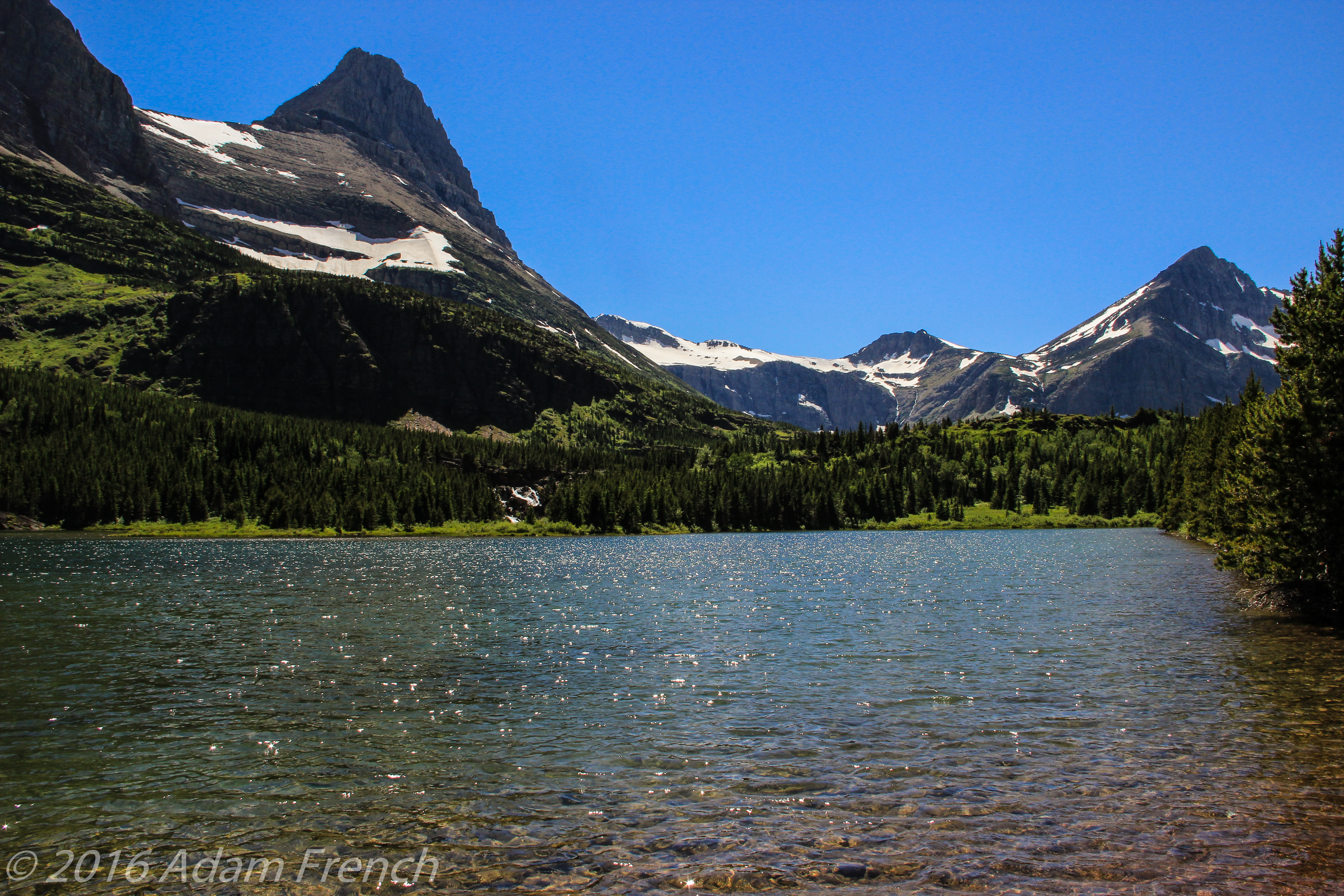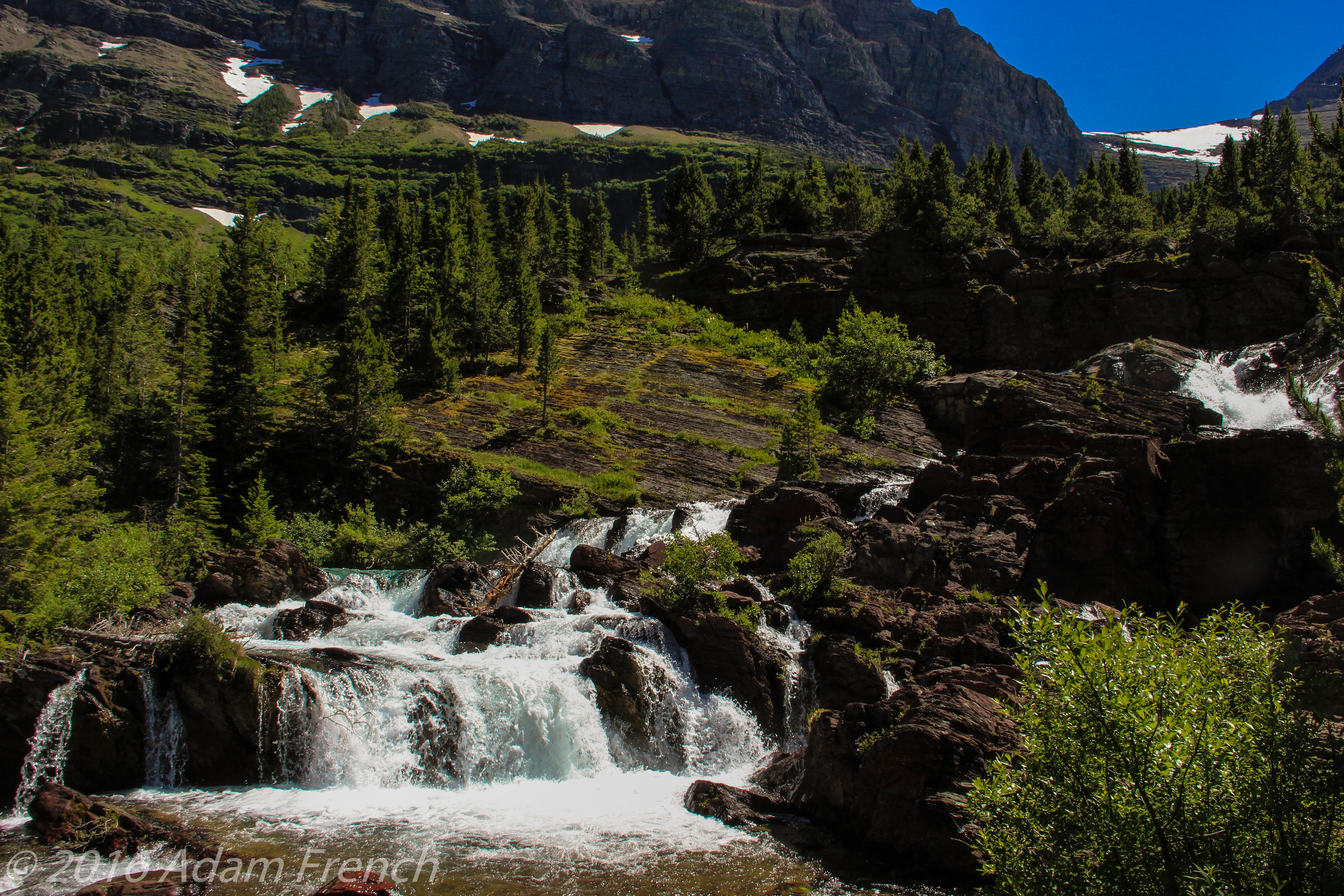 If you're looking for some more challenging hikes in the St. Mary's area, check out these:  Siyeh Pass Trail; Iceberg Lake Trail
Montana's Scenic Roads
On our return trip from Glacier, we spent several days driving across the Montana plains on two-lane, state roads.  I've talked before about my love of back roads, and I strongly encourage people to get off the interstate and check out these state highways.  It can sometimes be a shortcut and it's almost always a welcome change from the drudgery of the highway.  Search for alternate routes to mix the journey up a bit so you aren't crossing the same areas on the return trip as you traversed on your outbound route.  Enjoy the drive that gets you to that vacation spot as part of your vacation. 
This eases boredom but it also helps you to better appreciate the local culture and people in the areas you visit.  You may be surprised at what you might learn–just pay attention to your fuel gauge and the availability of gas when venturing onto backroads.  Also, be aware, cell signal may be weak-to-nonexistent in many of these areas so be prepared to go old-school when searching for travel info.  You may need to resurrect long-forgotten methods of acquiring information: travel books, hard copies of maps and even phone books can be good resources in these areas. 
We saw several missile sites leftover from the Cold War and learned about a sapphire mine from a Local (apparently these types of sapphires are only found in this area).  I also had no idea Central and Eastern Montana had so many mountains!  This was a pleasant surprise as I thought it was all rolling prairie.
Beartooth Pass and the Chief Joseph Highway
On our scenic trip home we knocked other points off our Vacation Bucket List by enjoying Beartooth Pass and the Chief Joseph Highway; two connecting Scenic Byways in southern Montana and northern Wyoming.  Be warned, much of this area is tundra with few trees.  This means there is little shelter to be found, so if a thunderstorm blows up (which one did while we were there–complete with small hail) exercise extreme caution as lightning strikes are an especially dangerous risk in these highly exposed areas.  This is also a very, high-altitude region. The Beartooth Highway usually does not open until Memorial Day Weekend (at the earliest).  Click here for a post I wrote on our attempt to navigate the route that time of year.  
Red Lodge, Montana
I also highly recommend a visit to the town of Red Lodge, Montana.  It was absolutely adorable with it's friendly, small-town charm.  It caters to summer and winter outdoor sports and is located off of US 212, about an hour south of Billings, at the base of the Rockies.  The area is perfectly situated to be used as a "base camp" for whatever adventures you are seeking.
Save
Have you hiked Swiftcurrent Trail, or driven the Beartooth or Chief Joseph Highways?  Tell me about it in the comments!
Did you enjoy this post?  Pin it!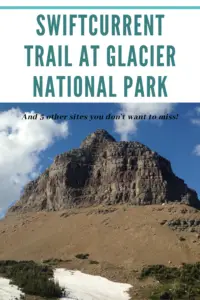 Like what you read here today?  Please feel free to leave a comment, like or share this post!  Add your email at the bottom of the page, or the sidebar to the right, to be notified when a new post is published.  By signing up for the email list, you will also receive a free copy of the Tranquil Trekker's Top 10 Tips of Trekking Do's and Don'ts!
You can also follow the blog on social media by clicking the links below!