I love going for drives, I absolutely LOVE them.  I love lengthy road trips too (as anyone that's followed this blog for a while should know) but I also love just simple drives around the countryside.  It's hard to describe the feeling of peace and freedom that comes from the open road.  
I enjoy drives by myself on winding roads (just me and my Honda, dancing through turns).  I also enjoy them with Mr. Trekker, my trusty side-kick, and usually, the primary driver.  He's probably one of the only people I can stand being stuck in a car with for days on end. 😁 (This is another good sign to watch for if you're considering marrying someone.  The question isn't just can you tolerate, but do you actually enjoy lengthy car rides with your significant other? 😁 )  
Can you inherit wanderlust?
I maintain it's not my fault that I have this crazy obsession with the open road, it's in my genes.  I seem to have inherited my maternal grandfather's wanderlust.  He used to love to "go for a drive".  Oftentimes, he'd invite us grandkids along (it didn't hurt that this usually meant there was a Wendy's frosty in your future if you went 😉).  I can remember my grandma asking him, "why are you going this way?"  His response was always, "I already went the other way!" (Duh! 😉)  I firmly endorse this statement!
Mr. Trekker even knows if he's driving us somewhere, we can't go the same way twice.  Why would we go home the way we came, we already saw that stuff today?! 😝
Can wanderlust be taught?
I don't think this desire is all Nature though, I blame Nurture, as well.  I went on numerous road trips throughout my childhood, with both my parents and grandparents.  I rode along with my paternal grandparents, one year when they returned to their home in Kansas after a visit to Indiana.  I also rode to Florida for family vacations several times as a child.  I even helped my maternal grandparents drive there on a few occasions, as I got older and they started wintering in the warmer climate.  My parents and I also took numerous trips to New England over the years, to visit family.
As it turns out, there were times Mr. Trekker and I may have been quite near each other, throughout our childhood, as he grew up near where the family we were visiting lived–we didn't actually meet until college though.  He also shares my love of road trips, probably due, in no small part, to the highway adventures he enjoyed while growing up.  His parents took him throughout New England, as well as to countless Civil War battlefields up and down the Eastern Seaboard.
Songs about the Open Road
There are a few songs that well relate my love of the open road (click on the link on each title to hear the full song):
In "Take a Back Road", by Rodney Atkins, the lyrics state:
…Gotta get outta here, get it all off my mind
And it makes me wanna take a back road
Makes me wanna take the long way home
Put a little gravel in my travel…
These lyrics speak to me because there are times when I feel like I need to escape from the stress of daily life.
…Tear down some two-lane country who knows?
Get lost and get right with my soul…
We shouldn't be afraid to go the long way through the countryside, things seem to fall back into balance after spending a little time on the open road.
I've been cooped up, tied down 'bout forgotten
What a field looks like full of corn and cotton…
…I need the curvin', windin', twistin' dusty path to nowhere…
I, personally, could never forget the sight of a field.  I grew up surrounded by them (and still live by the prairie).  But that isn't the case for everyone.  A lot of people are constantly surrounded by a concrete jungle.  I think this separation between us and our evolutionary roots with the natural world causes angst for people.  Getting out on the open road helps us get back in touch with those roots.

In "Backroad", by Granger Smith, the lyrics state:
Barbed wire fence carving out a hillside, cutting holes in the midday sun
Like a postcard framed in a windshield covered in dust
I love the rhythm of an old grey blacktop
Steer the wheel, one-handed on a two-lane, hugging that line
I got the windows down, no one else around singin'…
I used to be incredibly outgoing and extroverted.  I would get re-energized just by being around other people.  These days, I'm still outgoing, but more and more, I prefer quiet and solitude.  Mr. Trekker and I can spend several days in the wilderness, with just each other, the pup, birds, deer, moose, and maybe a bear for company.  We head into "town"–that can mean very different things in different parts of the country–to restock on supplies and get a shower, and within a day we're both ready to get back to the solitude again.  These days, I get exhausted being around people all the time.
**Working from home the last several years probably doesn't help my newfound introverted side much.  I spend more time alone (or with just the dog) now than I ever used to, which I am PERFECTLY happy about, mind you.  I have actually found, now that I'm not around people as much, my patience for them (in parking lots, while driving, in stores) has actually increased.  It's like less exposure to people increases my tolerance level for them! 😂 
We hope to someday get property in the Hills.  Maybe we'll live close enough to our neighbors so that we can actually see their house from ours…maybe. 😝  We currently live in town, but at least in the summer, our backyard is walled in by green trees, shrubs, and bushes.  I can at least pretend I'm alone.  I see pictures of other neighborhoods where the houses are closer together, or the properties aren't separated by barriers.  Or I see pictures in large cities where big buildings block out the sky unless you're looking straight up.  These images just make me cringe!  They get my anxious heart pumping!  I need room to breathe, ya'll! (Again, not really my fault.  I grew up as a farm girl in Indiana, it only makes sense that I love wide open spaces.) 😁
Granger Smith goes on to say:
Freedom is the miles I'm rollin' on…
…I feel the wheel like a melody, like a radio dialing in strong
The breeze smells like a summertime hay field's just been cut
I got the windows down, way out of town singing…
There is freedom on the open road (and the smell of fresh-cut hay is DEVINE!)  Don't just take my word for it.  There have been some famous people who have shared my love of it too.  John Steinbeck, for example, in his book "Travels with Charlie" (his poodle) comes to mind.  In that account, he and Charley enjoy a country-spanning road trip, sleeping out of his truck camper.

Another song that reflects my love for the open road is "My Church", by Maren Morris.  The lyrics of that song state:
…I find holy redemption
When I put this car in drive
Roll the windows down and turn up the dial
Can I get a hallelujah
Can I get an amen
Feels like the Holy Ghost running through ya…
…I find my soul revival…
…Yeah, I guess that's my church…
…When this wonderful world gets heavy
And I need to find my escape
I just keep the wheel rolling, radio scrolling
'Til my sins wash away
I get this sentiment. I feel the same way about the open road.   I feel refreshed and stimulated when I'm out there.  It's almost a spiritual experience or a spiritual renewal of sorts.  I feel so much more relaxed after a good, long drive. It's like I can breathe again, like I've been rejuvenated.
**This is partially why I love being out in nature so much.  It's quiet, it's natural, it's solitude, it's peaceful.  You gotta respect it because it can kill you, 😳 but it can also refresh you in a way nothing artificial can.  Nature and wide-open vistas are my Xanax!  
Oddly enough, I don't love the Plains because they are too wide open.  It's a bit overwhelming.  I love the mountains, but I couldn't live in them, either.  For one thing, the weather can be too extreme.  For another, they block the view!  I prefer to live in the foothills, they are an almost "Goldilocks"-type region.  You get to experience the best of both worlds.  The flatter land that leads up to the base of the mountains is open, so you feel like you can breathe, but it doesn't continue on endlessly.  It is reigned in by the rocks (and you can also enjoy mountain views, as well).  You also benefit from the protection the monoliths provide from the worst of the weather, and lower altitudes usually also offer more mild weather.

I love taking my car on the winding back roads.  It's fun to drive and it makes you feel like you're one with the land, it's like you can finally relax. I LOVE the smells of the country, yes, even "those" smells.  Manure is natural too kids! 😉
Below are some more pictures of our travels on the open road.  Don't they just make you feel like you can breathe?:
So, the next time you get the chance, don't be afraid to get out there and enjoy your own back roads a little!
Do you enjoy long drives in the country?  Tell me about it in the comments! 
Did you enjoy this post?  Pin it!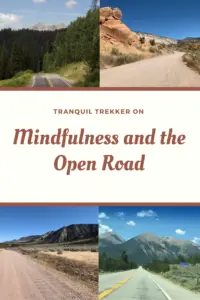 Like what you read here today?  Please feel free to leave a comment, like or share this post!  Add your email at the bottom of the page, or the sidebar to the right, to be notified when a new post is published.  By signing up for the email list, you will also receive a free copy of the Tranquil Trekker's Top 10 Tips of Trekking Do's and Don'ts!
You can also follow the blog on social media by clicking the links below!