It all started with some AMAZING huckleberry bear claws… 🤤  
In 2016, on our trip to Glacier National Park, we visited Polebridge, Montana.  They are famous for their homemade, huckleberry bear claws that are baked at their Mercantile. (They are AMAZING and totally worth the drive!)  Mr. Trekker has had an ongoing craving for these delicious delicacies since that trip. One summer a few years ago, we decided we needed more of these amazing treats, so we crafted an entire road trip around enjoying some! Read on for more info on the bear claws, and several other cool stops to add to your Western Montana Road Trip!
Places to Eat in Western Montana
There are so many great places to eat in Western Montana.  I mention a few we tried  below:
Montana Wheat bakery (throughout the state):  this place has AWESOME cinnamon rolls and pastries that are made locally.
Lake City Bakery and Eatery (Polson, MT):  We acquired yummy pastries from this locale and then enjoyed them at Boettcher Park which sits on the southern shores of Flathead Lake.  It offers prime views of the lake (where we learned that Puppers is afraid of waves, even small ones. 😂)
Burrito Brothers (also in Polson):  We got another AWESOME breakfast from this small shop.  They offer a variety of burrito choices including both breakfast and lunch options, and they're open throughout the day!
Freestone Ice Cream (Hamilton, MT) and the Virginia City Creamery (found in the Virginia City ghost town!):  check out the yummy huckleberry ice cream at these locales!
Red Lodge Cafe and Lounge:  They make a great breakfast sandwich!
For more fun places to visit in this area, check out my post on Ghost Towns in Southwestern Montana!
Polebridge Mercantile in Polebridge, Montana
We made it to Polebridge and got our huckleberry bear claws…and yes, they were DELICIOUS! (For more info about this little piece of paradise, click here!)  Polebridge is a TINY hamlet that sits only about 20 miles south of the Canadian border. (For those keeping track at home, the Polebridge Mercantile is exactly 923 miles from our house! 😁)  They also make some great sandwiches that we enjoyed by the creek later!
Polson/Flathead Lake KOA Review
I struggled with whether to include this info.  I always try to keep this blog positive, however, this experience was so disappointing I felt like I needed to say something.  The campground was LOVELY.  It was set back from the road so it was fairly quiet, and it offered beautiful views of Flathead Lake and nearby mountains. The RV sites were shaded and lovely, as well.  We were excited when we got there because it seemed SO NICE…then we got to the tent sites…
Anyone who reads this blog regularly knows we prefer to stay in national forest campgrounds.  They're usually more secluded, quieter, prettier and you're more likely to see wildlife.  However, western Montana is prime grizzly habitat (and since they scare the CRAP out of me, especially after this incredibly unfortunate incident) we decided to opt mostly for KOA's this trip.  I will be the first to admit, KOA's are basically the most "vanilla" camping experience you can possibly have (but the showers and flush toilets were LOVELY! 😉)
Unfortunately, the tent campsites at the Polson/Flathead Lake KOA were AWFUL!  The facility literally parked the tent sites onto a gravel parking lot.  It felt like whoever designed them had never tent-camped a day in their life. 😔
The tent sites are on pebble tent pads (which are ok) but they are surrounded by gravel…there was only a small amount of lawn that we could reach next to us (and the sprinklers came on for that at midnight and sprayed half our campsite too, getting our chairs and towels wet and hitting the fence and waking us up. 😒)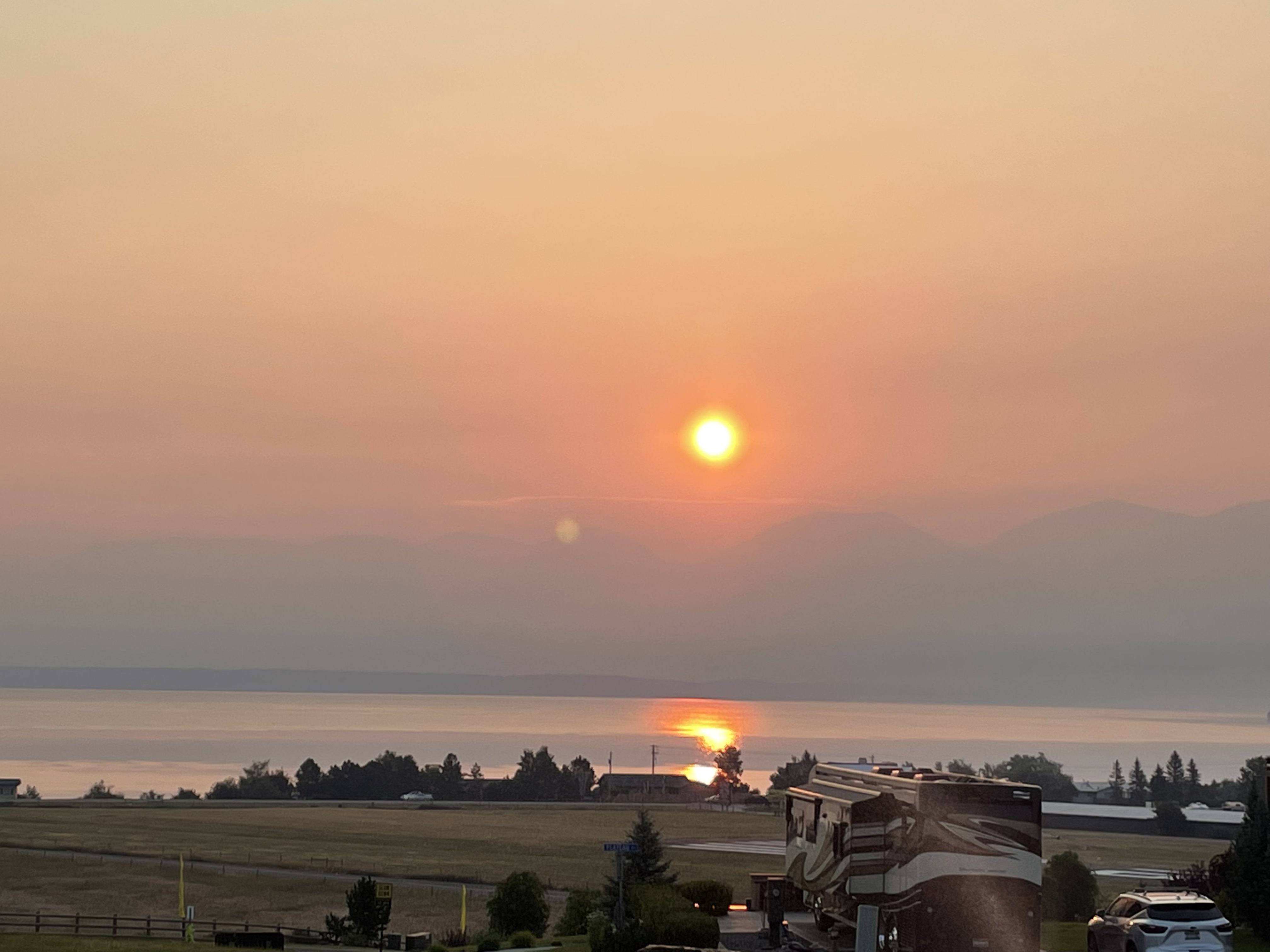 The sites offered almost no shade so they just BAKED under the sun.  We avoided ours until at least 6 at night as it was so hot.  The first night the hot pebbles radiated heat into our tent all night. 🥵  To top it all off they wanted us to park our car elsewhere (not too far away, but still.)  Um, we are CAR CAMPING, all our stuff is stored in the truck so we go to it, A LOT!  KOA isn't known for great tent sites but these were the worst we've ever had. 😕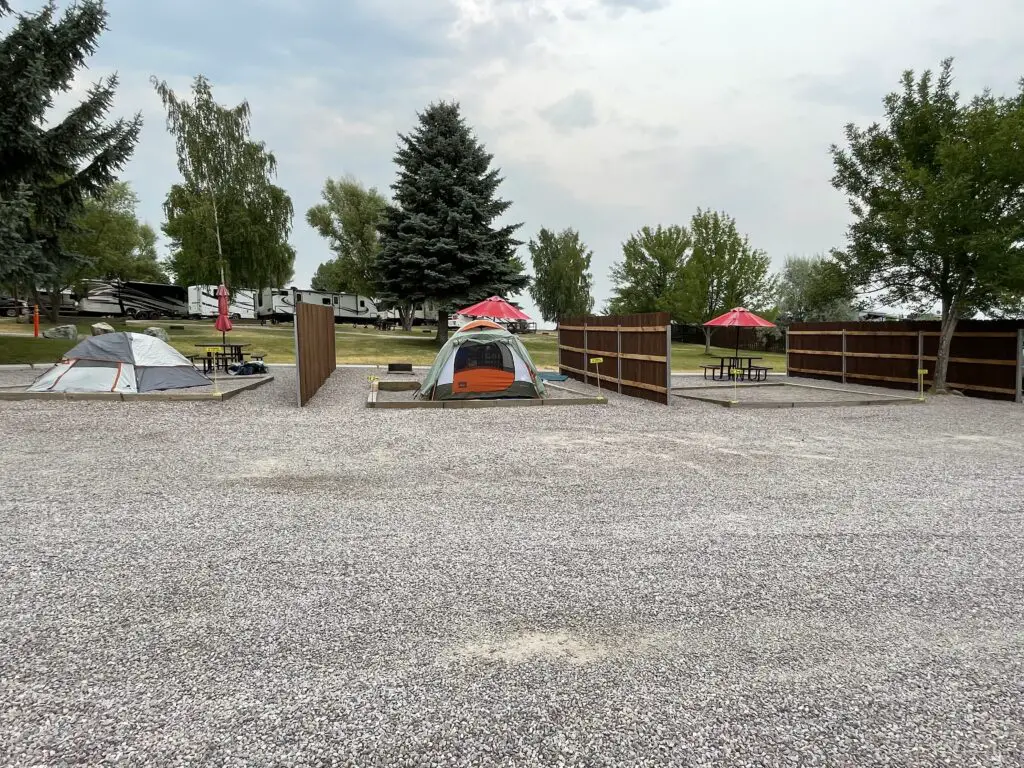 I will say the showers and the Pet Exercise area were nice.  The views of Flathead Lake were also great and the mountains would have been gorgeous…if we had been able to see them through the wildfire smoke. 😝 (This issue was obviously not the fault of the campground.).
Bottom line, if you want to be an RV resort, that's fine, just tout yourself as such and don't bother with the tent sites.  Or, if you want to offer options for all types of camping, PLEASE don't make your tent campers feel like second-class citizens. 😡
Flathead Lake
On a much more positive note, Flathead Lake is situated in far, northwestern Montana, less than 50 miles southwest of Glacier National Park.  It's the largest freshwater lake in the Continental US west of the Mississippi and it is AWESOME!  The view reminded me of Sebago Lake in Maine. (I reviewed a trip we took to that lake, several summers ago, here.)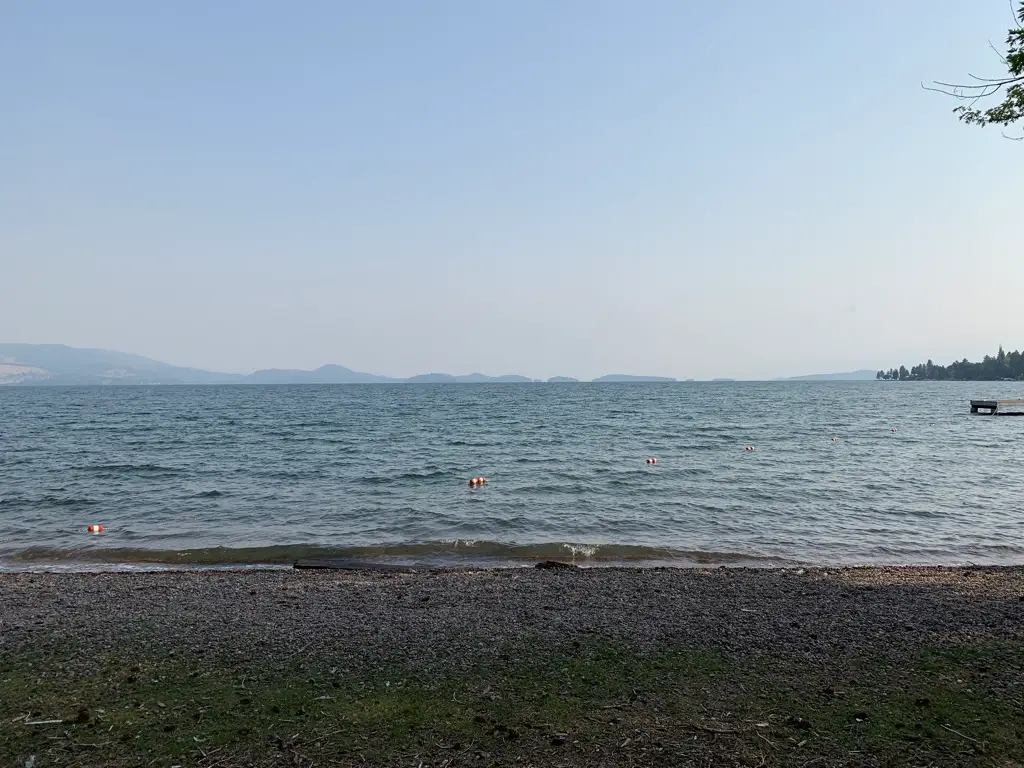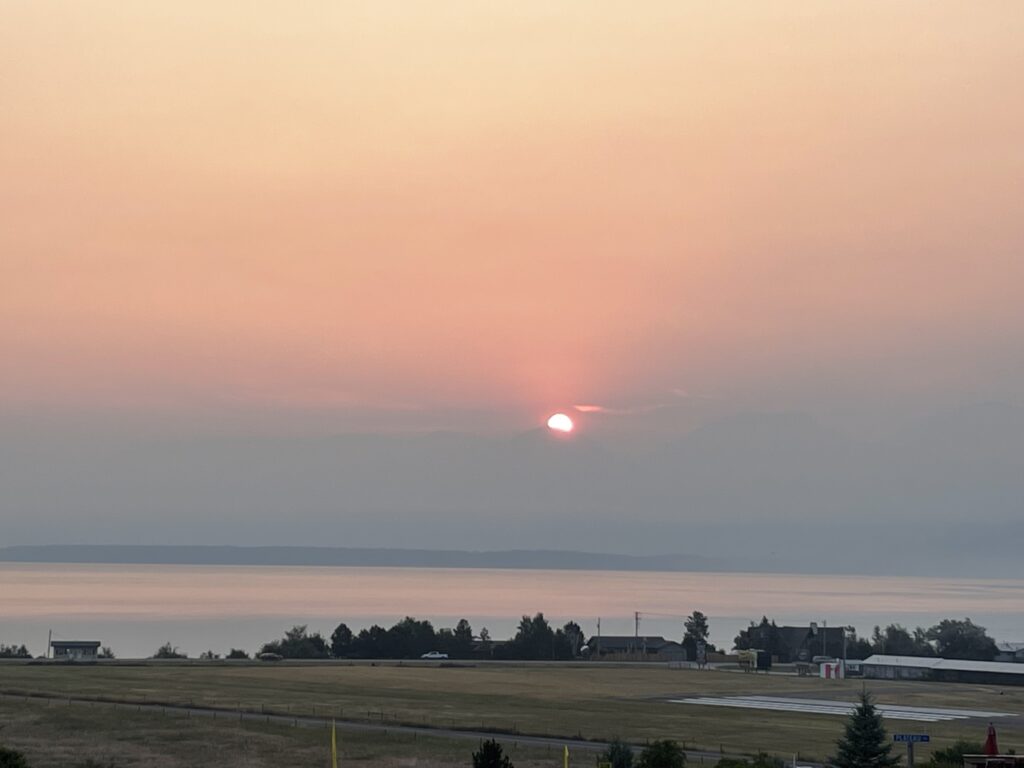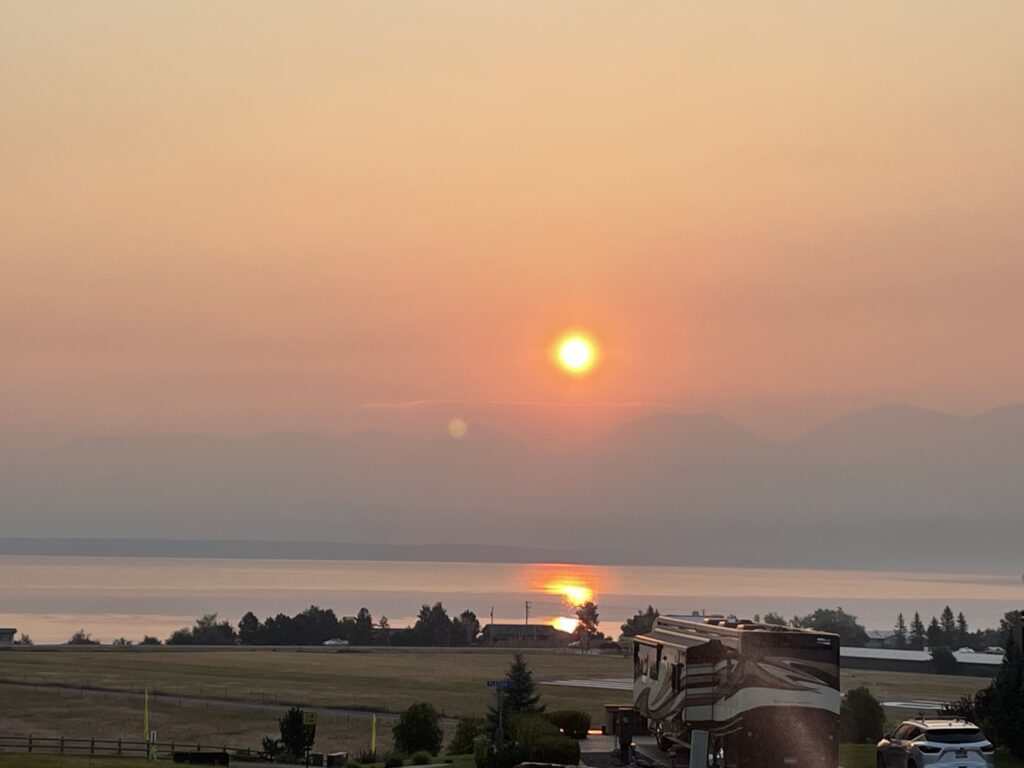 *You may notice a lack of the beautiful, landscape, vista pictures, that I usually post.  That would be because on this trip, we could hardly see the mountains due to all the smoke and haze. 😩  Sadly, this is becoming more of a norm as the West tends to burn each summer. 😪  PLEASE pray to Whatever/Whoever you pray to, send positive vibes, good wishes, white light, or whatever your spiritual "thing" is, but the West NEEDS rain, snow, or anything else that can fall as precipitation.  It's crazy seeing some of the flooding in other parts of the country/world while out here the landscape just BAKES under the hot sun. 😭  Climate change SUX!!! 😡  
I'm glad we've visited this area before so we know how beautiful the landscape actually is.  A few times on this trip we could barely make out tall, mountain shapes looming through the yellow-brown gloom. 😪 (We did get lucky that even though we drove through some very smoky areas, none of our campsites were inundated with wildfire smoke.)  The morning we woke up to the sound of rain on the tent it took me a while to remember what that sound was! 😯  And then I rejoiced!  It's a beautiful sound and we didn't even mind packing up a wet tent in the drizzle. 😁  
Hungry Horse Dam in Hungry Horse, Montana
We also saw the Hungry Horse and Kerr Dams.  The Hungry Horse Dam is located just south of Route 2 in Hungry Horse, Montana, just west of Glacier National Park.  It dams one of the forks of the Flathead River and creates the very scenic and very LONG Hungry Horse Reservoir.  The dam is over 500 feet tall and is one of the tallest ever built by the CCC (and is one of the largest of its type in the country).  It was cool to see!  If you stop at the Visitor Center there are even some tours available of the dam and its workings.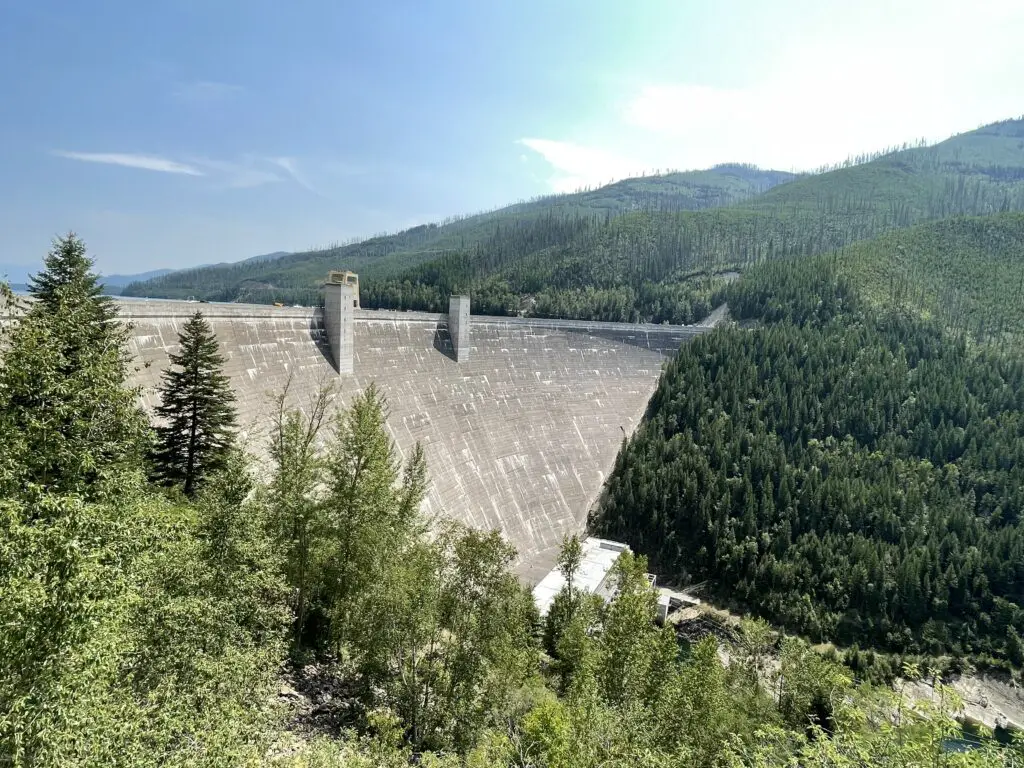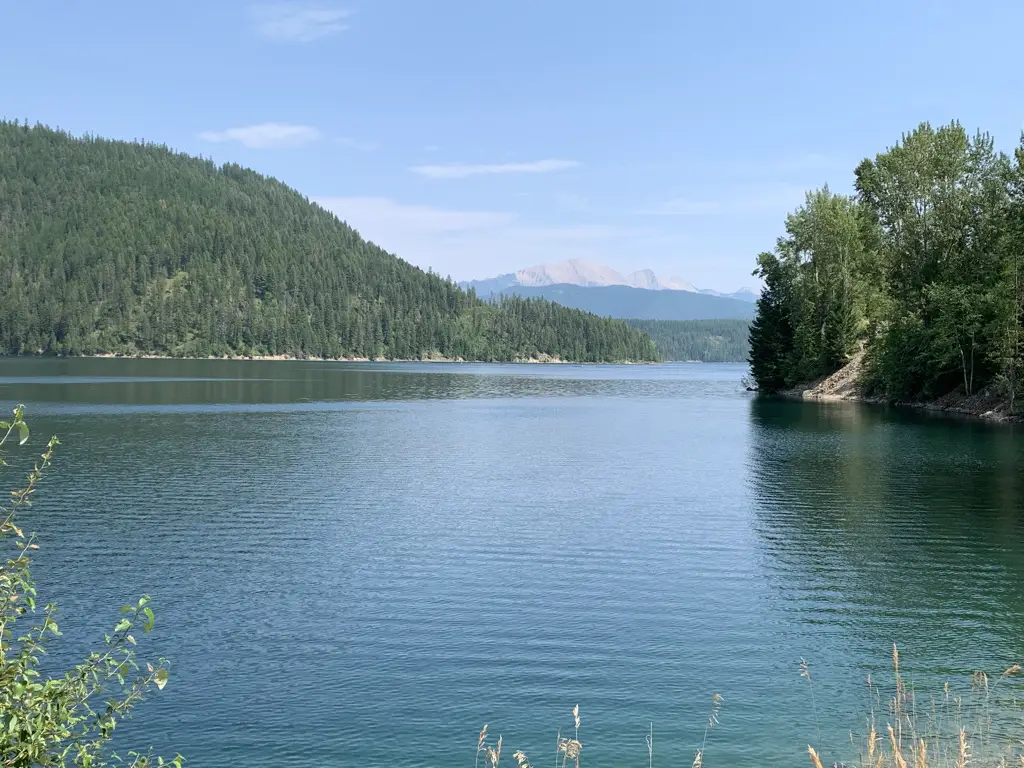 Word to the Wise:  The view in the picture above is similar to the one we saw from the Gunsight Pass Trail in Glacier National Park–the portion of the trail that starts from the Jackson Glacier Overlook which is found off the Going to the Sun Road. (I reviewed that trek here.).   Often, if you know where to look (and have a little bit of luck), you can see similar sites to those found in national parks just outside the park boundaries where there are fewer crowds.  After all, it's all the same countryside!   
Kerr Dam in Polson, Montana
The Kerr Dam was REALLY neat!  They had a great little boardwalk path down the canyon wall that offered prime views of the structure.
Be warned, the path was a little steep and could be HOT in the sun.  It could also be slippery if wet. We had a nice breeze and a rain shower when we were there at 6 pm so it was pretty nice, we also had the place to ourselves at that time of day.  This could also be a bit of an uncomfortable walk if you're afraid of heights.  It didn't bother me as there was a nice railing but you're basically walking along a knife-edge cliff that drops off on both sides.
The dam is on another fork of the Flathead River on land owned by the Flathead, Salish, and Kootenai tribal people.  The US government leases the dam from the tribes which provides them revenue.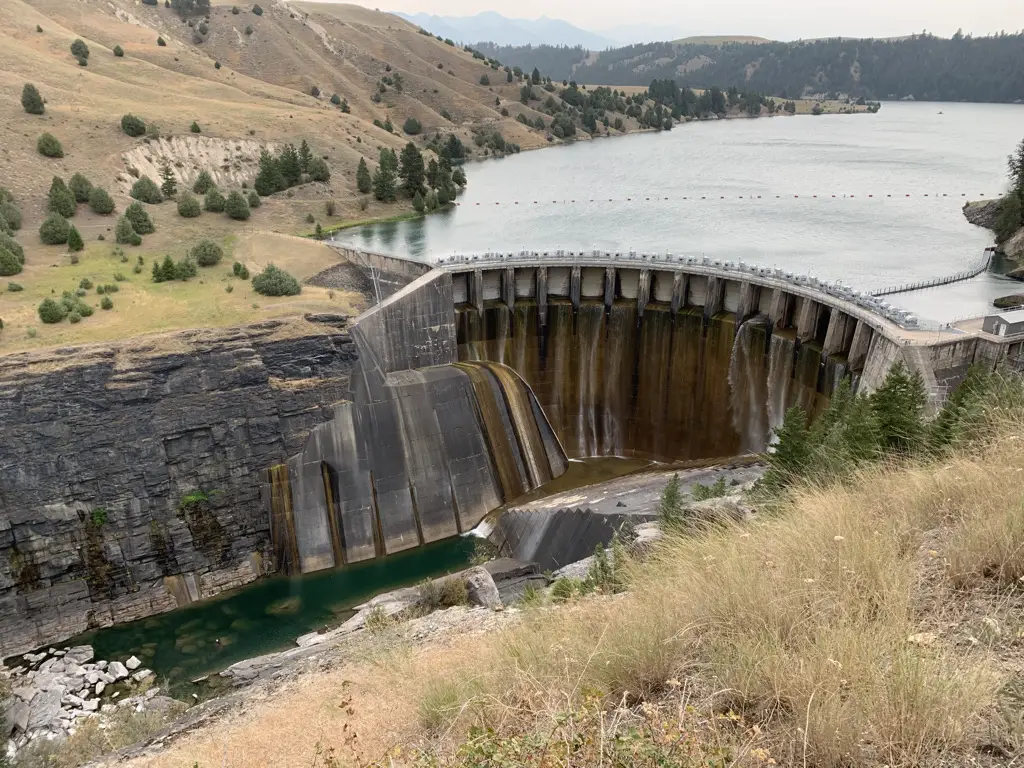 Views from the Kerr Dam Overlook: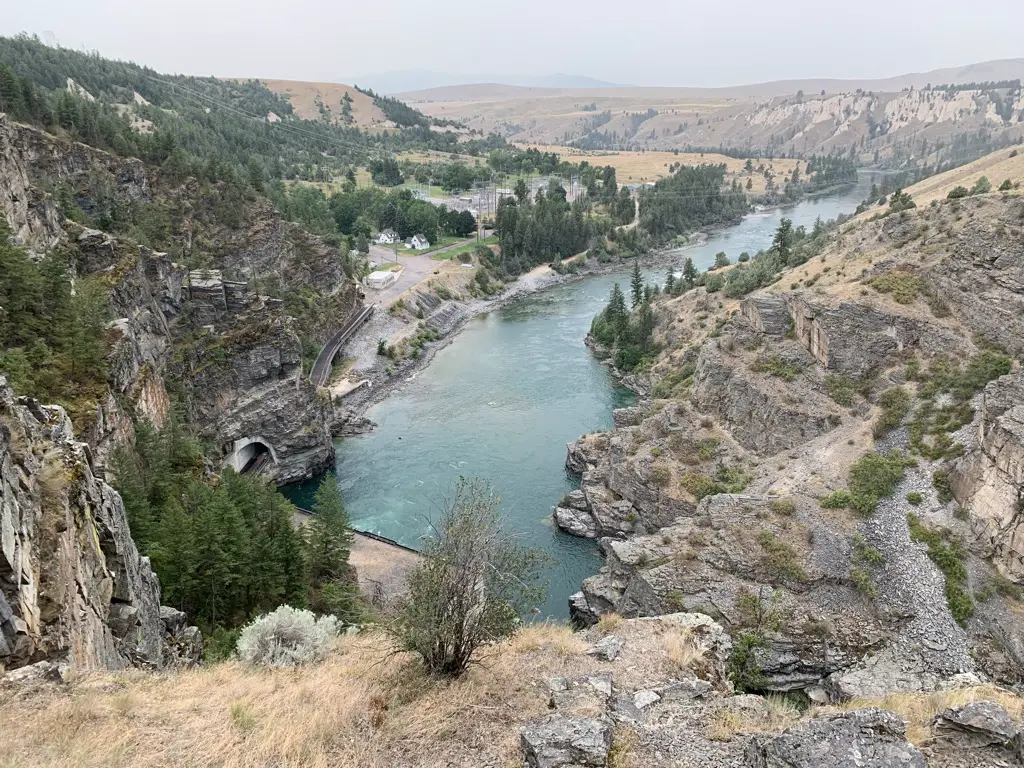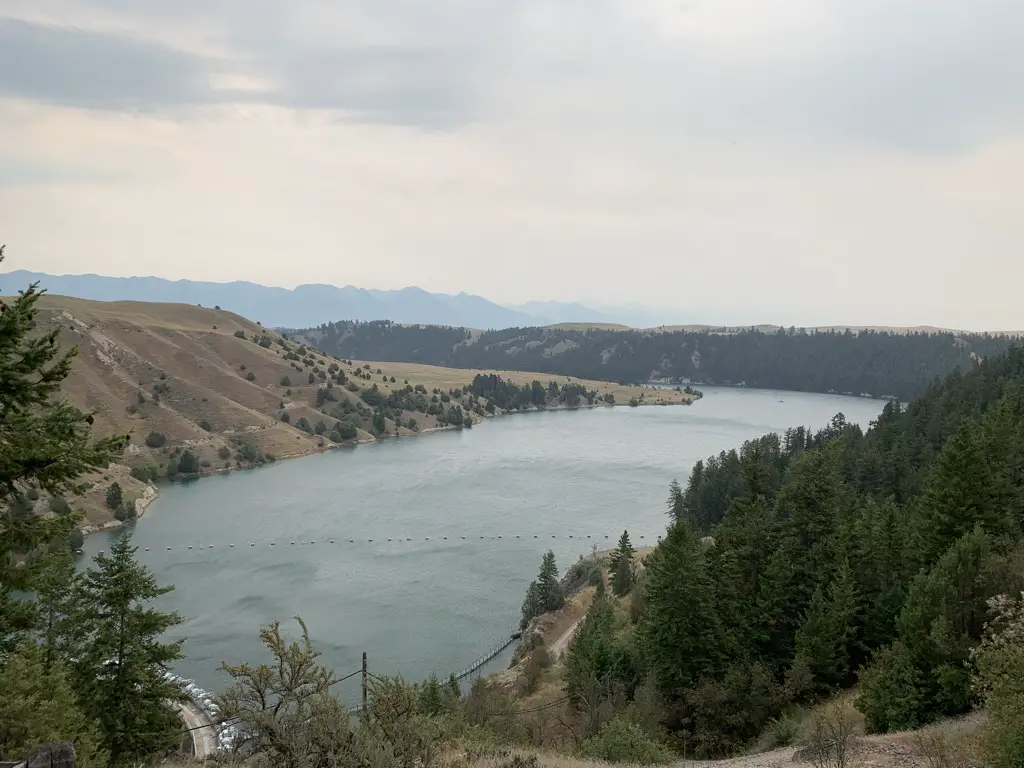 Traveler's Rest State Park
Traveler's Rest State Park is pretty cool!  It is located near the intersection of Routes 12 and 93 in Lolo, Montana.  This site's claim to fame is that it is the only confirmed campsite of the intrepid explorers, Louis and Clark.  How do they KNOW this is the case, you may ask?  Well, the answer is kind of gross actually! 😂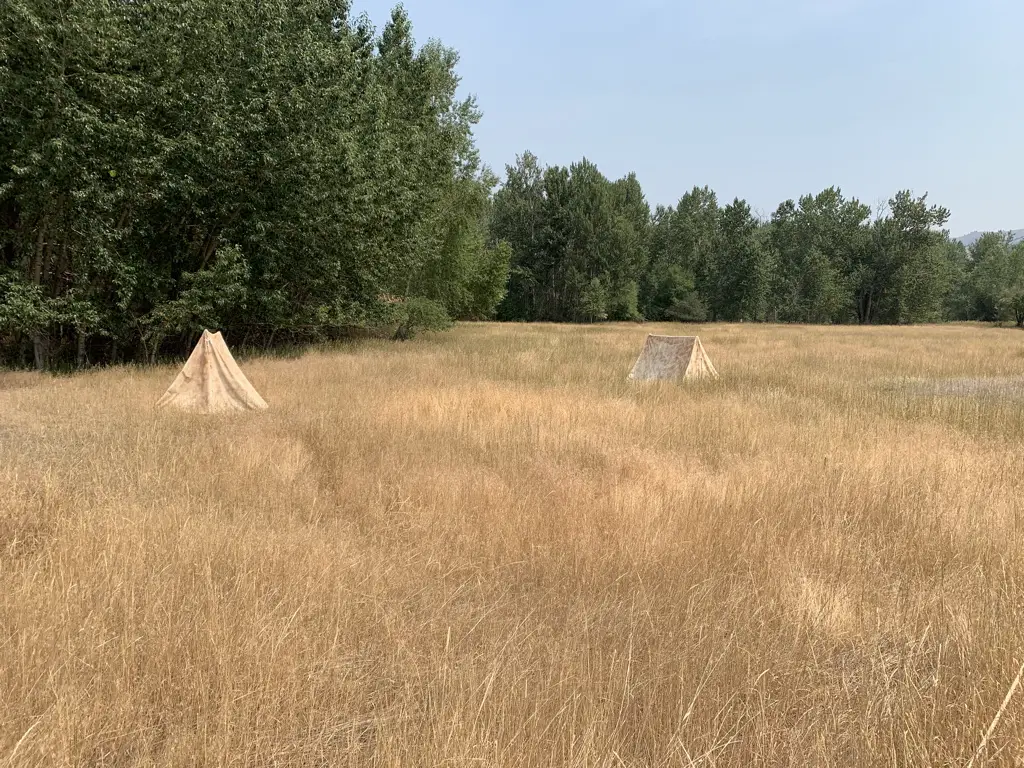 The location of the camp was long suspected to be in this area.  An archeological study eventually found higher-than-normal amounts of mercury in soil samples gathered here.  It was known that the exploration party carried mercury pills to be used to help "expel sickness from the body".  As it turns out, the soil the archeologists had found was the site of the camp's latrine! 🤥  Once this spot was confirmed, the scientists were then able to locate other remnants of the camp using previously known camp arrangements.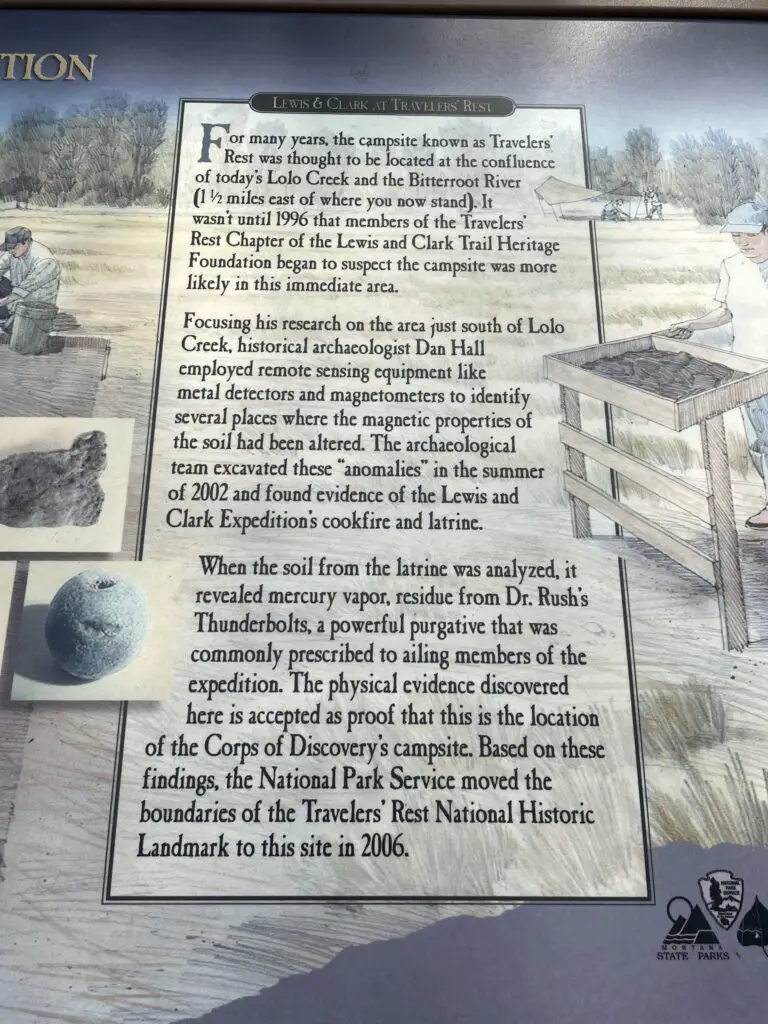 Similar to the trees I discussed in my Gettysburg National Battlefield post, Witness Trees have also been identified at the site of the Louis and Clark camp! (These are trees that have been determined to be old enough to have been here when the camp was here.)
The camp's three Witness Trees: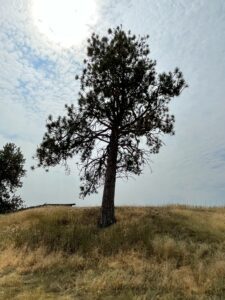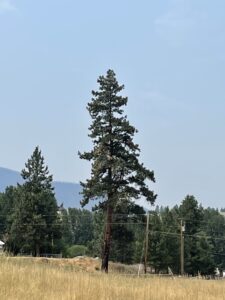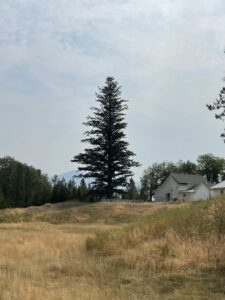 The Salish Tribe
One of the prominent, early tribes in this area was the Salish People.  I loved how many of the local signs are written in both English and Salish.  It is a beautiful language to see written.  It looks almost Cyrillic (Russian) but is actually completely unique to this tribe.  I was also able to purchase a cool book that gives a Salish glossary.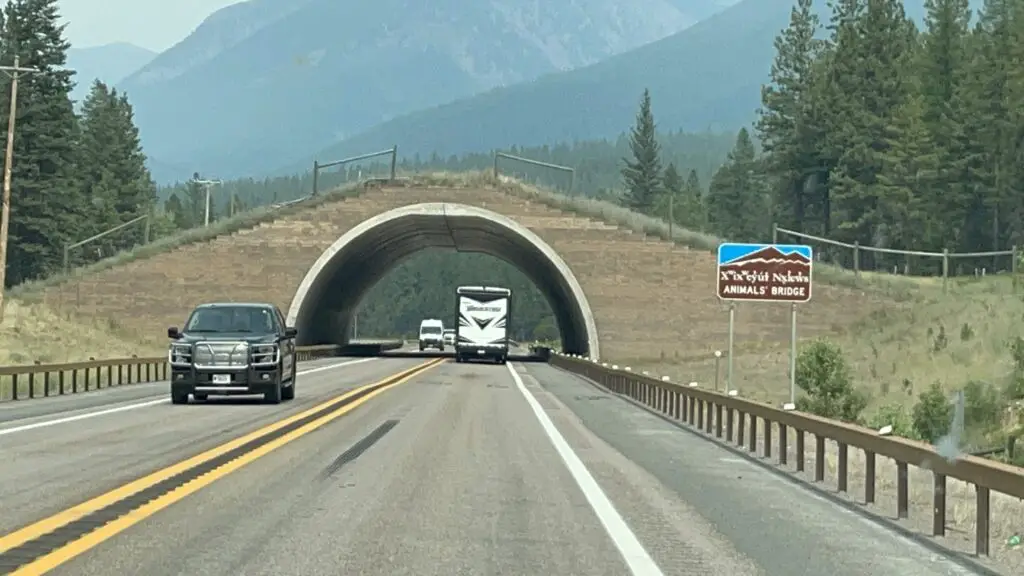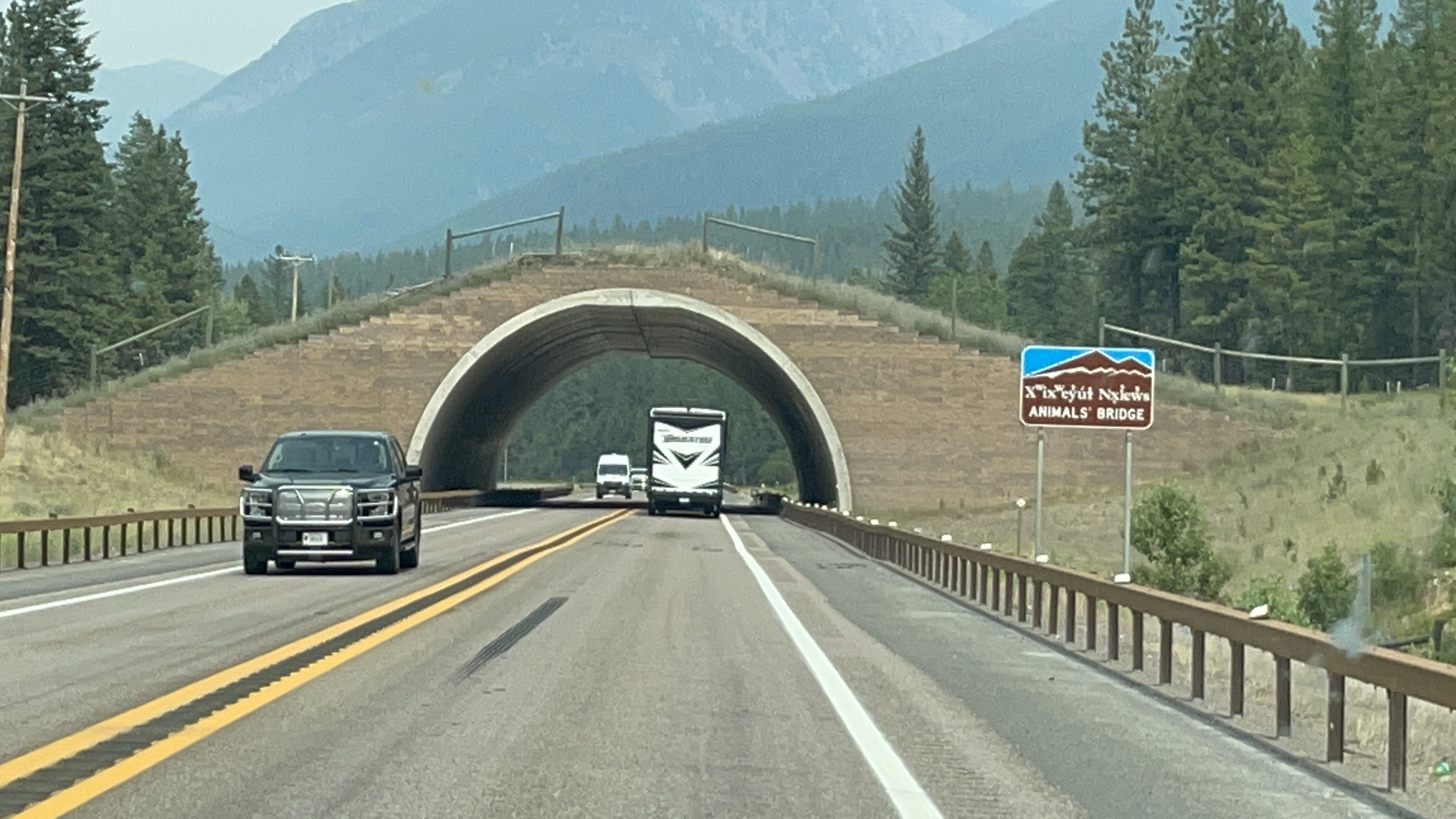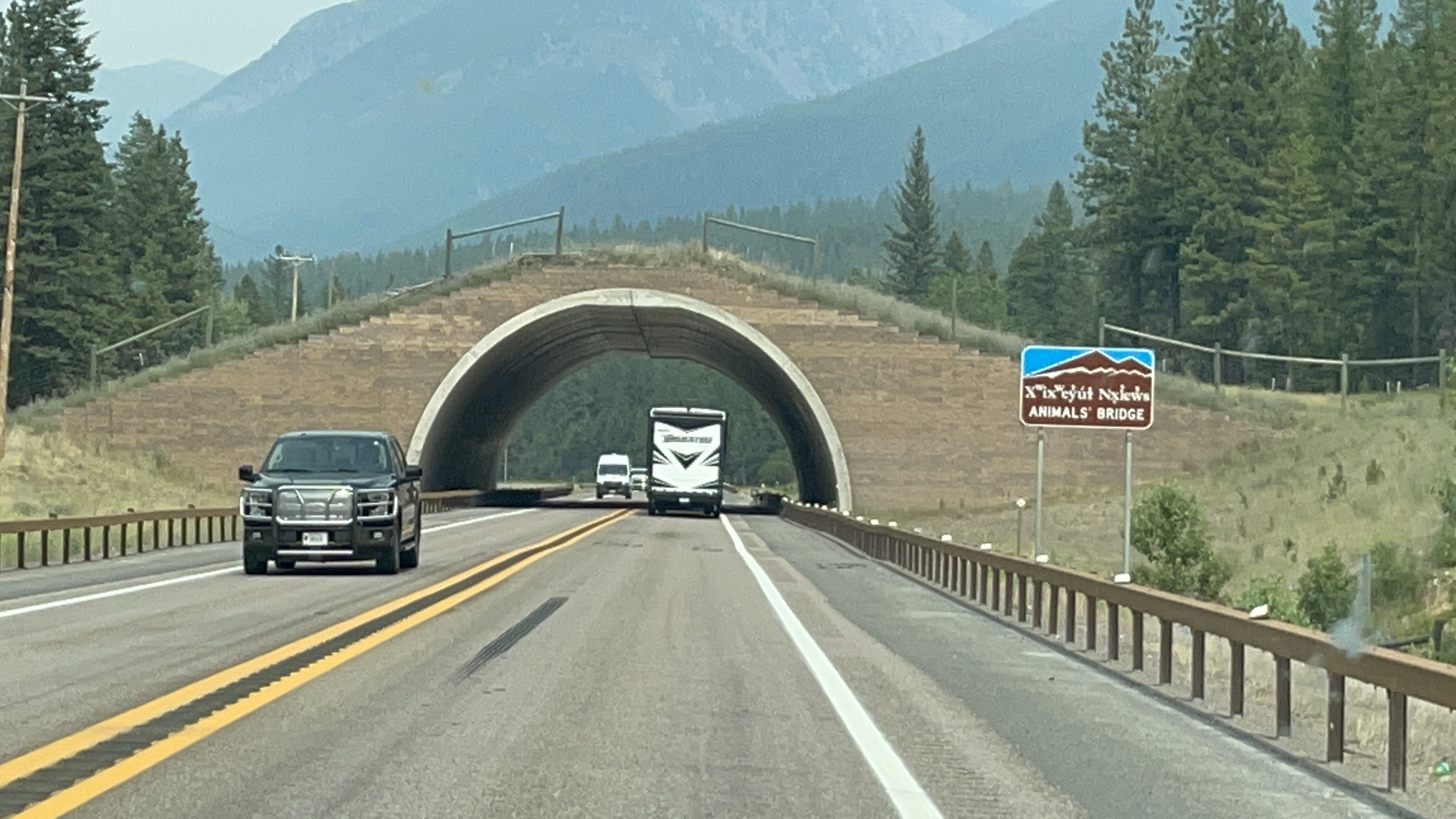 Our evening with the Hells Angels 😮
When we arrived in Red Lodge, Montana, one evening, near the end of our trip, we noticed LOTS of bikes (motorcycles).  We've always loved Red Lodge but have only been there in the early summer, it's a bit busier during the prime season. 😝  We should be used to this living so close to Sturgis but we hadn't anticipated all these bikers may want to ride the Beartooth Highway (duh!)
So, we were like, "oh, ok, no big deal."  Then we noticed, "Hey, that guy has a Hells Angels cut on…and so does that guy over there…and over there is a cop…and over there is another cop…those guys over there are wearing Hells Angels cuts too….and over there is another cop…"…yeah…the Hells Angels were apparently having their annual gathering in Red Lodge that week. *sigh* 🙄 (For the record we had no problems at all and the few HA's we talked to were VERY friendly–they liked Puppers. 😉)
Beartooth Highway (Beartooth Pass)
On our final day in Montana, we traveled up the Beartooth Pass a bit to see the view.
We were actually killing time until a local store, Lewis and Barks opened. (You'll notice it's a play on words of the two explorers mentioned earlier.)  As you may guess by the name, it's a pet-based store.  We figured Puppers had done so well on her first real trip with us that she deserved a souvenir too! 
Finally, we took a nice, country drive on several back roads (Route 308 east out of Red Lodge, then picked up Route 72 north to Route 310 southeast.  We took that to Lovell, WY where we picked up Route Alt-14) to our final campsite of the trip in the northern Bighorn Mountains of Wyoming!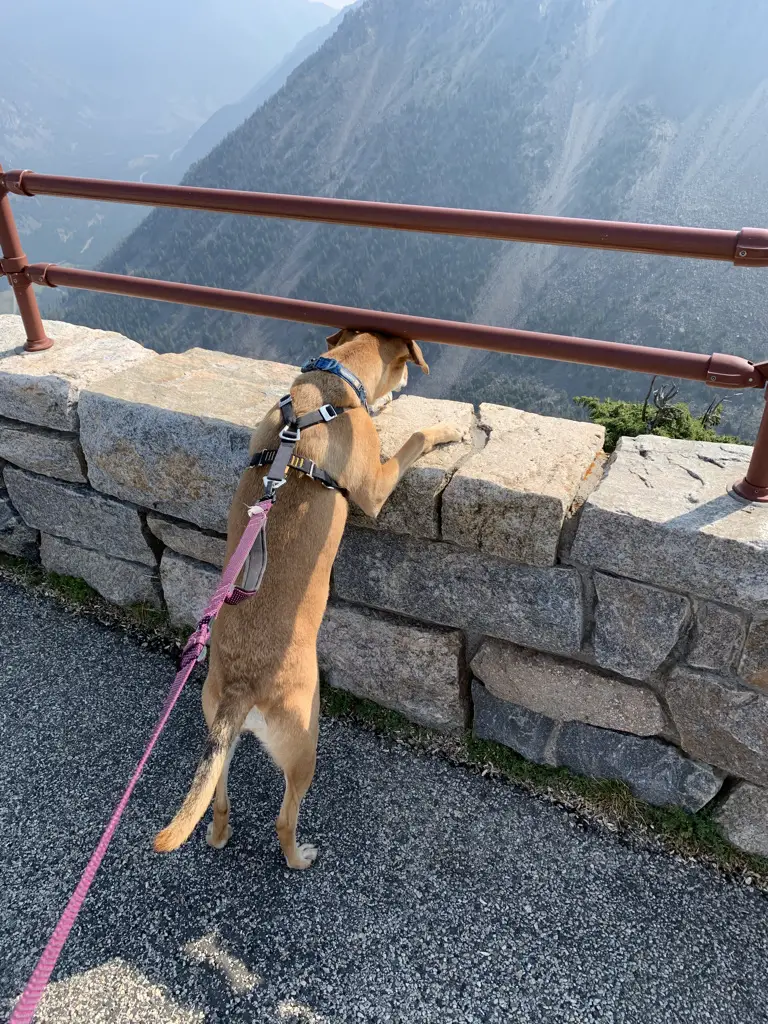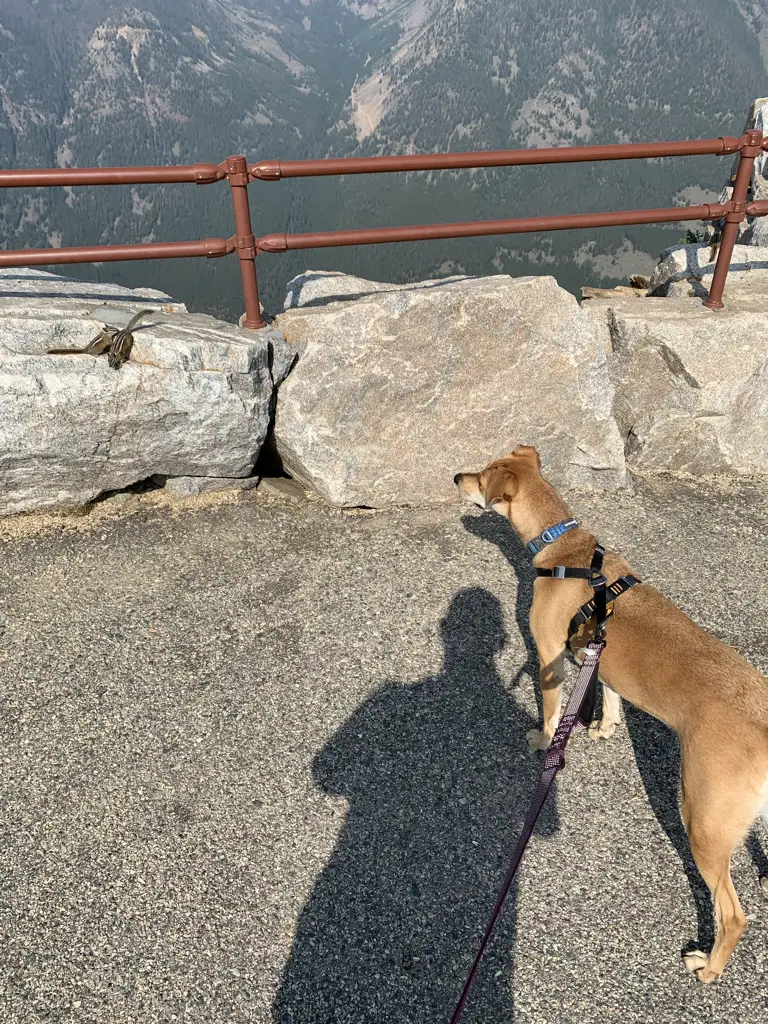 So there you go, 2000 miles and 7 days later…we saw some great sites, we ate some DELICIOUS huckleberry, bear claws and we had a fun time!  Check out some of these great locales for your next road trip around Western Montana! 
Have you visited any of these places?  Tell me about your experience in the comments!
Did you enjoy this post?  Pin it!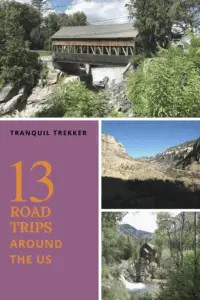 Like what you read here today?  Please feel free to leave a comment, like or share this post!  Add your email at the bottom of the page, or the sidebar to the right, to be notified when a new post is published.  By signing up for the email list, you will also receive a free copy of the Tranquil Trekker's Top 10 Tips of Trekking Do's and Don'ts!
You can also follow the blog on social media by clicking the links below!