The Trekkers enjoyed their first, fully-vaccinated, post-pandemic road trip in 2021!  The Trekker In-Laws actually moved during the pandemic, so we went to visit them at their new abode!  Trekker Father-in-Law is a Civil War buff, so while on the trip, we had our own, personal guide to the Gettysburg Battlefield and National Military Park!
For my non-American readers (or anyone else not "in the know") Gettysburg is a major feature in American History as it played an incredibly important role in the American Civil War that occurred in the 1860s.  Some say it may have been the turning point in the war as it marks the furthest point north that the Confederate Armies (the armies from the South) ever controlled.  Several months after that great battle, the current President at the time, Abraham Lincoln, also gave his infamous Gettysburg Address at this location.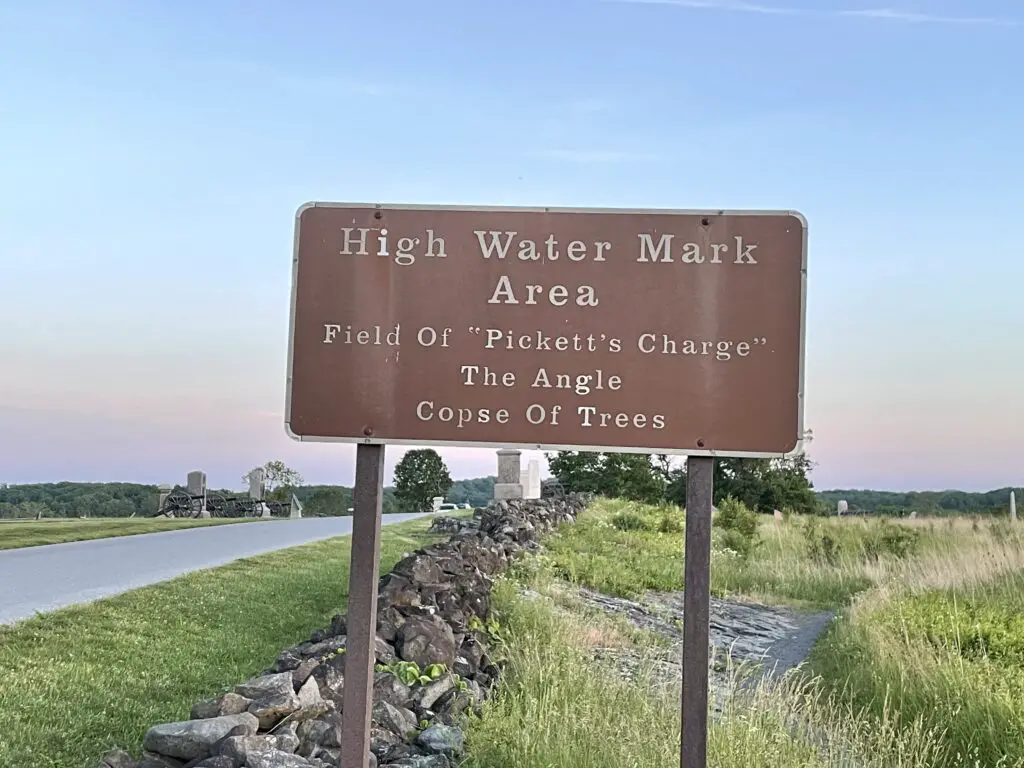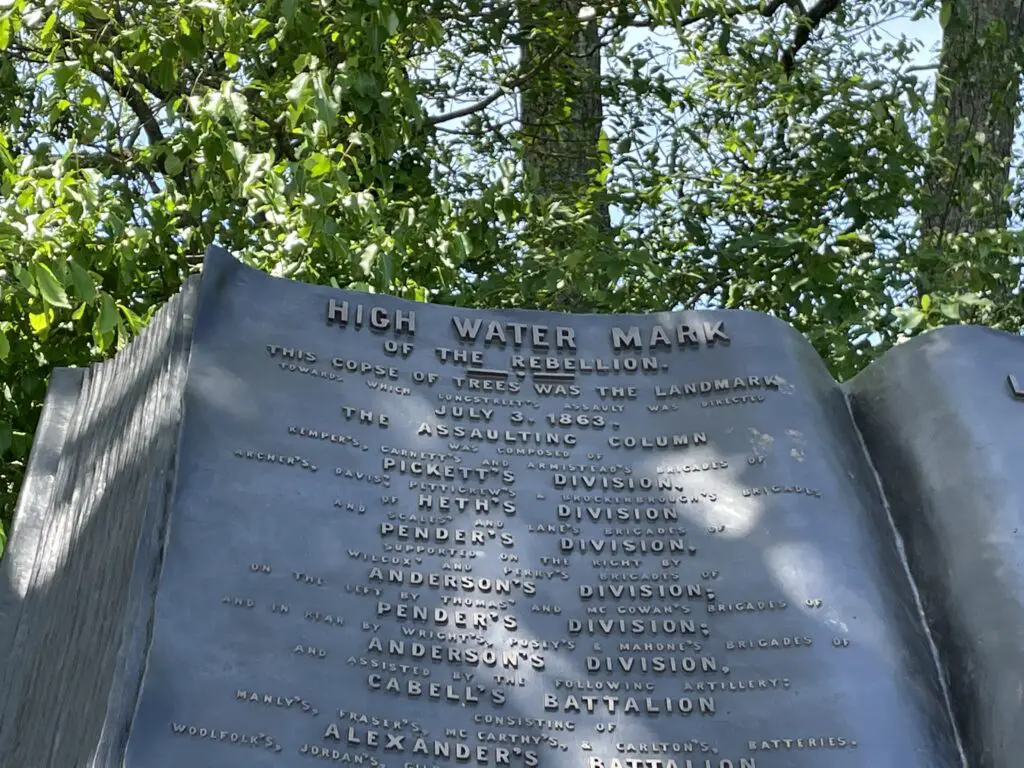 Mr. Trekker had visited this and many other battlefields on countless occasions throughout his childhood.  I had been to Gettysburg on an 8th-grade school trip MANY years ago (we don't need to talk about how many exactly 😉 ) but didn't remember much, so I was looking forward to returning with our knowledgeable guide!
Unless you're also a history guru, before visiting the battlefield, I recommend watching the movie, Gettysburg that was made in 1993.  I'll warn you, it's LONG–like 4+ hours–so you may want to split it up over two days.  It's a little boring if you aren't really into historical battles and such, but my understanding is that it is fairly, historically accurate.  The movie really helped me to understand the prominent characters and all the events that transpired over the course of the battle.  That made it much easier for me to follow along with our tour guide when we were at the battlefield. (I can finally say, with certainty, which side General Lee was on! 😉)
Sites you don't want to miss at Gettysburg National Military Park
There is SO MUCH to do here that you probably couldn't see it all in a week!  If you're only planning to stay for a few days though, below are some highlights I really enjoyed from our trip:
If you aren't necessarily planning to be there for special reenactments or events, May is a GREAT time of year to visit the battlefield.  The crowds were light (except for on Memorial Day itself) and the weather was pretty good!  It was a little warm and rainy but much more pleasant than I imagine a July afternoon being. 🥵 
If you want more info on the nearby area, check out this article.  I have it on good authority this was written, once-upon-a-time, by a certain blogger you all know and love (ahem!) 😉  
The Visitor Center at Gettysburg Battlefield
Like all good national parks, this one has a very nice visitor center.  It features a really unique attraction called the Cyclorama which is an incredible mural.  It was originally painted in the late 1800s, and it covers the walls in a circle around you.  It depicts the events of the infamous "Pickett's Charge" which occurred on the third day of the battle (more on this later!)  The exhibit includes a spoken presentation complete with lighted scenes to help you fully experience the event.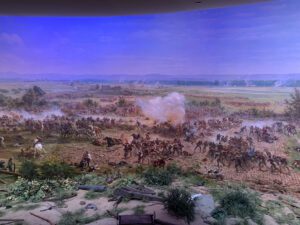 When we visited Gettysburg when I was in middle school, there was also an exhibit that featured a lighted map.  It aided people in acquiring a full-sense understanding of the battle, as well, and I really enjoyed it.  Unfortunately, it aged and is no longer available to the public. 
The Visitor Center also offers a large museum to help you fully understand the events surrounding the three-day battle.  There is also a short video that I found both entertaining and quite interesting.
Eternal Light Peace Memorial at Gettysburg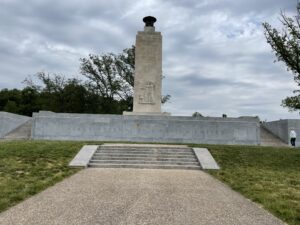 Legend has it, this site inspired Jackie Kennedy to do a similar memorial for her husband, John F. Kennedy.  That eternal flame is now at Arlington National Cemetery in Washington, D.C. 
The memorial sits on a hill in the middle of a field.  It is constantly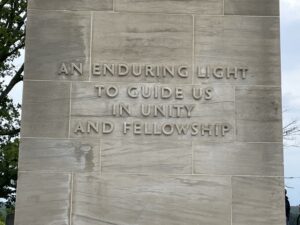 lit and is worth seeing both during the day and in the dark.  In daylight, you can appreciate the memorial while at night the beauty of the flame is most prominent.  The whole scene felt very solemn and majestic as you see it flickering across the darkening field.
Little Round Top and Devil's Den
This is one area I remember from our 8th-grade trip (probably because it's one of the most visited places at the park!)  This is another site that figured prominently into the three-day battle.  It required the Confederate Army to scale a steep, rocky uplift that afforded them little protection from the guns and cannons fired by the Union soldiers from above.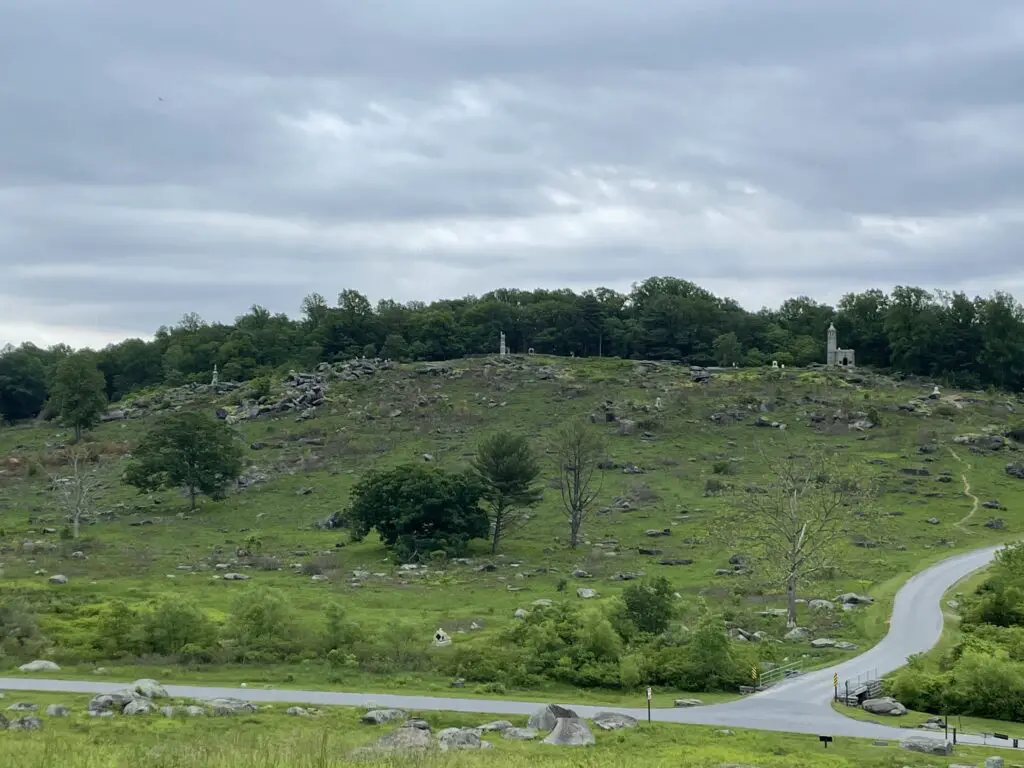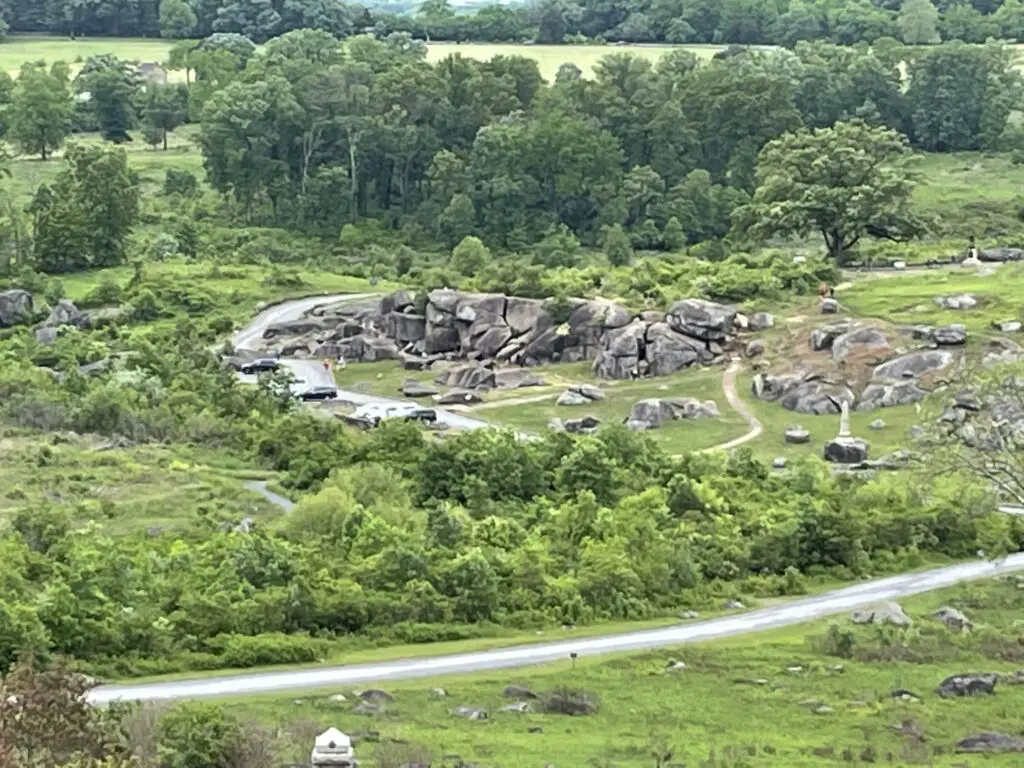 Culp's Hill
This hill held a special place in my memory as it was one of the areas some of the Indiana units (my home state!) served during the battle.  I am almost positive we visited here during our 8th-grade trip (for obvious reasons).  The site also offers an observation tower that I climbed in 8th grade, and returned to climb with Mr. Trekker this year!
Witness Trees
Ok, these are pretty cool!  These are trees that scientists have determined, by tree-ring data and other measures, were around during the actual battle!  They are marked by the presence of small medallions nailed to their trunks.  You may also see lightning cords strung to the tree to help protect them.  The cords deflect the bolt to the ground in the event the tree is struck by lightning.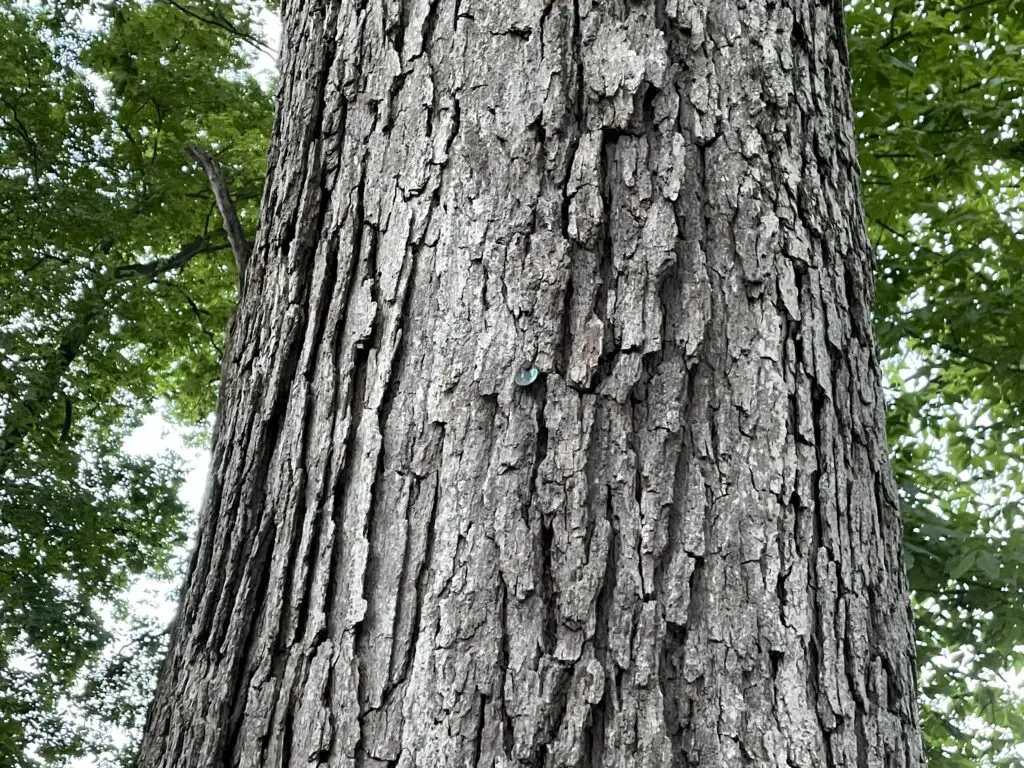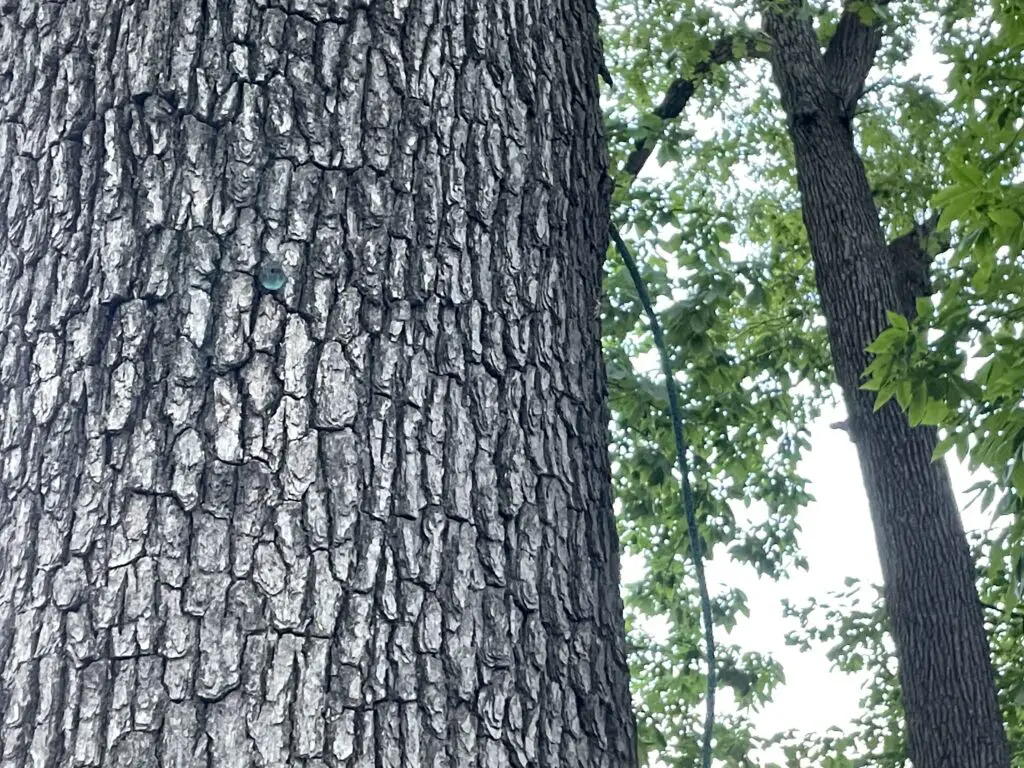 The Eisenhower Farm
Not far from the legendary battlefield lies the site of the farm President Eisenhower used as a personal retreat during his days in office and later, for retirement.  It was a very scenic, peaceful, and idyllic place.  It offered 360-degree views of the surrounding countryside, fields, and forests.
You'd be able to see both the sunrise and sunset from here!  This is a place the Tranquil Trekker could live!  The site reminded me again that eventually, I want to move to the country.  I enjoy our neighborhood, but ultimately I'd like some space to breathe! 😊 
Pickett's Charge
Pickett's Charge was another failed attempt by the Confederate Army to take a prominent hill the Union Army held (they charged almost a mile across an open field!)  We walked the field where it occurred.  You could almost hear the sound of musket fire; smell the smoke from the cannons; imagine the sounds of men and horses screaming and smell their sweat and fear…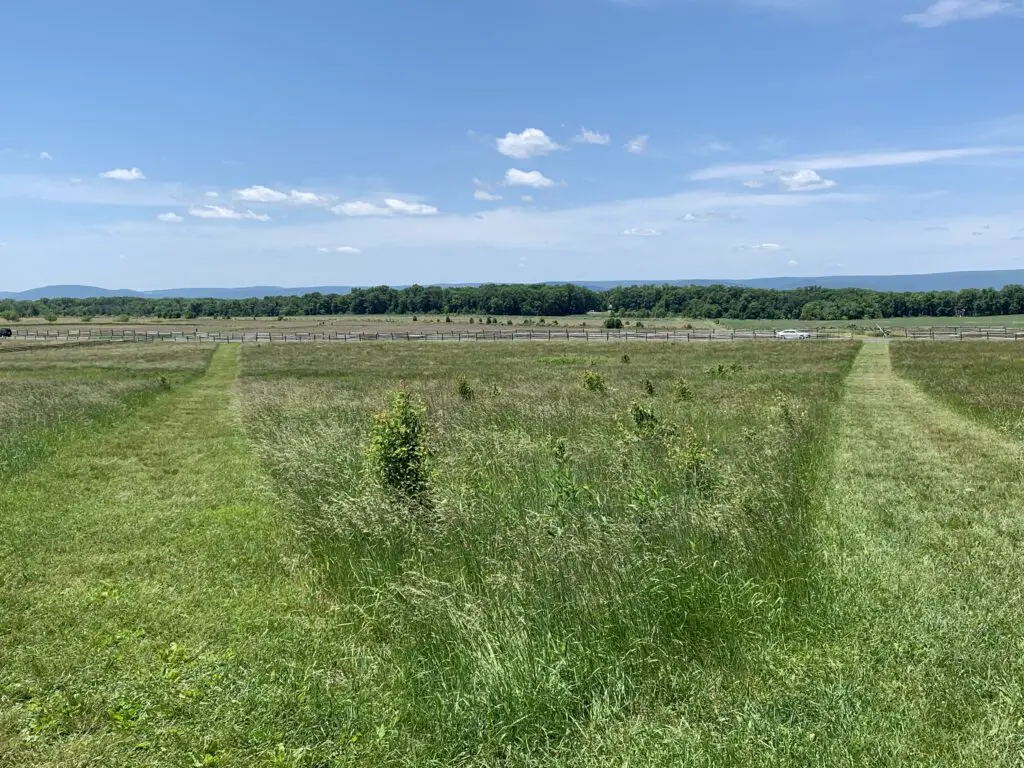 Other interesting things around Gettysburg, PA
In addition to learning about the history of the battlefield we found some other fun things to do in the local area:
Majestic Theatre:  this is a cool, old theatre, in town, check them out for some classic movies.
The Battlefield at night:  One damp night we drove through the fog-shrouded battlefield.  It was really cool!  It felt ghostly in the cool of the night, with the mist rolling in.  It was peaceful, like a remembrance.  I didn't find it spooky (though I thought I would.)  We didn't see any ghosts 😕 (but, as you might expect, there are A LOT of ghost stories about this area!)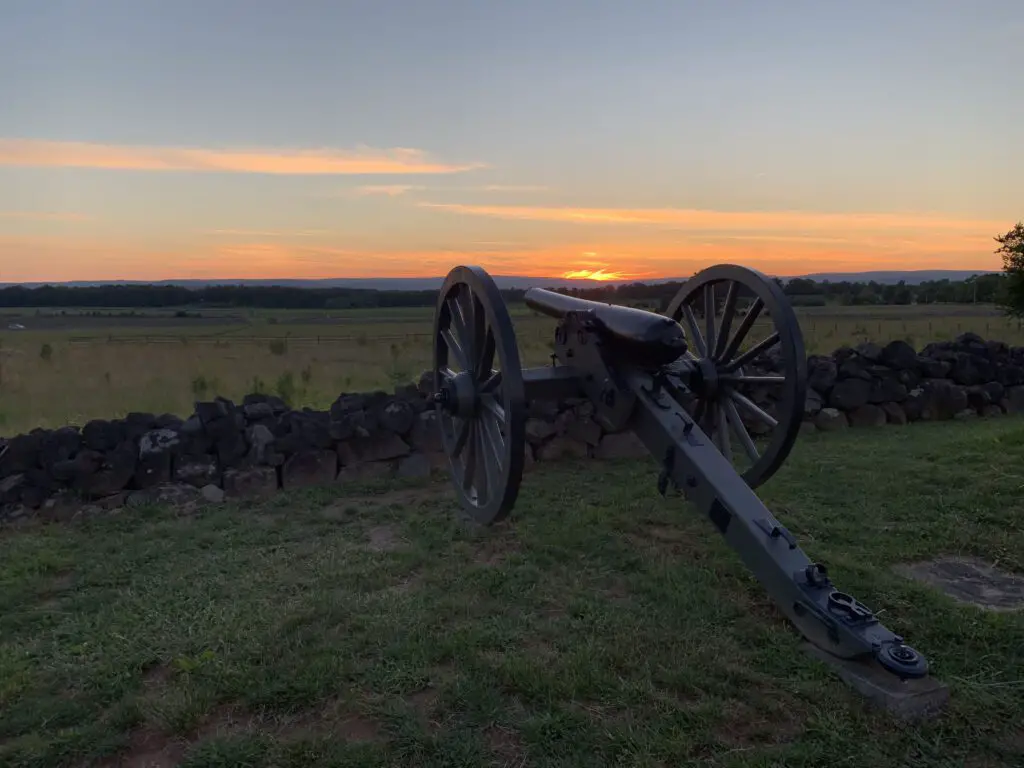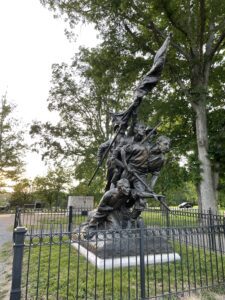 North Carolina Memorial:  My in-laws took us to a cool memorial that fit two places that have connections for us.  The memorial was for the North Carolina soldiers who fought in the battle (we used to live there) but it was sculpted by Guzman Borglum, who also sculpted Mount Rushmore (which is in the Black Hills, where we live now!)  It was cool to see that unique connection!
Cicadas:  I'm sure many of you have heard about the Great Cicada Boom of 2021!  Every 17 years these little buggers pop out of the ground in search of a little romance. (Then they lay eggs and die. 😝)  We have the regular type of this critter out in South Dakota but we didn't see the boom that the Eastern Seaboard did.  They were weird.  You'd walk under a tree, look up, and could just see tons of their shells hanging from the leaves. 🤢 
The sound they made was weird too.  It was like this low hum, that kinda sounded like a motor running in the distance.  You almost felt the vibration more than heard it.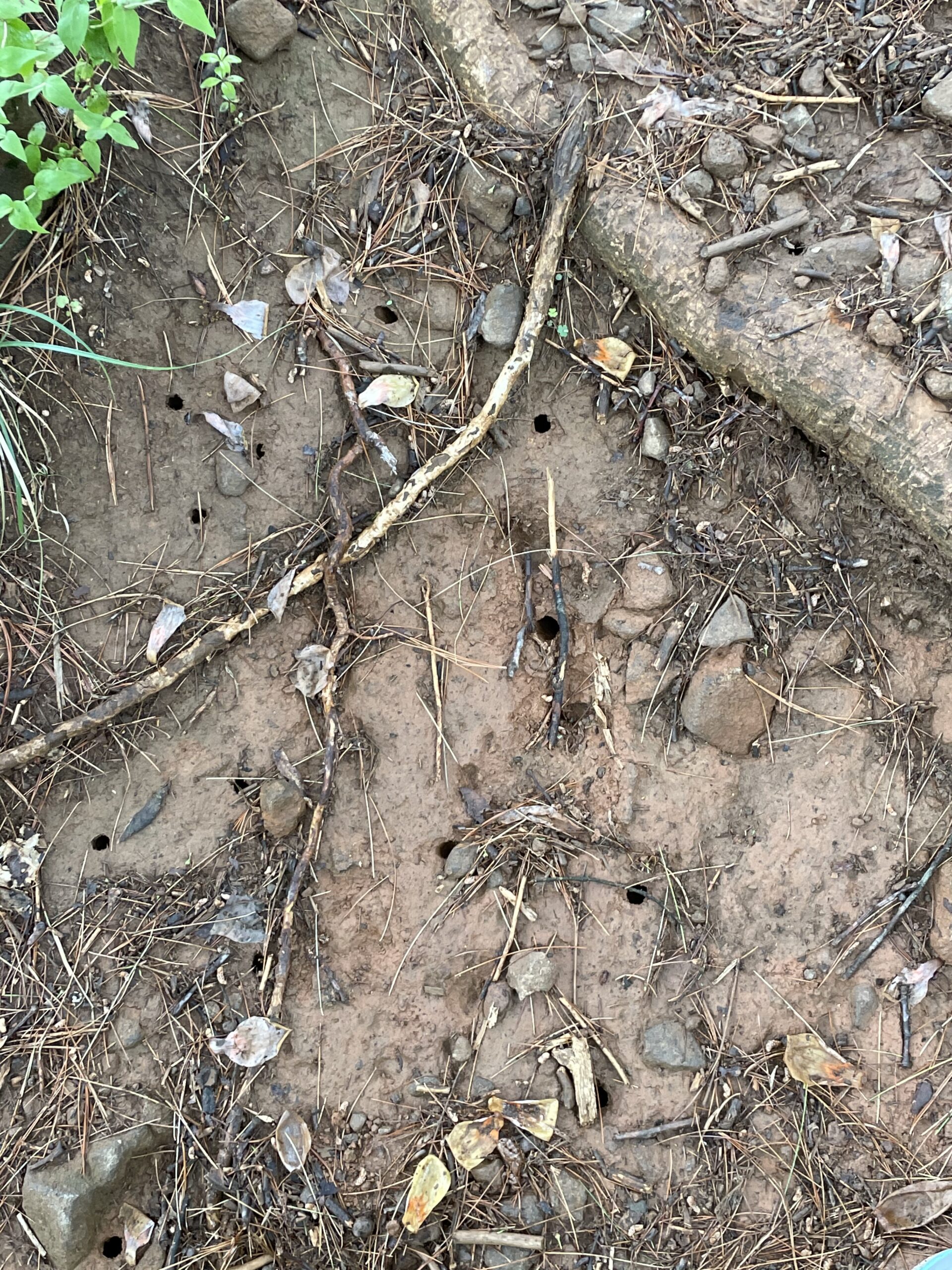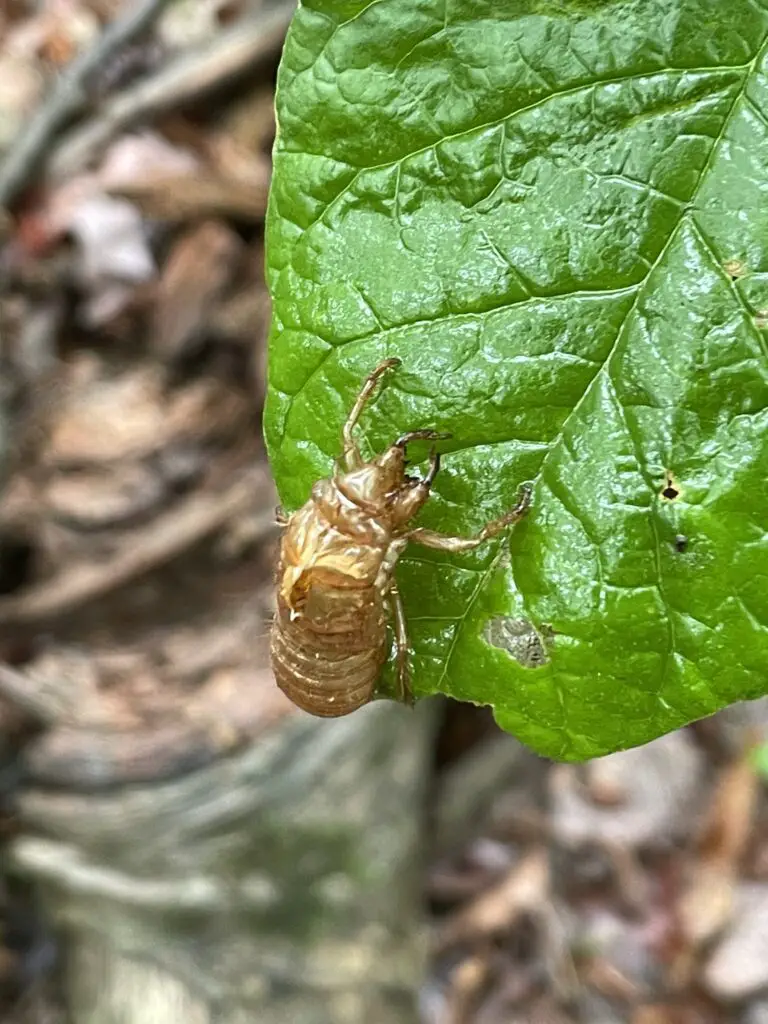 Below is a short video that will help you hear the "dull roar" of the cicadas (turn the sound up!):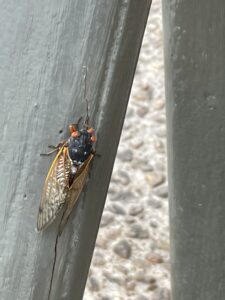 Lightning bugs!:  So the twinkle of these fun little guys on a summer night is something my Indiana heart misses out in western South Dakota.  Therefore I was THRILLED to see them in the peach orchard on several evenings!
Real Bathrooms!:  This is something goofy that you don't think about or appreciate until you need it.  We're used to vault toilets (read: outhouses) at many of the national forest campgrounds, state, and national parks we visit out West.  Therefore I was PSYCHED to find that many of the bathrooms throughout the battlefield area have FLUSH TOILETS! 😁  Ya'll live fancy out East! 😉
Places to eat near Gettysburg, Pennsylvania!
We had some great food on our trip, as well!  After all that walking around the battlefields, you're going to get hungry!  I'm sure there are many other great restaurants found around the local area, these are just the ones we visited and really enjoyed…
Gary Owen Irish Pub:  We had GREAT service here and the food was wonderful, as well.  Ask them about the mural of the crying oysters! 😂
Road Hawg BBQ:  This place is actually in Dillsburg, around 30 miles to the northeast of town.  Trekker Father-in-Law is also a BBQ buff and he really enjoys it.  The food was good, especially the hush puppies! 🤤 (I hadn't had those since we lived in North Carolina, 10 years ago!)
Upper Crust Pizza:  This is another yummy place with good pizza!  The Trekker Extended Family also suggests you try their Philly Cheesesteaks!
Half-pint Creamery and Mr. G.'s:  These are both good places for ice cream!
A few more random pics!
Below are a few more pictures from our trip!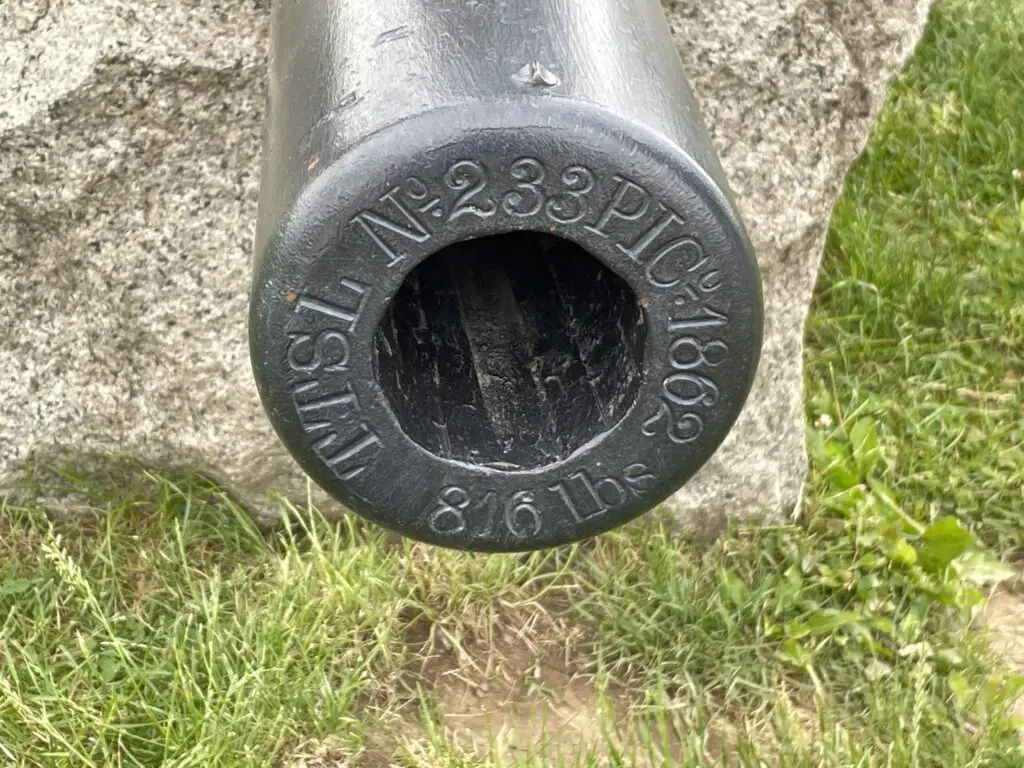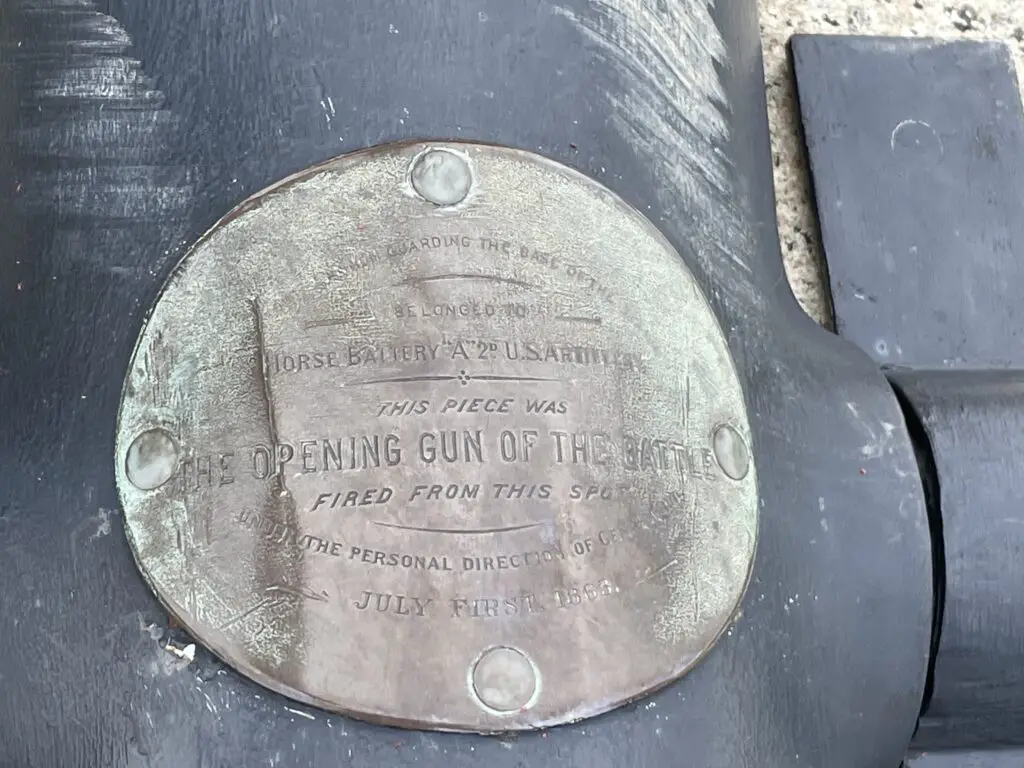 The Gettysburg Battlefield in Pennsylvania is a fun place to visit for history buffs and "normies" alike!  We studied the Civil War in school, though not in this great detail, so it was neat to see the place it actually occurred.  It helped to humanize everyone involved.  
Have you visited Gettysburg?  What did you think?  Tell me about your experience in the comments!
Did you enjoy reading this post?  Pin it!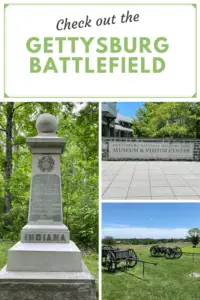 Like what you read here today?  Please feel free to leave a comment, like or share this post!  Add your email at the bottom of the page, or the sidebar to the right, to be notified when a new post is published.  By signing up for the email list, you will also receive a free copy of the Tranquil Trekker's Top 10 Tips of Trekking Do's and Don'ts!
You can also follow the blog on social media by clicking the links below!