The Tranquil Trekker turns 5 this month!  That's a pretty major Blogiversary milestone.  I can't believe it's been that long!  For fun, here's a link to the first, full-length blog post I ever wrote:  Dugout Gulch Botanical Trail (#77).
How It Started…
I started the blog in 2016 kind of on a whim, not knowing ANYTHING about blogging.  I did it mainly to make it easy to share pictures and stories of our adventures with our family and friends.  At the time we were living more than 900 miles from our closest family members and people were always asking about the random trips we took.  I originally assumed "no one makes money on a blog", so I didn't start it with that intent at all.
What's Changed…
SO MUCH has changed in the last 5 years!!!
–In 2018 I left my full-time job and started social media accounts for the blog.  I also switched from a free hosted blog (WordPress.com) to a self-hosted blog (WordPress.org).  I can honestly say that I LOVE both Bluehost and WordPress.org!  They make blogging easy for me, the technologically-challenged, "geriatric" millennial. 😝 (I also now know the difference between the two WordPress options. 😉  If any novice bloggers out there want help deciding which option is right for them, let me know!)
–I monetized my blog!  Contrary to popular belief, it is actually possible to make money blogging! 😮   I'm still not making much, but at least it's something! (And at least now I know what affiliate programs are and how they work!)
–In 2020 I FINALLY learned how to do SEO and started ranking on Page 1 of Google for many posts! (I still hate SEO, it still feels to me like you're speaking "robot" to make a computer happy–which you kind of are.  It's hard to make the blog post feel authentic to ME.  But…I understand the need for SEO.  At some point, if you want your blog to be seen by others, you have to make it easy for the Google Bots to "see" you first.)
I've even had a couple of freelance jobs where I did proofreading and helped with SEO optimization on other blogs.  I definitely NEVER thought THAT would be a job for me! 😮
What I've Learned…
You could ask, when did my blog really start?  In 2016 I was lucky if I was publishing one post each month as I was busy with my full-time job and other projects.  In 2018, when I finally got on social media, I really started pushing my blog to the masses.  But it wasn't until 2020 that I finally started really doing the SEO.  So, did I "start" my blog in 2016 and I'm just a REALLY slow learner, or did it really not "start" still 2018 or 2020?  Whatever the answer you can see I have learned SO MUCH throughout the whole process.
I also learned how to code…barely. 😉.  Really I just learned how to look tips up online to tell the webpage how to do what I want it to do.  Sometimes, Google really is your friend! (If anyone has any suggestions on coding classes I could take, specifically for web development–namely HTML and CSS–let me know!  I've been on the lookout but haven't found anything that really fits just yet.)
Over the last five years, I've made a lot of friends in the blogging world, specifically travel/outdoor recreation bloggers.  I've done guest posts on other blogs and collaborations with other friendly bloggers (click here to see those!)  There are so many supportive people in the blogging world, I've been SO impressed by how many want to help each other.  It's a really encouraging community to be a part of!
What's Next?
What will the next five years bring?  Who knows!  Once we fully get through the COVID saga I hope to attend my first blogging conference, in-person.  I've also been working on a project for the last several years that I've been keeping very hush-hush.  I'm truly hoping to make enough progress on this to reveal it to you soon…🙏 🤞  I do hope to continue the blog, at least in some form, for the next many years!
Thank you for hanging out with me for the last five years.  I have grown to love blogging and I TRULY appreciate the supportive readers I've gained along the way.  I hope we have MANY more years of blog enjoyment ahead of us!
What brought you to my blog Dear Reader?  What holds your interest and gets you to keep reading?  Do you have any suggestions of things I could change in the future or topics you'd like to see me cover?  Let me know in the comments!
Did you enjoy reading this post?  Pin it!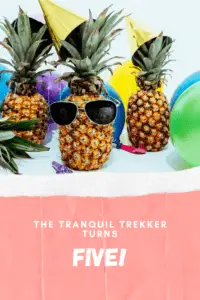 Like what you read here today?  Please feel free to leave a comment, like or share this post!  Add your email at the bottom of the page, or the sidebar to the right, to be notified when a new post is published.  By signing up for the email list, you will also receive a free copy of the Tranquil Trekker's Top 10 Tips of Trekking Do's and Don'ts!
You can also follow the blog on social media by clicking the links below!