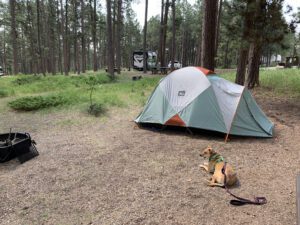 The Trekkers tried out a new spot recently, the Bear Lodge Mountains, also known as the Wyoming Black Hills.  We stayed at the Reuter Campground.  It is easy to reach, as it is less than two hours from Rapid City.  It is also just a short drive north of Sundance, WY (and I-90).
This was a typical, rustic, National Forest campground.  Potable water is available in-season, there are campfire rings and picnic tables at each campsite, and the campground offers vault toilets.
The campsites were decent, this was one of the first times we had an "inner "site so it was closer to other campers.  Usually, we go for "outer" sites but there were none available by the time we made reservations.  This meant we had to deal with more noise from other campers which is something we are usually able to avoid.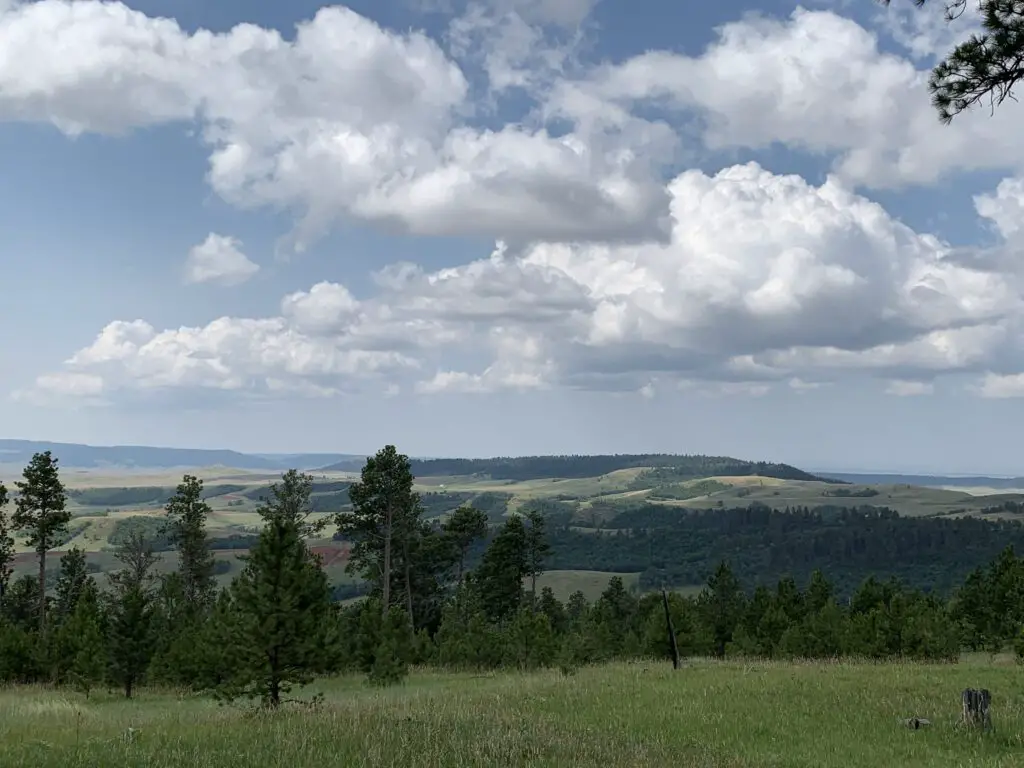 This campground wasn't my favorite.  It was fine, the were plenty of large and shaded sites, but the host wasn't as available or on top of things as we usually experience. (As an example, the trash DEARLY needed to be changed when we arrived.  It's usually not a good idea to have full trash cans at a campground, at the START of the weekend, in the height of summer. 😝  She also seemed to have a hard time remembering who she had and hadn't checked in already. 🙄)
We noted another campground in this local area was actually closed and was looking for a host.  It seems that campgrounds may be experiencing the same lack of available employees that so many other businesses around the country are right now.
Hiking in the Bear Lodge Mountains of Wyoming
We enjoyed several different hiking trails in the area.  Though many were overgrown, they were very well marked with signs and markers.  Just watch out for ticks, snakes, and thistles in the tall grass. 😯
Carson Draw Trail including the Carson Draw Spur #1, the Carson Cut Across, and the Reuter Springs Trails
We made a loop out of a portion of the Carson Draw Trail, which we then took to the Carson Draw Spur #1, then went on to the Carson Cut Across, and then the Reuter Springs Trail…
The Carson Draw Trail offers a lengthy and groomed cross-country ski trail in the winter months that is around five miles long.  I think this would be a lovely area for skiing.  We may also return for a day trip this fall to check out the leaf colors.  We saw several aspen groves that would likely be lovely.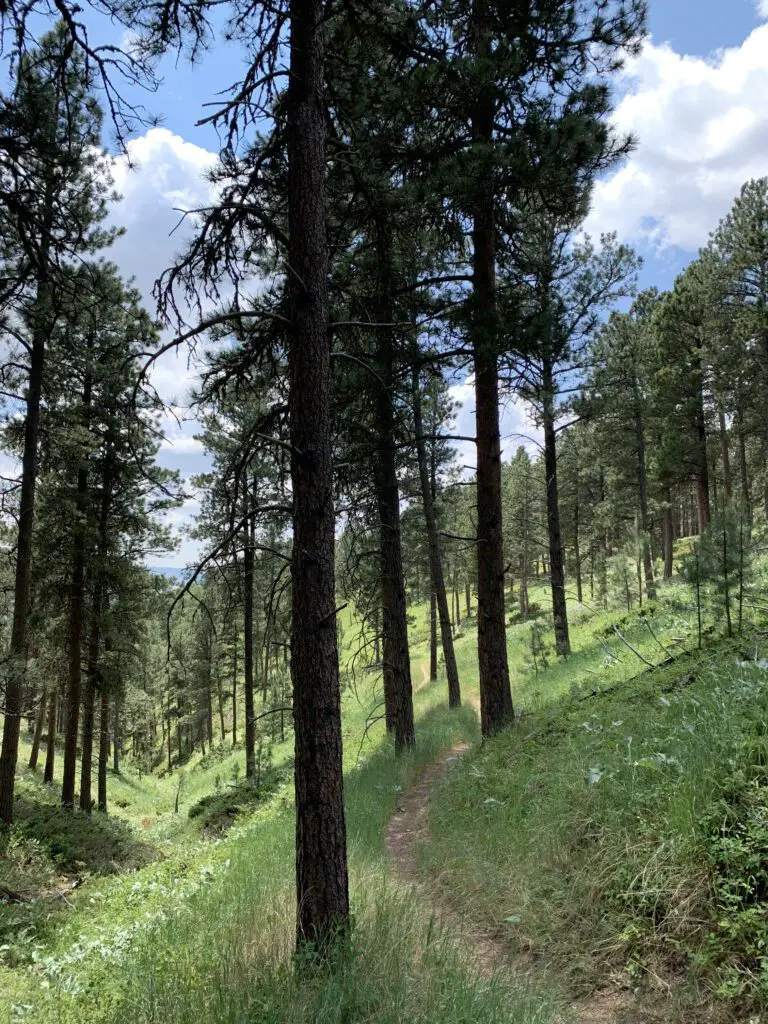 Unfortunately, going in this direction means that the Carson Draw Spur #1 trail is almost completely an uphill hike.  It isn't overly steep, it's just a long hill.  It was a former forest road so it is plenty wide and graded though it was rather overgrown.
The Carson Cut Across was much nicer.  It was short (less than a mile) with only a small amount of elevation gain.  It was also nicely shaded and more like a typical, single-track, hiking trail.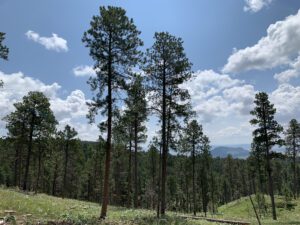 Even though it meant a long uphill slog on the Carson Cut Across, I would recommend taking this loop counterclockwise as we did.  It means prettier views of the Wyoming prairie and grasslands opening up before you, on your way down the hill, as you exit Reuter canyon on the Reuter Springs Trail.  Also, portions of the Carson Draw Spur #1 trail were VERY STEEP as you went downhill shortly before it reached the Carson Cut Across.  I was happy we didn't have to hike UP that!
Warren Peak Fire Lookout
Tower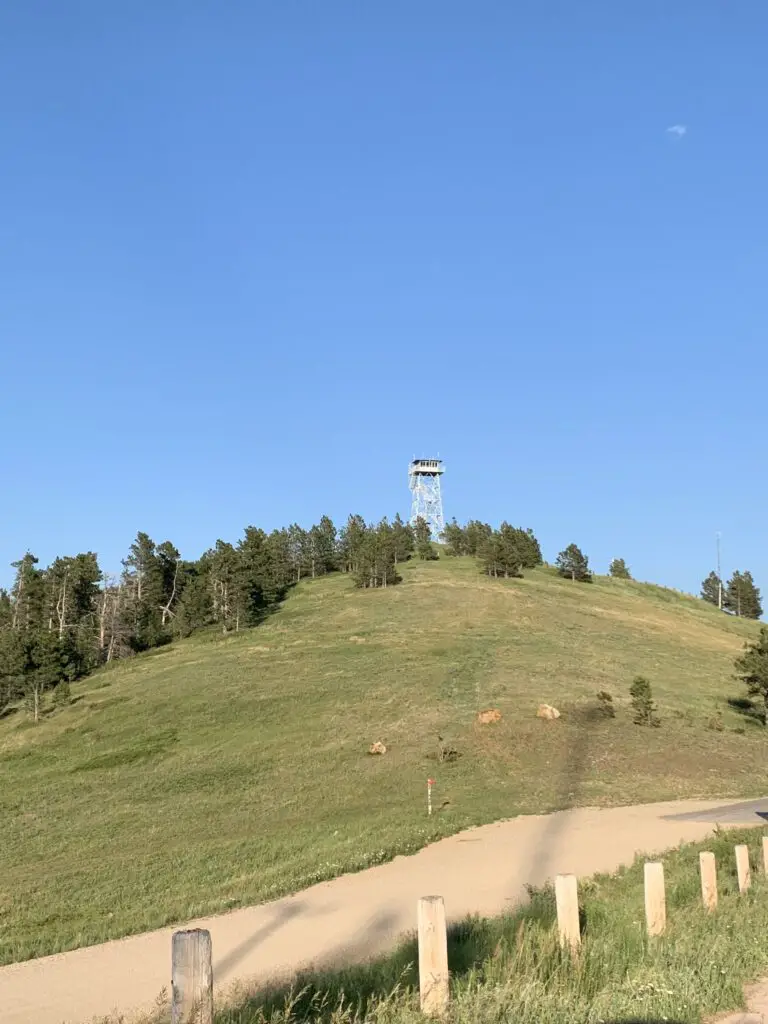 The Warren Peak Fire Lookout Tower works in conjunction with the Cement Ridge Tower, which sits to the southeast, on the border of South Dakota and Wyoming. (I discuss that lookout here).  It offers 360-degree views of the surrounding mountains and prairie.  On a clear day, you can see portions of Montana, Wyoming, the mountain Crow Peak in South Dakota, Devils Tower just a scant 20 miles away, all the way to the Bighorn Mountains much farther to the west!
Devils Tower as seen from the Bear Lodge Mountains: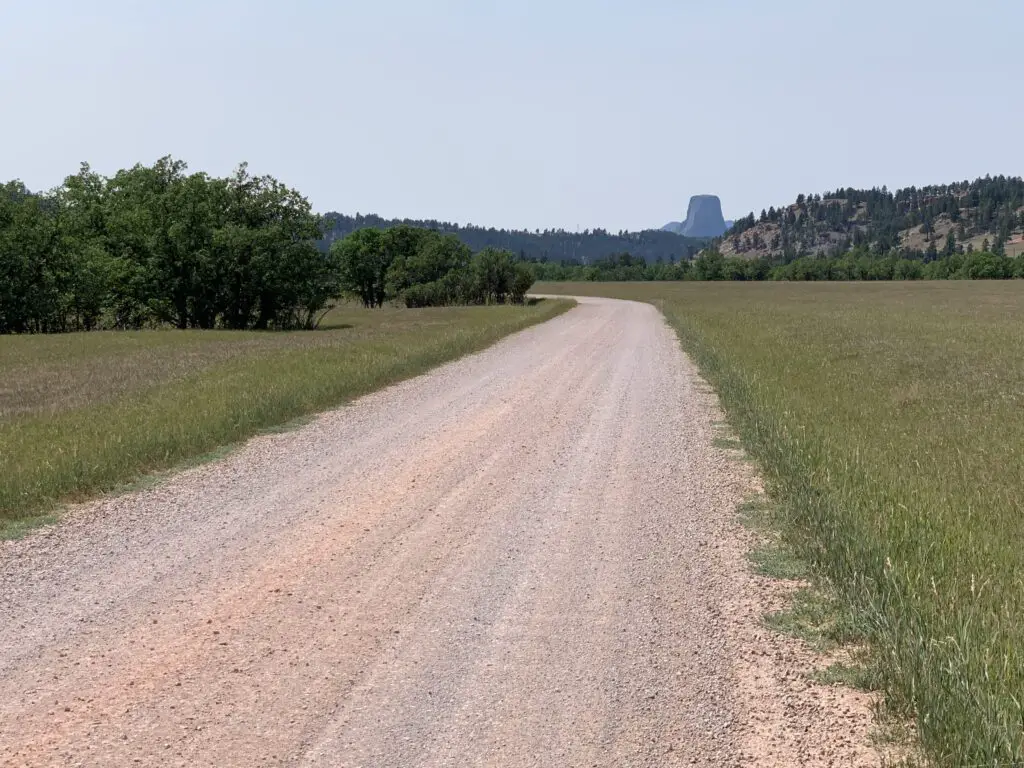 Cliff Swallow Trail
So, I am NOT trying to be a Negative Nellie here but we did NOT see ANY swallows OR their nests on this trail! 😝  The only place we could have possibly seen them was one overlook fairly early into the hike where we saw some cliffs across the canyon.  They were probably a good half-mile away though and we couldn't see any birds using the binoculars.  We've definitely seen more of these cool featherlings on other trails that don't even advertise themselves as "Cliff Swallow" trails. 😝  So I'm gonna have to give this trail a rating of…FAKE NEWS! 😂
This trail can also be done in a loop.  I would again recommend taking it counterclockwise.  Going this route you start at the bottom of the canyon and travel along the bubbling, Beaver Creek.  The trail went through some very lush greenery, with lots of deciduous trees and ferns (this also meant it was VERY green…and humid. 🥵)  There was also little breeze down in the canyon and there were TONS of cobwebs strung amongst the greenery that spanned the trail (thanks to Mr. Trekker for taking one for the team on this one and going first, to knock them all out of the way.  See guys, THIS is how you woo a lady. 😉)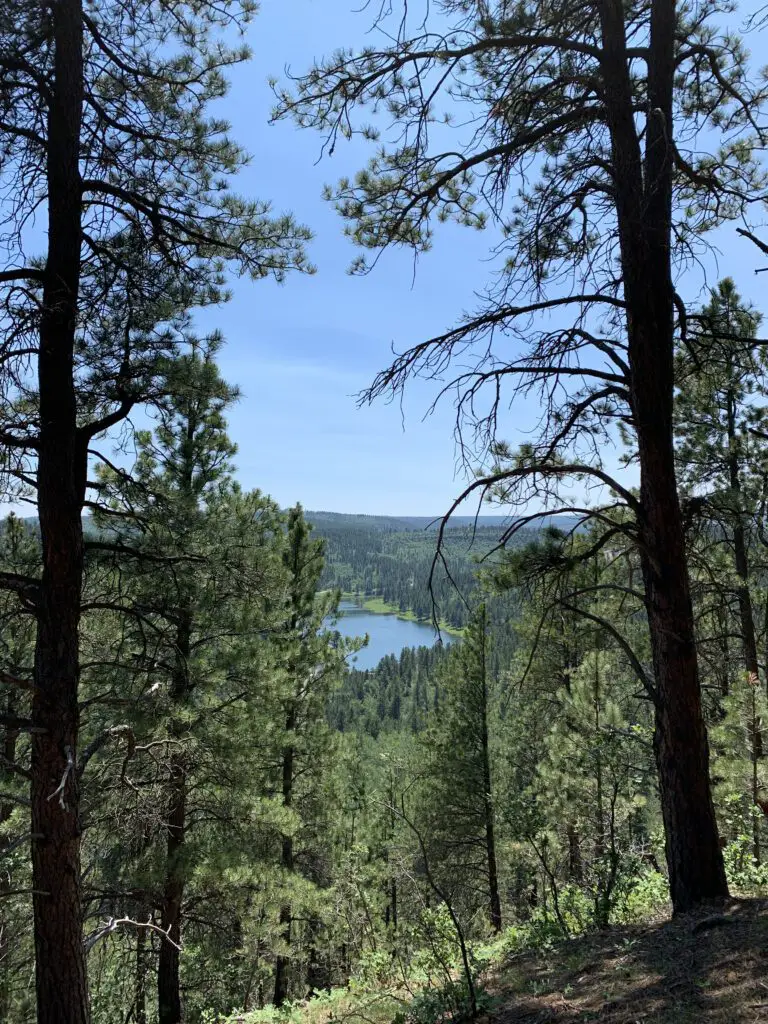 As you continue down the trail you ascend some mild switchbacks that take you up the hill.  Here you will notice a transition to a drier, ponderosa-pine-forest-environment that is more typical of the Black Hills.  There was also a blessed breeze at the top and it was less humid (though there could be more sun depending on the time of day as you're traversing the canyon rim at this point).  Our experience was the entire trail was a mix of sun and shade and we were there around the middle of the day.
Again, I strongly suggest you take this loop counterclockwise.  The ascent of the hill is more gradual and you'll have nice views of the lake as you emerge from the canyon.  If you go clockwise the trail goes straight up the hill! 
This isn't a bad trail at all, older kids could certainly handle it. It was definitely shorter and easier than the Carson Draw/Carson Draw Spur/Carson Cut Across/Reuter Springs loop (thankfully because it was also HOTTER that day! 🥵)  That trail wasn't bad either, though.  I would probably give both a rating of "moderate", just on opposing ends of the spectrum.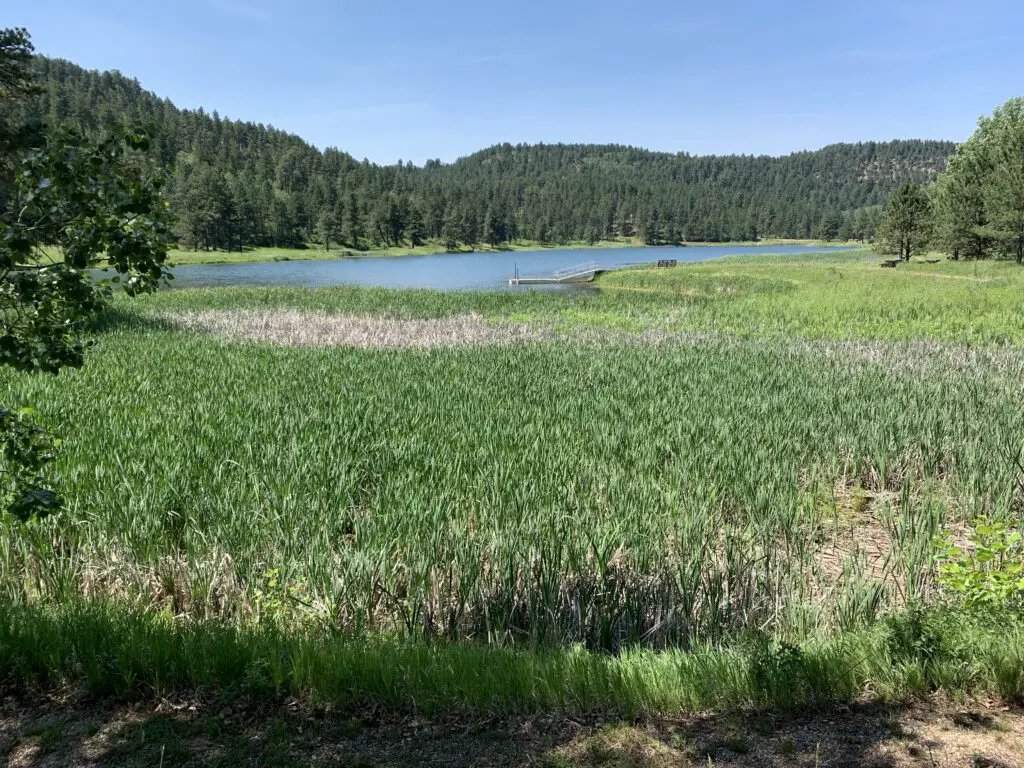 To finish the second day of hiking, we took a back road out to Devils Tower, just because it was close and we could. 😉  Also, the Devils Tower General Store sells ICE CREAM! 🍦😀😀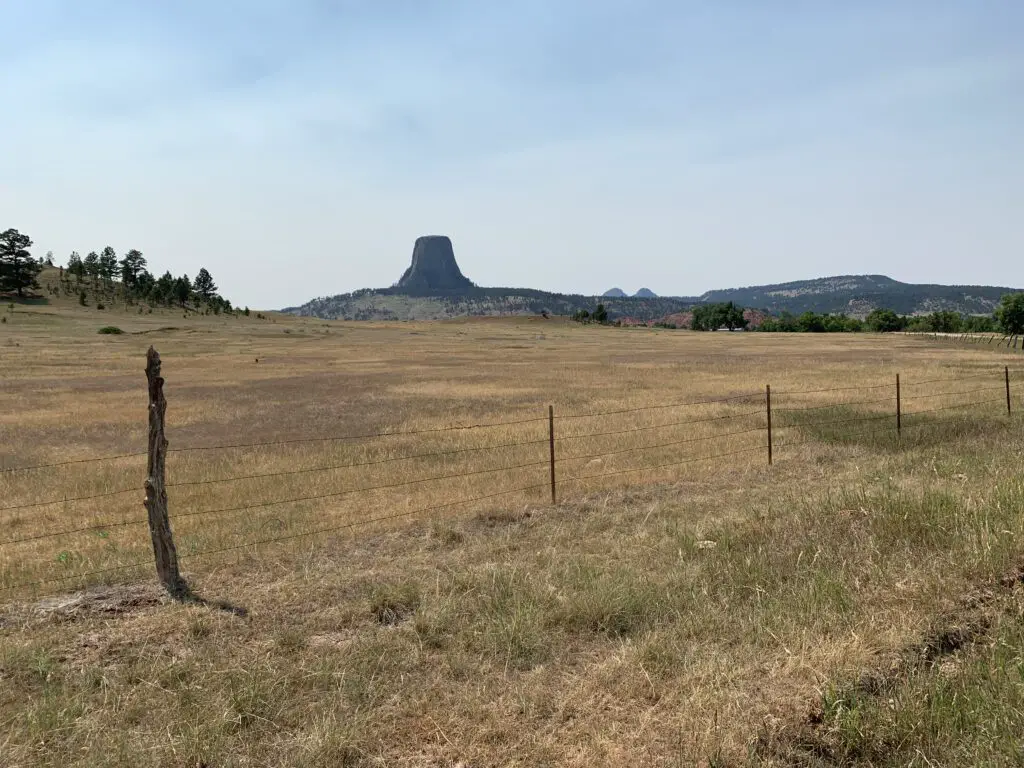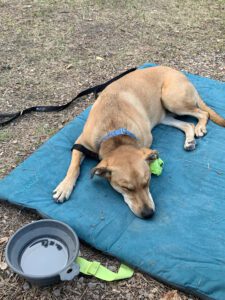 In general, these Hills seem to be more lush and overgrown than is typical in the South Dakota Black Hills.  They reminded us more of the lusher ecosystem you find in the northern portions of our Hills.
Not sure if this may indicate they are wetter and may mean they have fewer wildfires here on average (as you don't hear about them much.)  This could also explain why we found there were fewer good lookout/viewpoints here, many of our open spaces in the Black Hills come from burn scars. 😝
I found I didn't like the Bear Lodge Mountains quite as much as the Black Hills we know and love.  They were more rustic and less developed.  They actually reminded me a bit of State Forest State Park in Colorado (you can read about that little-known location here and here!)  It seemed less organized, you were kind of left more on your own to figure things out.
It wasn't nearly as busy and touristy as the South Dakota Black Hills though this also meant it was far less crowded. (Admittedly we only experienced a small corner of this area.)  It made me think of a green island rising from the sea of brown that is the dry grassland of eastern Wyoming. 😇
Have you ever been to the Bear Lodge Mountains of Wyoming?  Tell me about your experience in the comments!
Did you enjoy this post?  Pin it!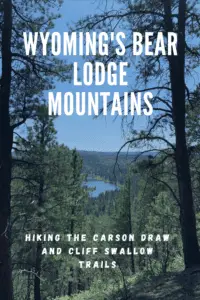 Like what you read here today?  Please feel free to leave a comment, like or share this post!  Add your email at the bottom of the page, or the sidebar to the right, to be notified when a new post is published.  By signing up for the email list, you will also receive a free copy of the Tranquil Trekker's Top 10 Tips of Trekking Do's and Don'ts!
You can also follow the blog on social media by clicking the links below!