The Trekkers had an adventurous, 2017 Road Trip.  It included 3500 miles (only 185 on Interstate and that was by choice); 2 days sick in a hotel with 1 trip to the urgent care; a nasty road rash; difficulty locating firewood; countless cows; interesting people; beautiful countryside and one "Close Encounter of the Furry Kind"!  We spent two weeks roaming a landscape that spanned almost 1000 miles north to south and almost 700 miles east to west.  It was an interesting, frustrating, challenging, exhausting, wonderful trip that I can't wait to share with you.  So, without further ado…lets get started with our first portion, The Great Plains!
Note:  This was more of a sightseeing trip rather than our usual recreational adventures.  We did some hiking, which I'll touch on, but I'll mostly be drawing attention to family-friendly, roadside attractions available in small towns throughout the Great Plains and the West.  I hope this will inspire you to visit these sometimes little-known areas, and that the challenges we faced will encourage you to persevere when the going gets tough (or well-intentioned plans get altered) as grand experiences may be waiting just around the corner.
Carhenge and Chimney Rock in Western Nebraska
On the first day, we visited Carhenge and Chimney Rock (we learned throughout the trip there are several Chimney Rocks in the country).  Carhenge is a unique art sculpture in the middle of the Nebraska plains near Alliance.  It looks exactly as it sounds.  It is a sculpture made of old, half-buried, American cars arranged in a pattern resembling the ancient European relic, Stonehenge.  It's been on my Road Trip Bucket List for some time, so I was thrilled to visit, and it did not disappoint.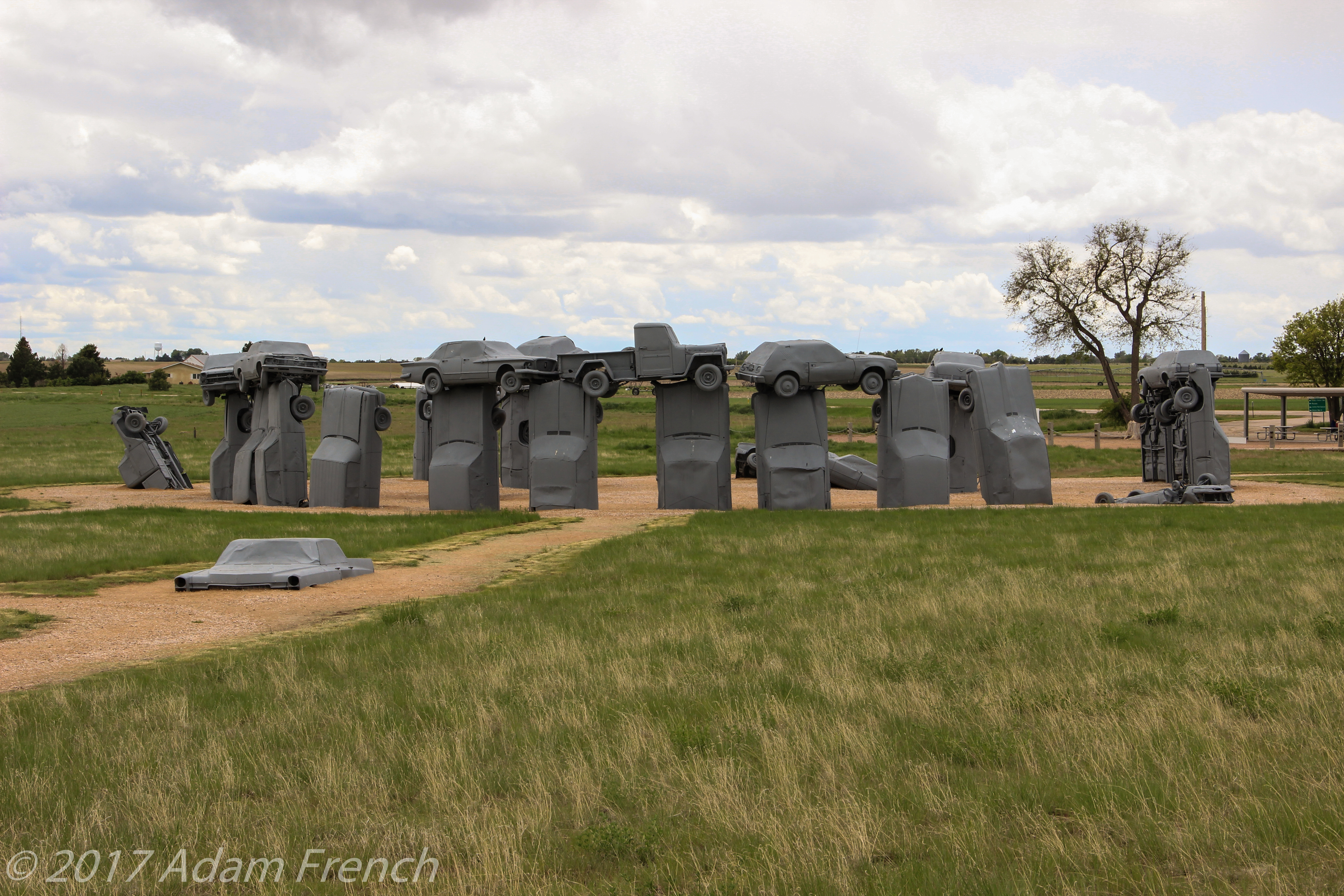 We also stopped at Chimney Rock near Scottsbluff, a key landmark used by pioneers on the Oregon Trail on their westward trek into the frontier.  It looks about like the name sounds (the old American Indian name for it basically translates to "elk penis" which is apt as well…hey, I'm just the messenger!)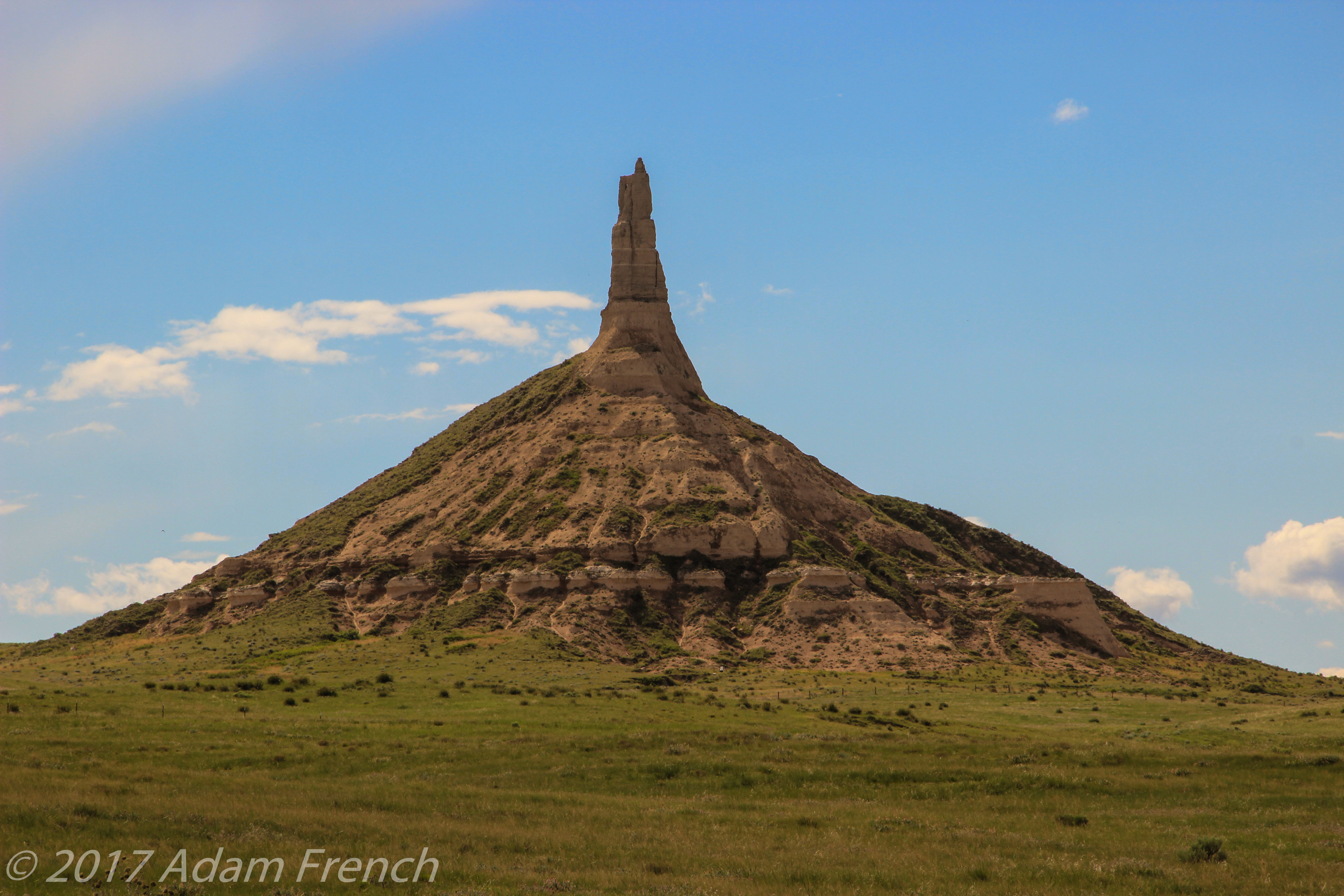 Enders Reservoir State Recreation Area, Enders, Nebraska
The first night we arrived at our pre-determined stop, Enders State Park in southwestern Nebraska.  The park is nice, though the website was a bit misleading.  It highlighted "showers and modern toilets".  We never found the "modern" toilets–unless in Nebraska a pit toilet is considered "modern"–and the only "showers" we saw were outdoor cement slabs, with drains, that would be suitable for hosing off.  As we didn't arrive until after six on the Saturday of Memorial Day weekend, there were no attendants on duty and registration was self-pay.  That was fine, though it was confusing as to where exactly you should pay as there were multiple entrance points/camping areas. 
A Frustrating Road Trip
We encountered quite a few frustrations on the Great Plains portion of our Road Trip.
Lack of Firewood
Unlike the Black Hills, where firewood is available at just about every corner gas station/grocery store, we found locating it in the Plains to be almost impossible.  As it turned out, the camp store just outside the park sold firewood, but it closed at 7 pm.  We arrived around 6:50, not knowing when the store closed or that it was our only option to acquire firewood.  Needless to say, by the time we realized our error…it was about 7:15 (this lousy luck would become a pattern over the course of the trip). 😝 
Lack of nice tent camping areas
The park provides plenty of tent-camping areas, the problem was they were difficult to locate, all terribly overgrown and extremely primitive–to the point where you'd have to walk a large distance or take your car to reach the nearest pit toilet.  Fire rings were also not available in the tent camping areas. We ended up disperse camping in a nice picnic area which allowed us a covered picnic table to prepare dinner (there were no signs forbidding us from pitching our tent there and the ranger we saw the next morning didn't chastise us for our choice). 
A surprise event!
Needless to say, by this point, we were getting rather frustrated…not a good way to start the trip.  That was until we were packing up for bed, and we noticed faint blue flames in the northern sky, wisps dancing from left to right…the Northern Lights!   At one point they resembled pillars rotating around a cylinder, like a campfire.  They were eerie, awesome and utterly beautiful.  Needless to say, our bedtime was delayed that night!  Sometimes lousy luck is just a prelude of grand things to come!  If we had found a different campsite that wasn't as isolated or had sat by a roaring fire that night, we may have missed the pale light show dimly burning in the night sky…
Monument Rocks and Dodge City, Kansas 
On Day 2 we visited one of the most interesting sites I've ever seen, Monument Rocks near Oakley, Kansas.  These are large, sedimentary rock formations that rise out of the middle of the Kansas cornfields!  They reminded me of those found in Badlands National Park.  They loom oddly out of place as they rise from the Kansas prairie, though they are quite beautiful.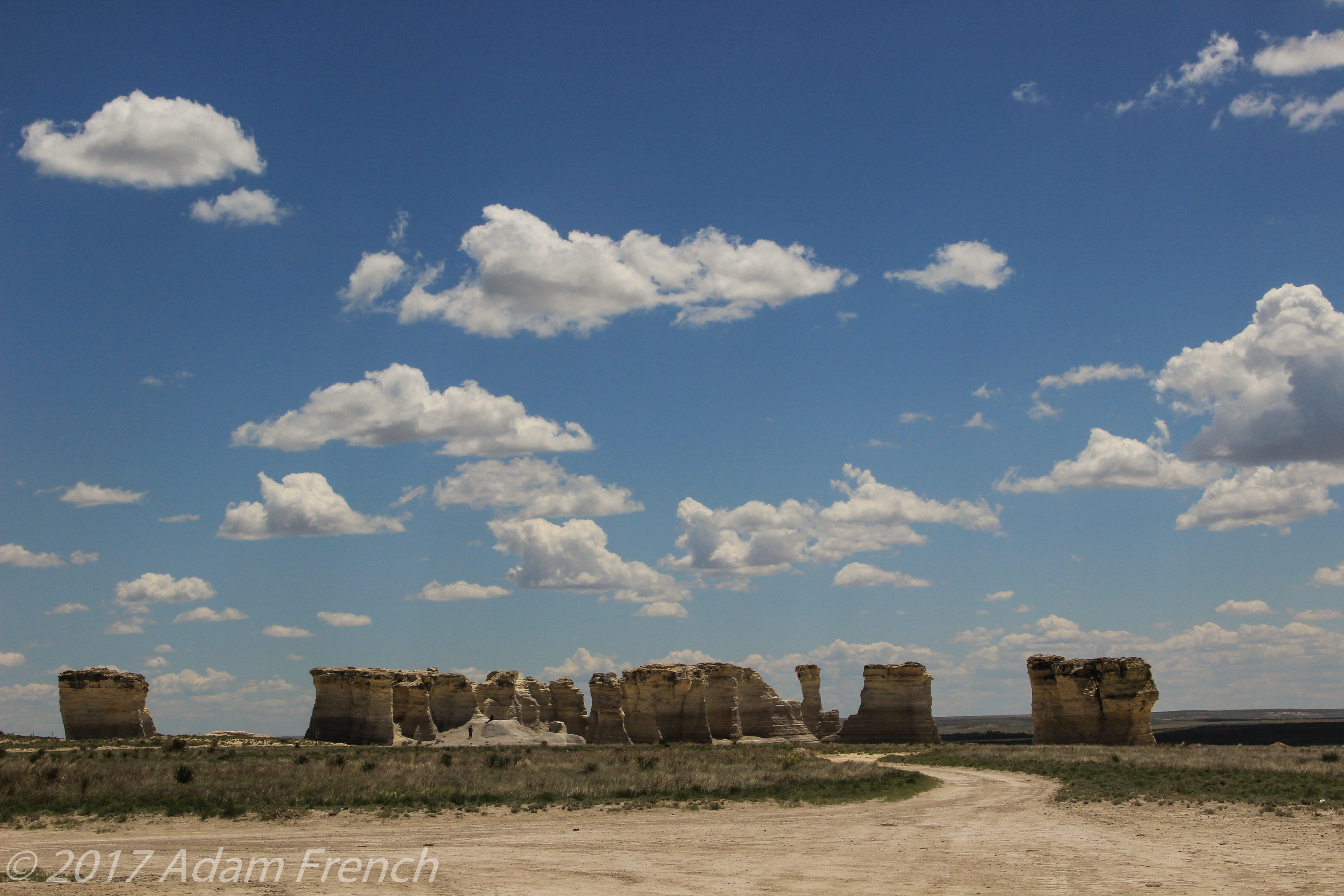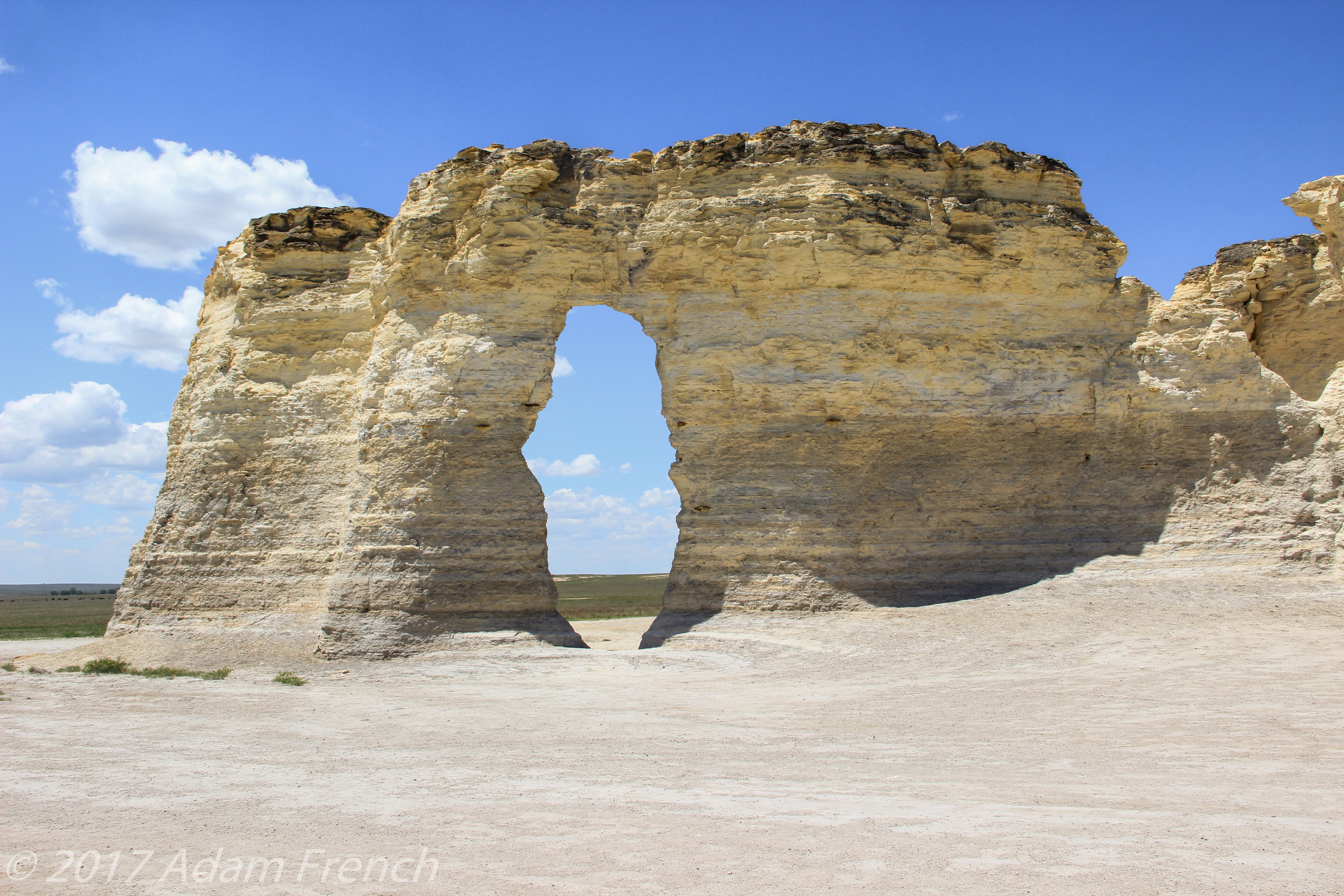 Later, we visited Dodge City, Kansas.  For anyone who's been to the tourist trap that is Keystone, SD, that's what I was expecting, but on a grander scale.  Sadly,  I was disappointed.  There was an interesting "Pioneer Town" which offered a museum you could tour, but it was in the middle of town.  You could literally see the double arches at the McDonald's across the street through the clapboard fence. 🙃  The town did have a nice downtown area with trendy shops, but we decided to press on.
Meade State Park, Meade Kansas
That night we attempted to stay at Meade State Park in extreme southern Kansas, but to no avail.  It was our own fault for not making reservations on Memorial Day weekend (and as it turned out it was one of the only state parks in the area), though I was rather glad we didn't. The place was absolutely packed!  The park was lovely, shaded and situated around a lake.  Unfortunately, not just every campsite was full, but people were also pitching tents almost on top of each other in picnic areas, music was blasting from every corner, and people were milling about so badly it was difficult to drive through them in some spots…not very tranquil.  Needless to say, due to this and the fact we still hadn't located any firewood*, we ended up having a lovely dinner at Arby's and staying at a hotel in Liberal, Kansas that night!
*It's not that we're terribly unprepared, we intentionally planned to acquire firewood along the way rather than bringing it with us.  This is because many parks that we've visited out West don't allow firewood from outside the state due to the concern of spreading pests.  As we learned, this was not the case in the Plains.  Not sure if the lack of firewood is due to fewer trees on the Plains, or if it's just that the regulations are so lax everyone just brings there own, but either way, come prepared!
Liberal Kansas
Day 3 was one of the highlights of the trip, we visited Dorothy's House (along with the Coronado Museum) and the Mid-America Air Museum in Liberal, KS.  As it turned out, not camping the night before and having already made the hour drive to Liberal meant we could start the morning touring straight from there!  
Dorothy's House and the Coronado Museum, Liberal Kansas
Dorothy's house was as cheesy as you can possibly imagine such a place would be…and I absolutely LOVED it!  I was impressed with how in-depth it was.  You actually tour a historical home from that area built around the time the book, Wizard of Oz, was originally written.  It was laid out just like Uncle Henry and Aunt Em's home from the movie.  Then you meander through the Land of Oz, complete with Dorothy as a tour guide.  She gave us the choice of hearing the story again or getting random trivia from the making of the movie.  The group agreed that we'd all seen the movie so we opted for the trivia!  There was a good amount of movie memorabilia, including the actual model of the home used during the tornado scene.  Our tour guide gave us plenty of unique tidbits, but I won't ruin those surprises.  You'll have to visit this fun roadside attraction yourself if you're ever in that area and offer patronage to Liberal's Historical Society to boot.  We also toured the neighboring Coronado Museum and saw many unique figurines from that era, including some disturbing medical/dental equipment!
Mid-America Air Museum, Liberal Kansas
If you enjoy air museums, this place has quite a bit to offer.  Started by a former pilot from Oklahoma City who donated his collection of over 50 planes, the museum offers a mixture of military and civilian aircraft in a spacious, air-conditioned hangar.  They put on quite a show for such a small non-profit. 
**I was also able to knock two more items off my Road Trip Bucket List in the early part of the trip.  I can now say that I've visited both Oklahoma and Texas.  We only drove through the panhandles of both states, they were flat. 😉   
The "Mother Road", Route 66 in New Mexico
We ended the 3rd night on the famed Route 66 in northeastern New Mexico.  Otherwise known as "the Mother Road", Route 66 was one of the first highways to span the country, connecting Chicago with the California coast, and it's definitely worth a visit.  Locating it can be difficult due to the current highway systems (sometimes it runs with a current highway, other times it almost disappears completely).  The road has also been re-routed throughout the years, making its "true" location even more cryptic.  Truly enterprising adventurers can track it, though a high clearance, 4WD vehicle may be required to navigate what's left of the pockmarked, scrub-covered pavement in some areas.
Fortunately for us, where the route traverses northeastern New Mexico is one of the easier portions to locate.  It serves as the main drag for several small towns—including Tucumcari and Santa Rosa—and parallels I-40 as a service road in this area.  There are still some signs of life on this section of the old road, some still-functioning hotels and gas stations lit with neon lights that maintain the motif of ages past.  Without the large, classic cars of that era though, it's hard to imagine the atmosphere is anywhere near comparable.  Unfortunately, most of the still-standing buildings are dilapidated skeletons of their once great selves, frequently forming ghost towns with other structures of that bygone era.  We ended our 3rd night, traveling Route 66 westward into a bank of thunderheads in Tucumcari, NM.
Stay tuned for Part 2: New Mexico!

Have you visited any of these places?  Tell me about your experience in the comments!
Did you enjoy this post?  Pin it!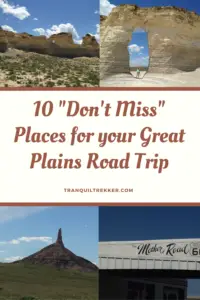 Like what you read here today?  Please feel free to leave a comment, like or share this post!  Add your email at the bottom of the page, or the sidebar to the right, to be notified when a new post is published.  By signing up for the email list, you will also receive a free copy of the Tranquil Trekker's Top 10 Tips of Trekking Do's and Don'ts!
You can also follow the blog on social media by clicking the links below!