If you're looking for a simple, nearby trail, optimal for a quick hike that also offers spectacular views of the hills and a local historical site, check out the Stratobowl Rim Trail!  
Where is the Stratobowl
The Stratobowl is a great trail for a short hike.  It's only a few minutes outside of Rapid City and, at around one mile each way, it's amenable to almost any skill level.  It also showcases some unique local history.  It's located off of Route 16, about a half-mile south of Old McDonald's Farm.  there is no roadside sign highlighting the trail, but there is an obvious parking area and, if you're there during daylight hours, it's likely you'll see other vehicles.
Hiking the Stratobowl
The path is comprised of simple, rolling hills on an old access road that traverses through pines and offers a prime opportunity for spotting deer and wild turkeys.  A substantial logging operation was recently completed there (necessitated by pine beetle damage) so chances of viewing wildlife are now even more likely.  At the terminus, the road opens onto the rim and the yawning chasm that is the actual Stratobowl.  From here, a valley formed by Spring Creek spreads out before you with homes dotting the floor and vultures soaring the thermals…below you! 
Related posts:  Willow Creek Trail Black Hills; Hiking the Boulder Hill Trail; Secret Spots in the Black Hills!; Coon Hollow Trail; Little Elk Creek Trail; Flume Loop Trail
This is also a prime place to watch the sun setting over the expanse of the Hills (and being so close to town it's convenient for an evening hike).  The name stems from the bowl-like shape of the valley created by the surrounding terrain.  The north side of the rim can be reached from several other trails/old logging roads off of Sheridan Lake Road to the north (I discuss these options in this post.)
This setting was the site of high-altitude, manned balloon flights that took place in the '30s (there are several monoliths on-site detailing these); it also currently hosts an annual hot air balloon launch.  Be aware, you may hear the haunting sound of howling wolves when hiking.  Do not be alarmed though, wolves are not usually found in the Hills and those you hear are safely contained at Bear County, just a few miles away.
This trail is perfect for an afternoon or after-work hike, or if you're just looking for an easier place to take the kids or the dog that's close to home.  It's gorgeous in almost any kind of weather and the trail is family-friendly.  This is another great one to add to your list of fun hikes found near Rapid City!
Do you enjoy hiking the Stratobowl?  Tell me about it in the comments! 
Did you enjoy this post?  Pin it!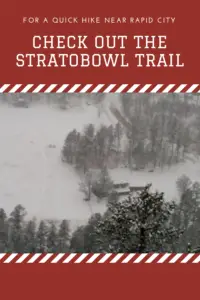 Like what you read here today?  Please feel free to leave a comment, like or share this post!  Add your email at the bottom of the page, or the sidebar to the right, to be notified when a new post is published.  By signing up for the email list, you will also receive a free copy of the Tranquil Trekker's Top 10 Tips of Trekking Do's and Don'ts!
You can also follow the blog on social media by clicking the links below!