Another great spot in my series of trails close to Rapid City is the Coon Hollow trail in the Black Hills!
Where is the Coon Hollow Trailhead?
The Coon Hollow trailhead is located just off of US 16, around eight miles south of Rapid City (from the Catron Boulevard/16 Bypass intersection).
Just past the Rockerville exit, turn right onto Silver Mountain Road.  Then, take the first right and turn onto a forest road that runs into the woods.  Immediately to your left, you will see a large dirt area where you can park.  To reach the trail, cross the forest road and look for the footpath that is clearly marked by "Trail 50" placards.
What is the Coon Hollow Trail like?
This trail is actually another branch of the Black Hills Flume Trail that I discussed in a previous post.  The first 1/4 – 1/2 mile of it is quite steep (and can be downright treacherous in wet or icy conditions).  However, once you reach the flume bed, it's largely flat and wide and is an easy hike.
This portion of the trail is around three miles long, each way.  It ends at an old forest road where it meets up with the the Boulder Hill Trail.  Usually we walk out and back, though you can make loops if you include some of the local forest roads.
It's important to always carry updated maps of the local trails and forest roads (like the ones shown below) when you're out in the woods.  This is especially important if you want to combine various routes to make your own loops.  The paths are pretty clear in this area, but you can still get turned around if you aren't familiar with where they all go.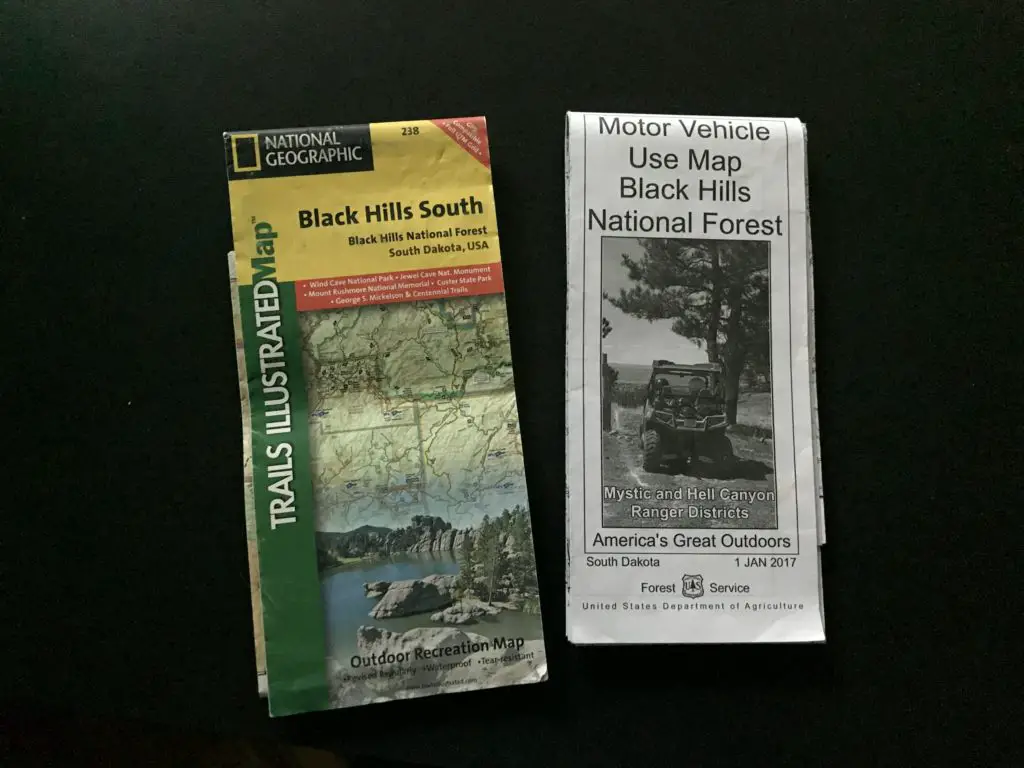 This is a great trail!  I would rank it as "moderate", mostly due to the initial, steep section. (There are also a few portions of it that traverse low-lying areas which can get slippery in the snow or mud.)  However, the majority of it is easy as it just follows the flat, flume bed.  Once you reach that part, all members of the family should be able to handle the trail easily (including the four-legged ones.  Puppers highly recommends this path, as do several of her friends that we met along the way! 🐶)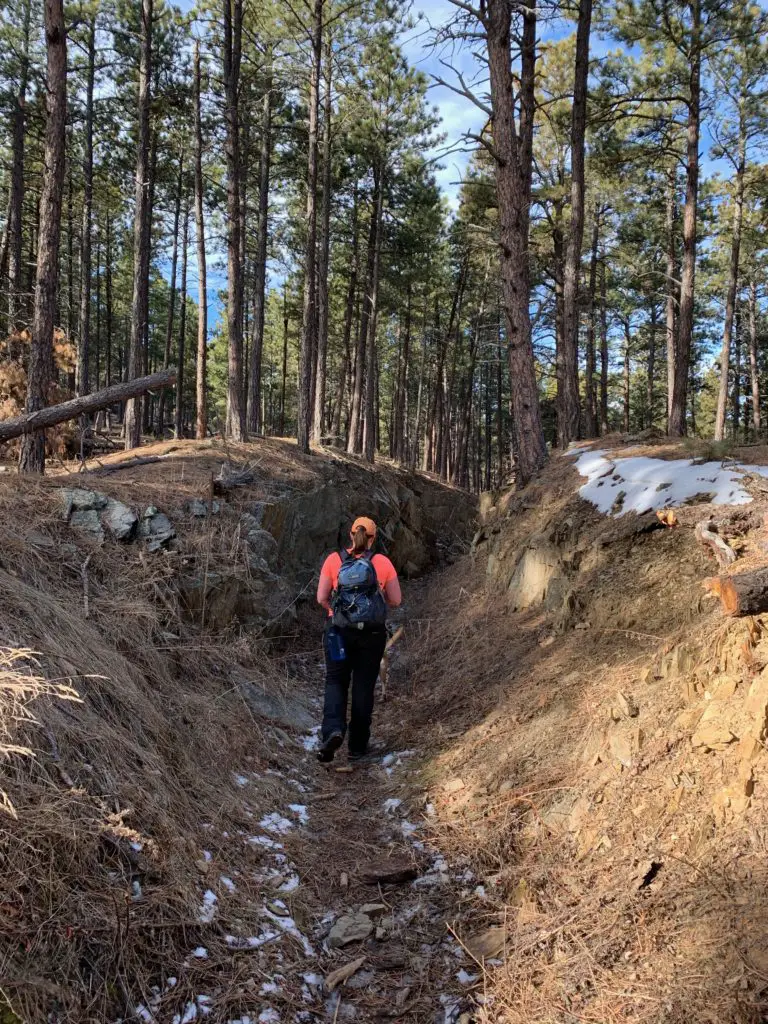 There are many great views of the surrounding forestland available from this trail.  In a few places, you can see all the way to Rapid City, and even to the prairies that lie farther to the east.
Coon Hollow Offers a Variety of Ways to Enjoy the Outdoors
One thing I really like about this area is that it contains a variety of trails that are good for both hiking and mountain biking.  I also like that there are different trails for bikers and hikers, so the two are kept largely separated.
The actual bike trails are mostly one-track, though none of the areas we've encountered are terribly steep or technical. The Trekkers (especially me) are novice mountain bikers, and we've been able to manage these routes fairly well.  There are also old forest (and fire) roads spread around the area which make for easier biking and hiking options.
If you're looking for another family-friendly trail to hike in the Black Hills, that is close to Rapid City, check out the Coon Hollow Trail!
Is this a trail you've tried for hiking or on your mountain bike?  Let me know your favorite parts of it in the comments!
If you'd like to read about the other trails in this series, you can click the links below:
Boulder Hill Trail
Flume Loop Trail
Little Elk Creek Trail
"Secret" Hiking Trails off Sheridan Lake Road
Stratobowl near Rapid City
Willow Creek Trail Black Hills
Did you enjoy this post? Pin it!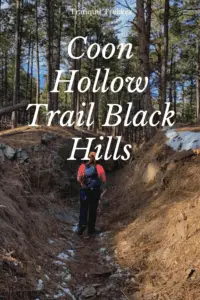 Like what you read here today?  Please feel free to leave a comment, like or share this post!  Want to be notified when a new post is published?  Add your email and click the "Follow" button at the bottom of the page or the sidebar to the right.  By signing up for the email list, you will also receive a free copy of the Tranquil Trekker's Top 10 Tips of Trekking Do's and Don'ts!
You can also follow the blog on social media by clicking the links below!