Little Elk Creek Trail is another great, local trail that is near Rapid City.
Where is the Little Elk Creek Trail?
You can reach the trailhead from Exit 44, off of I-90, for Deerview Road.  Take this road to where it crosses Sturgis Road (which runs parallel to I-90  in this area) and then head north on Sturgis Road.  After about 1/2 mile take a left at Little Elk Creek Road.  You will find a parking lot at the trailhead, where the road ends.
What you will see on the Little Elk Creek Trail
The trail is around five miles long, one-way, though we've never actually hiked the whole thing.  If you follow it far enough, it eventually joins up with a Forest Service road that will take you to Dalton Lake.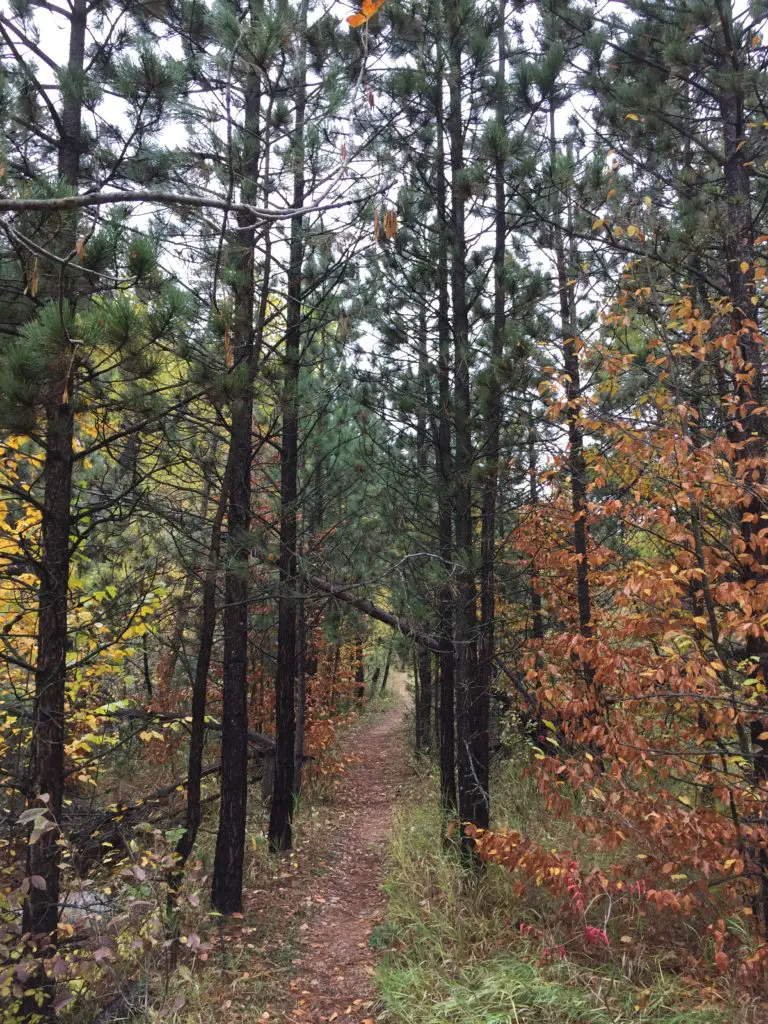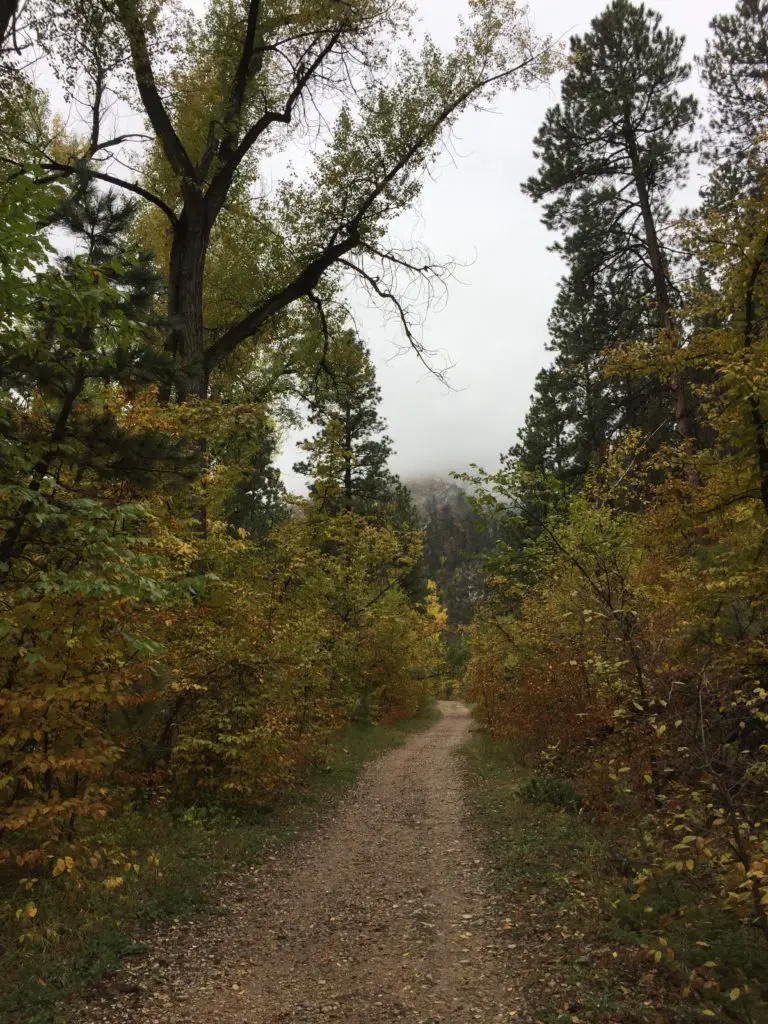 At one point, the trail splits into two routes.  They both go to the same place, and after about a mile they end up joining back together again.  One of the trails stays "low", and I think it is actually a bit more challenging, as it runs right along the creek bed.  With this option, you will need to scramble over a few boulders along the way, and it can be made more difficult if the creek level is high, or if conditions are icy.
There are also a few scrambles up a short, steep hill or two if you choose the "high" route. However, to me, the most challenging part of this option is that it runs right along a ridge.  The drop-off isn't quite steep, or high, enough to consider it as being a "shelf", but it has gotten my acrophobic heart pumping a time or two. (This is especially true when you're walking with a rambunctious pup who is not apprehensive about heights in the least. 😝)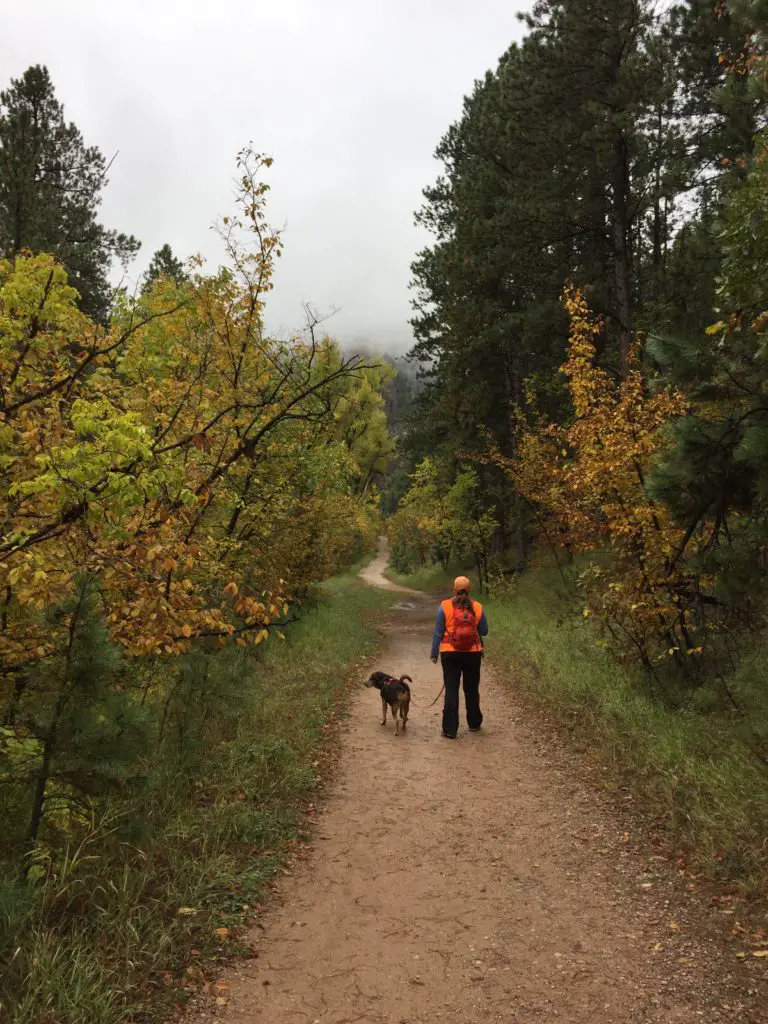 This route is pretty any time of the year, but especially in the fall, which is when we usually go.  The aspen trees that edge the trail turn a vibrant orangish-gold, and contrast well with the ever-green pines that make up much of the rest of the surrounding forest.  As it is much closer to Rapid City, this is one of the better places to see leaf colors without having to drive all the way to Spearfish Canyon or deal with the fall traffic that is common there.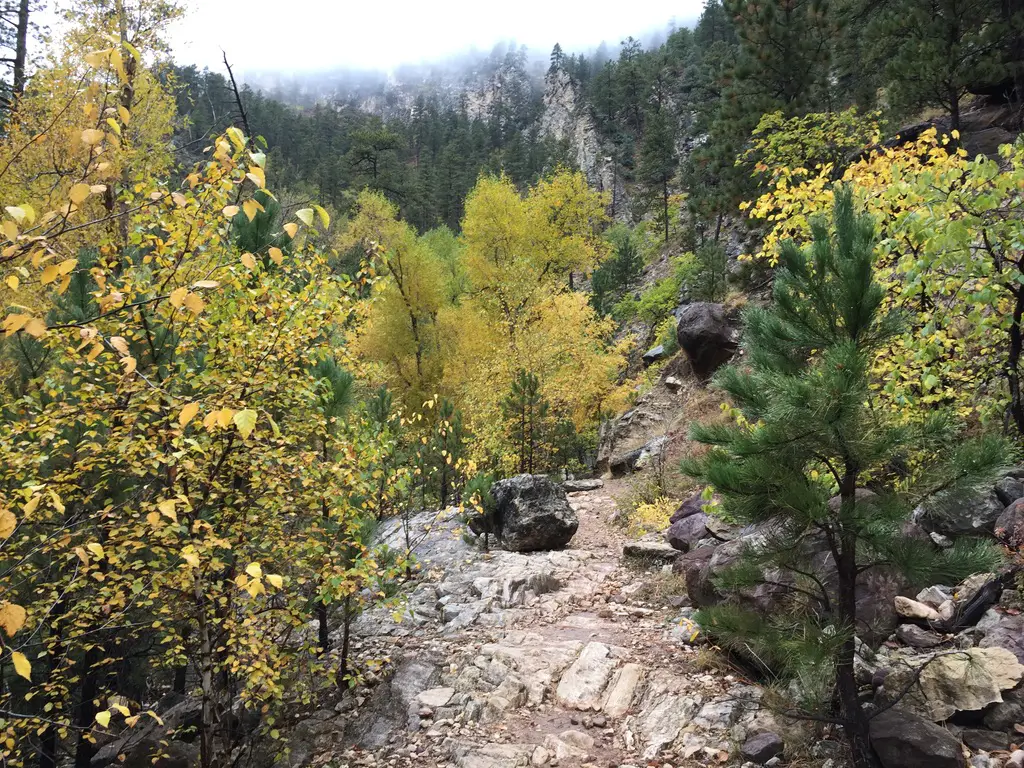 During the summer this area can get pretty crowded. It runs right along the creek, which can be accessed many places throughout the route.  It is also fairly shaded, so it makes for a cooler option when the weather is warm.  During the winter months, this canyon doesn't receive much sunlight, so be prepared for icy conditions (especially in the areas where the creek runs very near the trail).  Yaktrax are highly recommended when attempting this trek during that time of year.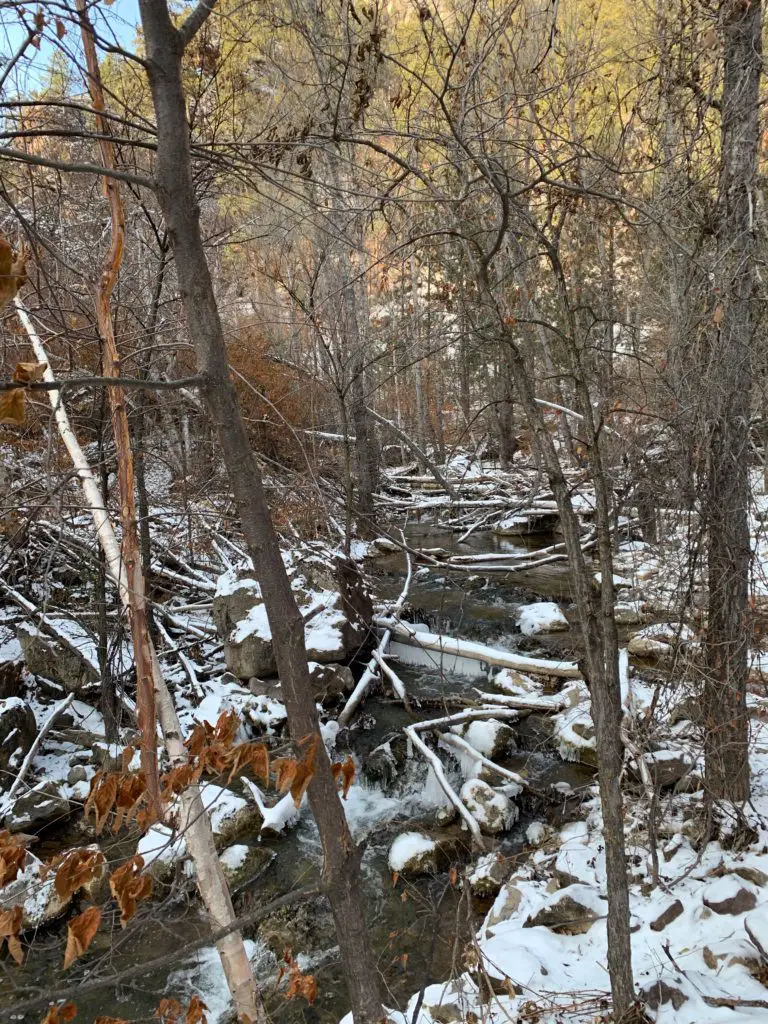 If you're looking for a good, family hike, that's easy to reach and close to Rapid City, check out Little Elk Creek Trail, near Piedmont!
Have you hiked the Little Elk Creek Trail? Tell me about your experience in the comments! 
If you'd like to read about the other trails in this series, you can click the links below:
Flume Loop Trail
Coon Hollow Trail
"Secret" Hiking Trails off Sheridan Lake Road
Hiking the Boulder Hill Trail
Willow Creek Trail Black Hills
Stratobowl near Rapid City
Did you enjoy this post? Pin it!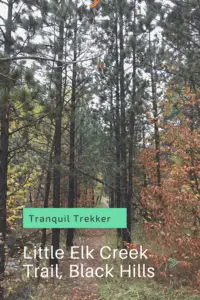 Like what you read here today?  Please feel free to leave a comment, like or share this post!  You can also follow the blog on social media by clicking the links below!