New Mexico was next on our list for our 2017 road trip after the Great Plains.  Originally we had planned on visiting Amarillo and the Palo Duro Canyon State Park in the Texas panhandle.  However, with the expected 90-degree temperatures and plenty of scrub-land ahead of us, we decided to press on into New Mexico, instead–as we found out later, this was a VERY wise choice…
Tucumcari, New Mexico
We stayed at the Tucumcari KOA, in the northwest corner of the state, our first night.  Aside from a two-hour rain delay in tent setup, it was a decent campground, though it was noisy.  It is actually located on Route 66, but, unfortunately, is literally only a few hundred feet from the coursing vehicles on I-40 (Route 66 runs with the highway in this area).  The tent sites all came with grills and protected picnic tables, though again, firewood was hard to come by and there were no fire rings.
I was unclear as to the discouragement of campfires in this part of the country.  It is the desert, to be fair, but it's comprised mostly of sandy scrub-land.  It's not entirely clear to me where the concern of the spread of wildfires lies (but I will defer to the experts on this).
Lack of tent sites in "campgrounds"
Another frustration we encountered in the early part of our trip was what seemed to be catering to RVs by the parks.  There's nothing wrong with RVing, but if a park's facilities are better matched to an RV and not a tent, then proprietors, you are an RV park, not a campground.  I say this because when travelers who are unfamiliar with the area locate a "campground" on Google, it is frustrating to then find they offer no tent sites. 😡   
When daydreaming of road trips, it's easy to drum up iconic images of a station wagon pulling a tiny camper, cooking outside, even sleeping out under the stars.  But until we reached the more remote parks in Colorado, we saw very few tents.  Does no one tent camp anymore?  Is it a bygone pastime?  For the first half of the trip, we felt like "tenters' were just an afterthought to many of the campgrounds we visited.
Strange animals in New Mexico
We encountered several new fauna in this state.  One, a Western Kingbird, is a beautiful bird that resembles a robin, though it is grey and has a yellow rather than red breast.  It's also apparently known to be quite social.  Our new friend planted himself on a tree branch only a few feet from us for the majority of the morning and proffered us a lovely serenade while we packed up camp. 
I found favor with another local while washing dishes that morning.  I saved a Carolina Wolf Spider from the outdoor sink (I found the name ironic as I don't remember seeing them when we lived in the Carolinas several years ago).  As I learned later, this is the largest of the wolf spider species.  For a fervent arachnophobe, I thought this rescue was quite an impressive feat!  Its body was grey and tan and it appeared to have black "socks" on its feet.  I could also see black mandibles that it was unsuccessfully attempting to use to clean the water off its legs.   
I'm not usually a fan of spiders in my home—though after learning that a favorite food of the benevolent wolf spider is the fearsome black widow, I do try to release them in my garage.  Feast my friends!  My zeal for killing "those that skitter" has been lessened by sage advice I received from my father-in-law, "When a critter comes into your home he's trespassing on your space, but when you go outside you're trespassing on his".  So, I try to uphold this mindset and maintain a tolerant coexistence with our creepy, crawly, outdoor cohabitors.
International UFO Museum, Roswell, New Mexico
Later that day, I was able to knock another item off my Road Trip Bucket List when we visited Roswell, New Mexico, and the International UFO Museum!  Yes, it is just as wacky as it sounds!  I was a little disappointed with the actual town of Roswell.  It's a fine place, but it is in fact just another town (with the occasional alien waving at you from a hotel sign).  They do have a McDonalds shaped like a UFO, but even that was underwhelming as it's just the playground portion (apparently the inside is rather cool as it is alien/space-themed, but we chose not to partake). 
The actual "alien crash site" is located on private land so we weren't able to visit, but the town is missing out on great revenue potential.  The Deep South has ghost tours, the Plains has tornado chasing tours, Roswell should have UFO viewing tours!  (Seriously, an enterprising person should get on this, you'd make a killing!) 
The museum was interesting.  I've long been a fan of Unsolved Mysteries, X-Files, Ancient Aliens, etc. so nothing we saw or heard was really surprising.  Mostly it was comprised of a lot of suppositions and hearsay (though my coworkers used it as a prime opportunity to make numerous jokes at my expense upon my return).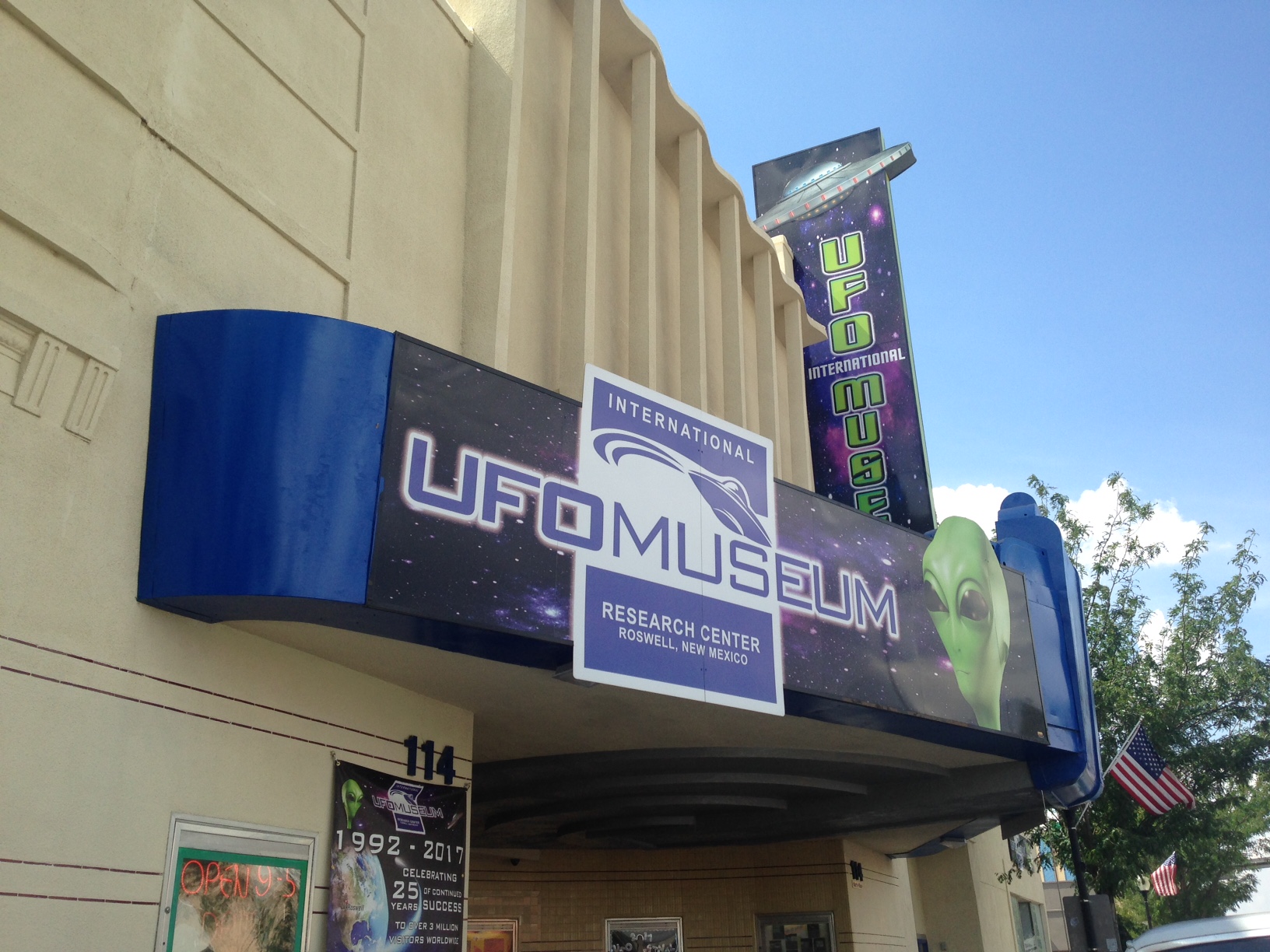 We reached Alamagordo in the southcentral part of the state that night with plans to camp at the Oliver Lee Memorial State Park that we had heard many good things about.  However, as we pulled into town and storm clouds were again becoming entrenched directly over the park (and we still suffered from a lack of firewood), we opted for a shower and a hotel instead.
White Sands National Monument
The next day we ventured to the White Sands National Monument to tour the sand dunes.  We were EXTREMELY lucky as the high for the day was only going to be in the mid-80s and there was a breeze and a fair amount of clouds to provide respite from the sun (I honestly couldn't think of better weather in that area in early summer ).  We got a bit of a late start, not beginning our trek until around 10 am, though we were well prepared with plenty of water, sunscreen, light clothing, and sun hats.  We also had a plan to not venture too far, to watch each other for heat stress, and to only be gone an hour or so (there is NO SHADE at the dunes and the reflection of the sunlight on the white sand makes heat stress an even greater risk—as do the dry winds that increase the chances of dehydration).  
The dunes were fascinating!  The sand was a beautiful light cream color (hence the name) and we saw several similarly colored lizards that would have been perfectly camouflaged had they not been dashing across the hot surface at the time.  There's an airbase and missile range nearby so we were treated to military jets zooming overhead, the thunder from their engines ricocheting over the heat waves as the San Andres mountains loomed in the distance.
Sick while on vacation
 We ended our hike around noon, just as we were both starting to feel the sun's effects, and went to the shaded picnic area for lunch.  I was feeling a bit queasy, but that's not unusual when I get overheated and hungry.  We were out of the sun, getting some food and a cool drink, and relaxing in the shade, so all should have been well.   After lunch we drove around a bit more, took some pictures, and then started to make our way across the rutted road back to the Visitor's Center (we had plans of camping that night at the State Park)…and then it hit, hard and fast!  I'll spare you the grisly details but let's just say I'm not proud to admit that I failed miserably in my "Leave No Trace" practices on the dunes that day.  🤮  We thought it was just the heat so we made plans to go to a hotel that night so I could have a cool shower and recover in the air conditioning.  Eight hours later, with the illness still racking my body, Mr. Trekker wisely suggested we visit the urgent care just a scant five minutes away. 
I'm a fairly healthy person and I usually prefer to allow nature to take its course in these types of situations but, 1000 miles from home, in a strange place, in the middle of vacation and facing a possible trip to the ER for treatment of dehydration, I decided to heed his astute advice. 
I am happy to say the Mountain View Urgent Care treated us very well–side note, whoever invented Zofran (anti-nausea med) should be Sainted!  The medicine worked like a charm and re-hydration/rest finally began.  We ended up spending two days at a lovely Fairfield Inn, playing several card games of War and watching COUNTLESS hours of Last Man Standing (the hotel also had a lovely patio I was able to enjoy the next day).  See, even a severe stomach ailment on vacation can offer some opportunities for enjoyment (a wonderful traveling partner turned incredible nursemaid didn't hurt either!) 
We still don't know what made me sick.  The urgent care didn't run any tests, they didn't seem too concerned about why I was sick, they just wanted to make me better.  It could have been heat exhaustion, something I ate or drank, or just the basic flu (Mr. Trekker had ingested basically the same things I had with no negative side effects).  We did drink strange water at the National Monument that day that tasted TERRIBLE (due to chlorine) but it was marked for drinking.  I have a sensitive stomach and heat sensitivity that I've noted in previous posts, but this seemed different.  I'm hopeful it was just a badly-timed case of the flu–and continuing proof of our bad luck on this trip–that won't be making a reappearance any time soon!
Giant Pistachio, Alamagordo, New Mexico
By that time we were ready to throw in the towel on this vacation.  It just seemed that we were stymied at every turn.  We did manage to stop at "the Giant Pistachio" on our way out of Alamagordo—which is exactly what it sounds like.  It's a pistachio ranch with a store where you can buy various food items (including delicious green chile salsa and of course, pistachios).  It also has a giant statue of a pistachio out front! 
Don't let frustrations derail your vacation plans
We drove north with plans to hit I-25 and be home the next day.  However, almost as soon as we left town, the terrain seemed to change.  The dry, soulless scrub-land filled with nothing but dirt and cacti that we had been experiencing the last several days transformed into an area that, while still dry, also sported dark green pines, bushes, and tan prairie grass all set against a backdrop of bright red earth.  This in conjunction with the sun that had finally broken through the rain clouds, and the desert mountains towering on either side of us as we traversed the valley, brightened our hopes a bit.  We had already canceled our plans in the Great Sand Dunes (see this post for info regarding our rescheduled trip there)*, but I casually suggested to my loyal driver that maybe we could still try to push for Mesa Verde National Park in Colorado…and I got a hearty, "I was just thinking the same thing!" in reply.   The Adventure was back on!
*A side note, apparently the last week of May/first week of June is when the Medano Creek runs high from spring melt and it's an INCREDIBLY busy time at the park.  We weren't aware of that until we canceled the reservations but it is something to keep in mind if planning a visit. 
The Flora of Northern New Mexico
This trip allowed me to verify again for myself that the desert isn't my favorite place to visit.  It's hot…it's dry…it's hot…there's pokey plants…did I mention it's hot?  I've discussed on several occasions that heat and I are not the best of friends, so I was looking forward to trading in the dry deserts of New Mexico for the lush forests of Colorado.  But I learned something along the way…northern New Mexico is absolutely beautiful!  The mountains and plains surrounded us in a verdant spring green which contrasted with the black volcanic rocks.  I assume we were lucky to be there so early in the summer season so things were still green (it also seemed that they had an unusually wet spring, who would expect to see standing water in fields in New Mexico?  We had rain almost every day we were in the state!) 
Capulin Volcano National Monument
Did you know there is an extinct volcano in northern New Mexico?  From my extremely limited understanding of volcanology, an "extinct" volcano simply means it hasn't erupted in a REALLY long time…but that in no way ensures another eruption isn't possible! (For more information on this national monument, click here.)  So, we arrived at the Capulin Volcano, in northwest New Mexico, with plans to hike around it a bit before heading to Colorado for the night.  FYI, the park closes at 5:00 pm promptly, even during the summer months.  We learned this when we arrived at the park…just as the ranger was locking the gate.  *sigh*  Seriously, at this point our bad luck on this trip was becoming laughable!  😜
So instead, we took the long way back to the Interstate on back roads, enjoying the beauty and solitude of the northern New Mexican countryside on our way to the hotel in southern Colorado that night.  Yes, after 1600 miles, we had finally reached the Interstate (this was by choice.  We could have continued on back roads but this was actually a more direct route to our destination and we decided for that short time we wanted to get where we were going quickly).  With that, after five days of chaos, we left New Mexico behind.  We do intend to return though, at least to the northern section, as I still want to investigate that volcano and there are more places (like Taos and Sante Fe) we want to explore.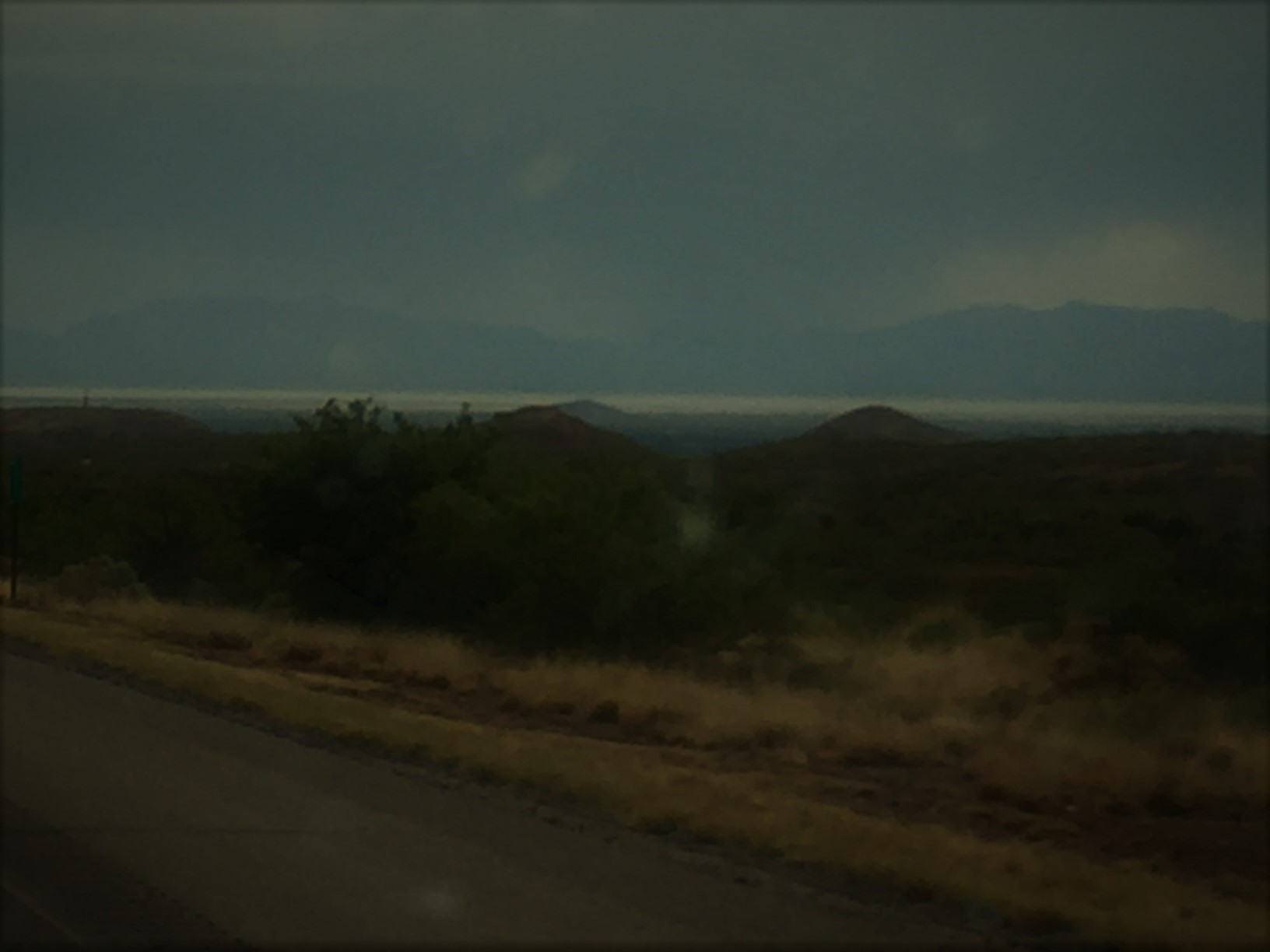 Have you enjoyed any of these destinations?  Tell me about it in the comments!
Did you enjoy this post?  Pin it!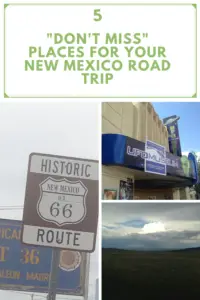 Like what you read here today?  Please feel free to leave a comment, like or share this post!  Add your email at the bottom of the page, or the sidebar to the right, to be notified when a new post is published.  By signing up for the email list, you will also receive a free copy of the Tranquil Trekker's Top 10 Tips of Trekking Do's and Don'ts!
You can also follow the blog on social media by clicking the links below!