In last week's post, I reviewed the Trekkers' recent visit to the Utah side of Dinosaur National Monument.  Today, I'll be discussing the Colorado side (as the park spans both states).
Scenic Drives on the Colorado Side of Dinosaur National Monument 
One of the main things we enjoyed on the Colorado side of the monument was the scenic drives.  There are several found throughout this portion of the park, though all but the Harper's Corner Road are suggested for high-clearance vehicles only.  As I mentioned in Part 1, under good conditions most of these roads are great to drive (honestly several of them were less bumpy than some of the paved, county roads we drove on).  I would have felt comfortable taking any vehicle with a higher wheel base on these (such as my Outback), and we saw several SUV's.
But I cannot stress enough that we were there in the most ideal weather possible.  According to the park, several of the roads are completely impassable when wet.  This seemed likely as we crossed many dry stream beds that could easily fill with stormwater runoff.  It also makes sense that the powdery dirt that covers the surface of many of these routes could quickly turn into slippery ooze when wet.  Many of the roads also only have one way in or out, so, if you reach the end, and then a rainstorm comes…you may not be able to get back out again.  Several also lead through low-lying canyons which are likely to flood quickly in a heavy rain event.  So please, be wary before attempting these roads if any bad weather conditions are present or expected.
Click here for the NPS website for the park that will have up-to-date info on current road conditions.
Harper's Corner Road
This is the main road through the Colorado section of the park.  You access it near Dinosaur, Colorado.  This is also one of the only paved roads in the monument.  At the end of it is the Harper's Corner Trail which offers INCREDIBLE views.  At times you are hiking on an almost knife-edge of rock, with the Green River winding along beside you on one side, and the Yampa River on the other.  Did I mention you are up to 2500 feet ABOVE these waterways throughout the hike? 😮  It got my acrophobic-heart pumping a bit! (It really wasn't too bad.  I only felt nervous in one spot where you get a healthy view of a chute, down a cliffside. 😋)
I would rate this trail as "easy".  It's about three miles in total length (out and back) and it doesn't have much elevation gain.  Just about anyone wearing tennis shoes should be able to handle it (though I should note the park is at an altitude of over 5000 feet, so "flatlanders" may want to take it slow. 😉)  At the end of the trek you are treated to an AMAZING view down the canyon, and of Steamboat Rock from above, behind which the Yampa and Green Rivers meet.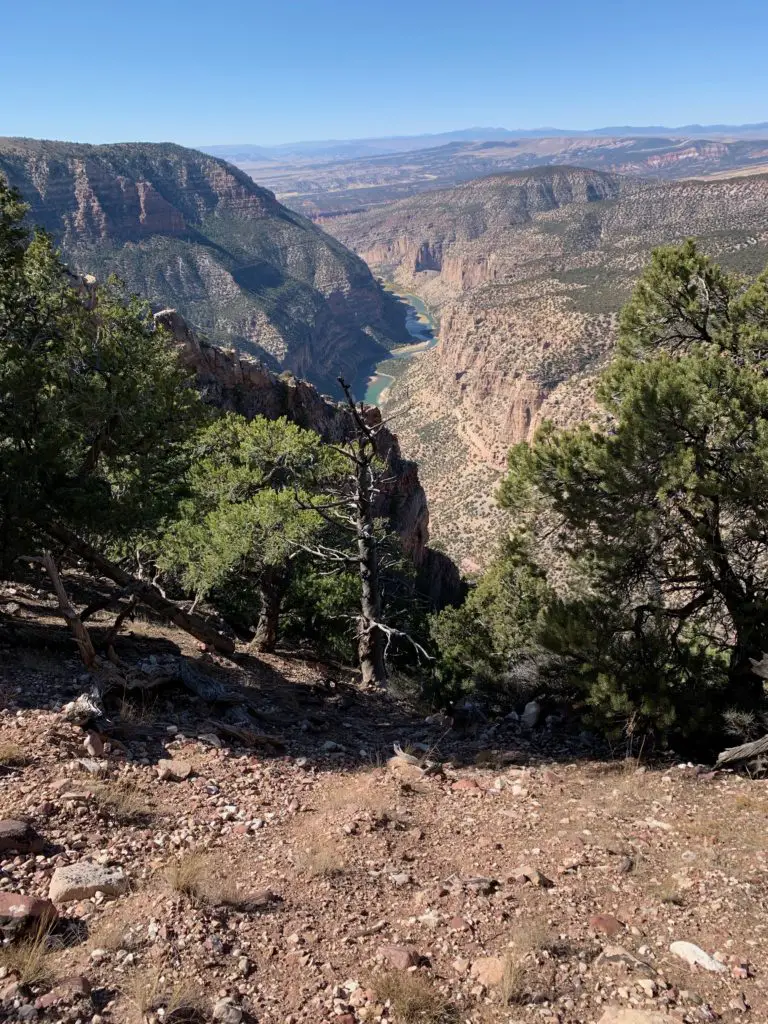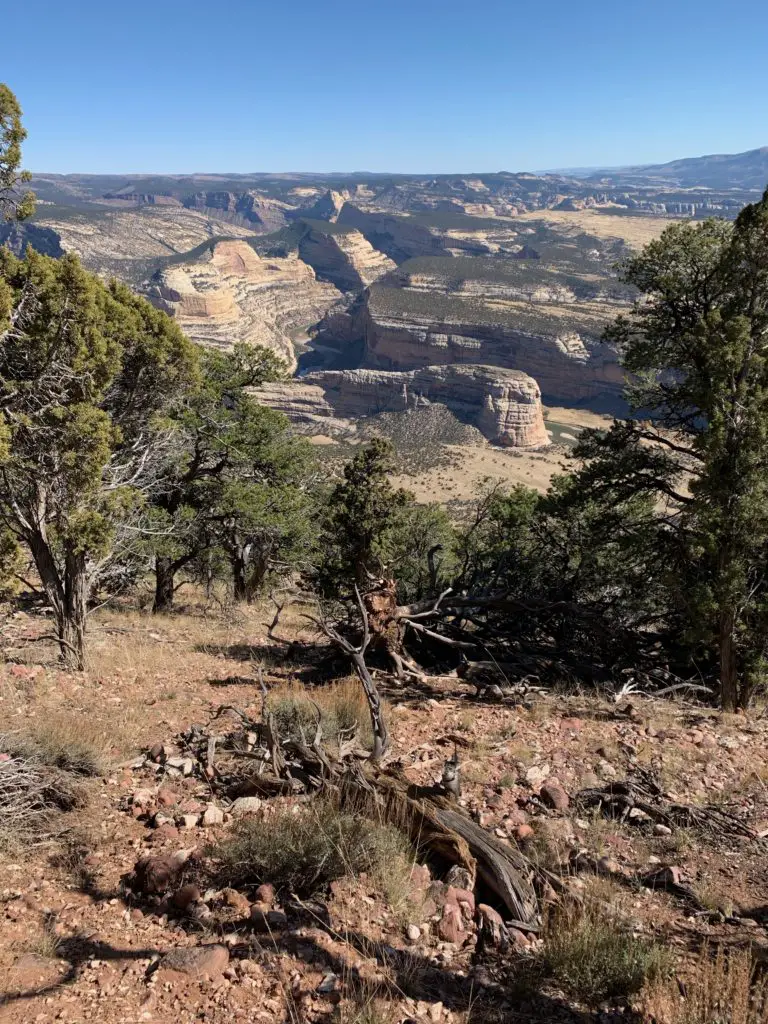 Echo Park Road
This route takes you from Harper's Corner Road, east, to Echo Park and its campground.  This area is called a "park", like several other locations in Colorado.  It is really just a flat, meadow-like area.  It was cool!  (Hint, it's called "Echo Park" for a reason, I encourage you to experiment with this 😁.)
This route traverses the lower "benches" of land that can be seen from above, when traversing the Harper's Corner hike.  They are called this as they are wide sections of terrain.  They literally look like benches, or steps, that rim the lower, river canyons. 
The road winds through an incredible canyon where sheer rock towers over you on both sides.  From here you can see Steamboat Rock from the bottom, where it's much more impressive.
There is a short hike along the river's edge that is around two miles long (out-and-back).  It takes you to the confluence of the Yampa and Green Rivers.  There is also a place on this road called Whispering Cave.  It appeared fairly unassuming, at first, as it's just a vertical slit in the rock wall of the canyon, that you can stand in.  This was until we figured out it's secret (and how it got its name).  If people stand at either end of this long slit, and whisper REALLY quietly…you can hear each other VERY well (thanks to the unique acoustics of the rock structure).  And it's far more effective than if you try the same thing outside (we checked! 😉)
Click here for a short video of the drive!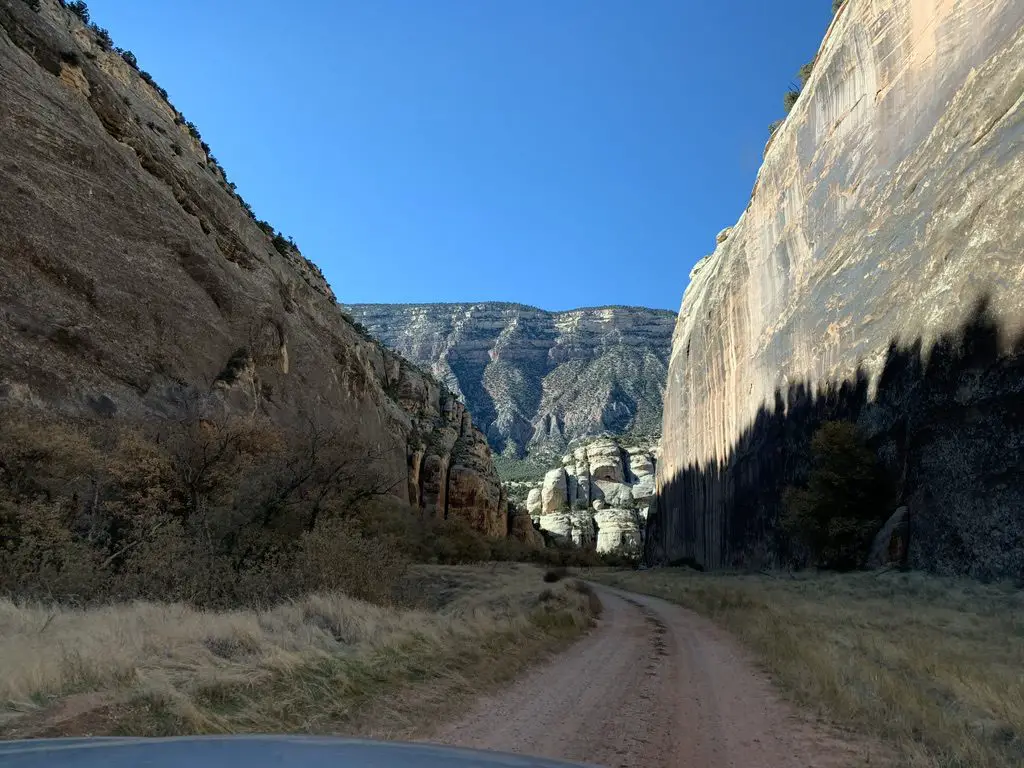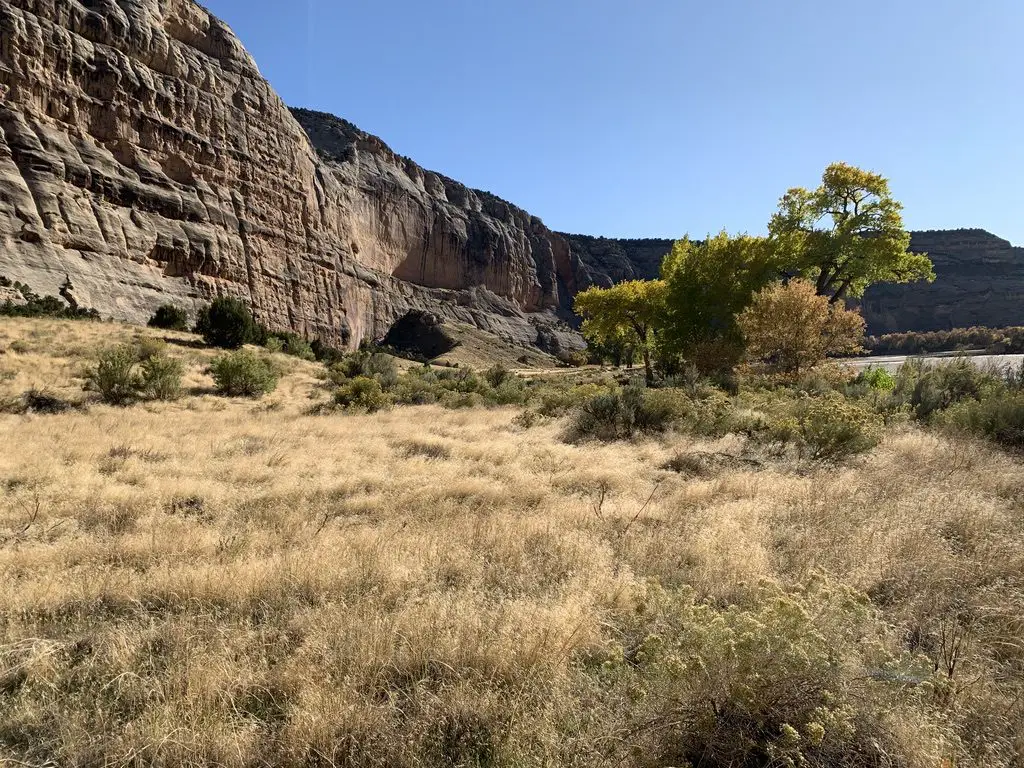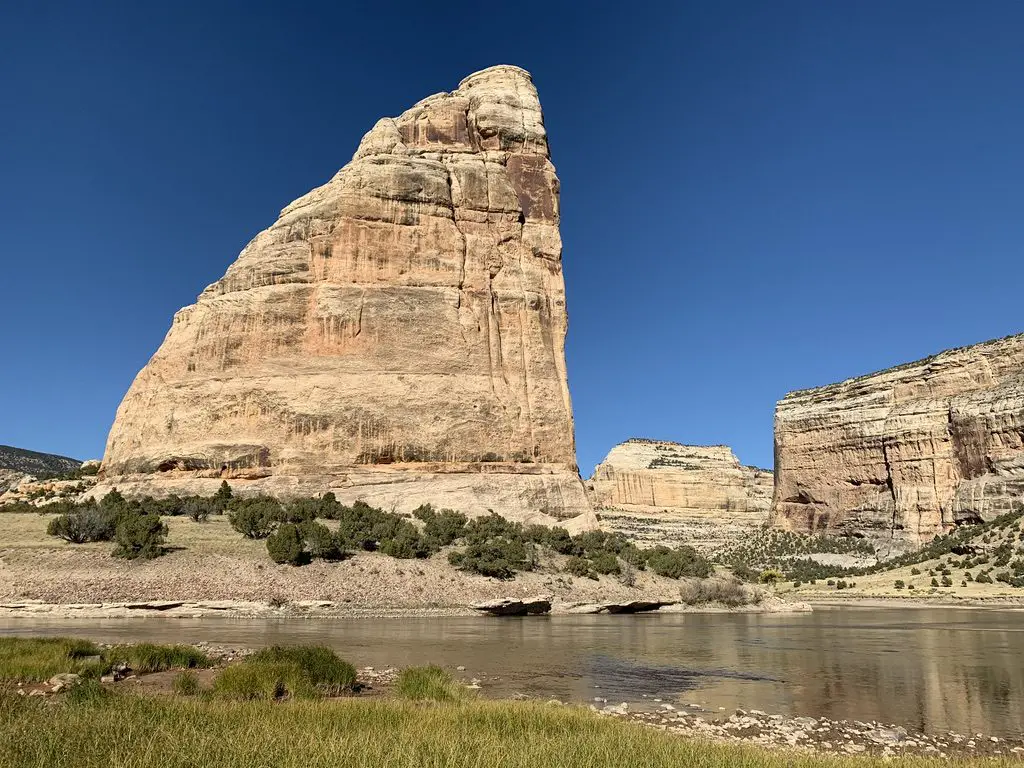 Yampa Bench Road
This route takes you from Echo Park Road, east, all the way to US 40 in Elk Springs (though there are a few places you can bug out before you get that far, dependent on road conditions).  This was the most difficult route we encountered.  The drive was beautiful though, with yellow grassland and scrub brush spread before you, all the way to the rock walls that rise above you on two sides.
Even this road wasn't bad at this time of year, though I could see it being difficult if it was wet.  It was the steepest drive we took and it had the sharpest turns.  This was also the longest route we attempted, by far.  It was fun, but we covered less than half of it (around 20 miles) and that took almost two hours.  This did appear to be the most difficult part of the trek.  According to the map, the rest of it looked flatter and easier (and some parts may have been roughly paved).  We did finally escape, through a blessed hole in the rock wall called Thanksgiving Gorge (I think I know why they give it that name!) just as daylight was waning.  We were rewarded with a herd of elk…and LOTS of cows! 😋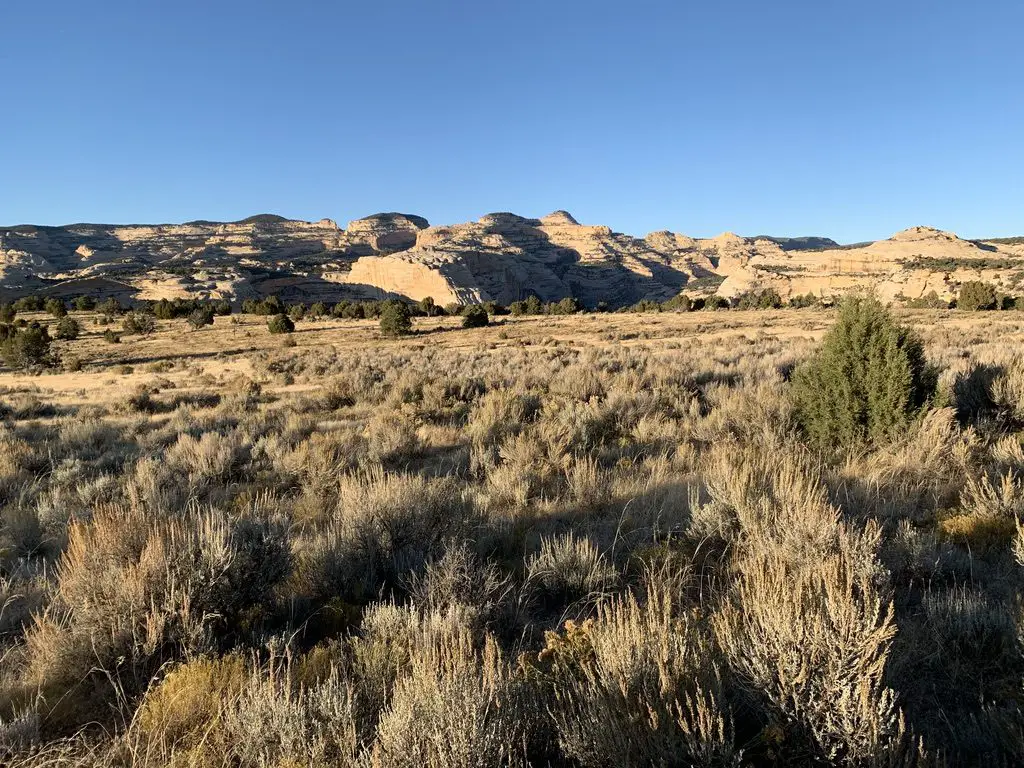 Beautiful Canyons in the Colorado section of Dinosaur National Monument
Flaming Gorge Reservoir
On Sunday we took US 191 north of Vernal, UT, to the Flaming Gorge Reservoir.  It was named for its vibrant, red cliffs that were cut by the Green River.  It spans both northeastern Utah, and southeastern Wyoming, just to the north.  It is absolutely beautiful, and the dam that created the reservoir is pretty stunning as well.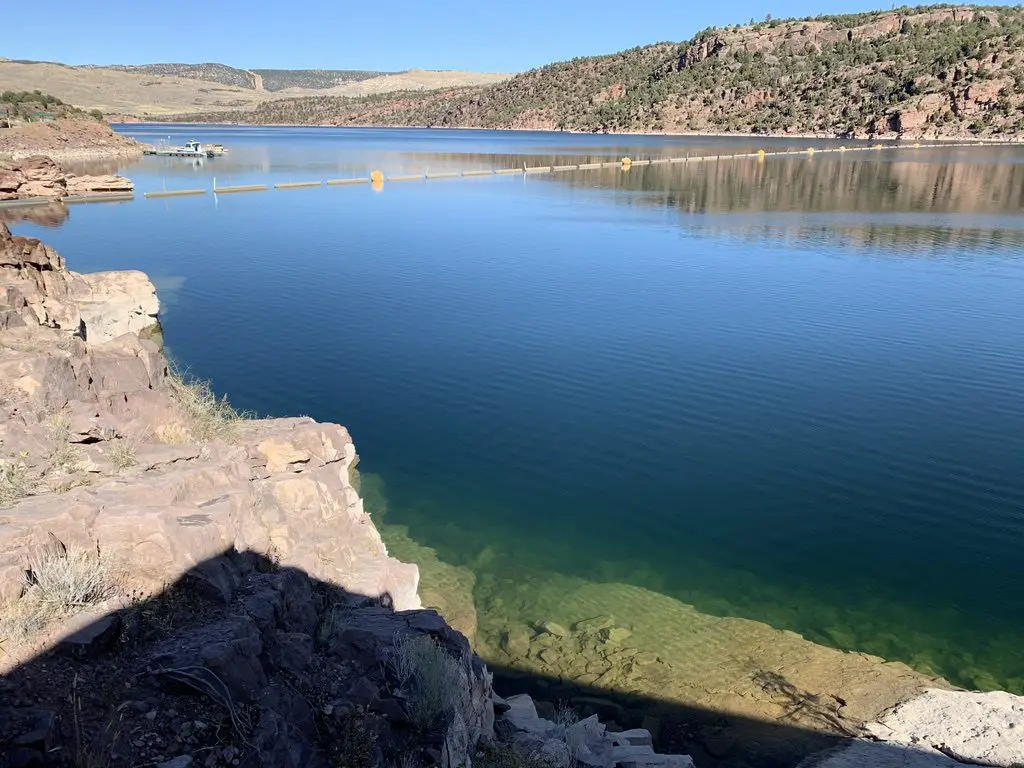 Gates of Lodore
From the dam, we then continued north on Route 191, just across the Wyoming line, and picked up Brown's Park Road.  This we took east, back into Colorado.  From here we followed signs to the Gates of Lodore, another INCREDIBLE canyon that was cut by the Green River.  It sits on the northern tip of the monument.  This route was a mixture of well-graded dirt and rough pavement, though any passenger car should be able to handle it, at least in good weather.
I was pronouncing this location like "Gates of Mordor", from Lord of the Rings, but was quickly corrected by a local.  Apparently its supposed to sound more like "Gates of la-DOOR". ☺ 
There's an easy, and fairly short, hiking trail that leads to the mouth of the canyon, from the parking area.  Due to its sheer, rock walls, there is no access through this rocky cleft, except by water craft, on the river itself.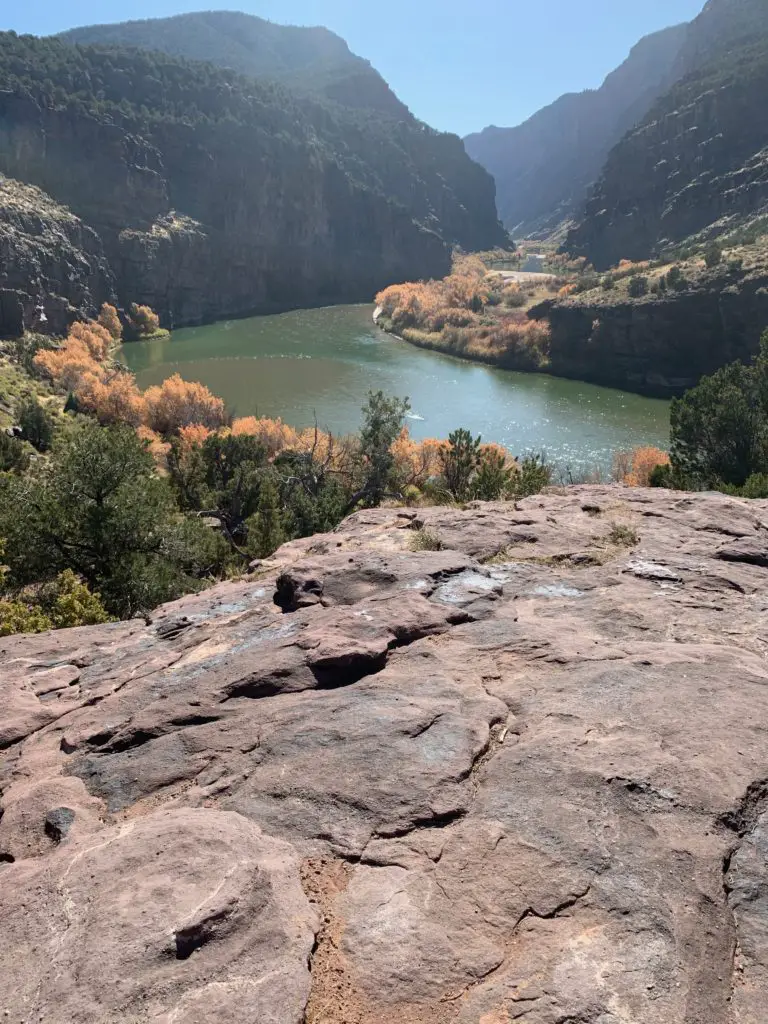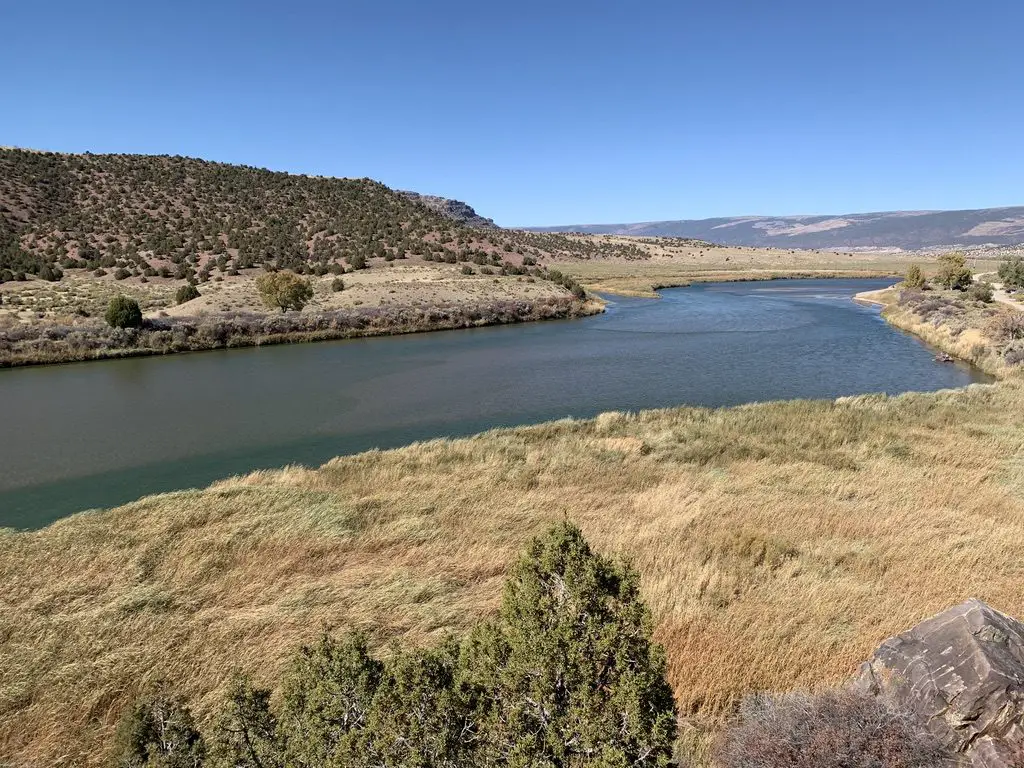 Crouse Canyon
We returned back to Vernal by way of the Crouse Canyon/Brown's Park Scenic Backway.  This is another route that cuts through a beautiful canyon, and then a meadowy area.  This road was one of the rougher routes we traveled on and was basically only one lane wide.  This was unexpected as it was listed as a scenic drive in one of the local tour brochures, and wasn't suggested to be high-clearance.  Our truck handled it easily, but had we known how rough it would be we would have aired the tires down, just for a smoother ride.  In good conditions, any SUV with a higher wheel base should be able to handle it (we passed a CRV or two) but I wouldn't suggest attempting it in a typical passenger car (just because there were some rocks and ruts that had to be navigated).  My Outback probably could have managed it, but we would have been extra cautious.  The drive was BEAUTIFUL though, with the yellow and orange leaf colors set against the red rock of the canyon walls, which contrasted with the blue of the sky above.  Click here for a short video of it!
We returned home on Monday, via US 40 east, through Craig, Steamboat Springs and Rabbit Ears Pass.  This is the one portion of northern Colorado we didn't get to see on our trip last year (have I mentioned how much I like tying up loose ends? 😉)  From there we took Route 14 north to Walden, then headed north to Laramie, Wyoming and back to the Black Hills.  FYI, this is a great way to avoid the traffic in the Denver area, and much of I-25, if you're heading north from northern Colorado!  It offers some great views too!
You won't find a better time to visit this park than Fall.  Tree colors are bright, crowds are light and temperatures are cool.  So the next time you're looking for a good autumn vacation spot, think of the out-of-the-way Dinosaur National Monument!
Have you visited this incredible place?  Tell me about your favorite parts of it in the comments!
Did you enjoy this post? Pin it!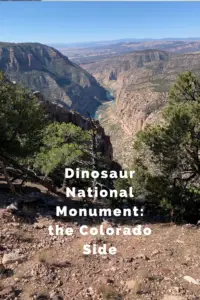 Like what you read here today?  Please feel free to leave a comment, like or share this post!  You can also follow the blog on social media by clicking the links below!