To celebrate our anniversary, last week, the Trekker's headed to Colorado, in what has become an annual voyage of sorts.  We started our trip in Boulder, as Mr. Trekker had some work-related meetings for a few days.  I got to play "freelancer", and work out on the balcony of our hotel room. 😋
We spent the remainder of our week at the Dinosaur National Monument, that spans the northern border between Utah and Colorado.  This is a cool place that we hadn't heard of until recently (you can learn more about it at the NPS website here.)  It is in a very remote area.  In fact, we think we may have finally found a place in Colorado where planes don't constantly fly over!
Boulder
This was my first time visiting Boulder, though I'd heard so much about it I think I girded myself well. 😉  It's a very nice town.  It reminded me A LOT of the place we used to live when we were in North Carolina.  I was rather proud that the heavier traffic didn't get to me too badly.  I wasn't used to driving with all the bike lanes, and these did give me serious anxiety.  I felt like it was just an added stimulus I had to keep track of while trying to navigate the busy traffic, and figure out where in the world I was going 😛.  There were also A LOT of boulevards.  While this is certainly aesthetically pleasing, I find it makes getting around town (or just simply turning around, or getting to a business that's on the other side of the block) difficult.
I will say this, for a larger city and busier place, I was pleased with how friendly people were here, especially when driving.  I never got honked at once and people were willing to let you in to a lane quite regularly, even when traffic was heavy.
Things to do in Boulder, including the Mork and Mindy House!
–I hadn't expected to miss seeing the mountains…being in a town that sits RIGHT NEXT TO the Rockies! 😛  Boulder might actually be closer to these peaks than we are to the Black Hills…and I can see those from our house!  There were just so many taller buildings and trees that blocked the view.  It seemed kind of sad to me, that people live in such a cool place and you don't get to enjoy its natural beauty every day…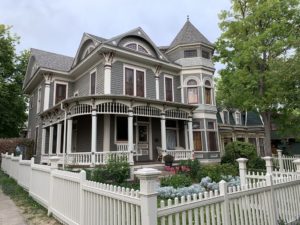 The town seems to be in an odd transition phase.  Some parts of it are "old school" and charming, with Victorian style homes (such as the one used in the tv show, Mork and Mindy, seen here!)  There is A LOT of new construction occurring, of very modern, industrial-looking, apartment, condo and office buildings.  While this type of architecture is cool too, I'm not sure about the mix of the two, especially when they're squished together like sardines.  It kind of felt like a smorgasbord of building design, and I'm not sure how I felt about it…🤔
–I can definitely understand why people live here.  It's very pretty and there's a lot of culture, nice restaurants, etc.  It seemed to cater more to those who ride bikes or walk, which is fine, I'm all about a green lifestyle that's full of outdoor time and exercise.  Parking was definitely a problem though.  I'm not sure if this may be due to the fact that the area has grown so quickly?  Unfortunately, there were multiple times when I couldn't get to a business or park that I wanted to visit due to there being no parking available nearby.
As I said, if locals mostly walk or ride a bike, maybe this isn't a big deal.  It doesn't make a visitor feel very welcome though.  I find it INCREDIBLY frustrating when I want to go to a place and all I see are "no parking" signs. 😡  Do people just "Uber" everywhere these days?  Yeah, I'm a child of the 80's folks, this old dog likes her car and likes to drive herself, thanks! 😉😜
–The only real complaint I had about the town (other than the traffic 😇) was when Target charged me 10¢ per plastic bag (and Safeway charged 20¢!)  I understand that the overuse of plastic is a problem, but don't just start charging me for bags without any warning.  I don't even mind using reusable bags that I bring from home, but I wasn't at home, was I?  It just felt, unwelcoming, frankly.
As an example of why, after paying, I realized one of my bags was a little heavy and I would have preferred to double-bag it.  So then I was faced with a dilemma…do I "steal" an extra bag?  Do I go through the hassle of trying to pay an additional 20¢ for ONE MORE BAG?  Or do I just risk there being a hole in my single layer bag and dumping my glass bottles all over the parking lot? *sigh*
–I had an interesting encounter with a Tesla…we were in a tight parking lot and I was getting back in our truck.  I was being VERY careful to not bump the fancy, shiny car next to me, when all of a sudden, the computer screen on its dash "woke up" and started scrolling something about "security" (there was no one in the car, mind you).  I'm assuming the machine was "sensing" my presence?  It was a little creepy!  I felt like I was dealing with Kitt from Knight Rider! 😜 (Yes, that was a 1980's TV reference, I just dated myself again didn't I?) 😋  I may not be cut out for this "brave new world" ya'll! 😋
And, because we apparently can't ever go to Colorado for our anniversary without it snowing, this is the–admittedly beautiful–sight we woke up to one morning… 😋 (it was 80 the day before! 😮)…
Dinosaur National Monument
On our route west, toward the monument from Boulder, we drove on I-70 through Glenwood Canyon.  That route through the Colorado Rockies has to be one of the prettiest sections of interstate I've ever been on.  Click here for a video of our trip through the canyon…
As long as you aren't intending to go on a rafting trip on the river, fall is known as one of the BEST times to visit this park.  For one thing, it's in the desert-scrubland that comprises northeast Utah/northwest Colorado, so it gets HOT in the summer (and you all know how much I "love" the heat 😜).  Also, it's far less busy this time of year and the tree colors are lovely.  We, actually, intentionally held off visiting here, until we could go in the Fall.
We spent our first day on the west (or Utah) side of the monument.  Here you will find the larger–and in my opinion better–Visitor's Center.  Also, if you're there for dinosaur bones (and why else would you be visiting?! 😉) this is the side to start on!
The Quarry Exhibit Hall at Dinosaur National Monument
This place was COOL!  Just an FYI, there's only a few established places where you can actually see dino bones at Dinosaur National Monument.  The town that holds the name "Dinosaur" is on the Colorado side of the park…but there aren't many bones actually viewable there. 😋  You have to go to the main entrance, which is found in Jensen, Utah (just a little east of Dinosaur, on US 40).  If you're there when its busy, there's a free shuttle that takes you to the quarry from the Visitor's Center.  If you're there on slower days (which we were) you can drive yourself.
We stayed at a lovely Air B&B in Vernal, Utah, which is about a 30-minute drive west of Dinosaur, Colorado.  This is the largest town in the local area and we were glad we chose it.  It offers easy access to any of the attractions in or around the monument, and also provides the most options for food and lodging.  If you're wanting to camp, there are several campgrounds within the monument itself, and there is said to be a nice RV park in Dinosaur (though I don't have any personal experience with that). 
The Quarry is AMAZING!  It's an enclosed building that was constructed over the site of a former paleontological dig, that contains massive amounts of dinosaur bones.  They were discovered in the early 1900's.  After much excavation it was finally decided to preserve the remaining bones as-is, and allow people to view them in their natural state.  It's thought that this was a place where large, flash floods occurred, helping to explain why so many bones ended up in such close proximity to each other.  I could have stayed there all day!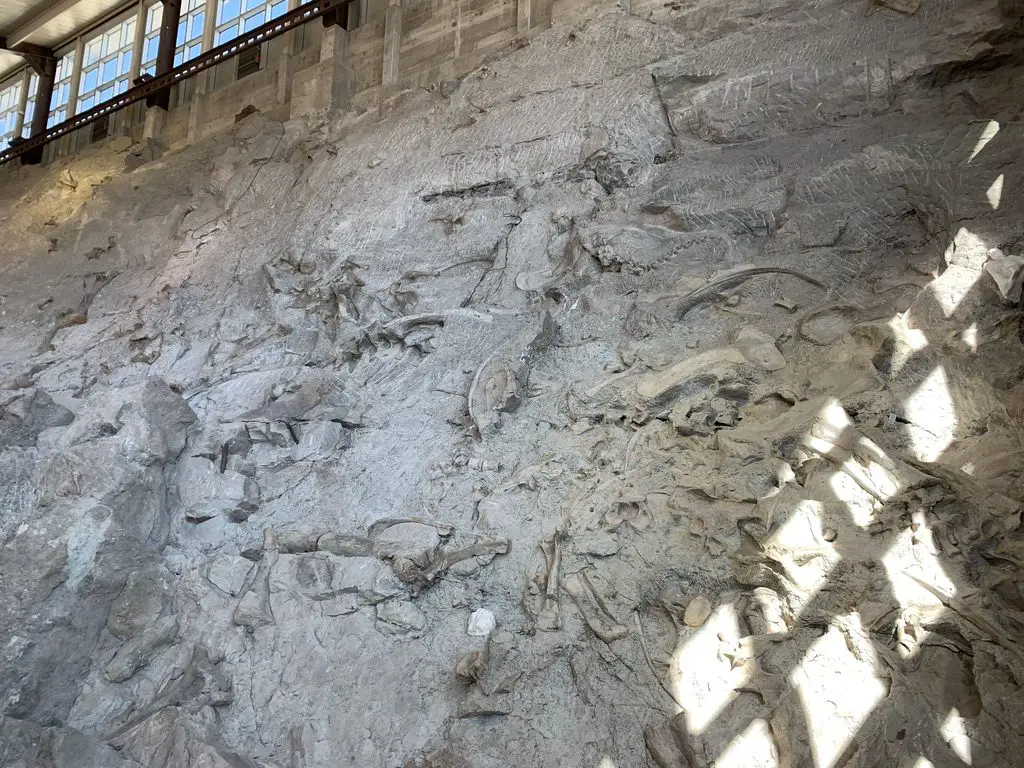 From here, you can also hike the Fossil Discovery Trail which shows some fossils that are still embedded in the rocks …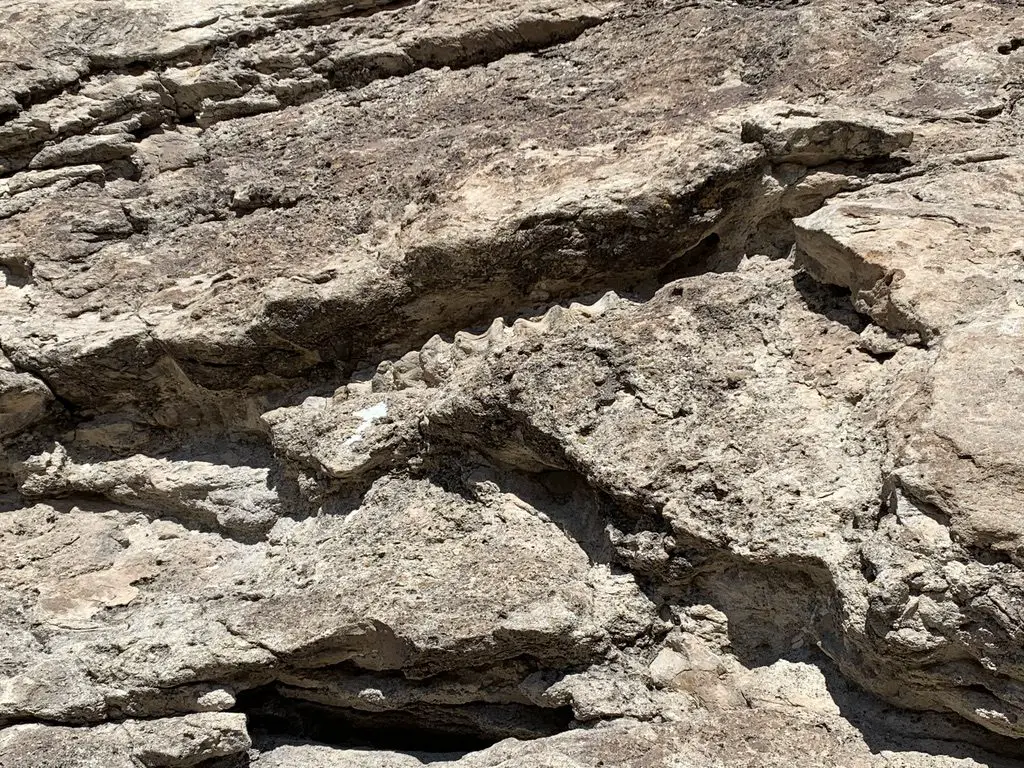 After leaving the Visitor's Center, we took Cub Creek Road through the park.  This is one of the only paved roads throughout the monument, and even it turns to dirt the final few miles. (This section is well-graded, though, and passable with any passenger vehicle under good conditions.)  It offers several opportunities to view petroglyphs and pictographs (these are the drawings and etchings that were left on the rock by the ancient people who first tamed this wild land).  I had seen pictures of these creations before, but had never viewed them in person.  Some were absolutely AMAZING! 
Aren't these incredible?!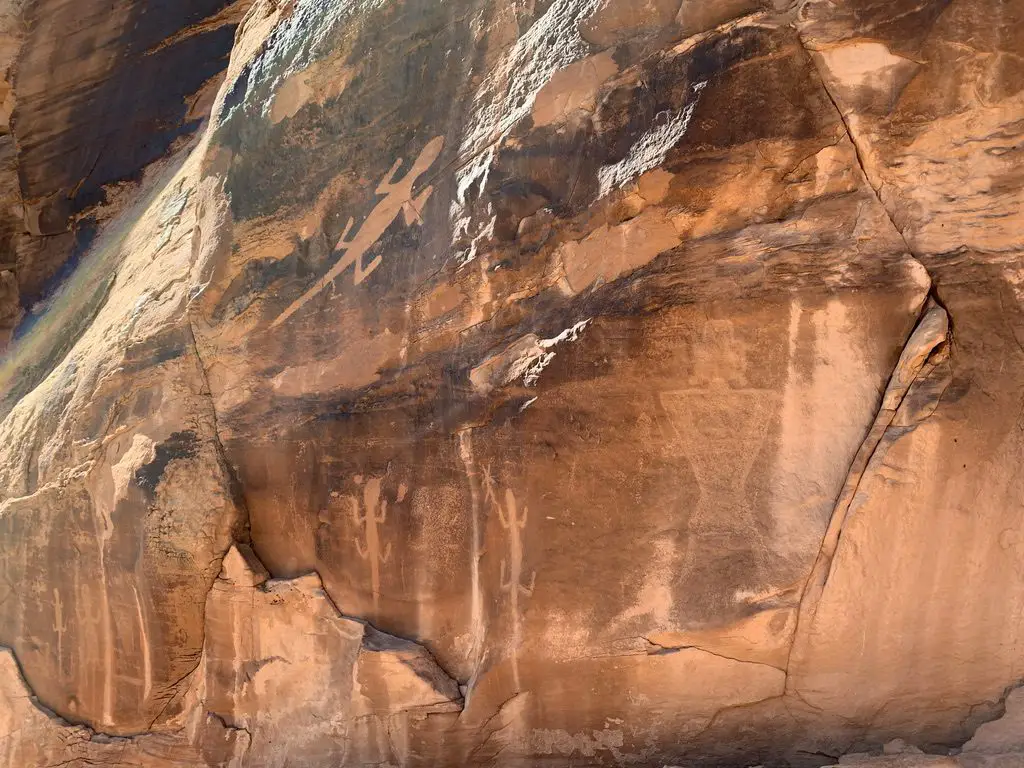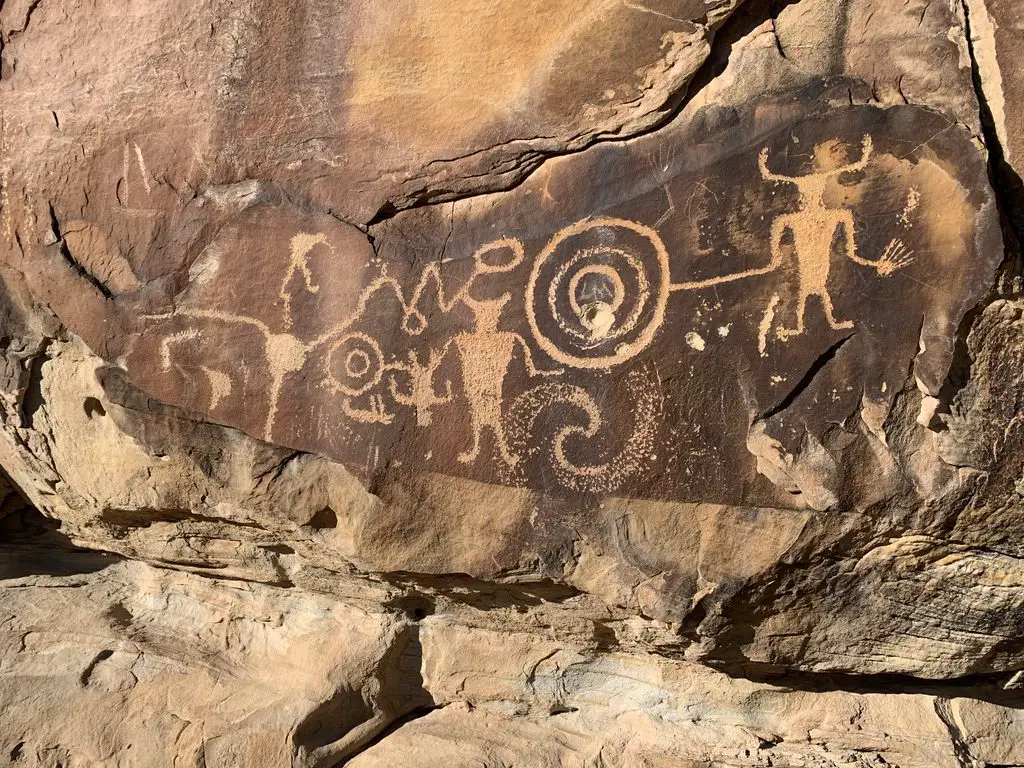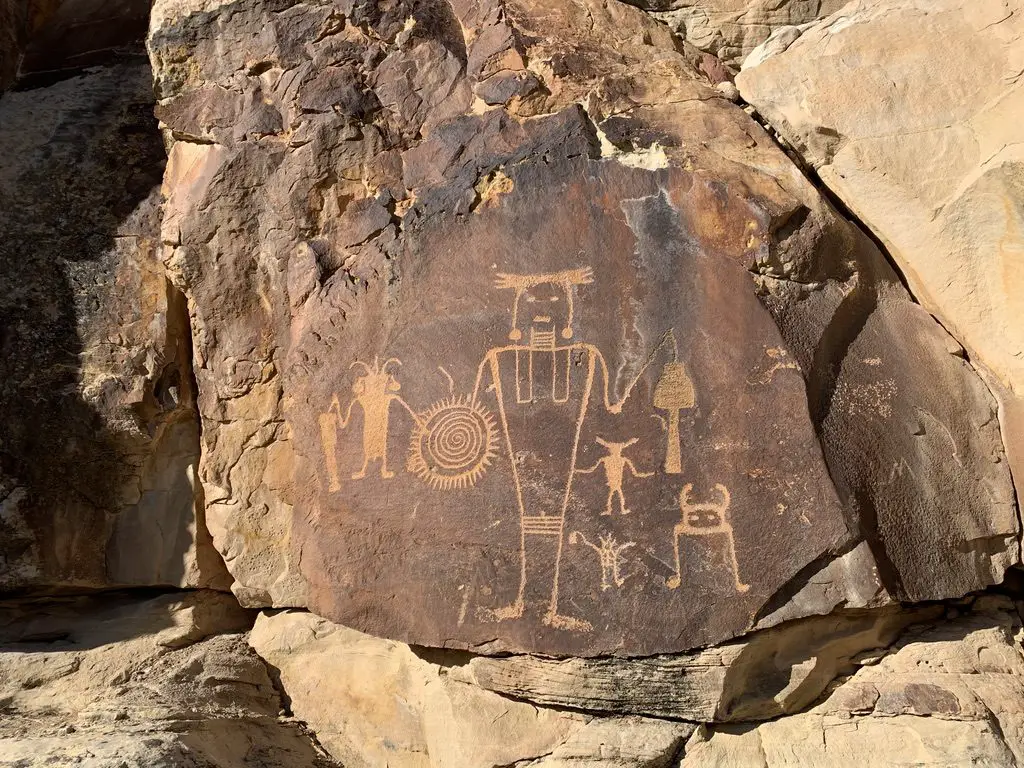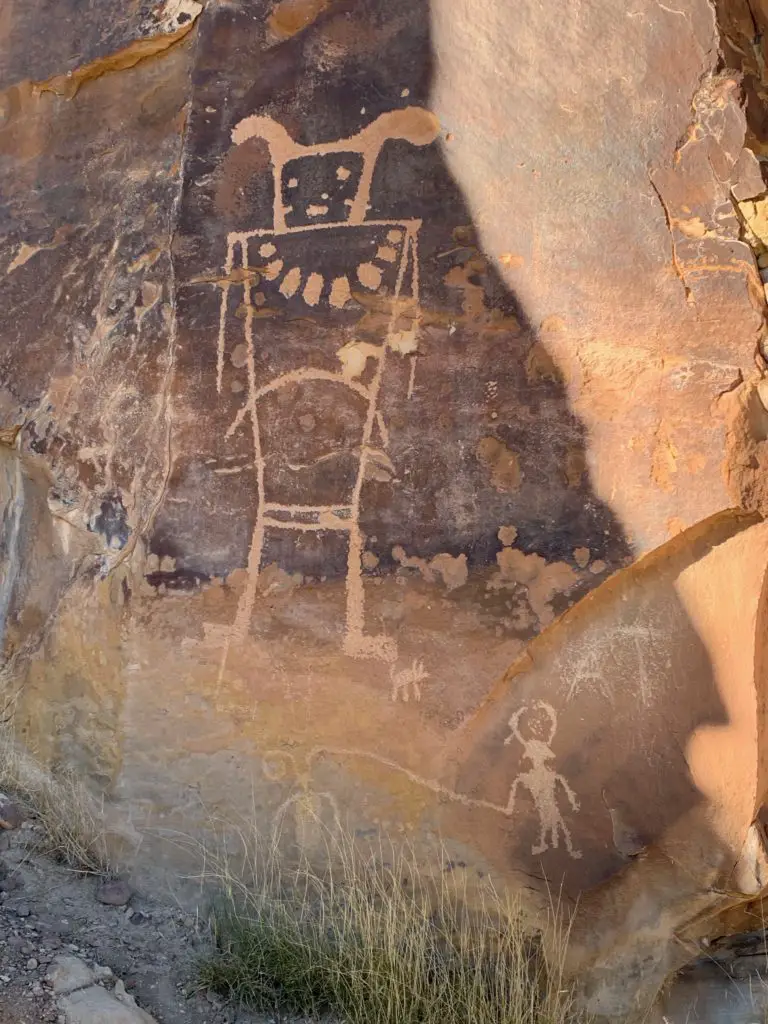 I'm sure they all had perfectly logical explanations (some of them can be found here) but some looked pretty "unique"…(I'm not saying it's aliens but…😲😉👽🖖) 
This road eventually takes you to Josie's Cabin, where up until the 1960's, a woman lived, by herself, until she was well into her 80's.  This was without electricity or running water, mind you!  We saw a lot of lovely tree colors in this area.  There were several easy hikes that ventured into box canyons that are known for being good for fall colors (they run right along rivers and streams and the cottonwoods that grow there are very pretty).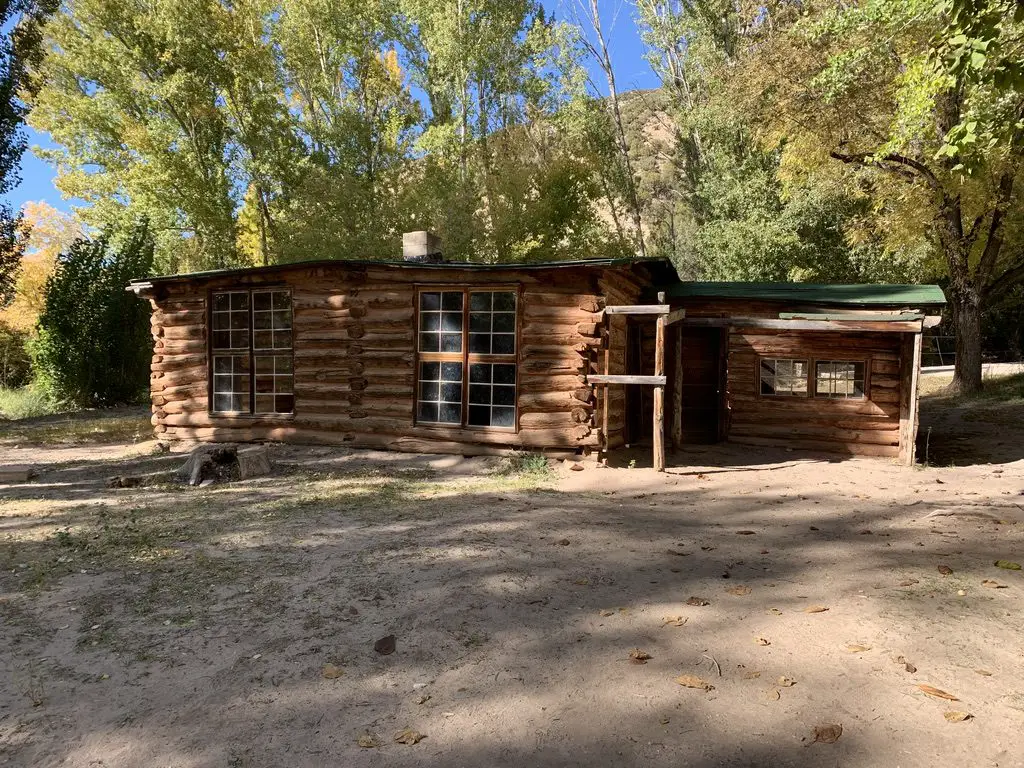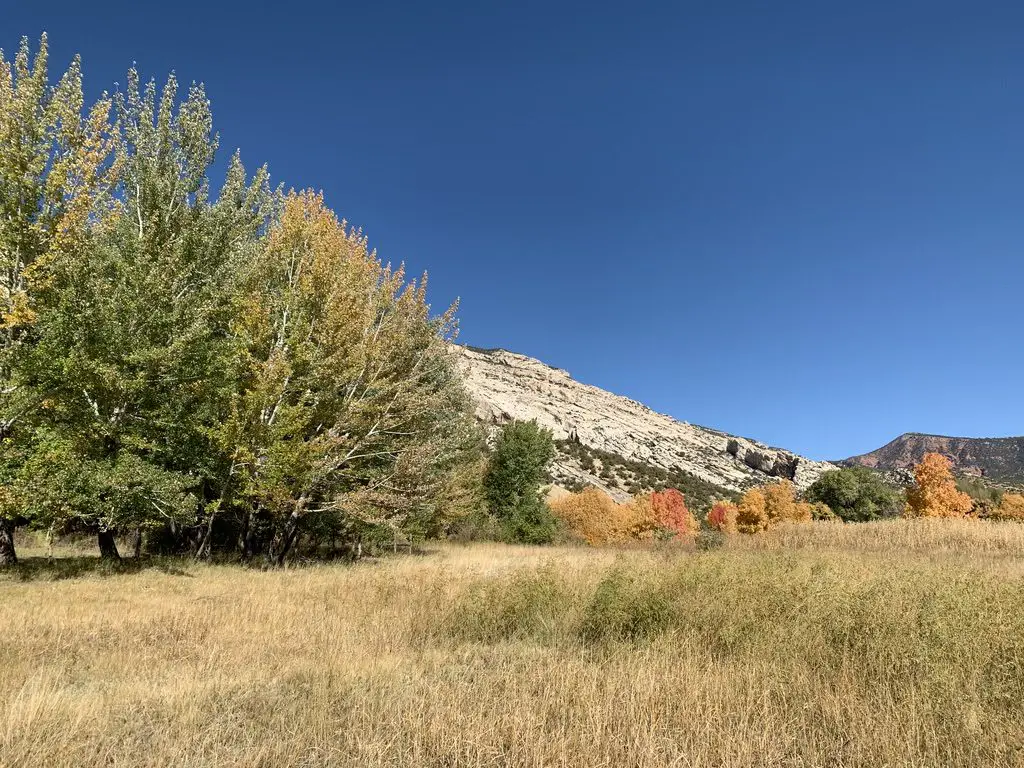 Island Park Road
This was another beautiful drive that is located on the Utah side of the park.  I thought this area had the BEST petroglyphs that we saw throughout the entire monument.  This road was dirt, and, according to the park office, is said to be "impassable" when wet. (It is suggested to only take high-clearance vehicles on this route, but, when we were there, any vehicle could have handled the drive).  We got lucky, as conditions were absolutely perfect throughout the duration of our trip, with clear skies.  So we were visiting under the most opportune conditions.  There were several areas we drove through that appeared to be dry creek beds, and looked like they could flood easily during wet conditions.  This is also an area that only has one way in or out, so if you drive in under dry conditions, and then a summer thunderstorm pops up…you could find yourself trapped!
Below are a couple pictures of the Green River as seen from this road…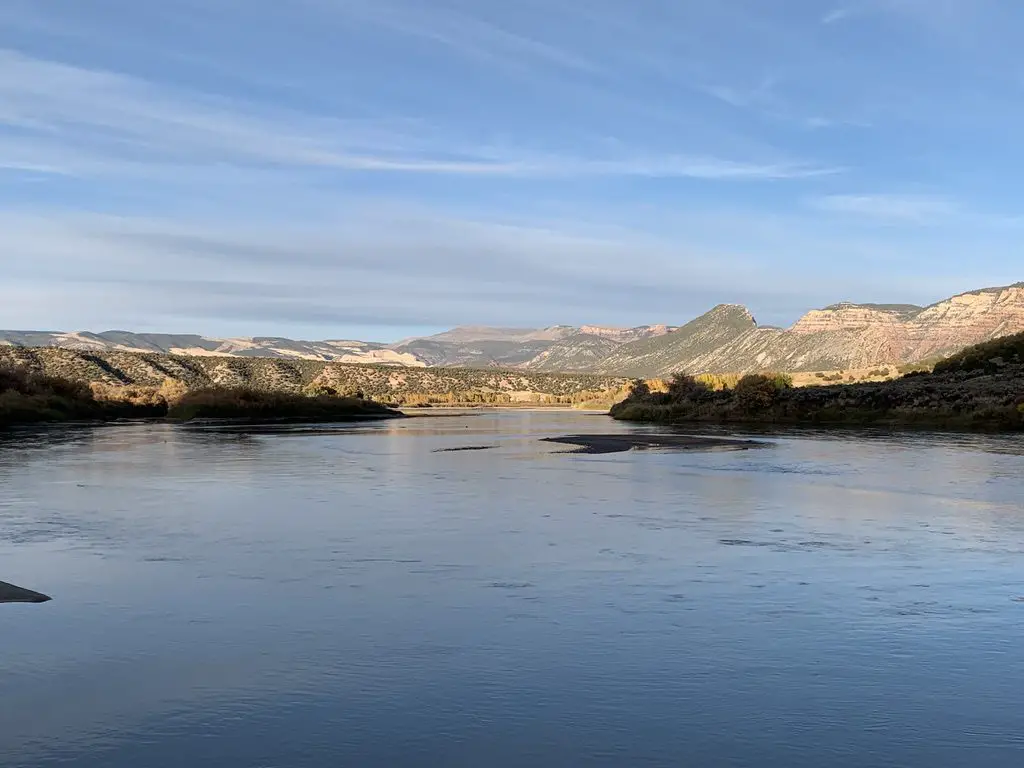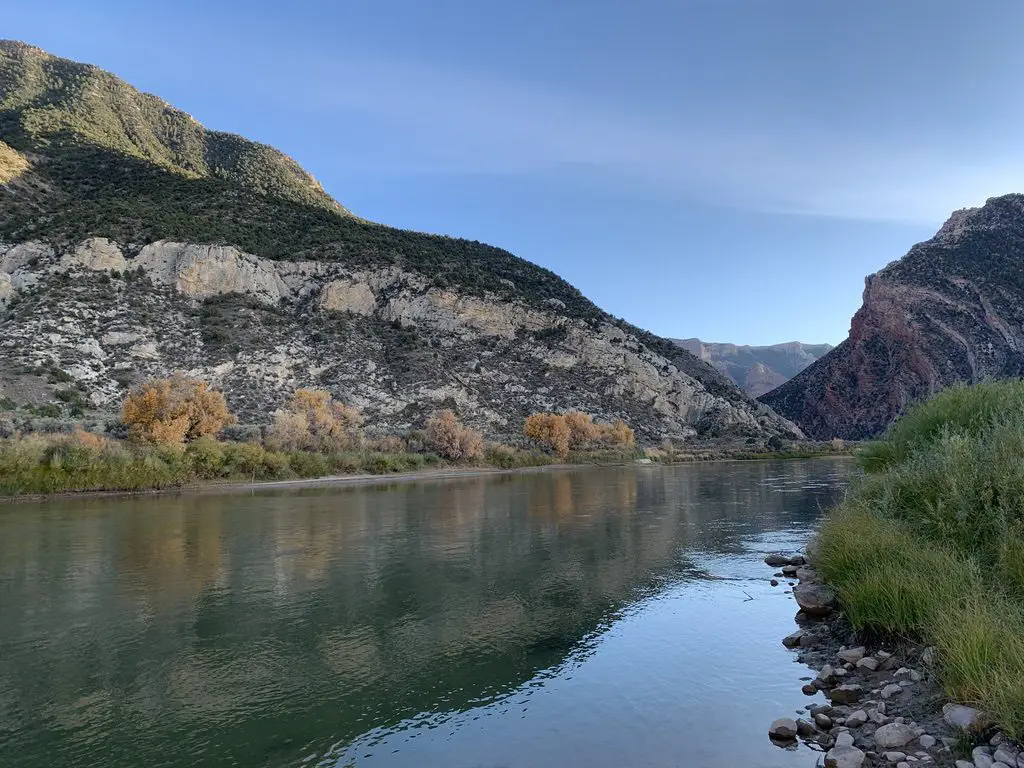 …and some of the scrubland around the monument (and thanks go out, as usual, to Mr. Trekker for most of these pics!)…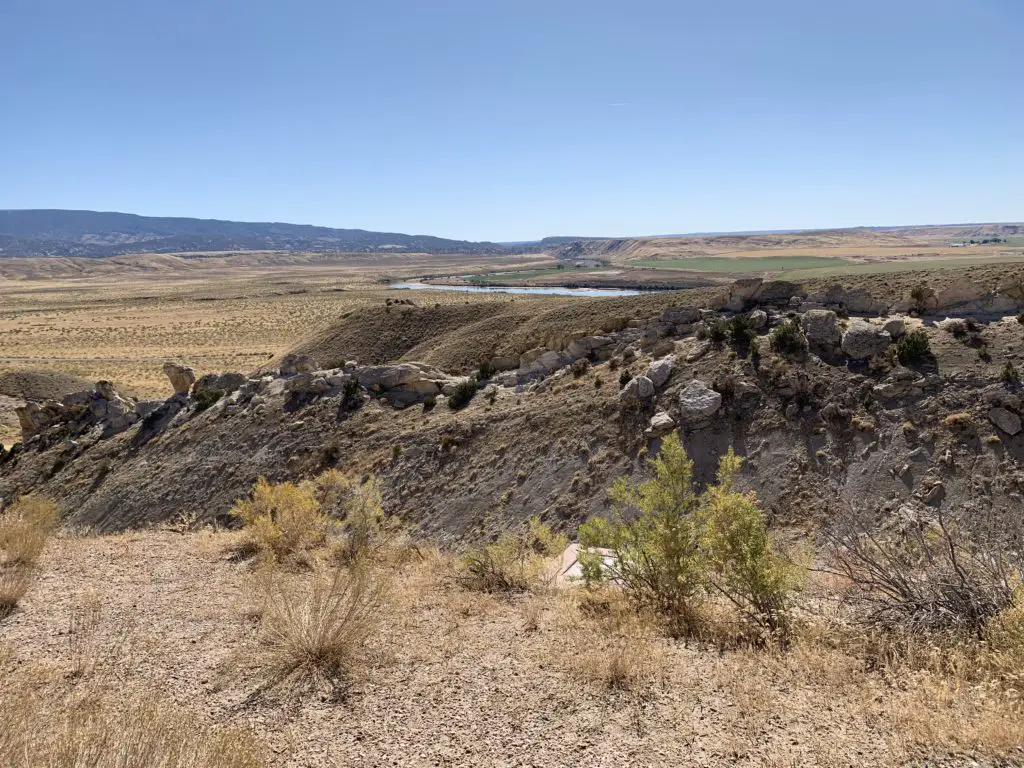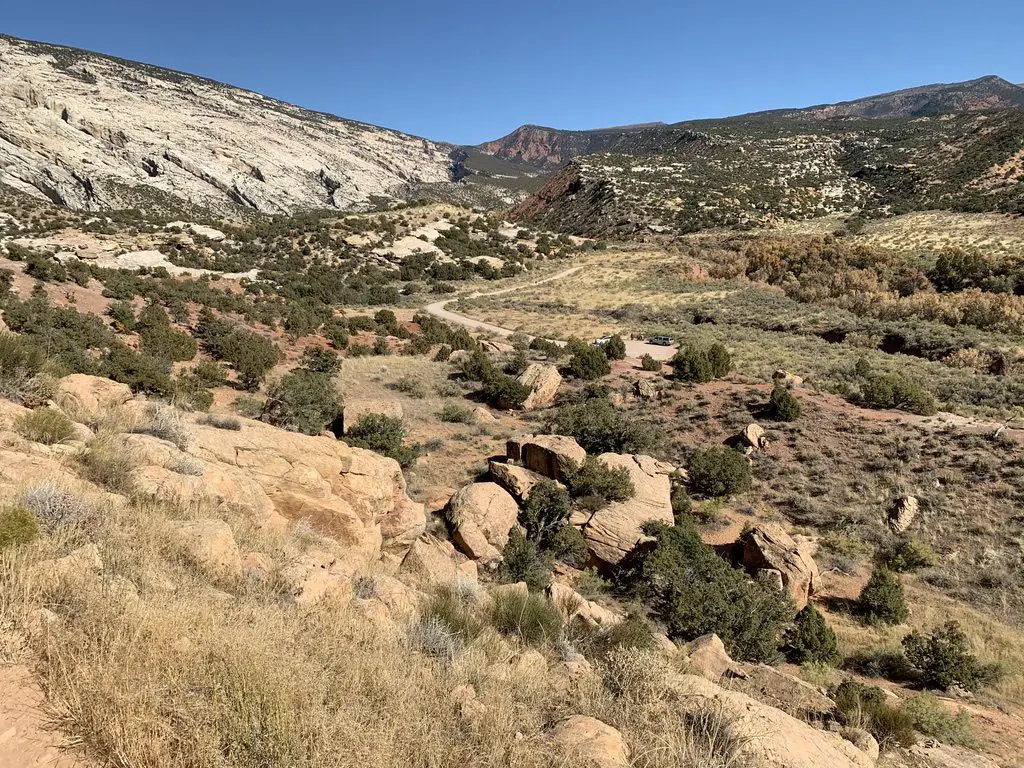 Sunset over the monument!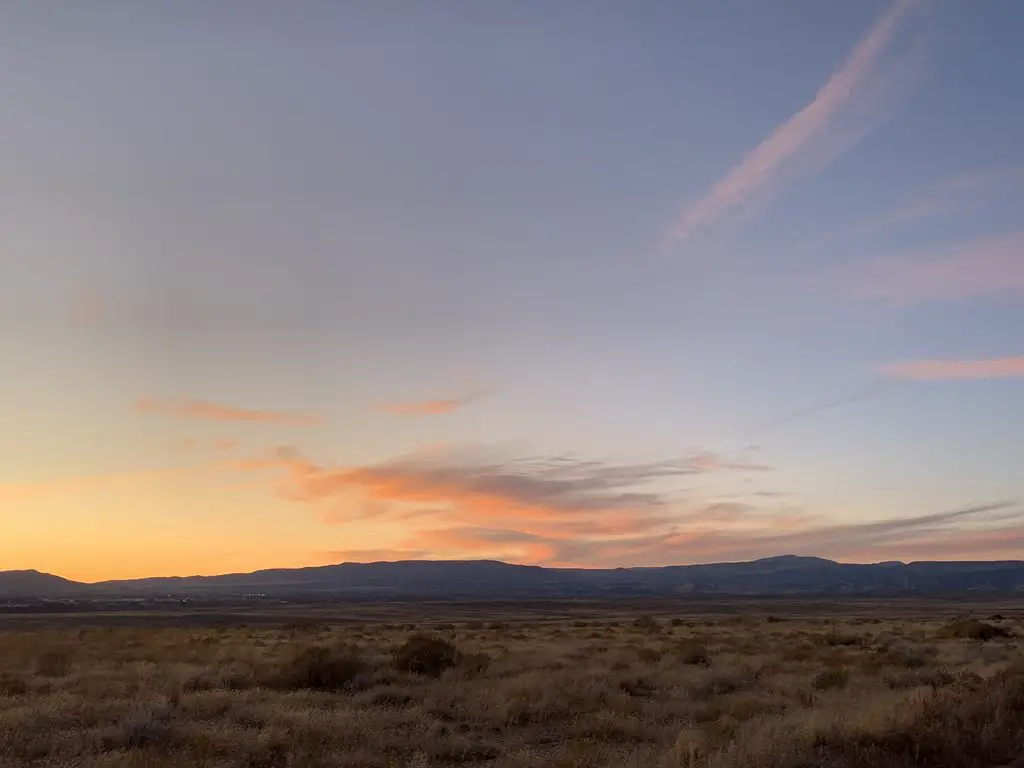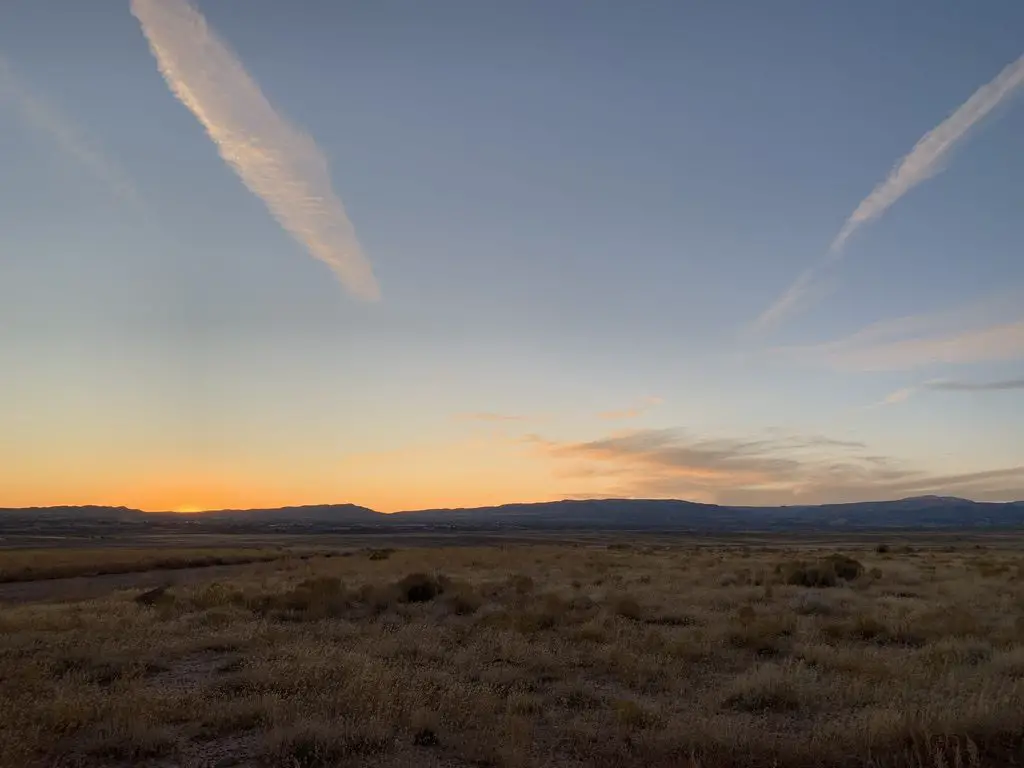 Have you visited this incredible place?  Tell me about your favorite parts of it in the comments!
Like this post? Pin it!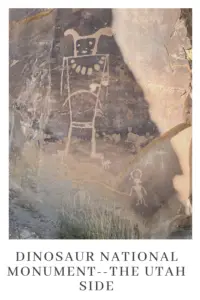 Like what you read here today?  Please feel free to leave a comment, like or share this post!  You can also follow the blog on social media by clicking the links below!