Author's Note:  I struggled with writing this post.  I don't want to give anyone the impression that I'm making light of the awful circumstances we've all been living through the last year.  I want to be clear that I believe COVID is real and that it is serious.  I know it is highly contagious (and that even the vaccines may not be a magic cure-all depending on how they handle new variants as they arise).  I am also fully aware the disease can have horrific results for people who fall victim to it.  I believe in wearing masks and social distancing for both my safety, the safety of my family, and that of the local community (the Trekkers have been wearing masks in public since March of 2020).  I also believe that vaccines are a net good and are important to try to get society back to functioning normally. 
However, the COVID experience for many of us in South Dakota was VERY different from what it was for many others in the US and the world.  With this post, I wanted to give an honest depiction of what the last year has been like from one person's perspective, from one very small corner of the world.  My family and I have been very blessed that we haven't suffered any extreme difficulties due to Coronavirus, for which I am VERY thankful.  I know that there are MANY people in this world who cannot say the same.  Each of us will have our own COVID story when we finally emerge from this crisis.  This is mine…
Welp, it's been a year since COVID started and the world ended (metaphorically speaking)…I CAN NOT believe it has been that long! 😮  Living through the last year has been nothing short of surreal.  One year ago today, I wrote a post about my current thoughts on the Coronavirus pandemic.  At the time, the disease was just starting to explode in the US and the world was basically shutting down.  There was a lot of fear and confusion.  No one knew exactly what was coming, how bad it would be or how long it would last.
Spring 2020 vs. Spring 2021
I have been feeling very pensive the last few weeks.  All the memories of what was happening last year at this time, and how worried and confused we all felt, seemed to come rushing back.  Last spring I remember feeling like everything was, literally, going to hell.  Everything just seemed to be crashing down at once.  So many people lost income, many lost their jobs (I did), and many lost their livelihoods.  So many people had their lives changed and things still haven't returned to normal…
…now here we are, one year out, and it feels like a miracle in so many ways!  Many parts of society are beginning to open up, the economy and jobs are coming back, and–in the US at least–vaccines are widely available.  The Trekker Parental Units and Mr. Trekker are fully vaccinated (they qualified early) and I'm scheduled for my second shot next week! 💉
In regards to the vaccine rollout in the US, I have to say that I don't want to hear people criticize the US healthcare system in comparison to those in Canada, Australia, or Europe/the UK any more.  The availability of vaccines and the orderliness with which their rollout has been handled here has been INCREDIBLE!  I don't care who is to thank, Trump, Biden, Drs. Fauci and Birx, it doesn't matter to me.  It's actually helped to restore this skeptical Libertarian's faith in her government just a little bit. 😮  
So today, one year out from COVID, I wanted to take a look back and see how things have progressed and how far we've come…
State Shutdowns for COVID
The Trekkers live in one of the only states that never officially shut down during the crisis.  Our local town had a minimal shutdown, for about one month, back in March of 2020, when this all began.  Basically, all that meant was most restaurants were only open for delivery/carryout or they had their capacity limits greatly reduced, and the schools went fully online.  However, that was just in our local city, put in place by our local mayor/city council.  A few other nearby towns implemented these restrictions as well, but not all.
Our governor never officially shut down the state and we never had a mask mandate in place (even locally) though many businesses have required people to wear them (or at least STRONGLY encouraged it) to shop there.
At this point, I feel obliged to mention that our "freedom-loving" Governor was adamant that people should be allowed to decide for themselves what was best for them and their families regarding their personal health throughout this mess (such as the wearing of masks and social distancing).  It's just too bad she doesn't show the same consideration to her constituents regarding the medicinal choices they make for themselves. 
Since last November, when the voters in her state passed a majority vote to legalize medical marijuana (passed with over 70% approval) she has actively worked to hinder the implementation of this new law.  It seems that she only supports peoples' freedoms when they choose to engage in an act that she agrees with.  She fights against their freedoms regarding something that could potentially help many sick people or those in pain, and that poses virtually no risk to others.  This strongly riles my Libertarian leanings. 😡   Governor Noem, the people of your state need you to do better!  (Now back to your regularly scheduled program. 😇)
A Year with COVID in South Dakota
As I said earlier, the only word I can think of to describe what the last year has been like for me is "surreal".  Living in western South Dakota watching COVID explode throughout the world felt like watching a natural disaster occur someplace else, far from here.  I KNOW it's happening; I KNOW it's real, and I have SO MUCH compassion and sympathy for the people who are suffering through it.  It just seems like the chaos always happened "somewhere else", for which I am incredibly thankful.
The Bad News
It's now time to address the VERY large elephant in the room and acknowledge that there are probably few people in the US who haven't heard about South Dakota throughout this pandemic.  Unfortunately, most of that news wasn't good.  Our state ranked very poorly in the overall statistics of the virus:
1 in 500 South Dakota residents died from COVID in the last year
1 in 8 residents have had the disease
Around 10% of the total South Dakota population has been infected with COVID.
Admittedly, these numbers are NOT good.  The strange thing is, it never felt like we were living in a state that had some of the worst COVID numbers (and we do live in the second most-populated portion of that state).  It's surreal to feel completely disconnected from a crisis while living in a state that, according to statistics, has been one of the worst-hit by said crisis.
It was a little scary at first, mostly because we didn't know how bad things would get, just how contagious the virus was, etc.  For me, the scariest part was the day I went to Walmart and there were bare shelves, like A LOT of them. (I realize this very much falls under the realm of "First World Problems", but I have never experienced that before.). I never really thought our country was going to run out of food, per se, but I was concerned that trucks may not be able to get through as easily so supply would be an issue, especially for us way out here in the middle of nowhere. (As it turned out, with the exception of toilet paper, Bounty paper towels, shelled edamame, and hand sanitizer, that never ended up being a problem–thankfully.)
The Good News
That first day at Walmart I could tell people were scared, but since then, we've all pretty much learned to live with the virus and people are just carrying on with their everyday lives. (The biggest impact I am aware of is the parents who were highly stressed by schools having their schedules altered so greatly.)  Regardless of what the statistics might say, in a lot of ways we got VERY lucky with our COVID crisis in South Dakota.
Basically, since the middle of last April, when you went out in public here, stores and restaurants were busy, people were smiling, laughing, and chatting with each other. (Once things opened back up, aside from schools being fully-online last spring, the masks many were wearing, and the occasional social distancing measures at restaurants, you almost wouldn't have known there was a pandemic going on.)
Many people wear masks, though not all (the Trekkers have been wearing masks religiously since last March.)  Our local city council tried to pass a mask mandate twice, both times they failed and eventually they gave up.  Some restaurants did, and still do, adhere to lower capacities with patrons spread farther apart, though not all (the Trekkers stick with the ones that follow social distancing guidelines.)
South Dakota's COVID Vaccine Rollout
I believe in giving credit where credit is due.  As bad as our statistics were for COVID rates, South Dakota is doing VERY WELL with its vaccine rollout.  We are currently ranking #6 in the nation for getting the vaccine out to residents.
Again, this feels so surreal.  I am still reading about schools that have remained closed and lockdowns that are still in place in many other parts of the US and the world.  It seems like such a far cry from what we have experienced here.
In South Dakota, most people seem almost bored with the virus.  Our local public schools have been open since September!  They have had occasional transitions to all-virtual learning for short periods of time, in individual schools, when cases increased dramatically.  They have also altered between how many days/week they spend in the classroom vs. virtual learning days. Hybrid classes are an option for students/parents, as well.
Mr. Trekker has also been having classes in person since this fall.  His classes have been a mix of hybrid and fully-virtual depending on various factors, but we have seen very little negative fall-out for the community since allowing the students to physically return to campus. (His school imposed far stricter social distancing and mask requirements than the general community, which I'm sure helped.)
I find it hard to say all this without coming off as tone-deaf, and that is not my intent.  I just want to explain what my pandemic experience felt like from our little corner of the northern Great Plains.
Living in the Middle of Nowhere During COVID
The truth is I have no idea how we've been so lucky here.  By all reasonable assumptions, our results should have been awful.  I'm sure most of you are aware of the infamous events that went on here this summer despite the pandemic (President Trump and our governor hosted a large firework show at Mount Rushmore and the annual Sturgis motorcycle rally went on pretty much as usual.)
Many here seem to just be "tired" of COVID and relatively "over it." Many public places have stopped implementing strict social distancing protocols (though not all) and I see PLENTY of people wandering about without masks.  I would say that attitude is awful; however, we saw no swell in cases after either Thanksgiving or Christmas, even though there were no restrictions on group gatherings in place.  Our cases have remained fairly steady and low for months.
I don't know why it hasn't been "that bad" here.  Some studies are starting to suggest we may be benefiting solely from our low population density.  We are one of the least-populated states in the country.  We also had a mild winter so perhaps people were able to get outside more?  I know very few locals who have actually gotten sick.  I've known many more people from back home in Indiana (both family and friends) who have been struggling with the virus.
I can't explain it.  Here in South Dakota, we're basically doing everything wrong.  We were told our rates of infection were some of the worst in the nation, if not the world, yet we didn't really see any negative effects from it.  Our hospitals were pretty crowded for a few months.  Some people were sent to other states for treatment (however, that happens with other conditions on a normal day anyway, we just don't have the specialty hospitals in our state to accommodate certain conditions.)  But the field hospitals that they were preparing to build at the local National Guard base last spring were never needed.
Our experience just seems SO DIFFERENT from that of so much of the rest of the country/world, surreal is the only way I can describe it.
Mindfulness in the Midst of a Worldwide Pandemic
I think it's important to be mindful of how the pandemic ACTUALLY played out vs. how the experts feared it might end up one year ago.  There have been more than 550,000 deaths in the US from COVID, and to be clear, EVERY. SINGLE. ONE. of these is awful!  However, last year at this time they were projecting as many as 2.2 million deaths in the US alone, and that was with social distancing protocols being implemented.  I don't mean to make light of the tragic losses that have occurred, but this FAR lower statistic is a pretty amazing feat!  It is a testament to the scientists, researchers, medical professionals, and technology we have available to us at this point in history!
One year out we can see so much good that has happened!  Vaccines were produced in an absolutely unheard-of, record time.  So many people bound together to help each other get through this crisis, from wearing masks and social distancing in public to those who volunteered their time to make masks for local schools and hospitals.  Others ran errands for people who felt they couldn't go out.
I think a lot of the world's goodness has been shown in the last year.  I know I've learned a lot, both about myself but also about the reality of country-wide/worldwide crises:  how they proceed, how people react to them, the good and the bad.
A Light at the End of the Coronavirus Tunnel?
The Coronavirus pandemic isn't over yet.  We seem to be nearing the end of this very dark tunnel but we still have a ways to go.  I'm so thankful for how far we've come and what we, as humanity, have been able to achieve.  Unlike last year at this time, I actually have pretty high hopes for the next year!
What has the COVID crisis felt like where you live?  Share your experience in the comments!
Did you enjoy this post?  Pin it!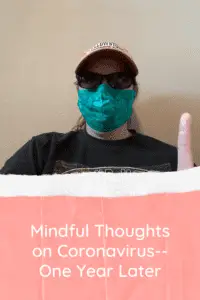 Like what you read here today?  Please feel free to leave a comment, like or share this post!  Add your email at the bottom of the page, or the sidebar to the right, to be notified when a new post is published.  By signing up for the email list, you will also receive a free copy of the Tranquil Trekker's Top 10 Tips of Trekking Do's and Don'ts!
You can also follow the blog on social media by clicking the links below!