4Ocean is a pretty cool business!  I originally heard about them on Facebook.  You can visit their website here.  They sell bracelets made from recycled materials (the glass beads on the bracelets are made from recycled glass).  
The profits from the sales are used to clean plastic from oceans around the world.  They claim, for every bracelet bought, one pound of plastic is pulled from the ocean.  The company also employs local crews to help with the cleanup so, on top of making our oceans cleaner, they're also supporting local businesses all around the world.  The bracelets are appropriate for all and are adjustable (they can be worn on the ankle as well).
Each month, they choose a different sea animal to focus on.  It may be whales or green bracelets for sea turtles. (I bought the generic, blue one for myself as a "congratulations-on-starting-your-freelancing-path" gift because, I'm partial to blue. 😊)  The bracelets are $20 each and I received mine in about a week.
Full disclosure:  I have seen some criticism online regarding this company because they are for-profit.  My view is, while I'm a BIG supporter of nonprofits, this is a grass-roots company that's doing serious good in multiple ways around the world, I'm perfectly happy supporting them.
See below for a few pics of my newest acquisition:
Do you have a 4Oceans bracelet?  What do you think of it?  Tell me about it in the comments!
Did you enjoy reading this post?  Pin it!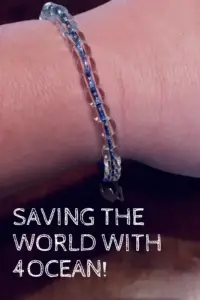 Like what you read here today?  Please feel free to leave a comment, like or share this post!  Add your email at the bottom of the page, or the sidebar to the right, to be notified when a new post is published.  By signing up for the email list, you will also receive a free copy of the Tranquil Trekker's Top 10 Tips of Trekking Do's and Don'ts!
You can also follow the blog on social media by clicking the links below!