The Trekkers are a family of three again!
After our long-time dog crossed the rainbow bridge, we adopted a new, furry family member from our local Humane Society.  It had only been a few months since the death of our other dog, so I wasn't quite sure if I was ready for a new pup just yet. 
However, we didn't want to wait too late into the fall as it would be harder to exercise a young pup during those darker, colder days (we knew we wanted a younger dog).  We also didn't want to have to wait all the way until the next spring to grow our family again.  I'm glad we adopted our new friend when we did though, as she had SO MUCH energy.  It was nice that she was able to run around the backyard for a few months before the snow started flying and we were cooped up inside more.
At first, I felt really guilty about "replacing" our old friend.  But seeing the differences in the personalities between the two really helped to ease the pain.  Each one is definitely unique.  I found that we didn't "replace" one friend with another, we just made room in our hearts for another who needs us.  I can love them both, in different ways. 
Our previous dog had a large amount of energy and an incredibly dynamic and dominant personality.  Let's face it, she was a bit of a handful.  The new pup has energy too, but it seems to be more just a usual "puppy" spirit.  In general, she is more compliant and easier to train.  This is lucky for us, as things seem a bit easier.  It's unlucky for her though, as we know better training techniques after being used to a "difficult child". 😉  
Puppy Particulars:
It was a bit of a change, going from a 14-year-old hound dog who was happy to sleep on the couch all day, to a 7-month-old puppy, bounding with energy.  We had also been spoiled by our previous friend, she had come to our home fully potty-trained.  Our new arrival (who will subsequently be known as "Puppers" 😉) didn't make it that easy on us.  Fortunately, she learned quickly that the weird humans she lives with make "happy noises" when she goes outside to take care of certain urges. 😋
We don't know a lot about her history, other than she came from one of the nearby Reservations and her previous owners were kind enough to surrender her to the shelter when they felt they wouldn't be able to care for her anymore.
She's a mix of many "flavors" of pup.  The vet told us "Shepherd mix", though apparently, she has "Beagle eyes" (figures, that was the ONE breed I wasn't crazy about–only because of the bark.  Fortunately, now that she's discovered her voice, I can happily report that it doesn't appear that she inherited that particular gene. 😅) We also heard she could have Carolina Dog and various Currs in her.
Eventually, we did a DNA test which confirmed…she's a mutt! 😂  Supposedly she officially has combinations of shepherd, Golden Retriever, St. Bernard! and some drops of cattle dog, among others.
She's a timid little thing.  She's very sweet, she's just a little afraid of strangers, and loud noises, and it took her a good while to warm up to Daddy (unless he was sitting on the couch downstairs in which case he made a perfect pillow. 🙄)  We get the impression she never lived in a house before, and very likely came from a quiet, secluded area.  This is because we noticed she was originally startled at any loud noise, including cars driving past or children yelling from nearby yards.
It didn't help that we brought the poor thing home during one of the loudest weeks of the year in the Black Hills, the Sturgis Motorcycle Rally. 😝  I can imagine it would have been pretty overwhelming, to move from such a quiet place to the second most-populated region in the state.  She did adjust quite well, though.
Puppers enjoys pats from the neighbor kids, though she seems to prefer having a fence between her and them as protection…for her. 😉  She absolutely LOVES other dogs.
The deer, rabbits, squirrels, and birds that frequent our yard were in for a surprise.  Previously, they only ever had an elderly, arthritic dog to deal with.  She'd put up a good show of chasing them, but everyone knew her heart wasn't really in it anymore.  Now they've got a young one with speed, agility, and energy (not to mention a healthy prey instinct) so they're learning they need to actually move out of her way. 😂
This pooch is also OBSESSED with socks.  If I put some outside on the drying rack, she carries them around the yard! 😝  She REALLY loves them if they're still wet and sweaty. 🤢  She's also FAST and LOVES to run!  She makes good use of our fenced-in backyard!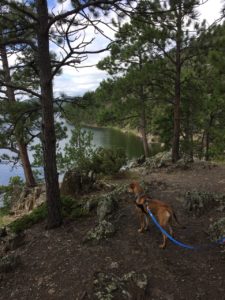 Our pup doesn't seem to have quite the same stamina as our old, hound dog, though she enjoys the many hikes we've taken her on in the nearby Hills.  She has also learned to enjoy cars, including the camping trips, visits to the drive-in and storm chases we've taken in them.
Her one nemesis has been doorways.  It took her almost a year to stop fearing them (though she LOVES her crate/"she-shed").
We did have to teach her to walk on a leash.  At first, she wasn't sure about this tether that connected her to these strange people, but with a good harness, some practice, and a lot of patience, she learned that walks can be fun ways to enjoy new smells, people, and especially other doggies around the neighborhood.
Training the Terror: 😂
I have to say, this made me appreciate what the struggle must be in raising human children. I was barely capable of handling a puppy with the energy and mischievousness of a toddler! 😝  She wore me out those first few months!  We're lucky that she slept through the night.  It took several months, but she finally stopped waking up around 5:30 am to play.
She was also a digger 😝 in those early days, and she enjoys finding things around the house and yard to chew on that may or may not be potentially harmful to her.  Yikes!  😮  I think I'm growing those eyes in the back of my head. 🙃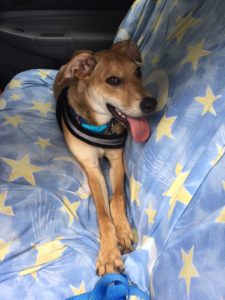 I read a puppy training book called The Power of Positive Dog Training† by Pat Miller.  I really liked it!  The author subscribes to the "positive" training method which employs the use of rewards (or lack thereof) rather than true punishments. 
To give you an idea of her theory on the matter, she believes in using rolled-up newspapers in only one situation.  If the puppy goes potty in the house (or otherwise tears up something it shouldn't) you are allowed to use the rolled-up newspaper to smack yourself on the head and repeat "I need to supervise the dog better". 😂 
I really like this method.  It's essentially based on the idea that a dog is a dog, they're going to do what dogs do.  It is our job, as the species with superior intellect, to show them how to fit into our world.  Dogs are never intentionally "bad" or spiteful.  All they can do is behave like a dog.  They only have bad owners or bad training. 
There are no "bad" behaviors, there are only mistakes, miscommunications, misunderstandings, or painful memories of past experiences.  Understanding that each animal comes with its own insecurities and histories (some of which may have been pretty negative) helps you to be more patient and understanding when they don't always behave the way you want them to.  
Rescuing a furry friend:
This is the second rescue dog the Trekkers have adopted.  Rescuing a pet is an incredible thing but it comes with commitment and understanding.
Usually, a rescue dog is bringing with it some emotional baggage.  Generally, the only way to avoid this is if you get them as young puppies, who were surrendered or found under the best of circumstances.  Even then, they sometimes suffer issues from being separated from their mothers too early.
Unfortunately, many of these dogs are older and have been abused, abandoned, or neglected.  Some have lived on the street all their lives, fending for themselves and never knowing kind, human hands.  That doesn't mean they aren't worth your time and effort though.  Once they learn to trust you, rescue dogs can be some of the most loyal and loving companions.  And sometimes, it can be really nice to get a dog who's past the chewing, puppy phase! 😝
Our old dog had been with her person for almost two years and was then surrendered to the Humane Society down in North Carolina.  We didn't see any evidence that she'd been abused or neglected, but she had separation anxiety from being left at the shelter (this is common for adult dogs who are surrendered).  She also had a strong fear of children, unless she got to know them well and slowly (there were a few friends' kids who she got to know as babies that she absolutely LOVED!)  We don't know why she had this fear, but she had obviously had a negative experience with kids before she came to live with us.
Animals aren't that different from people.  They each have their own personalities and their own pasts.  We need to be sensitive to that.  I don't say any of this to dissuade anyone from rescuing a pet, they can honestly be blessings to your family, you just have to be prepared for what you may be in for.  You will probably have to clean up someone else's mess and teach the animals there is a better way of living.  But they will ADORE you for the rest of their lives.  It doesn't matter how badly they've been treated in the past, all that matters is that you are their opportunity for a brighter future.
There are several rescues around our local area, many of which focus on animals from the local Reservations.  Unfortunately, there's a large problem with strays and pet overpopulation in those areas.  Many of the rescues are non-profits, run by volunteer Tribal members who do an incredible job.  The adoption fees go to help rescue more animals, as well as to help provide low to no-cost vet care for people who live on the Reservations, who want to keep their animals but struggle with vet costs.
We ended up working with the local Humane Society rather than one of the rescues, as that shelter was closer to our location and their adoption procedures are less complex (such as no home visits.)  I understand why the rescues make the application procedures strenuous, they want to make sure the animals find committed, forever homes.  But with the distance we'd have to travel to access these organizations, we opted for our local site instead.  Oftentimes, dogs from the reservation rescues end up at our local shelter when the other rescues are full.  The local Petsmart and Petco offer their adoption events through these agencies, as well.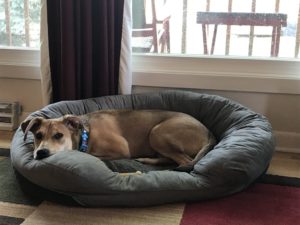 If you live locally to the Black Hills, and you're looking for a furry friend to add to your family (a cat, a dog, and sometimes other critters such as hamsters, guinea pigs, and even roosters or snakes!) I strongly encourage you to check out one of these local rescues (or Petsmart/Petco on their adoption days):
Humane Society of the Black Hills
Battle Mountain Humane Society
I'm not into clichés much, but in this case, I'll make an exception.  Unless you're looking for a specific breed of dog for working or show purposes and you need a breeder, PLEASE, #adoptdontshop!  You may be saving a life, and they'll happily rescue you right back!
Have you ever adopted a pet?  What was your experience like?  Tell me about it in the comments!
Did you enjoy reading this post?  Pin it!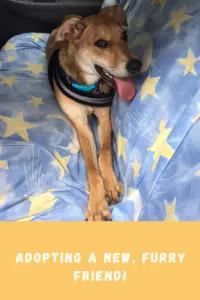 Like what you read here today?  Please feel free to leave a comment, like or share this post!  Add your email at the bottom of the page, or the sidebar to the right, to be notified when a new post is published.  By signing up for the email list, you will also receive a free copy of the Tranquil Trekker's Top 10 Tips of Trekking Do's and Don'ts!
You can also follow the blog on social media by clicking the links below!
†As an Amazon Associate, I earn from qualifying purchases