The Trekkers are two months in, to our lower carb lifestyle.  We're still plodding along (I think the newness of it is wearing off a bit, though I'm excited that we've stuck with it this long).  We've tried several new recipes again this month.
More fun low-carb meal ideas!
Stuffed Peppers:
These are AMAZING! (And this is coming from someone who doesn't like peppers.)  Most people make them with green peppers (I think?)  I chose to go with red, orange and yellow because–as I mentioned before–I don't like peppers. 😝  I hoped these would taste sweeter and possibly have a lighter flavor (and they did!)  There are numerous recipes for this, some are for enchilada, some for Philly-cheese varieties.  I kind of made up my own concoction.  
I combined ground turkey with dried onions and garlic salt and then added diced tomatoes (the kind with peppers, onions, and celery mixed in).  I cooked all that together, then stuffed them in the peppers that I cut in half and de-seeded.  I added a little cheese on top and cooked them for about an hour. (You don't have to cook them a full hour, it kind of depends how tender you want your peppers to be.  I like them super tender–bordering on soft–so I cook them longer.)
To finish, I added another layer of cheese and baked them a few more minutes to finish them off.  (I know, this isn't exactly paleo-friendly, with the cheese, but it is keto-friendly.  I may be able to give up carbs, largely, but I'm not to the point of being able to give up cheese too–a girl has to have some fun in life! 😉)  Also, I actually found this dish was better the second day after the spices had time to meld together.  
Bottom line, I HIGHLY recommend this one!
Spaghetti Squash: 
I was pleasantly surprised by how much I liked this.  The texture is a little different (crunchier) than real pasta, it IS a veggie, after all. 😝  The taste is very mellow as it mostly takes on the flavor of whatever spices or sauces you are using.  I've heard you can use butternut squash as well, but I haven't been brave enough to try that one.  I like butternut squash, I just worry it'll be too strong a flavor for "pasta".  I also don't want to ruin my love of it. 😳
This dish is pretty easy to make once you get the squash cut in half.  Just baste it with olive oil, add some garlic, salt, and pepper (or whatever spices/sauces you want) and bake, face-down, for at least 30 minutes, or till desired tenderness.  (You should be able to stick a fork clean through the squash, easily.  I find 45 minutes seems to work fairly well.)  
After baking, you shred the squash–careful, it's hot!–with a fork.  This should be VERY easy,  It kind of just strings off, all the way down to the rind.  Then I add some sauce and cook it up.  I use red sauce, but you could try a thinner, Italian sauce, or Balsamic vinegar, or an alfredo sauce, or just some more spices.  Play with it and find what you like best! 
A word of "warning", these smell like cheese pizza (or at least cheesy breadsticks) while you're cooking them.  Just be prepared for the cooking of this dish to cause lusting of "not-so-low-carb" foods.  😝
The recipe I used for this dish can be found here.
Glazed Sweet Potatoes with Salmon
We also tried the sweet potatoes I mentioned last month, again.  This time though, I used a cinnamon-sugar glaze for both the potatoes and salmon (and cooked them together).  The glaze was good, it was DELICIOUS on the potatoes, but I wouldn't recommend cooking the two dishes together.  While the mixture tasted great on the salmon as well, cooking both items together left the potatoes with a bit of a fishy taste and they didn't cook through quite as well.  So, while you could split the glaze between both dishes, cook them in separate containers. 
I will also say, while the glaze was DIVINE, with all the brown sugar it required I don't think it would qualify as low-carb. 😔
To Conclude
One takeaway I've had from these "foodie" experiments is that I'm glad we've found at least a couple of recipes that we both really enjoy (namely the sweet potatoes and the stuffed peppers).  I would rate both of these dishes as "comfort food".  It's nice to find recipes that are healthy that you also derive a lot of enjoyment from.  
One slight annoyance with many of these dishes is the cooking time. Several of them take 30 minutes to 1 hour to cook.  However, they're SUPER easy to make.  Many of them only have prep times of around 15 minutes (not including the baking times).  The nice thing is, though they take a while to bake, you're free to get other stuff done while that's happening (dishes, laundry, pack the kids lunch for tomorrow, read a book, write a blog post, 😉 whatever!) 😃
Next month I'll be ramping things up a notch.  With the start of Lent, I will be implementing the low-carb lifestyle hardcore, not just dabbling with a few recipes.  That means no "sweets"–other than dark chocolate, the Paleo diet allows this "cheat".  That also means no carb-loaded snacks, like Doritos, cheese crackers, or muffins.  This also means very little cereal, noodles, rice or bread.  For the next six weeks, I am trying to go all-out.  So stay tuned, and see how I do!  😝
I'm down two to three more pounds this month (which is a bit of a shock!). I've been letting myself "cheat" a bit the last few weeks since I knew Lent was on its way.  I'm interested to see how my weight changes when I really start implementing the low carb diet…
Have you tried any of these recipes?  What did you think?  Tell me about it in the comments!
Did you enjoy this post?  Pin it!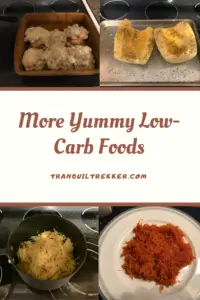 Like what you read here today?  Please feel free to leave a comment, like or share this post!  Add your email at the bottom of the page, or the sidebar to the right, to be notified when a new post is published.  By signing up for the email list, you will also receive a free copy of the Tranquil Trekker's Top 10 Tips of Trekking Do's and Don'ts!
You can also follow the blog on social media by clicking the links below!