The Blackberry Trail is a great hike into the Black Elk Wilderness.  This trail is fairly unknown, which is ironic because it sits directly across from one of the biggest tourist spots in the Black Hills, Mount Rushmore!
Where is the Blackberry Trail in the Black Hills?
The Blackberry trailhead is found in an old gravel parking area (that is sometimes roped off) directly across the road from Mt. Rushmore.
If the gravel parking area is roped off, you can actually park in the Mt. Rushmore parking deck. (This means you will have to pay the parking fee at the site. It used to be that once you bought a pass it was good for a year.  Now it's only good for the day. 😛–Insert rant here, from Mr. Trekker, about the evil, automated kiosks they installed to replace humans 😂.)
We had interesting weather the day we trekked this trail, typical of spring in the Black Hills.  It was windy, with precipitation varying between light rain, heavy snow showers, and pelting mini-ice balls!  This was all mixed in with blue sky and warm sun, and we experienced all of these conditions within about 30 minutes of each other! 😛
Bring Extra Clothes when Hiking
As we were navigating the route, Mr. Trekker proved why you always bring extra supplies along, especially a change of socks!  You never know when you're going to slip off a mossy rock and fall knee-deep into a swollen creek!
(I can't make fun of him too much, he was actually trying to find an easy way across so he could then help me across. 😳  Of course, if he had listened to his wife and taken the route I suggested in the first place…😉.)
The water level seemed much higher than usual, as many of these creeks are just suggestions in drier times.  With the recent snowmelt and wet conditions of spring, the local waters were definitely running higher than normal.
What you'll see on the Blackberry Trail
This is an absolutely GORGEOUS trail!  While it does climb the majority of the way, the route undulates through the hills and beautiful canyons that are common in the Black Hills National Forest.  There were a few lengthy, steep spots, but for the most part, they didn't become overbearing.  The first half mile or so of the trail actually runs downhill. (You know what that means for the return trip!  Everyone loves a good, uphill climb to finish! 😛)
We did an out-and-back trek, taking the Blackberry Trail south to where it meets up with the Centennial Trail (just in the last few years, this portion of the route earned the classification of a National Recreation Trail.)  Then we took the Centennial Trail south, to its junction with the Grizzly Bear Creek Trail, which I discuss in this post.
I'm not sure why it's called Grizzly Bear Creek. There may be been grizzlies in this area at one time, but that was MANY years ago (we're talking centuries. 😛)
A portion of the way, the path runs along with Grizzly Bear Creek, which helps to make it so picturesque.  There were numerous water crossings and very few bridges throughout the trek.  Again, in drier times of the year, this may not be an issue, but I would recommend wearing either waterproof hiking boots or sandals you don't mind getting wet if you're planning to tackle this hike.  Also, be on the lookout for mountain goats and marmots, as they tend to frequent this area!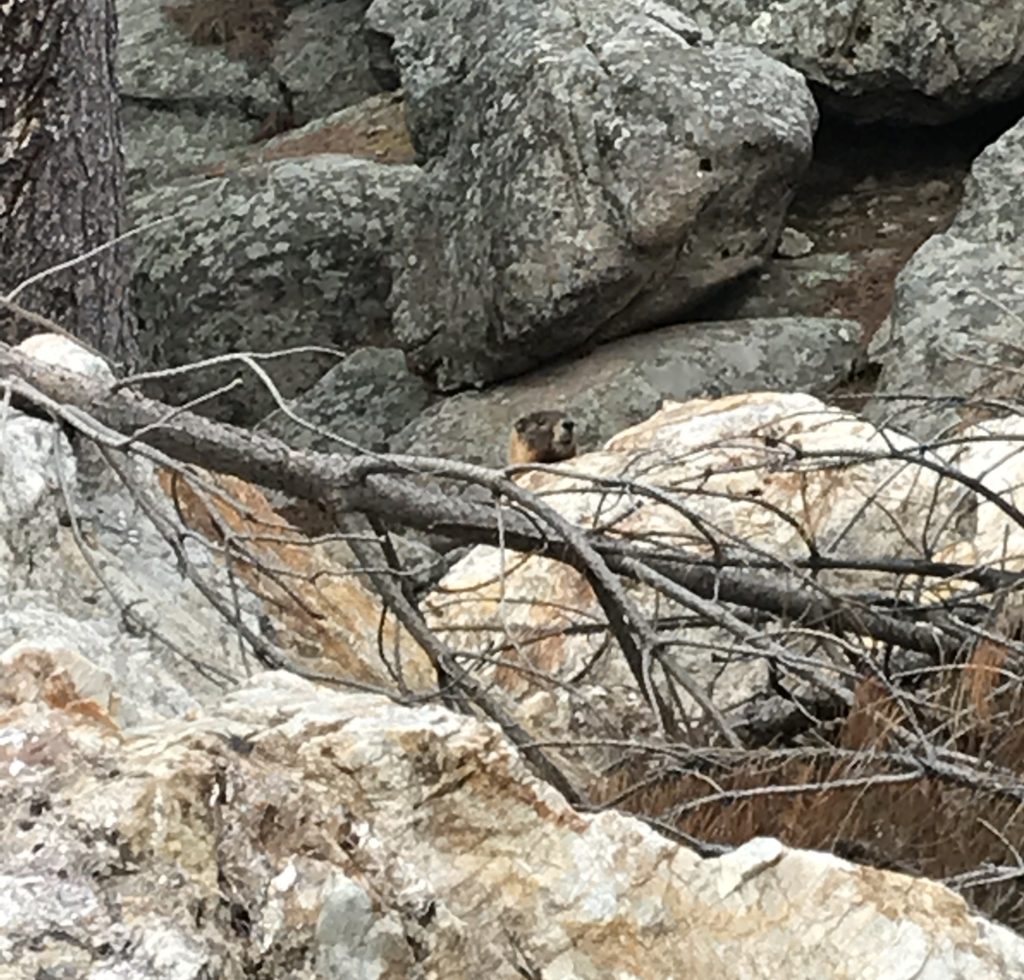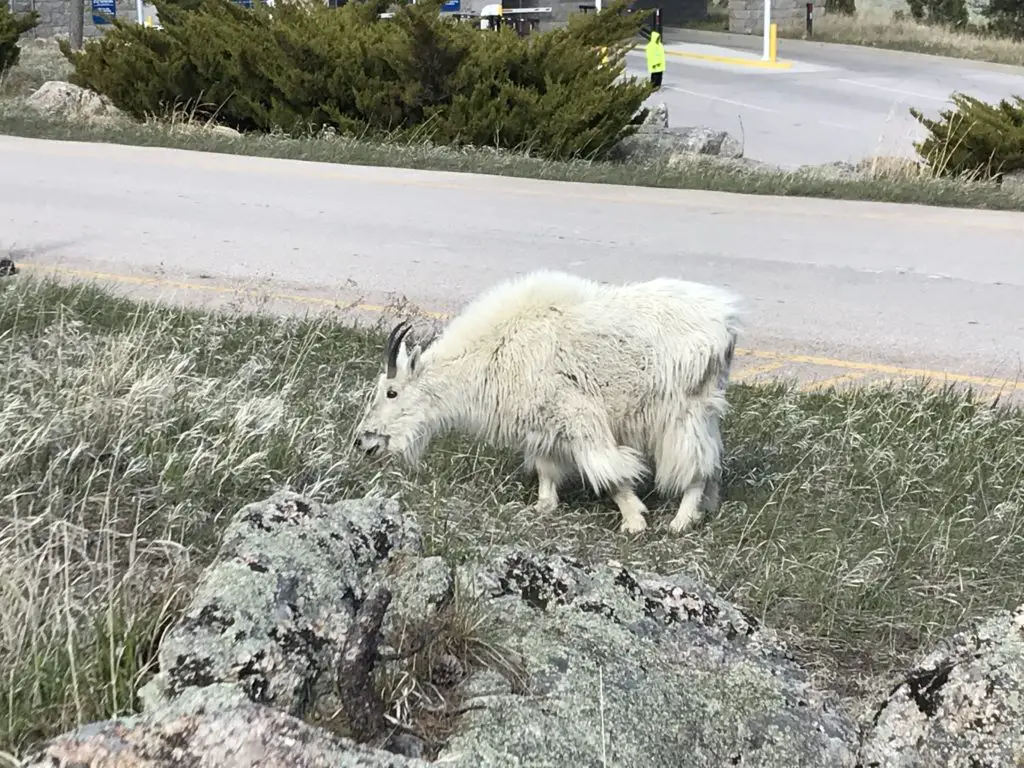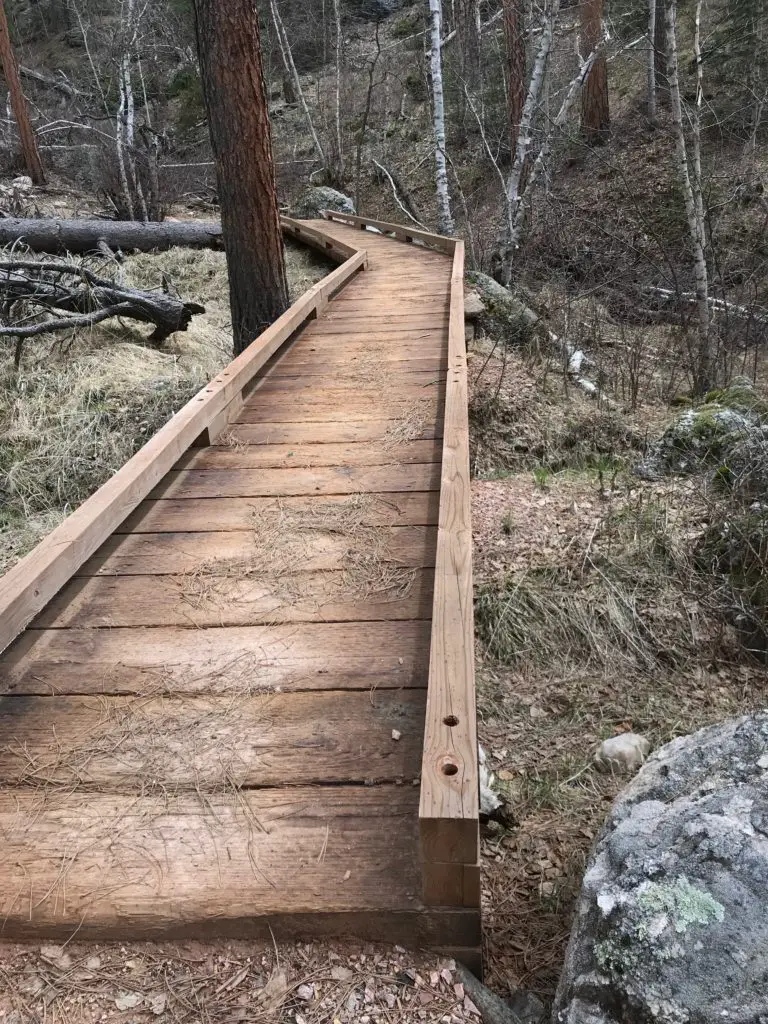 How Long is the Blackberry Trail?
This route was about eight miles, out-and-back.  Not a bad day's hike for us, though you could easily make it shorter or longer, to suit your tastes. Depending on how adventurous you are, this is a great area for backpacking, as it would allow you more time to fully explore the various trails that wander through the Black Elk Wilderness Area.  One other unique thing about this trail is that it offers cool views of Mt. Rushmore along the way!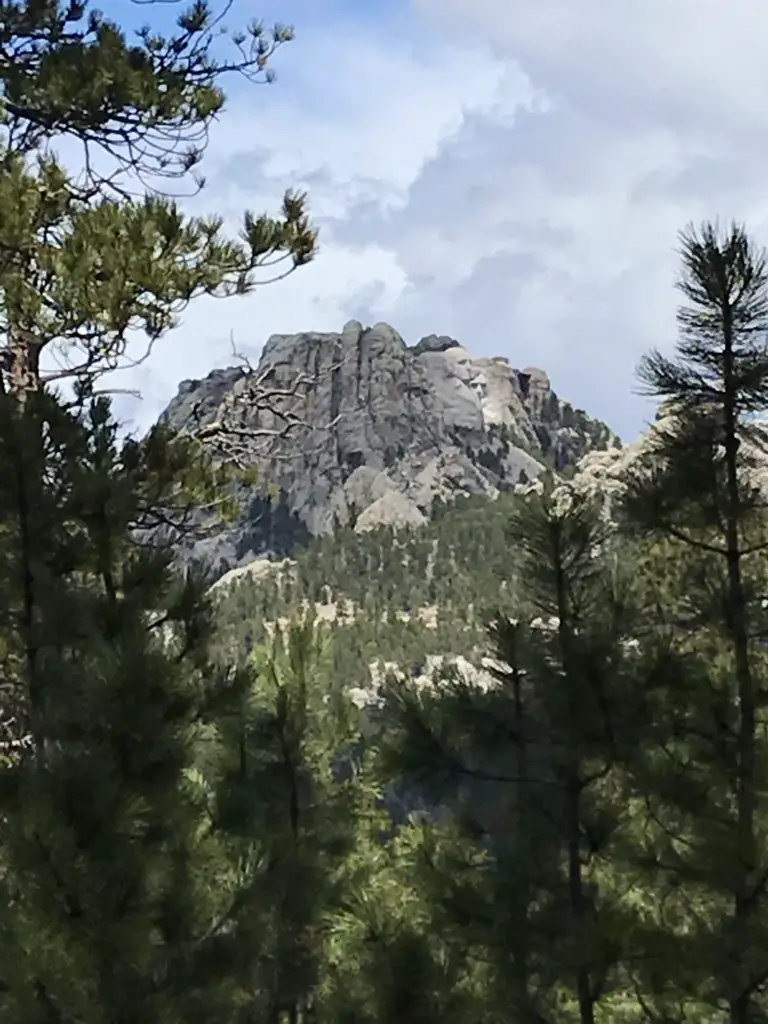 Harney Range in the Black Hills National Forest
I know I've mentioned it in the past, but I LOVE hiking in the Harney Range.  The granite mounds and spires that are frequently found throughout the area give the region its own, unique flair.  The Ponderosa Pines that grow here allow a lot of light through their branches.  Also, the drier conditions (usually) found in the Hills lend themselves to little or no undergrowth on the forest floor. This means, even in the midst of the forest, you can actually see for quite a distance.
This is pretty unique compared to many forests we've visited.  Some areas of Colorado and Wyoming are similar, but these definitely contrast with forests that you find in many other parts of the country.  Most of those are comprised of dark, foreboding woods with trees so thick it's hard to see between them.  Even in North Carolina, with the almost-tropical plants and ferns that covered the forest floor, it was easy to lose the trail.
There are all sorts of trails winding around the Black Elk Wilderness.  These aren't the big trails that all the tourists hear about throughout the Wilderness Area and Custer State Park, though many of these do connect with the better-known trails, such as Black Elk Peak Trail, Trail #9 (formerly the Harney Trail) or the Cathedral Spires/Little Devil's Tower Trails.
But if you're looking for a nice, afternoon jaunt through the woods on a warm day, these are perfect.  Because they aren't as well known, they tend to be far less crowded.  They aren't overly difficult either.  I would give the majority of these side trails a moderate rating, with some strenuous spots.  They are sometimes single-track, rather than wide and graded, and you do have to watch for roots and rocks that you may need to clamber over or around.  But there aren't any large, rocky areas that need to be navigated.
More pics from our day on the Blackberry Trail!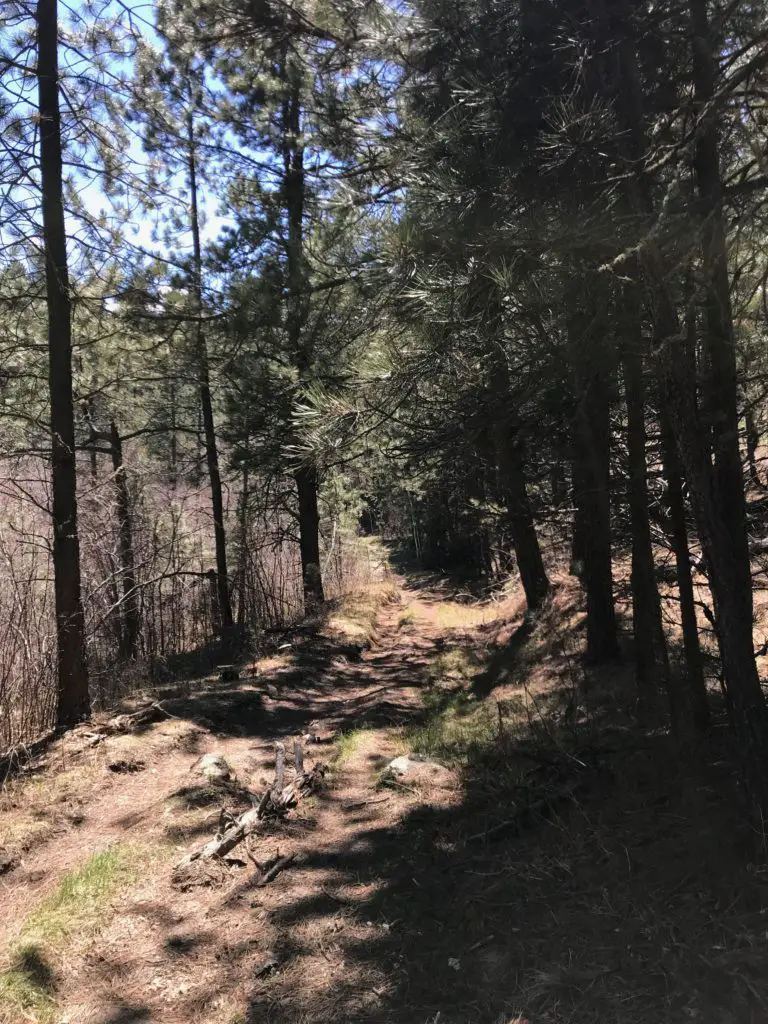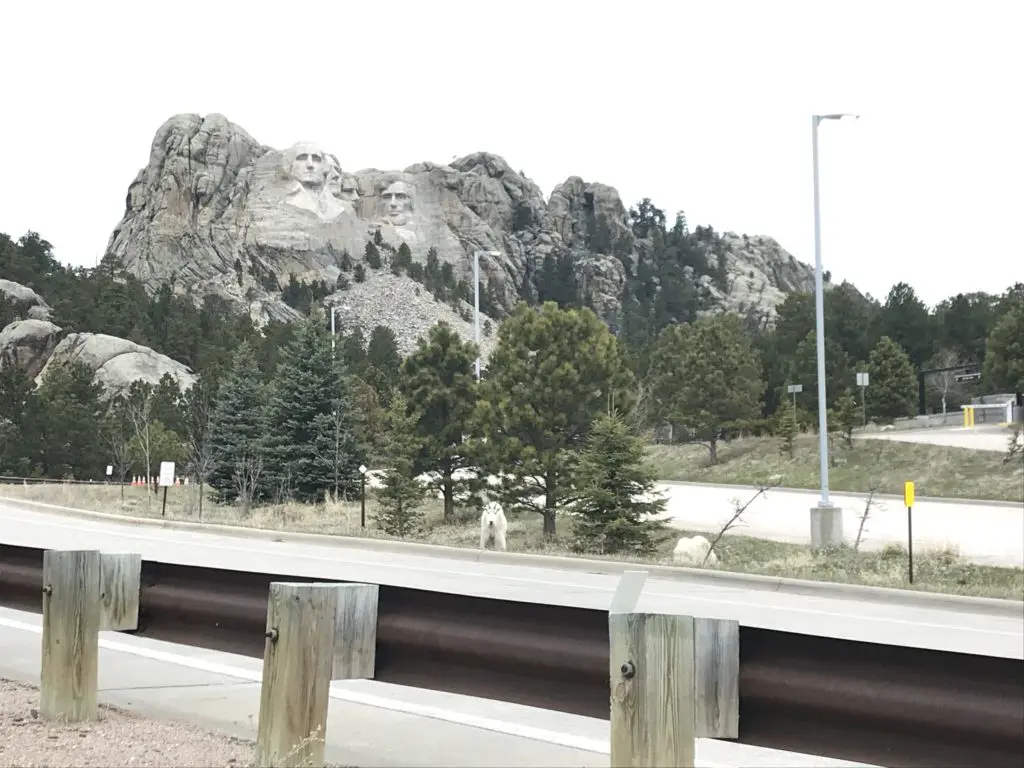 So the next time you're looking for an interesting hike in the Black Hills, consider one of the lesser-known trails in the Black Elk Wilderness like the Blackberry Trail.  You may be surprised how much you enjoy these hidden gems!
Have you enjoyed this trail or do you have any questions on how to reach it?  Feel free to leave your experiences or any questions in the comments!
Did you enjoy this post?  Pin it!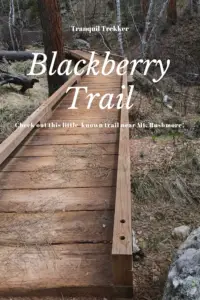 Like what you read here today?  Please feel free to leave a comment, like or share this post!  Add your email at the bottom of the page, or the sidebar to the right, to be notified when a new post is published.  By signing up for the email list, you will also receive a free copy of the Tranquil Trekker's Top 10 Tips of Trekking Do's and Don'ts!
You can also follow the blog on social media by clicking the links below!