Most articles I've read about cross-country skiing call it the "easy" winter sport.  You never hear about people having terrible accidents on cross-country skis.  "It's something even a beginner can do!" they say…these are LIES I tell you, filthy, dirty LIES! 😮😉
Cross-country skiing is HARD!!!
The Trekkers have been cross-country skiing for several years, though we usually only get out a few times each winter. (This is especially true in winters like this one when we hardly had any snow until February. 😝)  This could explain why I've struggled so much to grasp the techniques of the sport.  I read somewhere that you have to ski 10,000 kilometers to become skilled at cross-country skiing–it was a Canadian talking, for those of us living south of the border, that's over 6000 miles.  We've probably skied less than 100 miles so far, so we've got a little ways to go. 😝
We've pretty much done all the stuff you're supposed to do to learn to ski.  We've watched various videos on Youtube, we've talked to the "experts" at several sports shops and equipment rental places. (To be fair, we haven't taken an actual class, I can't quite bring myself to do that.  I don't need five-year-olds skiing circles around me to humble my skiing ego.  The bruises and sore muscles I acquire every time we go out take care of that just fine, thank you. 😝)  
An example of what frustrates me so much.  All these experts make skiing sound so EASY!  "The snowplow technique is an easy and effective way to stop yourself that even beginners can employ." Will someone please tell me how I'm supposed to do this with six inches to a foot of snow on top of my ski?  Or at the very least, with a six-inch lip of packed, icy snow surrounding the lane my skis are in?!  They don't tell you THAT in the videos! 😝  
The trainers also say things like, "if you fall, just get your skis under you and roll back up!"  Uh-huh, again, how do I do that when I can't even see where my skis are under all that snow?  And when I can't get any leverage, because every time I try to push myself up my arm sinks into the powder up to my shoulder? (I'm just saying, my lack of skill may not be ENTIRELY my fault, 90% my fault, tops. 😉) 
I think a lot of these "experts" and trainers are used to cross-country ski resorts, where the trails are groomed and the terrain is fairly flat.  They aren't guiding people in the backcountry, through the secluded (albeit GORGEOUS) national forest, where hills can be steep, turns tight, and you may have to break your own trail.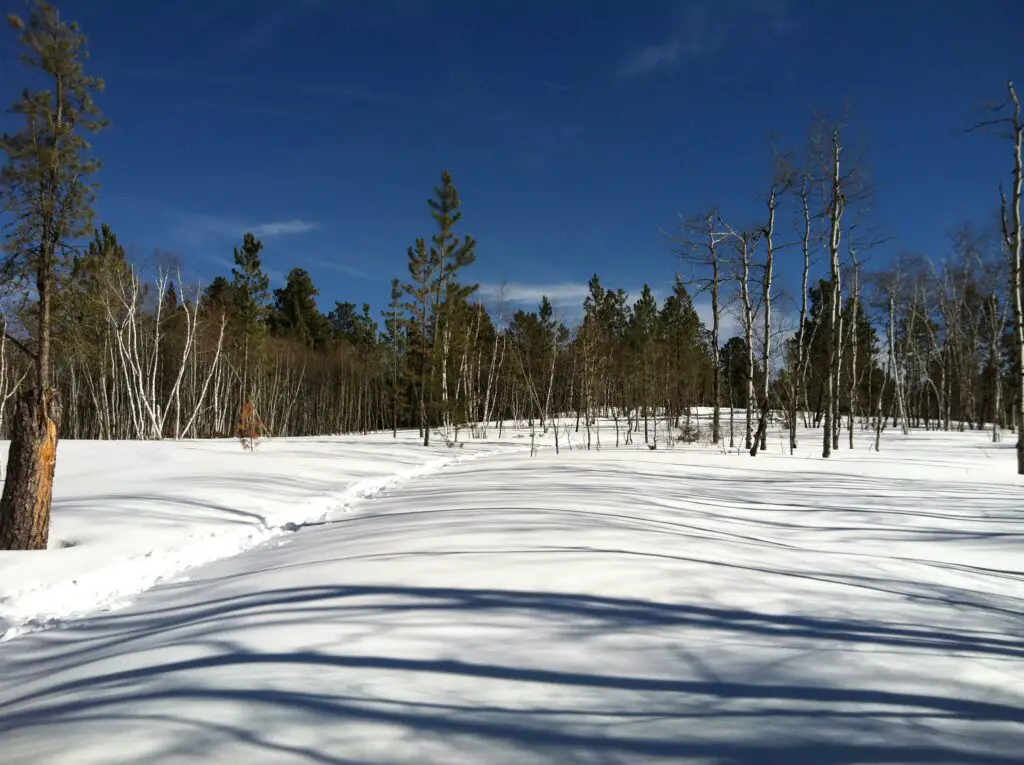 Cross-country skiing is easy! (NOT!)
This sport is, supposedly, easy to master.  People don't usually even wear helmets when engaging in it.  They aren't needed, you aren't going that fast.  You hear people say, "if you can walk, you can ski."  This may be true for some people, but, on a normal day, my feet don't–usually–slide out from under me due to their waxed or fish-scaled bottoms. 😝  I do believe that saying is true regarding snowshoeing, I just think skiing takes a bit more finesse.  
Let's just be blunt here, I pretty much suck at skiing.  Yes, that flailing spider monkey you see SLOWLY making their way down the hill, the one you pray doesn't hit you, or the one you just want to avoid entirely…yeah, that'd be me. 😇  I'm the one who, when on skis, falls over…WHILE STANDING STILL…on flat ground!…because I had the audacity to turn my head to look in another direction. 🙄
For those who aren't familiar with the Eagle Cliff area where we usually ski, it has some groomed trails. (The area is run by volunteers so sometimes you have to be patient for them to finish with the grooming and plowing at the trailheads.)  To be clear though, it isn't unusual for us to have to break trail when we go skiing.  Or, if we don't have to actually cut a trail, oftentimes there is just a two-track ski path available to follow, that was recently cut by someone else.  If it was only just created, it may not be packed much yet.  Due to this, we may not have the struggle of breaking through six inches (or more) of fresh powder, but we can still sink with every glide we make as the process of packing the trail is still occurring (it almost feels like walking in sand).  I only stress this to make people aware, we often aren't dealing with perfectly groomed ski trails here.
Cross-country skiing IS fun! (No really!)
Regardless of the frequent humiliation, when I am able to remain vertical, I really enjoy skiing.  I like the exercise.  I like the way I can glide along, almost soundlessly, through the beauty of the snow-shrouded forest, with just the *wisp-wisp* of the skis slipping through the powdery snow as an accompaniment.   I LOVE seeing the adorable, little, rodent paths crisscrossing the snow as they make their way from snowbank…to fallen log…to tree…
I do feel bad, though, for the rodent whose path suddenly ends in the middle of a large area of wing-swept snow, where it's obvious that something both much bigger than himself (and with talons) scooped him from his daily business, never to be seen or heard from again. 😳  At least it was a good day for the bird, I guess. 🤭  
I enjoy watching the deer spring effortlessly through the snowpack at our approach.  I always find it fascinating, "reading" the stories the forest "tells".  In the Black Hills, this often includes the large, padded tracks left in the snow by a giant feline's paws.  You can picture it stalking the unsuspecting deer herd in the meadow below, from its vantage point on a ledge high above.
Learning to cross-country ski
After several years of trying, I have finally learned to use my knees while skiing! (This technique may seem like a no-brainer, but it was a huge game-changer for me, so bear with me. 😉)  
I've always known a bent-knee stance should help with control, flexibility, and looseness.  Apparently, I've just never bent my knees enough.  It's amazing how well things work when you do them correctly. 😝  All of a sudden I felt like I hit this sweet spot.  I could finally use the angle of my knees and the weight of my body to turn–a little!  I could finally attempt the "snowplow" maneuver used for stopping–slightly!  But, for the first time, I actually felt like I had a little control ("little" being the crucial word). 
I also found, the lower I kept my center of gravity, the easier it was to keel over into a fall if I felt like I was losing control.  I FINALLY conquered my fear of plastering myself into the nearest tree!  Now, if I feel like I'm heading towards a tree and can't seem to turn the skis from their stubborn track, I can lean to my side and slide to a safe stop–with legs that flail a bit less.  Getting rid of the fear changes everything! (Remember I have anxiety! 😉)  
The best method when cross-country skiing actually reminds me of the best method when mountain biking…stay loose!  When you're fearful or worried, you're tense; you're tight; your body can't flow with the normal rises and falls of the surface you are gliding over.  And if you do fall or hit a bump badly, you're more likely to injure yourself due to your, already tight, muscles.  So, this newfound ease of mine is a game changer!   
I also need to learn that I'm not really moving all that quickly.  It just "feels" like I'm careening down the hill at unimaginable speeds.  In the real world, I'm actually just coasting along. 😝
Be persistent when learning a new skill
For me, this has been one of the most frustrating activities we have attempted, but I FINALLY feel like I'm starting to make some progress!  I think there's a take-home lesson in this.  That is, never give up.  If there is something you enjoy doing, something you have your heart set on, something you want to accomplish, keep working at it, keep persevering.  You may fail several times, but each time is another opportunity to learn a new technique that you can implement on your next attempt.  Each time you try, you get a little better, a little stronger, a little faster.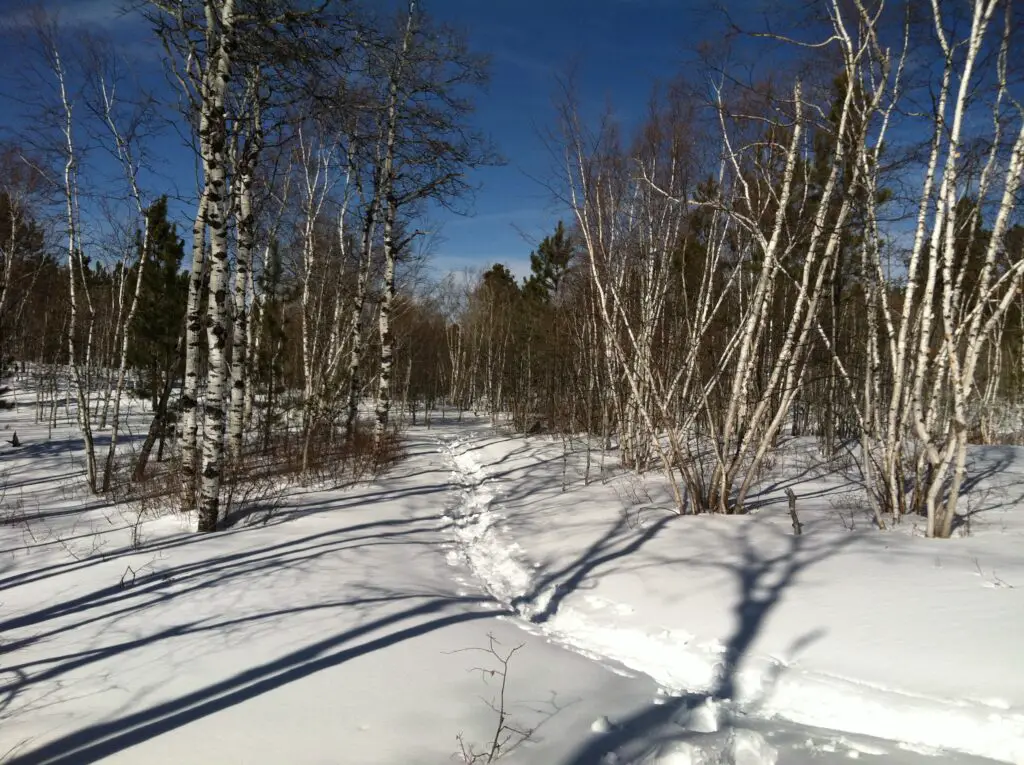 I read that the word "F.A.I.L." can be a positive acronym for:
First
Action
In
Learning 
I like that, it's empowering.  It helps us to recognize that sometimes failing to do something the first few times–or the first few hundred times–we try it doesn't have to be a negative experience.  It pushes us beyond the boundaries of our comfort zone.  We can use it to make ourselves better.  Oftentimes, I find failing at something, and thereby having to work hard and be resourceful to achieve it, actually benefits me more in the end than if I had just, easily, succeeded on the first try.  Those difficult experiences are how we learn!
 Regarding skiing, I just have A LOT of learning to do!  😉
What experiences do you have with cross-country skiing?  Tell me about them in the comments!
Did you enjoy reading this post?  Pin it!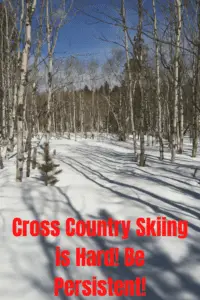 Like what you read here today?  Please feel free to leave a comment, like, or share this post!  Add your email at the bottom of the page, or the sidebar to the right, to be notified when a new post is published.  By signing up for the email list, you will also receive a free copy of the Tranquil Trekker's Top 10 Tips of Trekking Do's and Don'ts!
You can also follow the blog on social media by clicking the links below!