"Where words fail, music speaks."  –Hans Christian Anderson
Music has long been known to stimulate the brain and emotions.  An entire field of therapy has evolved around this theory.  Anyone who has read this blog for a while knows that I struggle with anxiety and some depression.  I've mentioned previously how certain songs speak to me.  Today I am going to discuss two songs I've always found draw a perfect picture of what it feels like to live with these disorders. (This may apply to other mental health diagnoses as well, but these are the ones I have personal experience with and can speak to.)  The songs are "Monster" by Skillet and "Jekyll and Hyde", by 5 Finger Death Punch…
"Monster" (by Skillet)
I love, love, LOVE this song!  It is, by far, one of my top 10 favorite songs.  It's just so pertinent.  It's one of those tunes you can't help but get revved up by.  My understanding is, the band's intent with this song was to use the "monster" as a metaphor for sin, or a person being fake and not showing their true selves to the world.
(For those who may not know, Skillet is a Christian rock band.  I can proudly say I liked them back in high school.  We don't need to talk about how long ago THAT was, 😝 but let's just say it was well before everyone else thought they were cool. 😉) 
Anxiety as an invisible demon
"The secret side of me, I never let you see
I keep it caged but I can't control it…"
Every time I hear these lyrics I think of my struggle with anxiety. They refer to a monster (the diagnosis) that is caged (invisible).  This is especially relevant as one thing those of us who struggle with mental health disorders are often quite adept at is, concealing them.  Sometimes, people suffer so silently they aren't even aware they have a disorder at all, as they've never talked with a professional and been diagnosed.  They may think they're "just a worrier" or that they're just "different" from other people.  
It's not uncommon for those who struggle with anxiety to actually be incredibly outgoing, driven, and as a result, quite successful.  This means outsiders may be surprised to hear of their internal struggle, as it isn't obvious.  The thing about this monster is though, while I can keep it "hidden away" and subdued in its "cage", I can't control how it may scream or violently shake its enclosure (i.e. me 😝)…
"…the beast is ugly…"
The beast (the disorder) is nasty.  Dealing with it is exhausting and a constant chore…
"My secret side of me I keep hid under lock and key…"

"…Cause if I let him out he'll tear me up, break me down…"
I worry that if I slip and allow "the monster" to show its ugly face, that it'll get out of its cage and I'll lose control of it–and as a result–lose control of myself.
"It's hiding in the dark, its teeth are razor sharp
There's no escape for me…"

"…No one can hear me scream…"

This speaks to the fact that "the monster" causes emotional pain.  It's difficult to explain to others what it's like dealing with a mental health diagnosis, so you feel like they can't understand you.  It makes you feel isolated…
Anxiety constantly plagues you
"It's scratching on the walls, in the closet, in the halls
It comes awake and I can't control it
Hiding under the bed, in my body, in my head…"

"…I feel it deep within, it's just beneath the skin…"
Imagine the frustration of something continuously scratching on the walls around you, constantly picking at you.  You know it can't physically hurt you, but you also know nothing you do can make it go away, either.  It accompanies you everywhere.  It's your everpresent, unwanted companion.  You feel it in your chest, it churns in your gut, it makes thoughts bounce around in your head.  It hides just under your skin, where no one else can see it, but you know it's there.  You worry that it's obvious to others though, oftentimes, it's invisible…  
There is no magic pill for anxiety
"The nightmare's just begun…"
To me, this phrase speaks to the fact that this disorder is something I'll, likely, have to deal with for the rest of my life.  There's no magic pill that will cure me tomorrow.  It's something I have to accept and deal with.

"Jekyll and Hyde" (by Five Finger Death Punch)
This song, obviously, references the pop culture icon where two souls, one evil, one an upstanding doctor, share the same body.  
Anxiety is a constant anchor around your neck
"There's just so much..weight on my shoulders
All I'm trying to do is live my…life
Supposed to be happy, but I'm only getting colder
Wear a smile on my face, but there's a demon inside…"

just like Jekyll and Hyde…"

"…I feel like Jekyll and Hyde…"

This song also reflects the idea of a demon (the anxiety) living in you that you can't quite control.  It constantly wears on you and drags you down.  You're continuously dealing with this weight on your shoulders while putting on a brave face for the outside world.  It even speaks to the feeling of guilt that is often present for bothering others with this struggle because you know that others are struggling far worse than you are.
"I just wanna be Jekyll, but I'm always fighting Hyde…"

"…Everyone I know, they've got a demon inside…"

This also alludes to the notion that everyone struggles with problems.  These could revolve around mental or physical health, finances, relationships, a job, or other outside circumstances beyond our control.  Everyone is dealing with something.
In both of these songs, I see "the demon", "Hyde" or "the monster" as a metaphor for my anxiety symptoms.  They're always there, waiting to rear their ugly head.  I can usually control them, but sometimes, it's a struggle.
Battling the "Demons" of Mental Health Disorders
A "demon" or a "monster" is a good way for me to describe my personal experience of the sensation of dealing with mental health diagnoses. Whenever I try to imagine my anxiety in a physical sense, it's always in the form of a black shadow, with large claws, reaching out to grab me.  Other times, I imagine a beast with its talons already embedded deep within my shoulder–like something out of one of Frank Peretti's books from the '80s. 😉  The "demon" is something I can control.  I own it, not the other way around. However, what I can't control is the fact that it is consistently present within me.  I may be able to keep it from "breaking out" into the larger world, but it's still something I have to deal with.  
Are there "perks" to anxiety?
I don't mean for this post to be a downer.  I actually find both of these songs to be energizing.  Who doesn't enjoy some hardcore dance moves with a little headbanging thrown in for good measure? 😳😉  I've actually come to appreciate, to a degree, some of the insights into life that my anxiety has brought me.  The disorder allows you to better empathize with the hidden struggles others face because you've experienced difficulties, personally, as well.  
I also find my anxiety helps me to appreciate life more (in a sense).  When you're constantly stressing that something may go wrong, it helps you to fully appreciate, even the small things, that turn out right!  The disorder also helps you keep in mind that regardless of how happy and "put together" someone may look on the outside, you have no idea what they may be dealing with privately.  NO ONE has a perfect life, or has it "easy".  That's a common bond we all share.  I am thankful that I have learned how to use this struggle as a tool, to deepen my lived experience.  
I don't expect anyone to pity me for having to deal with this struggle.  This is just the one God,  the Universe, Fate–or Whoever/Whatever-you-believe-moves-the-pieces-around-on-this-giant-chessboard-we-call life–dealt for me.  Everyone has challenges placed in their lives, this is mine.  I just hope this allows you a clearer understanding of what life is like when dealing with an invisible illness or unknown, difficult situation.  Maybe we can all use this knowledge to give each other a little break since we're all dealing with something.
**Below are links to both songs.  For those who aren't aware, 5 Finger Death Punch has an affinity for explicit word use.  I love their music, but in the interest of keeping this blog's PG rating, I left those words out of the lyrics.  This is a GREAT song though (and its got an awesome guitar riff near the end) so I encourage you to click here for the UNEDITED, full version. 😁 (But if you're offended by strong swear words, you've been warned. 😉)
You can view the video for "Monster" here. (Anyone who's heard the song knows one of the best parts is the final chorus line when an electronic demon sound screams "I FEEL LIKE A MONSTER!!!") 😉
Did you enjoy this post?  Pin it!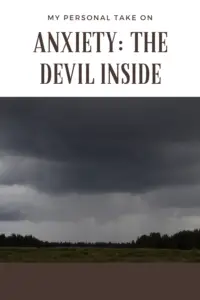 Like what you read here today?  Please feel free to leave a comment, like or share this post!  Add your email at the bottom of the page, or the sidebar to the right, to be notified when a new post is published.  By signing up for the email list, you will also receive a free copy of the Tranquil Trekker's Top 10 Tips of Trekking Do's and Don'ts!
You can also follow the blog on social media by clicking the links below!