We have FINALLY made it to the end of 2020!  Happy New Year!  What a year it was huh?  This was supposed to be "my year"…I just KNEW IT!  I had SUCH positive feelings going into 2020 (I think a lot of people did).  Well, we all know how THAT turned out, don't we? 😝  I think we can all pretty much agree that 2020 sucked! 🤯  I'm not gonna lie, this was one of the more difficult and stressful years of my life (due to COVID and a few other things).  But as I reflected on the year I realized some pretty great things happened too…
My COVID accomplishments:
I FINALLY learned SEO!
This was one of my primary career/blog-related goals for the year.  I realized this was pretty much make-or-break.  If I couldn't master SEO and get my blog to start ranking on Google, I'd have to give up on this dream. (For the non-bloggers among us, SEO means Search Engine Optimization.  These are basically techniques to use when writing a blog article to help Google "see" you.  The goal is to "rank", or to be listed on page 1 of Google's search results.)  So I set out in January DETERMINED to master this challenge.
I took a few online classes/workshops and through those met some other pretty great bloggers.  And I can now say that after a year I am ranking on the first page of Google for NUMEROUS keywords and posts!  This, along with the help of some of my new friends who help to spread the word about my blog, has helped me to more than quadruple my traffic over last year!
I became a consultant!
I lost my long-term content-writing job this spring (thanks COVID 😷) shortly after being promoted to a better position within it. 😩  HOWEVER, a few months later, something happened to me that I've always thought was only a legend that happened to OTHER people.  I NEVER thought it would happen to me…A great job literally fell out of the sky for me!  It is a consulting job (which I also NEVER thought I'd have) working for a local agency utilizing skills and connections I gained at my previous "real job" (that I left several years ago).  A friend from that old job learned of another friend of hers who was looking for some consulting help with her business, and I immediately came to mind.  Don't let anyone tell you that doing good work in one area can't help you in unseen ways in the future!
Also, just in the last few weeks, I acquired another, hopefully, long-term content writing job!
I monetized my blog
This was another opportunity that basically fell into my lap.  One of the blogs I follow leads a Facebook group.  There the author announced a unique opportunity to join an ad supply company.  They usually require a minimum number of monthly visitors to your blog before you can join (a standard which I didn't meet yet) but they were offering a short, open-enrollment period where they were waiving that requirement.
I signed up, figuring I wouldn't be lucky enough to be accepted, but I was!  This has helped to increase my ad revenue from my blog significantly.  I have made as much in the last 5 months with this new ad platform as I had in the last several years with Google Adsense!  While I am still not making much, for the first time in almost 5 years I can say my blog made enough to cover a portion of the annual costs for maintaining it!
I read the Bible!
In 2020 I did achieve one other long-term goal.  It took me more than 2 years but I finally completed a full read-through of the Bible!  Now I have to find something new to read in 2021.
I'm a total nerd when it comes to learning about various religions.  I've already read the Book of Mormon and the Apocrypha, I'm considering the Torah and/or maybe the Koran…if you have any other suggestions of religious texts I may find interesting let me know in the comments!
Family living nearby
For the first time in almost 20 years (and the first time in my adult life) we now live near family.  The Trekker Parental Units moved to the Black Hills in early 2020 (they snuck in just before COVID began making life difficult).  It's been weird, going from only seeing them once or twice a year to seeing them frequently.  It's been nice too though.  I've been enjoying Momma Trekker's company (not to mention cooking 😉).  She keeps us well-supplied with delectable treats.  Mr. Trekker and I aren't sure if we gained the "COVID-15" or the "Mother-in-law-15"! 😂
Looking forward to 2021!
 I always feel a little melancholy on New Year's Eve.  I don't like endings or goodbyes.  They feel drug out, like we're forcing something that should be left to rest in peace.  I feel this way about most endings, whether that be of the calendar year, a birth year, etc.  I find myself impatient to move on to the adventure that lies ahead.  For me, this makes New Year's Eve somewhat bittersweet.  I always have the urge to throw off the shadow of the old year as quickly as possible and embrace the brightness of the new one.  After the last year we've had, I think this is especially true for 2020!
New Year's Day, on the other hand, I love!  I LOVE new beginnings, new journeys, that "new car smell" the new year brings! 😉  New years, new birthdays, they're all ripe with potential for us to turn over a new leaf, to move away from bad habits, to improve ourselves and our relationships!  They're so exciting!    
I'm hesitant to say it after what happened last year, but I'm feeling tentatively positive about 2021 (cross your fingers, knock on wood, all that stuff!🤞🙏)  Vaccines are beginning to be disbursed and medical professionals are learning better methods/treatments to fight this awful virus.  I'm sure our problems aren't over yet but I feel like we're on the downhill side of this monster.
I don't have a lot of big goals for the next year.  I hope to continue growing my blog, and I'm hopeful that job opportunities will continue to become more readily available as society begins to open up again.
I also have a special project that I've been working on for some time that I'm hoping to be able to share positive news about in the coming months…
To conclude…
Not everything about 2020 was awful.  Many people learned to slow things down a little and appreciate the little things in life, such as their families, taking a simple walk in the woods, making cookies on a rainy Saturday…maybe this difficult year taught us something after all?  I feel this way every new year, but especially after 2020, I pray for the healing of illnesses and divisions throughout our country and the world.  Maybe we can all get a redo for 2021!
Did you enjoy this post?  Pin it!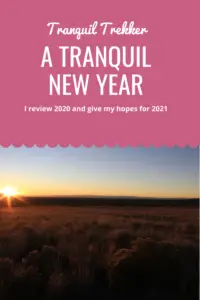 Like what you read here today?  Please feel free to leave a comment, like or share this post!  Want to be notified when a new post is published?  Add your email and click the "Follow" button at the bottom of the page or the sidebar to the right.  By signing up for the email list, you will also receive a free copy of the Tranquil Trekker's Top 10 Tips of Trekking Do's and Don'ts!
You can also follow the blog on social media by clicking the links below!