We have FINALLY made it to the end of 2021!  Happy New Year!
…it wasn't "quite" as bad as 2020…right? 😝
I always feel a little melancholy on New Year's Eve.  I don't like endings or goodbyes.  They feel drug out like we're forcing something that should be left to rest in peace.  I feel this way about most endings, whether that be of the calendar year, a birth year, etc.  I find myself impatient to move on to the adventure that lies ahead.  For me, this makes New Year's Eve somewhat bittersweet.  I always have the urge to throw off the shadow of the old year as quickly as possible and embrace the brightness of the new one.
New Year's Day, on the other hand, I usually love!  I LOVE new beginnings, new journeys, that "new car smell" the new year brings! 😉  New years, new birthdays, they're all ripe with potential for us to turn over a new leaf, to move away from bad habits, to improve ourselves and our relationships!  They're so exciting!
I'm not gonna lie, the end of 2021 finds me tired.  I'm usually really optimistic about the new year and all the fun things that I see on the horizon.  Unfortunately, I think after almost two years of COVID I'm feeling a bit beat down.  This time last year we were just seeing vaccinations getting ramped up…we were optimistic that this mess may be seeing its last days…this year I'm double vaxi-boosted and STILL feel like I should wear a mask when going to Walmart! 😫 😷
Some good in 2021!
2021 did bring us a few good things for the Trekkers and the world…
–COVID vaccines (and even a few treatments) are becoming easily available for the US and much of the world!  I know they can still be difficult to access for some, but for many of us, especially as compared to last year, this is a game-changer!  These don't "end" the COVID crisis, but they hopefully make it more manageable.
—My blog continues to grow!  It still isn't where I'd like it to be, but I've quadrupled my reach for another year!
–I'm continuing my study of other religions!  Last year I finished the Bible, this year I read the Gnostic gospels and learned about the Jehovah's Witness. Next on my "to read" list is the Koran.  I'm also interested in learning about the Christian Scientists, the 7th Day Adventists, and want to read the Dead Sea Scrolls and the Wisdom of Solomon…
When I finish my study of other religions, I think I'm going to narrow my scope to learning more about the various Christian denominations.  So if anyone has any suggestions on reading material regarding these many groups, let me know in the comments!
–We enjoyed two road trips this summer!  One was to visit the Trekker In-Laws at their new digs in southern Pennsylvania. You can read about those adventures at the links below:
— Hershey's Chocolate World!
— Flight 93 Memorial
— Gettysburg Battlefield

The other was an epic road trip through western Montana!  You can read more on that at the following links:
—Ghost Towns in Southwestern Montana
—6 Don't Miss Places for your Western Montana Road Trip
—Tranquil Trekker's 5 Tips for Traveling with a Dog (Puppers even got to come along!)
On the Montana trip, we got to eat scrumptious bear claws and delectable breakfast burritos, we also got to visit several new ghost towns!  We had hoped to really immerse ourselves in the indescribable beauty of Glacier country…unfortunately, while we did have fun, most days we couldn't see the mountains due to all the smoke from wildfires around the region. 😫
2021 Was a Little Rough
2021 felt like the year that just keeps kicking you when you're down…
–Both Mr. Trekker and I learned we are getting older: 😝  Nothing too serious has cropped up, for which we're thankful, but it's humbling when you get slapped in the face with the reality that you are aging…this is especially true when you go to the doctor and they start saying things like, "Well you know, at your age…" 😫
–I had to put my freelance dream on pause:  This was a difficult one to deal with.  Unfortunately, COVID kind of killed my freelance dreams (at least in the short term) due to a number of reasons.  Being a freelancer/a consultant is still my ultimate goal, it just may take a little longer to reach than I originally planned. *sigh*
I did get another full-time job, which is great for our bank account, if not my aspirations. 😝  I'm also blessed that my new job still allows me to work from home quite a bit, as well as have a pretty flexible schedule.  The hope is, if I can get some of my freelance work started up again, I may be able to make both jobs happen, at least for a while. 🙏 🤞
I'm praying 2022 is better for all of us!
I don't have a lot of big goals for the next year…other than maybe to end it feeling more happy and hopeful than I feel going into it. 😝  I want to continue growing my blog (it's still an outlet that makes me happy), and I'm prayerful that some freelance opportunities will come available again.  I'm still working on that "special project" too, although that seems to have stagnated as well…*sigh*
I'm sorry folks!  I strive to not be a whiner or a complainer and I always try to be optimistic on this blog, but this year I'm just hurting.  I am NOT a "Debbie Downer" but I'm having a hard time looking forward to much of anything in 2022.  I'm tired of being excited for grand changes to come to just to have doors slammed in my face.  I'm tired of starting each new year bright-eyed and bushy-tailed only to end it feeling like I'm languishing in the same limbo of last year at best, if not actually sliding backward… 
I DO continue to pray for the healing of illnesses and divisions throughout our country and the world.  I hope we each have something that improves in our lives in the next year.  I pray 2022 can mean better things for all of us!
What are your hopes for 2022?  Tell me in the comments!
Did you enjoy this post?  Pin it!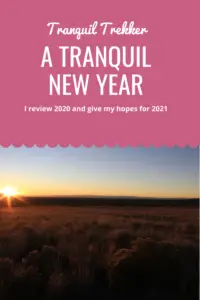 Like what you read here today?  Please feel free to leave a comment, like or share this post!  Want to be notified when a new post is published?  Add your email and click the "Follow" button at the bottom of the page or the sidebar to the right.  By signing up for the email list, you will also receive a free copy of the Tranquil Trekker's Top 10 Tips of Trekking Do's and Don'ts!
You can also follow the blog on social media by clicking the links below!