This week I will continue my series of local, easy-to-reach hikes that are not far from Rapid City, with the Boulder Hill Trail.  One thing I like about this route is that it mostly meanders through the forest, so its fairly well-protected from the wind, rain or snow (until you get to the top).  This makes it a good choice for times when the weather is less-than-great.  It's also eerily beautiful in the fog.
Getting to the Trailhead
You will find the trailhead on Boulder Hill Road, about halfway between Sheridan Lake Road (west of Rapid City) and Highway 16 (south of town.)  You can get there from either route. The road is dirt but it is wide and well-graded, so it is suitable for any passenger car in good conditions. If the weather is very wet or snowy it could become impassable.  Usually though, a four-wheel drive, high clearance vehicle can be manage it.  There is a sign at the trailhead, but you won't see it until after you enter the parking lot, as it sits right near the woods. This is the same parking area that is used for the Flume Loop Trail that I discussed in a previous post.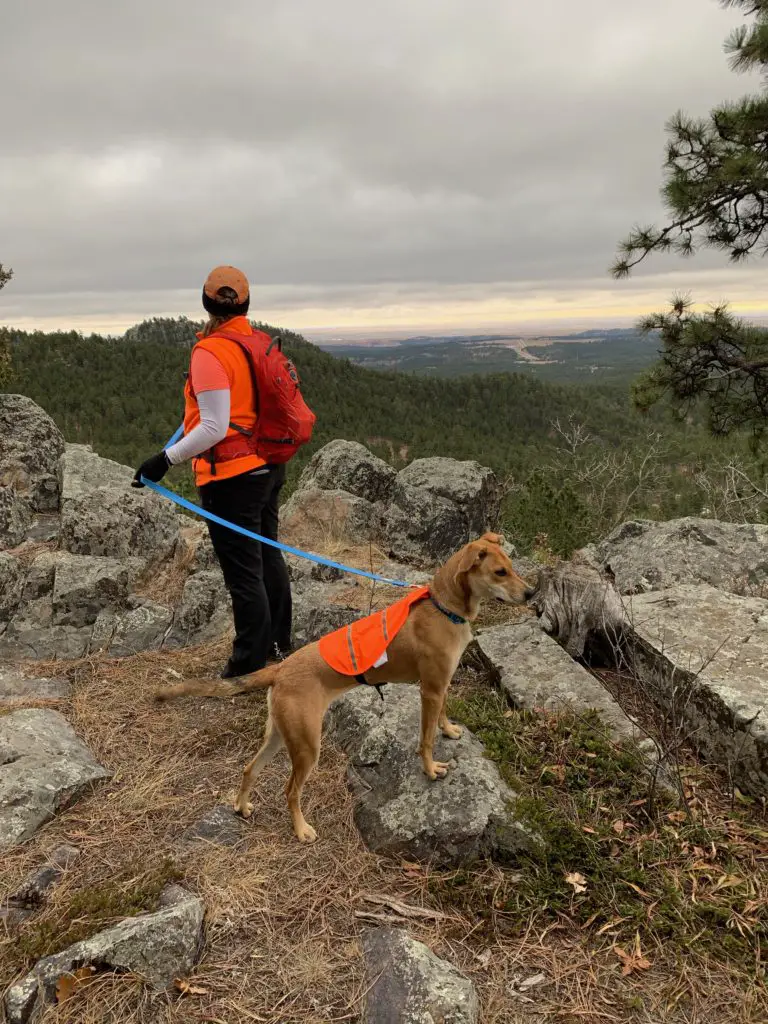 One unique aspect of this hill is that you can actually drive to the summit.  There is an old forest road that makes a spur off of Boulder Hill Road.  It isn't marked, so you may miss it if you don't know where you are going.  We've seen passenger cars use the road, but I wouldn't recommend it.  Even during good conditions it is rutted and washed out in places, and it can sport deep mud holes when it's been wet.  We were glad we had Mr. Trekker's 4WD truck the one time we drove up. It's not a long route or overly technical, but I find the hike to be far more enjoyable.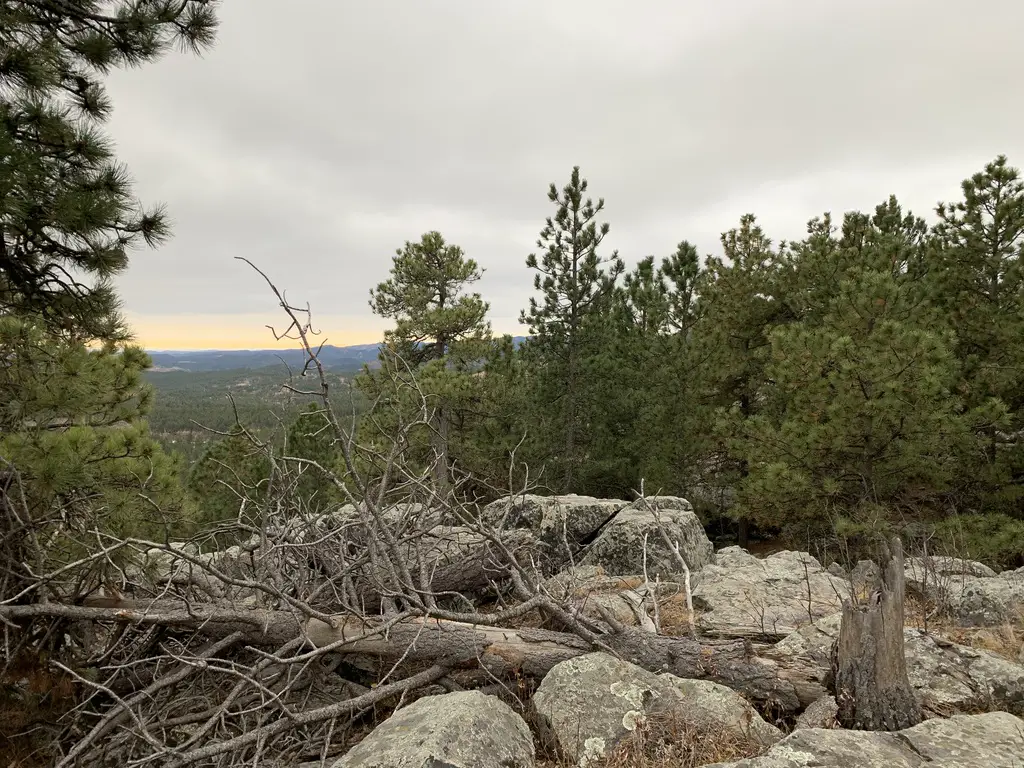 The Hike
This hike is a bit more challenging than others I've written about recently.  I would rate it as "moderate".  It is not difficult, but it is an uphill climb to the summit of the mountain almost the entire way (at least on the way up 😉).  About half-way along, it joins with an old, forest road for a short time.  It quickly exits back onto a narrow trail into the woods again, though.
Where it meets the road is also where it joins with the other section of the Flume Trail (the Coon Hollow Trail) that I discussed in last week's post.
Don't be surprised if the scolding of squirrels and scurrying chipmunks accompany you on this hike.  This is also a great place for rock scrambling over the large boulders (hence how this hill got its name).  From the summit, you will be treated to views of Highway 16 as you look to the northeast, towards town.  Like many of the trails that traverse the eastern edge of the Hills, on clear days you can also see the plains that spread east of town.  On REALLY clear days, you can see portions of the Badlands that sit many miles to the east.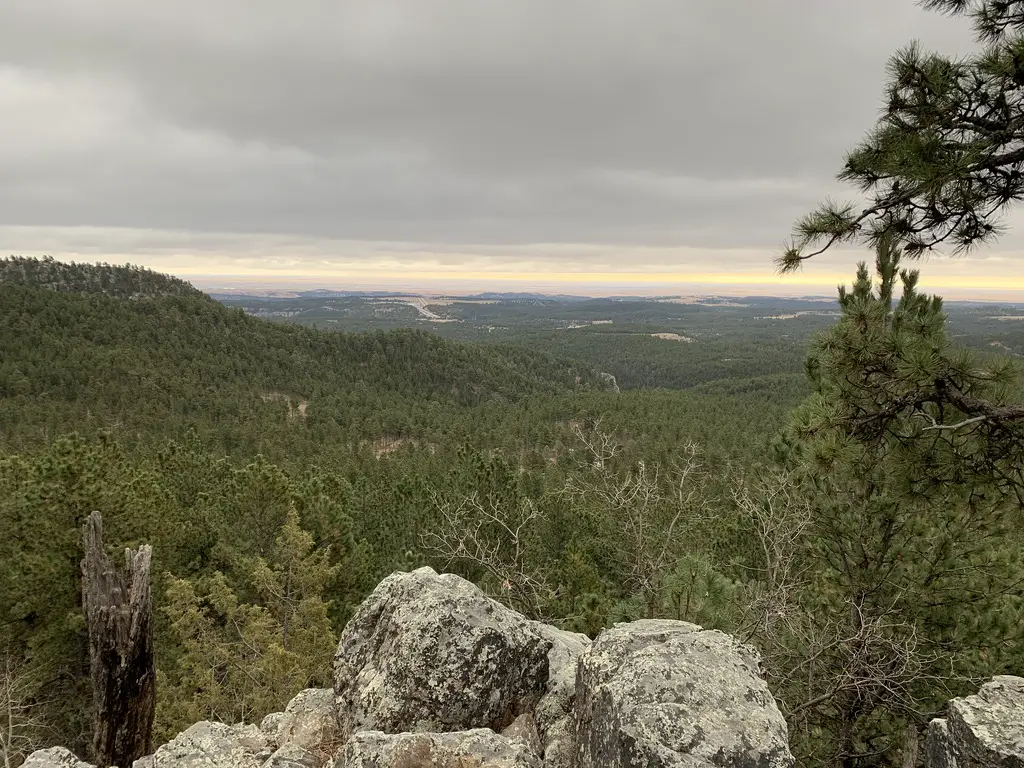 If you're looking for a challenging hike that's easy to reach from town, check out the Boulder Hill Trail!
Is this a trail you've hiked in the past?  Tell me about it in the comments!
If you'd like to read about the other trails in this series, you can click the links below:
Flume Loop Trail
Coon Hollow Trail
Little Elk Creek Trail
"Secret" Hiking Trails off Sheridan Lake Road
Stratobowl near Rapid City
Willow Creek Trail Black Hills
Like what you read here today?  Please feel free to leave a comment, like or share this post!  Want to be notified when a new post is published?  Add your email and click the "Follow" button at the bottom of the page or the sidebar to the right.  By signing up for the email list, you will also receive a free copy of the Tranquil Trekker's Top 10 Tips of Trekking Do's and Don'ts!
 You can also follow the blog on social media by clicking the links below!