Unless you are a local, this trip is probably not an option for you right now.  However, once this COVID crap is over and life returns to normal, this is a great option to have on your Bucket List!  Also, feel free to enjoy it right now, virtually!  
One item you should definitely have on your Road Trip Bucket List is to drive the Beartooth Highway on Opening Weekend.  This route connects Red Lodge, Montana, on the north side; Yellowstone National Park, to the west;  and Cody, Wyoming, to the south.  The route usually opens by the Saturday of Memorial Day Weekend, though this is always weather-dependent.  Also, temporary closures may occur after the opening date, also due to weather.
Click here to watch videos of snowplows clearing the route on YouTube (be warned, they are addictive!) 😉  The Montana DOT often has to clear snowdrifts that are over 20 feet deep in some areas! 
Washoe Ghost Town near Red Lodge, Montana
You can travel the road from either direction.  We started in Red Lodge, Montana.  We noted on the map that there was a ghost town not far from our hotel, and since we hadn't visited any of these in Montana yet, we thought we'd take full advantage of the opportunity.  The Washoe ghost town and mine site is located on Route 308, between Red Lodge and the tiny town of Bearcreek, on the way to Belfry.  The actual site is situated on private land, so you can't tour it, but it is easily visible from the side of the road.  This location's (unfortunate) claim to fame is that it was the site of the worst mining disaster in Montana history in the 1940s. 😐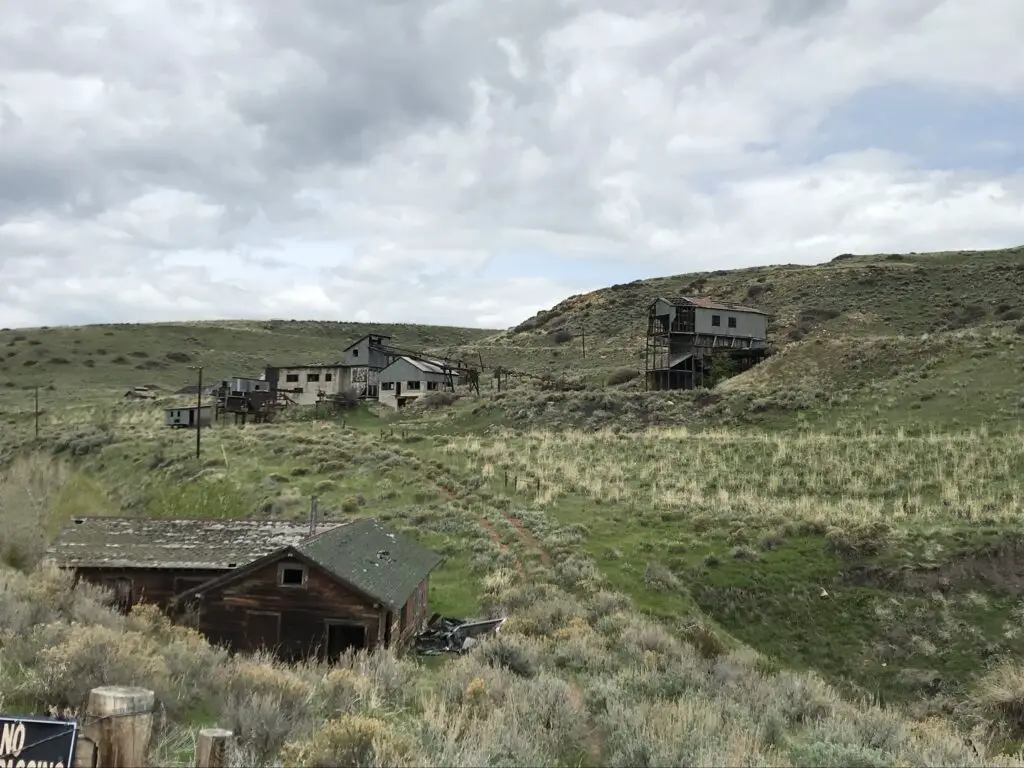 Lodging along the Beartooth Highway
We've been learning the joy of simple motels on recent trips.  Air B&B's have become our "lodging of choice", though we've been finding, if we MUST stay in a hotel, the simpler, local options appeal to us the most.  They have to be clean, and well-maintained, of course, but they often have so much more character than the stale, chain hotels people usually think of.  We also, frequently, stay in smaller towns, where the larger chains don't often have a large presence.  So, being willing to expand our horizons a bit makes lodging much easier to locate.
We had incredible luck with finding places to stay on this trip.  In Red Lodge, we chose the Red Lodge Inn, which was absolutely ADORABLE.  It was a simple motel, but it appeared that the rooms had been refurbished recently, and they were quite nice.  We were also impressed by how large they were!  The motel is owned by a young family, and the hosts were incredibly friendly and helpful when we needed information regarding local attractions.
In Cody, Wyoming, we stayed at the Cody Cowboy Village, and it was equally as cute.  This one had more of a "Western" theme, while the room in Red Lodge felt more like a mountain cabin, but both were equally enjoyable.  At the motel in Cody, large wooden beams made up the small cabins and reminded me of the ADORABLE Grandma's Cabin that we stayed in, with Mr. Trekker's family, in Island Park, Idaho, during our Yellowstone trip in 2014!
Places to eat along the Beartooth Highway
We're also learning that simplicity is our friend when it comes to finding meals out on the road.  We love little cafes and diners, and again, when you stay in small towns, it's good to enjoy these. 😁  When in Red Lodge we had dinner at one of our favorite places, Red Lodge Pizza.  The restaurant is housed in the old post office and features creations along that theme such as, the Cliff Claven!  We've never had a bad meal there!  We enjoyed breakfast at Honey's Cafe the next morning (which is known for its large portions), and it was equally delicious.
In Cody, we ate breakfast at Our Place, a charming little dive (to be clear, I use that term affectionately) just across the street from our hotel.  Some of the best meals I've eaten at a restaurant were cooked in "dives".  These places are usually locally-owned by regular, small-town folks.  The owners are often a joy to talk with, and any time the place is crowded with locals, you know you're in for a treat!
We enjoyed dinner at the Occidental Saloon in Buffalo, Wyoming the final night.  We've visited there before and have always been happy with the meals.  This site is attached to a historic hotel in town, where the likes of Teddy Roosevelt, Butch Cassidy, and Calamity Jane once rested their weary feet.  As usual, we ate the final meal of our trip, breakfast on Memorial Day morning, at the Busy Bee Cafe, also in Buffalo.  I've waxed lyrical about how much we like this cute little restaurant before.
The drive on Beartooth Pass!
Although weather forecasts made it appear doubtful, we did get to drive the full extent of the road…on the Montana side.  We had to wait 1.5 hours for it to open up but got to enjoy views from one of the main lookout points while we waited.  When we heard whoops of delight from the skiers and snowboarders that were parked near us and saw the snowplows drive by, we knew we were headed to the summit!
Weather had been pretty wild in this part of the country that spring, and this area had received close to a foot of snow just a few days before the road opened.  The Forest Service had gotten the Wyoming side of the route mostly open, save for the last few miles at the summit.  With the recent lousy weather though, this portion had drifted shut again. Fortunately, we have driven the entire route before (just not on Opening Weekend).  The weather didn't seem much different from when we were there in July of 2016, there was just–a little–less snow in the summer.  There were still plenty of gloomy gray clouds, and the temperature was, maybe, only 1o degrees warmer. 😛
We found it to be almost disorienting near the summit.  The way the white snowfields melded with the pale, gray sky, it was hard to tell where the land ended and the sky began!
To check current conditions on this incredible stretch of road, you can check out these sites:  Montana DOT; Beartooth Highway in Wyoming.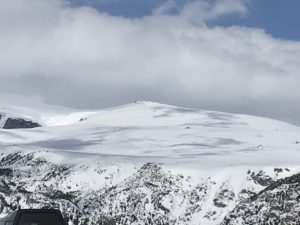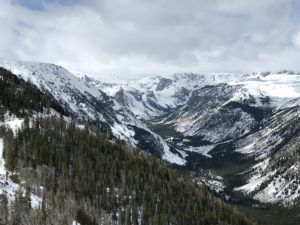 Because the road was closed, we had to embrace our motto from a previous road trip, and "Just Groove", and boy, were we glad we did!  The alternate route we chose was Route 72, south of Belfry, Montana, into Wyoming, and may I say it is absolutely GORGEOUS!  It offers incredible views of the Absaroka Mountains as you drive along their length.
Click here for a video I made of our drive. We definitely saw large piles of snow but didn't quite get to experience the "snow tunnels" I was hoping for.  I guess we'll just have to go back and do this route again on another Opening Weekend!
Cooke City Montana
When we reached Route 296, in Wyoming, we took that road (the Chief Joseph Highway) back to US 212 (the Beartooth Highway) on the Wyoming side, as that portion was open.  This takes you all the way to Cooke City/Silver Gate back in Montana, and eventually on to Yellowstone National Park.  These two, tiny towns had been on our "must visit" list since our Yellowstone Trip.  The towns were teensy but enjoyable.  They definitely felt like the type of places you'd visit in the high mountains.  For those who may be interested, I should note that there are several campgrounds in this vicinity.  HOWEVER, they only allow hard-sided campers (no tents) due to regular bear activity.  Just something to be aware of. 😳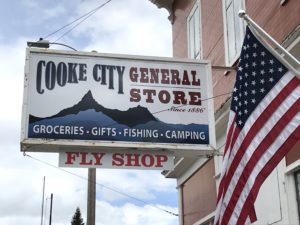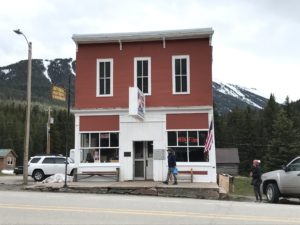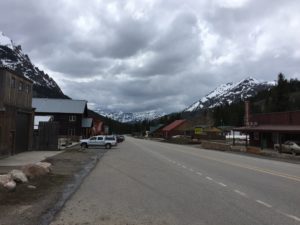 Drive the Chief Joseph Highway in Wyoming
I can never get over how beautiful northeastern Wyoming is.  On our trip, everything was so uncharacteristically green!  This is an unusual sight for this normally dry area, but the early season and recent rain had the grass growing well.  There were some gray clouds (though we enjoyed more sun than expected) and these, contrasted with the vibrant green of the new grass and the steely, dark gray mountains, with snow still capping their summits, made for quite the scenic view!  The somewhat dreary–yet picturesque–image made both of us think of Scotland (or what we imagine Scotland to look like, having never been there…YET!) 😮😉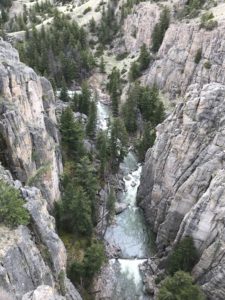 See below for more pictures of our drive.  As you can see, there was still some snow on the upper peaks: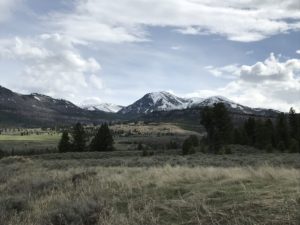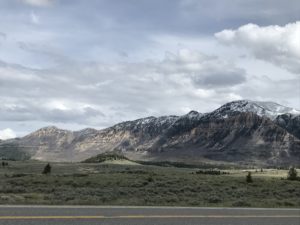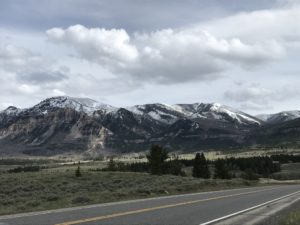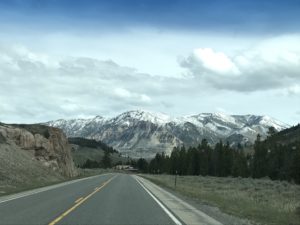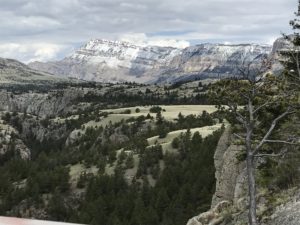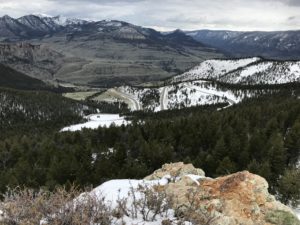 Buffalo Bill Center of the West in Cody, Wyoming
We eventually made our way back down the Beartooth Highway and stayed in Cody, Wyoming Saturday night.  We've stayed there several times as a stopover, and each time we thought we should take the time to visit the Buffalo Bill Center of the West (but never got the chance).  Since this was a weekend of "checking things off the list", we decided now was as good a time as any!
The museum is actually made up of five different areas.  We both enjoyed the Natural History portion the most.  This section comprises multiple levels, as though you were traversing down a mountain, from the tundra ecosystem near the summit, to the prairie/grassland found far below.  We also enjoyed the firearms museum, that showcased items from around the globe and from a wide range of battles throughout history.  There was also a section regarding the life of Buffalo Bill Cody and his Wild West Show that was quite interesting.
Ten Sleep Canyon, Bighorn Mountains
We took one of our favorite routes home through the Big Horns, US 16 through Ten Sleep Canyon.  This is, absolutely, one of the most beautiful canyons I've ever seen.  They call this the most scenic route through the Big Horns and I believe it!  Route 14 and 14a are pretty in their own right (and you're much more likely to see moose) but the southern route through the canyon is one that shouldn't be missed!  As you're driving into the canyon from the west, you have the Absaroka Range in your rearview mirror while the Big Horns loom ever larger in front of you.  This area is quite dry and barren, as it's in the rain shadow of the Absaroka's, adding to its rugged beauty.
I know I've mentioned it before, but I can't get enough of the ruggedness that makes up the Wyoming countryside.  The drab yellow of the badlands that contrasts–this time of year–against the almost florescent, green grass of Spring in the foreground, and the imposing, dark mountains in the background (with their bright white caps).  This area is pretty all the time, but especially so this time of year before the hot summer conditions have baked it dry.
This route is also called the Cloud Peak Skyway Scenic Byway, as it is the main road that runs nearest to Cloud Peak, the tallest summit in the Big Horns (though you can't actually see the summit from the road as it's in the middle of a Wilderness Area).  Click here for a video I made of a Labor Day Weekend drive through the canyon.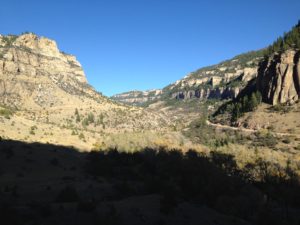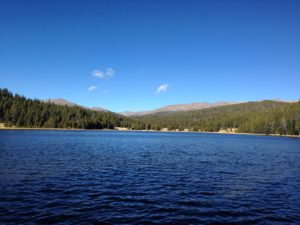 It's also a beautiful drive down the east side of the Big Horns into Buffalo, WY.  If you're there at the right time, you may see yaks grazing on the steep hillside near the side of the road! 😮
I recommend everyone check out these drives if they have a chance, as they are all quite beautiful.  There are LOTS of tiny lakes that make for great pictures (not to mention plenty of marmots posing for photos in the higher elevations!)  Be prepared though, winter conditions can occur at any time in that area (we had thunder and slushy snow falling on us in July!) 😮  So go tour these highways, you'll be glad you did! 
Longmire Store, Buffalo, Wyoming
Finally, we were able to cap off our weekend in the best way!  Each time we visit Buffalo, I hope to stop at the Longmire store, named after the well-known book and Netflix series.  As we learned, it used to ONLY be open during Longmire Days each year in July, as it was just a satellite store.  Well, it is now open all season and we FINALLY got to partake of its wares!  See, persistence pays off. 😁
Have you visited the Beartooth Highway on Opening Weekend?  Tell me about it in the comments! 
Did you enjoy this post?  Pin it!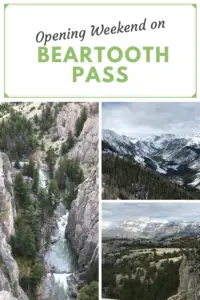 Like what you read here today?  Please feel free to leave a comment, like or share this post!  Add your email at the bottom of the page, or the sidebar to the right, to be notified when a new post is published.  By signing up for the email list, you will also receive a free copy of the Tranquil Trekker's Top 10 Tips of Trekking Do's and Don'ts!
You can also follow the blog on social media by clicking the links below!