I started a new (more normal) job recently after COVID pretty much killed my freelance career. 😝  I still work from home a lot but I also visit with clients out in the community.  Because of this, I now have two laptops and two phones (one each for work and personal use).  As you may imagine, this does not lend itself to tranquility, peace, or a dearth of technology in my life. 
I've felt like the old grandma at work, trying to figure out her grandkids new-fangled technology. 😝  I actually did this same job 10 years ago but back then all I had was a Word document, a flip phone, and a laptop. (It took real effort to locate a WiFi signal anywhere away from the office back then, and there were no hotspots on my flip phones!)  Today, almost everything is web-based.  While this makes things far more convenient (and saves trees, a definite plus!) it also means there are countless more assessments and paperwork items that are screaming for my attention at all times.
All of this runs completely counter to the mindfulness principles so many of us work so hard to maintain in our lives.  We want to be Present in the current moment…we strive to focus our mental energy on one task at a time…and then we're slammed by multiple devices pinging and dinging with alerts like "you've got mail!", "someone's calling!", or "your next meeting starts in 15 minutes!"  It's EXHAUSTING!
So, how do we use these devices as tools to help make our work-life run efficiently, so we can focus our mental and physical energy on what is most important, thereby leaving LOTS of time to live life?  Read on for the Tranquil Trekker's tips for digital mindfulness at work! 
Author's Note:  My intent with this post is NOT to complain about my new job.  Having a work phone and laptop actually makes a lot of sense with the work I do.  My home IS my office.  Also, since my job is fairly mobile, it only makes sense that my work is mobile too.  I also VERY MUCH appreciate that my company has provided me with work devices as I DON'T want to have to use my own. 😝  
And bottom line, SO MANY people are in this same boat.  Having multiple devices is really just becoming the new normal (especially with the popularity of flexible work options and the rise in work-from-home due to COVID.)  My goal with this post is to encourage people to view these devices as necessary evils and to help them figure out how to use them as beneficial tools without allowing them to take over our lives.
Compartmentalize your Work Devices
Compartmentalize with your work laptop, phone, and any messaging apps if at all possible.  You can accomplish this by only having these work-related programs on your work devices.  Also, be sure to turn these off at the end of every day and on your days off if possible (I realize this isn't always an option if you are on-call).
If you feel this isn't an option in your case, my question would be, are you actually on-call?  If not, is there truly an expectation that you respond to calls, emails, or messages during off-hours?  To put it bluntly, are you actually jeopardizing your job (or future promotional opportunities) if you don't respond promptly?  Or, is this a self-imposed prison?  Is it not actually necessary for you to be available at all times but do you feel like you should be?
Many people have their work email come to their personal phone (even though oftentimes this is voluntary, and is NOT required by their job).  I think they're nuts, personally 😉, but I also can't help but feel a bit sad for them.  They need (and deserve) a break and I just don't see how this practice achieves that for them.
So my advice is to talk to your boss.  Get a clear understanding of what the expectations really are.  If the presumption is that you be readily available during off-hours, then you'll have to decide for yourself if that's the work environment you want.  Just know that studies show you'll be a better employee if you have true downtime. (Don't take my word for it, you can read about some of them below! 😉)  And if you're the boss, check out the links and please, don't be an a-hole! 😇)
Harvard Business Review–The Upside of Downtime  
Forbes–Downtime is Important!
Multitasking Makes you

Less

Productive
In addition to compartmentalizing your work devices, the studies linked below also show that contrary to popular office belief, multitasking DOES NOT work, and it actually DAMAGES your productivity! 😮
Forbes: Multitasking is Bad for You!
Cleveland Clinic:  Multitasking Doesn't Work
Forbes:  Multitasking Hurts Productivity
Multitasking is almost NEVER a mindful practice, as mindfulness requires you to put your full mental energy and focus into ONE task at a time.  As an example, think about taking a work call while driving (we're going to assume you're using hand's-free devices.)  If you're paying attention to driving (which you should be) you CAN'T be putting all your mental energy and concentration toward the phone call you're having.  And if you're aren't focusing on the phone call whatever/whomever you're trying to serve with that call won't be getting your best effort.  Also, you can't take notes while driving, or look things up on your computer or phone as you may need to. (I would also ask, how do you pay close attention to driving if you're distracted by a call?)  So all this multitasking scenario succeeds in is making you less of a safe driver while also providing lousier service to your job task at hand.  It's a lose-lose situation!
Prioritize Downtime
Now that I'm back to working more like a normal person, there is nothing better than 5:00 on a Friday, when I log out of my work email, turn my work phone off, close my work laptop, and put all of them (screen down) in the office, not to be looked at for the next several days.  I think it's important that we have that break whenever/wherever we can take it.
That break is important for our mental health and it makes us better workers.  It gives us a chance to recharge mentally and physically so we have more mental energy to face the challenges of the job when the next work week comes.  I worry this appreciation for the benefits of downtime is something that's gotten lost in recent years, in our always-on society.
Find Unique Places to Work
This one may be difficult for some people.  Depending on the type of work you do you may need to be in front of a video monitor often.  Or you may do highly technical work that requires you to be tied down to some sort of office environment.  But for many of us, one of the joys of flexible work situations is that you can pick where you want to actually work.  So don't limit yourself to being locked in your home office, the basement, the second bedroom, or wherever you usually work from.  If it's a nice day and you have the internet access you need, work from the front porch or the back deck.  Go sit at a local park, beach, or other green/blue spaces.  If the Great Outdoors isn't really your thing, go to a local coffee shop.
Obviously, make certain you are still ensuring all necessary confidentiality your job may require.  Use screen protectors so others can't read your screen, talk quietly if you're on the phone or seek out private places to talk, or use headphones if you're in a meeting or a training session (anyone sitting within earshot will appreciate this anyway!)
To Conclude:
This is somewhat of a complex subject as our jobs all vary so greatly in terms of the circumstances that surround them, what our supervisors may require, the security necessary to protect the information we work with, and the practicality of how our jobs function.  I just want us all to "think outside the box" when it comes to flexible work options. 
One of the best things about these work options is they allow us to get out of the office and better fit our work into the lives we live.  So take advantage of this!  Set boundaries for when and how you use your work devices.  Recognize that while multitasking may make you FEEL more productive, in all likelihood it's probably, actually hurting your productivity.  This isn't good for your company or the clients you serve.
Also, remember to prioritize your self-care.  If you aren't in a good place it will be almost impossible for you to put your best foot forward in terms of the work you do.  Part of this self-care means making your work environment the most pleasurable it can be (while staying within the confines of what is required for your job, of course). 
So, the next time you go to grab your work laptop or phone on your "off" hours ask yourself, "Is this really what's best for me, my client, or my company?" If the answer is likely "no" go do something enjoyable instead!
Do you have any tips for keeping a healthy balance between work and home when your digital, work devices follow you home?  Tell me about them in the comments!
Did you enjoy this post?  Pin it!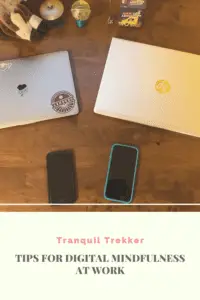 Like what you read here today?  Please feel free to leave a comment, like or share this post!  Add your email at the bottom of the page, or the sidebar to the right, to be notified when a new post is published.  By signing up for the email list, you will also receive a free copy of the Tranquil Trekker's Top 10 Tips of Trekking Do's and Don'ts!
You can also follow the blog on social media by clicking the links below!