Want to travel back in time?  Thanks to "Fall Back", you get to, and in a couple of months, you get to travel into the future when we "Spring Forward" again. 😝
The time change is so weird!  Why do we do it? 😋  For the first 18 years of my life, I lived in a state that didn't observe Daylight Saving Time.  So, during my formative years, we never changed our clocks.  In the winter, prime-time TV would start at 8 pm and the late news would come on at 11.  During the summer, Prime Time would start at 7 pm with the late news coming on at 10.  Other than that, we never noticed any differences at all (though we lived near the Michigan border and I knew that state did this weird, time change thing 😜).
I always reach a point in the year that while I'm not excited for the sun to go down before 5…I can't WAIT for it to come up before 7 again! It isn't fun getting up in the dark…walking Puppers in the dark (while still half asleep)…even eating breakfast before the sun peeks over the hills on the eastern side of town…😝 
By the time Christmas rolls around the sun will be coming up almost as late again (but not quite!  Oddly enough, once the time changes the sun never rises quite as late as it does the last week before the Change. The difference is only about 5 minutes, but it's still BETTER! 😉)  Also, by Christmas, I'm excited about the holidays and there are lights and pretty decorations all over!
My first Time Change experience
My freshman year in college, I got to experience my first "Fall Back", I was so excited! 😉  Do you know what's really crazy?  I went to college in the same state I grew up in! 😂
"Huh?!" you may say.  So, it's complicated.  Back then, the very few counties in Indiana, that were near Chicago, did observe the Time Change.  This was because many of the people who lived there actually worked in Chicago (or at least northeast Illinois). 
My new college friends thought my reaction was a little strange.  I found the idea that we got a whole extra hour added to our lives to be fascinating. (There was one particular guy there, that night, who found my weird reaction amusing…I guess it didn't bother him too much though since he asked me to marry him a "short" eight years later! 😂)
The History of Daylight Saving Time
Time Change has been "a thing" in the US since the early 1900s, at least in some areas.  It became popular in the '70s (before my time, for the record 😉) during the gas shortage/energy crisis because, in theory, it would help to reduce energy use.
This may be true in certain locations, but in western South Dakota, we have less than nine hours of daylight during the darkest points of the winter.  Whether those hours fall 7 – 4 or 8 – 5 doesn't really matter…you still have more than 14 hours of darkness to contend with. 😝   
Various state governors have also implemented the Time Change to help keep school children safer, as falling back an hour allows more daylight around the time the kids are traveling to school.
Standard Time is actually helpful
I do think the Time Change is ultimately a good thing, at least for those of us living in the more extreme latitudes.  If we stayed on Daylight Saving Time all year, the sun wouldn't come up until AFTER 8 am during the darkest months…no thanks!  In contrast, if we stayed on Standard Time all year, the sun would (literally) be coming up around 3:30 in the morning in the summer–especially seeing as we have an east-facing bedroom, I'm gonna pass on this one, as well. 😋
So, while it may be a complete pain-in-the-a$$, I think the time change does make the best use of the extensive variations in the amount of daylight we experience over the course of a year.
The effects of the time change
I've talked at length about my struggle with SAD (Seasonal Affective Disorder), and the time change usually triggers it fully.  Funnily enough, I don't remember EVER experiencing it growing up in Indiana.  Not even when it seemed like we didn't see the sun from October through March (unless temps were below zero 🥶)–for anyone who isn't aware, the Great Lakes region is known for being rather cloudy, especially in the colder months.
Other Vitamin D3 options:  Nature's Bounty, Nature Made 2000 IU tablets, NOW softgels, 
I don't even remember noticing the dark so much in college, which was the first time I experienced true darkness before 5 pm.  I'm not sure if it was because I was so busy with classes, homework, and college life, that I just didn't have time to pay attention?  Or if life was relatively easy, being that I was a college student without any major responsibilities 😇?
Another funny note: Indiana's full state does now participate in Time Change (they started after I moved away), but they're STILL weird.  The vast majority of the state is in the Eastern time zone and changes with New York City, but those few counties near the Illinois border are still in the Central time zone and change with Chicago (for the same reasons I mentioned above). 
November is a bad month for SAD (Seasonal Affective Disorder)
I struggle with SAD the most during the three weeks before Thanksgiving.  The weather in the Black Hills is usually fairly decent, but Fall does tend to be one of our cloudier times of the year.  That, and the lack of daylight, tends to exacerbate any SAD symptoms I'm currently feeling.
It's INCREDIBLY frustrating when you're already feeling lousy and Mother Nature just smiles at you and keeps kicking your emotional butt with Her cruddy weather…but there's something oddly calming about it too.  Like She does not give a SH*T about how we feel.  She just does her thing, completely oblivious and ambivalent about our needs or comforts.  It's humbling, and I find the consistency of it somewhat comforting, strangely enough.
Fortunately, we have had an ABSOLUTELY GORGEOUS, warm fall this year!  We also tend to have GORGEOUS sunsets this time of the year!
This time of year, the excitement and decorations of Halloween are over, but it's too early for Christmas (despite what some might tell you. 🙄)  I'm not sure which is the chicken, and which is the egg, but I also find my SAD symptoms compound (or are worsened) by any other stressors/worries I have going on.  I think SAD heightens your sensitivity and lessens your tolerance overall, making you more susceptible to the negative effects of these other triggers.
Other therapy lamp choices:  Happy Light Luxe; Happy Light full-size; Happy Light UV-free; Happy Light Alba; Happy Ligh Lumi; Happy Light Compact; Happy Light Touch
I LOVE Thanksgiving though, so once we get to that week it gets easier.  Then the Christmas Season is in full swing, complete with all the lights, music, and holiday spirit, so I'm happier.  Things are also a bit easier with my rambunctious, four-legged "office mate" to keep me company (she doesn't seem depressed. 😉🐶)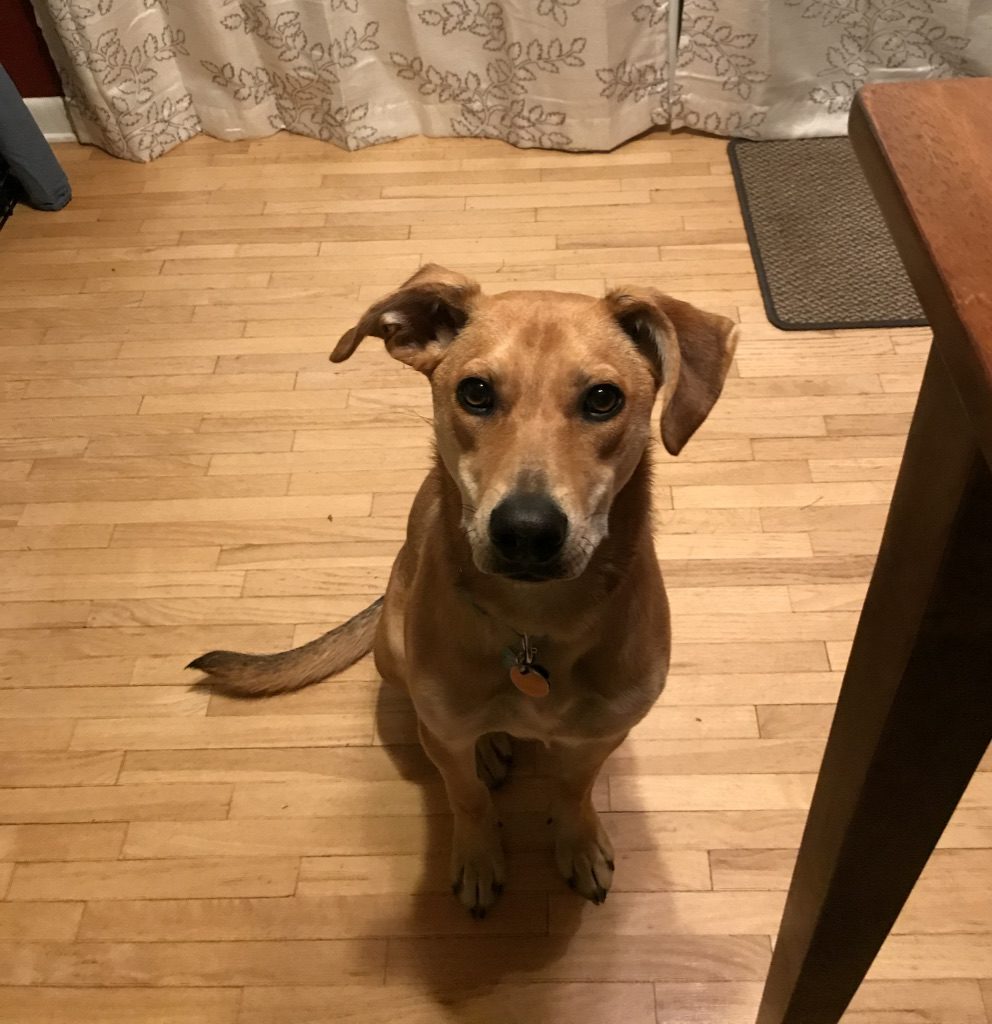 So, for the next few weeks, I'll be hanging out in front of my therapy lamp while popping the Vitamin D3. 😋  We just gotta buckle down and "embrace the darkness" for the next few months.  Fear not though…it's only about seven weeks till the Winter Solstice, and then the days will start getting longer again! 🌞
Are you #teamtimechange? Tell me your opinion in the comments!
Did you enjoy this post?  Pin it!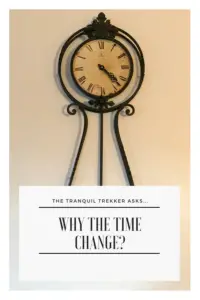 Like what you read here today?  Please feel free to leave a comment, like or share this post!  Add your email at the bottom of the page, or the sidebar to the right, to be notified when a new post is published.  By signing up for the email list, you will also receive a free copy of the Tranquil Trekker's Top 10 Tips of Trekking Do's and Don'ts!
†As an Amazon Associate, I earn from qualifying purchases