It's that time of year again!  We pushed our clocks forward one hour this weekend (in the US at least)!  I know people hate the time change and I know many people have good reasons for feeling that way. (It has even been proven to mess up your sleep.)  I actually love time change day (in the spring)!  It is the day my SAD (Seasonal Affective Disorder) dies ya'll!  
For those of us in the Northern Plains, the time change really does make the best use of our daylight hours that fluctuate wildly throughout the year.  If we stayed on Standard Time all year, it would start getting light at 3:30 am in the summer (no joke).  Whereas if we stayed on Daylight Time all year, it wouldn't get light till after 8 am in the winter.  I'm not ok with either of these options.😝  So, I will firmly remain #teamtimechange.
Winter passed quickly
I am always amazed at how quickly the dark winter actually flies by.  It always goes more quickly than I think (worry) it will.  I've been VERY fortunate that my SAD has been super mild for the past few years.  I've hardly been noticing it at all!  It may be a fortunate side effect of my taking high doses of Vitamin D3 for the last several years (due to another medical issue). It helps that we've had fairly mild winters in recent years, too.
Other Vitamin D3 options:  Nature's Bounty, Nature Made 2000 IU tablets, NOW softgels
SAD symptoms end with the time change
I am always amazed at how much better I feel once my SAD symptoms start to ebb.  It really gives you an appreciation for how strongly they affect your life.  You don't always notice it while you're experiencing them.  You know that everyone seems to be keen to IRRITATE THE HE** OUT OF YOU! (must they swallow so loudly?! 😂)  And you can't help the tears that come when EVERYTHING YOU TRY TO DO FAILS MISERABLY!!! (Why am I the only one whose life is so difficult?! 🙄😉)
I hope it's obvious that I'm being sarcastic with these statements.  In all seriousness though, I find it amazing how my SAD symptoms cast a shadow on every other aspect of my life.  Even though I personally experience it, it's hard to believe it can cloud your judgment so much on whatever thing you're dealing with at any given moment.   Every problem seems 10x worse when SAD is already weighing you down.  Any other stressor you feel is amplified. 
As someone who struggles with anxiety throughout the year, the SAD worsens those symptoms, as well.  I am a master champion at catastrophizing future events that I'm worried about on a good day.  When I'm dealing with SAD, as well, that ability becomes a superpower. 🙄😝
Every fall I swear, I'm not going to let SAD affect me as much this year.  I know what's coming, I know how to deal with it, I know it WILL END, I just have to get through it…and then every spring I'm back to, "Wow!  Was all that extra angst I was feeling JUST from my SAD?"  Maybe some day I will learn. 😐
Related posts:  Why the Time Change?; Summer Solstice: The Longest Day; Therapy Lamp and Calm App Reviews; I HATE Seasonal Depression!; Enjoying the Winter Solstice; Increasing Daylight as Winter Wains; Embrace the Dark Winter Days
Take back your power from SAD
Our brains are powerful tools, and they can allow our imaginations to run away with themselves if we permit them.  While its important to always be patient and understanding with ourselves, it's also important to try to reign in the negative thoughts, especially when we can speak the name of the demon they come from ("SAD").  By doing so we can help to lessen its control over us.  Fortunately, we CAN control that demon, and it's time to take our power back!
Do you find the time change affects your mood?  Tell me about it in the comments!
Did you enjoy this post?  Pin it!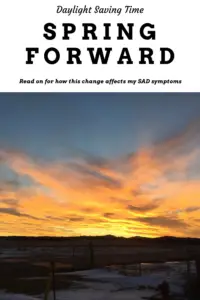 Like what you read here today?  Please feel free to leave a comment, like or share this post!  Add your email at the bottom of the page, or the sidebar to the right, to be notified when a new post is published.  By signing up for the email list, you will also receive a free copy of the Tranquil Trekker's Top 10 Tips of Trekking Do's and Don'ts!
You can also follow the blog on social media by clicking the links below!